Lighting Up the Denver Restaurant Scene
2 Min Read
Best known for its authentic drinks, creative tacos and an urban industrial vibe, Federales, a lofty, open-air tequila and taco establishment, offers an energetic atmosphere for restaurant and bar patrons alike.
Concepted by college friends and founding members of Four Corners Restaurant Group—Andy Gloor and Matt Menna—the restaurant/bar traces its roots to Chicago, where the first Federales was opened in 2016 in Chicago's West Loop. Gloor and Menna have built a strong reputation in the Chicago area, serving as the CEO and chief design officer, respectively, at Sterling Bay, the real estate investment and development company behind Chicago's Lincoln Yards development.
"Expanding outside of Chicago was a surprise," said Matt Doherty, managing director of Four Corners. "But Denver and, specifically, RiNo (River North Art District) fit our core clientele which is the post-collegiate young professional. It all just felt familiar and was similar enough to Chicago so that we knew we'd fit in this neighborhood perfectly."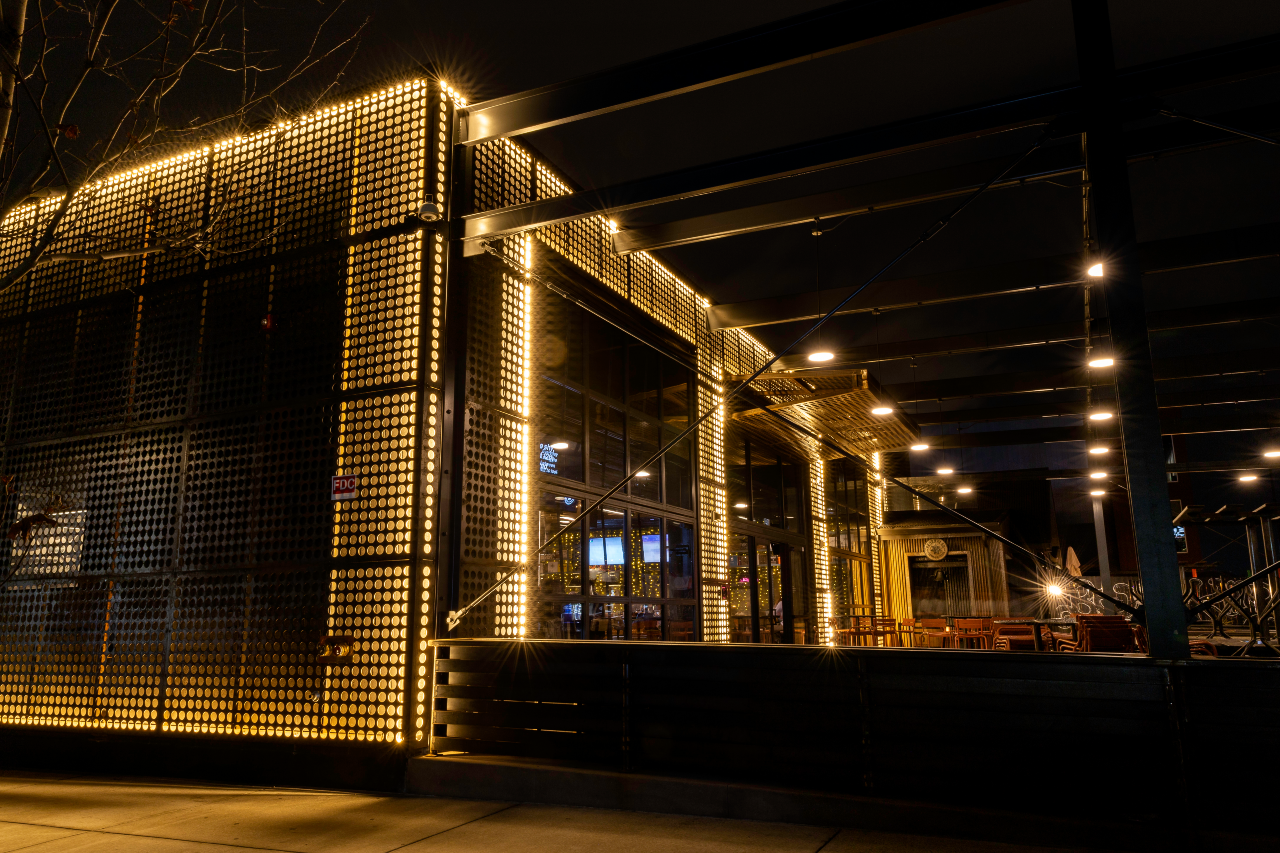 The Federales Denver location has an exterior featuring a large, open-air patio surrounded by a black metal structure. The designated historic building was preserved by covering it in black siding and retrofitted with a retractable roof and garage doors which pay homage to its roots as an auto repair shop. Inside, the focal point of the restaurant is the large bar area.
The boldly black exterior lighting was key to highlight the dramatic facade. Similarly, the interior lighting choices required subtlety to create a mood for patrons, while providing enough task lighting for bartenders to work efficiently.
After reviewing many options—and dealing with supply chain inventory and budgeting issues—the team of Matt Piekarz, project manager for Sterling Bay Restaurant Group, and Aaron Mauck, general contractor with Sprung Construction, selected American Lighting and, specifically, Hybrid 2 lowvoltage tape lighting for two specific project area needs. Hybrid 2 was specifically utilized to backlight the architectural features on the borders of the building. Inside, the lighting was featured on both the inside and outside areas of the bar. On the outside, it provided accent lighting under the bar for patrons and, on the inside, it provided the necessary task lighting for the staff.
The team hopes to continue expansion to Dallas in late 2022.