Life or Death Recipe Challenge and 'A Woman's Place'
2 Min Watch By MRM Staff
In this edition of MRM News Bites, we feature a new documentary on women in the culinary world, the loss of an industry legend, a contest to create healthy recipes and products and services to help restaurant in the pandemic.
'A Woman's Place' on Hulu
KitchenAid brand presents "A Woman's Place," a documentary short, now streaming on Hulu, place clip at top. The film raises awareness of the harsh inequalities women in the culinary profession face and is an initiative to empower and elevate them to the top of the industry. ​
In partnership with Vox Creative, Digitas and Ventureland, the 30-minute documentary, directed by Academy Award Winner Rayka Zehtabchi, provides a provocative and honest look at the biases and barriers women face in the culinary industry through the stories of three inspiring chefs who are pushing for change.
The film reveals a concerning statistic from a 2013 study by the Office of U.S. Labor statistics that despite women accounting for 50 percent of culinary school graduates, they hold only seven percent of executive chef roles in the United States.1 "A Woman's Place" was created with the goal to support and empower emerging women in culinary to bridge the gap as they strive to become leaders in the industry.
The documentary is available on-demand exclusively on Hulu. Hulu subscribers can visit the "Women's Equality" collection on the platform.​
A unique partnership with the James Beard Foundation (JBF) complements the launch of the film through a custom mentorship program, presented by KitchenAid, developed to advance women in culinary arts and support the industry at large as it rebuilds.​
"Over the last century, women, despite their incredible contributions, have struggled to make it in professional kitchens — held back by inequalities unfairly put upon them," said Rob Sundy, Head of Brand Marketing & Creative Studios at Whirlpool Corporation, the parent company of the KitchenAid brand. "As a brand built by women and that stands for creating possibility in the kitchen, we can't stand for inequalities any longer. And now as restaurants fight to reopen after a terrible pandemic forced their doors shut, they need our support more than ever."
The documentary follows three chefs who have carved a path for themselves in a male-dominated industry, working against biases in the hopes of making their culinary dreams a reality.
"There is so much authenticity in this project," said Zehtabchi, "A Woman's Place" director. "You watch it and you walk away from it and it feels honest and real. It's cinematic and beautiful and the interviews are thoughtfully crafted. It comes straight from our subjects." Vox Media enrolled Epic Digital, a team of story hunters acquired by Vox Media in 2019, to uncover the stories of the women featured in the film:
Marielle Fabie, who grew up always lending a hand in the kitchen — whether it was helping her single mother cook for the family or helping her dad run his food truck — yet faced a double standard from her family, refusing to see cooking as anything but a hobby when she showed interest in culinary school. The disadvantages Marielle experienced as a woman of color have only fueled her ambition; she works tirelessly to be the best at what she does. Today, her success has finally proven to her parents that cooking is a viable and sustainable career for women.
Etana Diaz, who began her career as a pastry chef and a line cook in fine dining, but found her true love for butchery after discovering that pastry wasn't her passion. Etana proves that her dedication and drive outweigh her size and gender. She approaches meat cutting with creativity, ethics and knowledge and is proud to be a "Lady Butcher."
Karyn Tomlinson, who graduated from Le Cordon Bleu in France, and on her first day on the job was told to go to the front of house for service. While her interest was in savory cuisine, she began working her way up through opportunities in pastry where she grew creatively. None of it discouraged her from pursuing her dream of becoming a head chef, and eventually she found herself at the helm of a kitchen. In 2018 she became the first solo woman to win Grand Cochon, a national whole hog cook-off. Today, she faces new challenges as she embarks on the complex process of opening Myriel, her first restaurant, during a pandemic.
The culinary industry is rallying around the mission of "A Woman's Place," and chefs from around the country are partnering with KitchenAid to show their support.
"I was thrilled to hear KitchenAid was working to expose and drive greater awareness of the disparities happening in kitchens," said Dominique Crenn, chef of Atelier Crenn and the only female Three Michelin star recipient in the United States. "I've been lucky to receive 'best female chef' awards and always wondered why I can't just be best chef? I am fully behind this initiative and hope my industry peers share their support as well."
"Equality is something I advocate for in all aspects of my life, and the kitchen is no exception," said Bravo's "Top Chef" Season 10 winner, Kristen Kish. "I'm proud to stand with KitchenAid and my culinary peers to shed light on this issue and inspire a new era for our industry, void of bias, sexism and harassment."
Additional chef partners include 2008 JBF Award winner of "Best Chef in the United States," Grant Achatz, renowned chef, food stylist and restaurateur Camille Becerra, 2012 James Beard Foundation Broadcast Media Award recipient and President of Morph Hospitality Group, Maneet Chauhan and 2019 JBF Award winner of "Rising Star Chef of the year," Kwame Onwuachi.
As part of the effort, KitchenAid is partnering with JBF to create more possibilities in the kitchen for culinary professionals as they face a difficult recovery. Through James Beard Foundation Mentorship, KitchenAid will provide critical support and resources to women through educational tools and mentorship that help women build and grow their business. The partnership is the result of an effort by the foundation's partner Intersport, to develop enhanced, synergistic relationships with like-minded, premier brands.
JBF is committed to helping independent restaurants survive the crisis, rebuild better and thrive for the long-term. James Beard Foundation Mentorship, presented by KitchenAid, is designed to empower and engage a network of culinary leaders. Mentors on the platform harbor vast expertise on a variety of culinary related topics, bringing a range of perspectives and backgrounds to chefs around the country in need of support and advice.
Peter H. Plamondon, Sr. Dies at 88
The Plamondon Companies announced the passing of Peter H. Plamondon, Sr. on Sunday, August 16. He was 88.
Pete Plamondon, Sr., started The Plamondon Companies 40 years ago, after spending 16 years as a corporate executive vice president for Marriott, overseeing its restaurant division. While at Marriott, he played an integral role in launching and overseeing Roy Rogers Restaurants. In following his entrepreneurial ambitions, he struck out on his own in 1979 and established Plamondon Enterprises Inc., with his first venture being the operation of the Roy Rogers on Rt. 40 in Frederick, Md. From that single-unit business, he built a regional empire, branching into the lodging business in 1996 with the formation of Plamondon Hospitality Partners and creating what today consists of 49 Roy Rogers restaurants and 13 hotels located throughout the mid-Atlantic. In 1998, he sold the business to his sons, Pete Plamondon, Jr. and Jim Plamondon, but remained an active contributor and mentor as the Chairman Emeritus of the company until his death.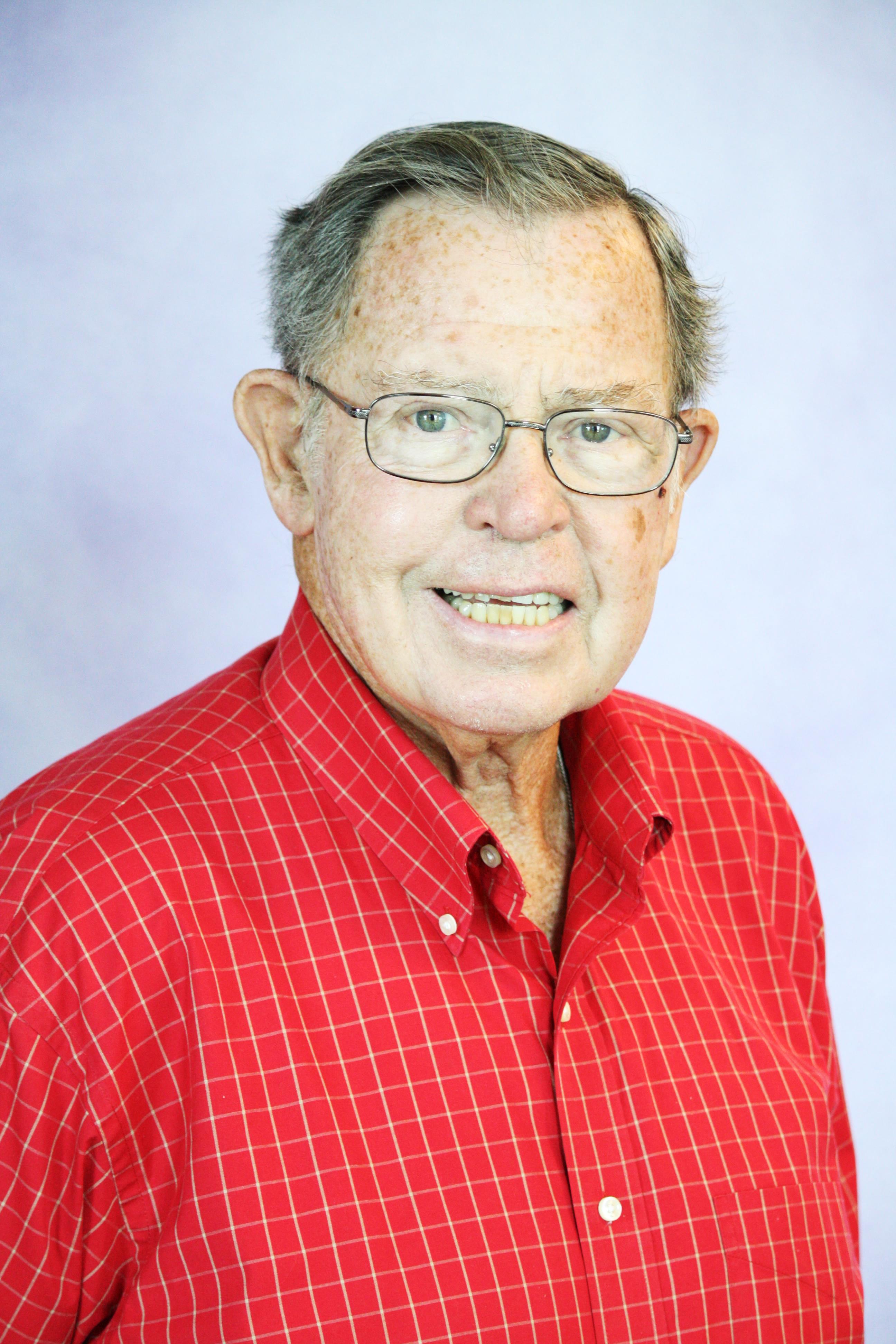 As a business owner, family patriarch and member of his community, Pete Sr. always maintained a people-first approach, company officials said. He was ever determined to ensure that his associates knew how much he valued them, and always strove to make a personal connection with everyone he met. His involvement in the community was unrivaled, as he was a major donor and contributor, giving generously of this time, leadership and experience. He served on countless non-profit boards throughout Frederick County and the state of Maryland. He was instrumental in organizing the Frederick Community College Hospitality Program. Under his leadership, The Plamondon Companies started its annual United Way campaign 40 years ago, always making a generous company match to complement the contributions of individual company associates. The legacy he began so long ago continues to this day and has been honored by industry and community organizations. He was the first recipient of the George Delaplaine Distinguished Citizen Award in 1996 and, along with his wife, Lorraine, was inducted as a charter member of the Duval W. Sweadner Society of the Fairfield County's Community (FCC) Foundation and the FCC Board of Trustees in 2011. In 2017, at its annual Stars of the Industry Gala, the Restaurant Association of Maryland presented Plamondon with the Brice & Shirley Phillips Lifetime Achievement Award. In 2018, the Frederick County United Way bestowed him with its first 'Red Feather' United Way Award, acknowledging his personal and organizational commitment to the organization.

Frederick County Chamber of Commerce CEO Rick Weldon described Plamondon as one of a group of business owners who helped shaped the county's business community, and remember him as being very focused on family – both his personal family and the bigger one consisting of all the associates of his company. He left an "almost immeasurable" legacy in the Frederick County business community, Weldon said.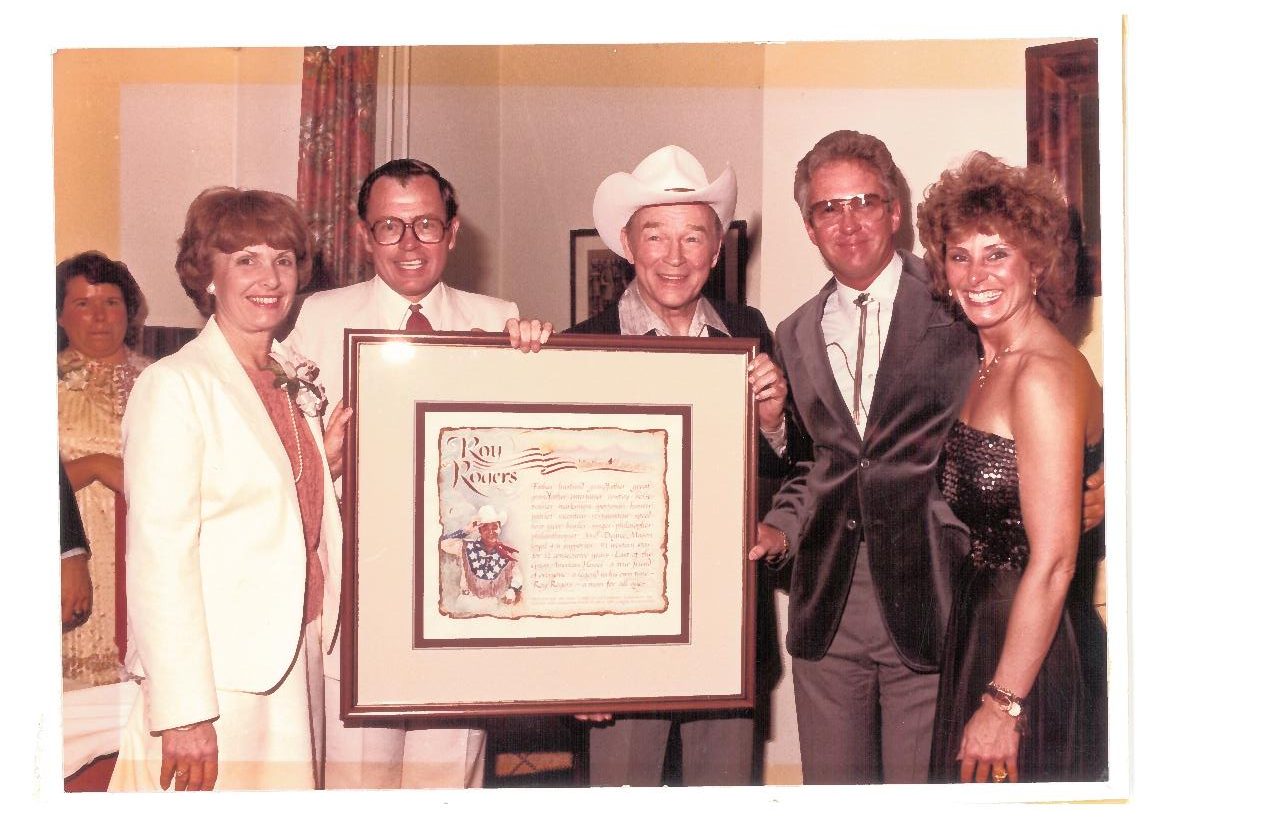 Plamondon was born in Evanston, Ill., in 1931, the third child of William Nelson Plamondon and Elizabeth ("Betty") Hauck. His family relocated to Vero Beach, Fla., in 1948. While there, Plamondon was introduced to the hospitality industry, working at The Windswept Hotel, which his father owned. He graduated in 1954 from the School of Hotel Administration at Cornell University, where he had served as president of the Delta Kappa Epsilon (DKE) fraternity and was a catcher on the baseball team. He married Lorraine Pietryka on Aug. 20, 1955, and served in the U.S. Army as First Lieutenant at Fort McPherson, Ga., in a management role at the Officers' Club. He began his life-long career in the hospitality business at the food service division of Stouffer in Newark, N.J., and joined the Marriott Corporation in 1965 to help launch its fast-food division, beginning with Hot Shoppes Jr., an offshoot of the Hot Shoppes family-dining chain that eventually was rebranded as Roy Rogers Restaurants.
"My father was a great guy, and a great role model as well. Tough to measure up to. He created a wonderful organization," said his son, Jim Plamondon.
"We have a business that is 40 years old thanks to Dad taking the chance after leaving a huge job at Marriott," added Pete Plamondon Jr. "We were so very blessed to have him as a father, mentor and great man of faith. He left behind a huge legacy."
Tortas Frontera Teams with Kitchen United
Tortas Frontera, the O'Hare airport dining spot from chef Rick Bayless, is coming to downtown Chicago through a new partnership with leading kitchen-as-a-service company, Kitchen United. Tortas Frontera is now offering the same locally-sourced Mexican specialties that Chicago air travelers know and love for pickup and delivery from Kitchen United's near north side location. In addition, pickup and delivery will also be available at Tortazo at Willis Tower – a sister brand of Tortas Frontera. Between the two locations, Tortas Frontera's delivery radius will cover the majority of downtown Chicago.
"Over the years, I have met countless people who have shared their deep love and gratitude for Tortas Frontera, many even routing their flights through O'Hare in order to enjoy their favorite torta," said Chef Bayless. "During this time of reduced travel, I'm thrilled to partner with Kitchen United to bring Tortas Frontera to Chicago residents where they live and work."
Bayless created Tortas Frontera to share the hand-crafted quality, local ingredients, and authentic Mexican flavors that he is known for in a fast-casual format that is ideal for the digital ordering, pickup, and delivery model required in today's COVID operating environment.
"We're honored to have Chef Bayless' Tortas Frontera concept in our Chicago Kitchen Center," said Jim Collins, CEO of Kitchen United. "Restaurant models are evolving to meet growing consumer demand for off premise dining. Tortas Frontera is part of a truly iconic Chicago restaurant family. It's fun to be able to offer the city food from such a great brand through our Kitchen Center."
Located at Kitchen United MIX at 831 N. Sedgwick St., Tortas Frontera is surrounded by new residential development and a strong millennial and Gen Z population. Kitchen United offers a turnkey solution for restaurant operators who want the opportunity to increase revenue by expanding their off-premise business. Consumers can order for delivery or pick-up through digital channels, or on-site using kiosks.
#LifeOrDeathRecipe Challenge
Spiceology is partnering with Chef's Roll and the National Kidney Foundation to introduce a contest like no other – the #LifeOrDeathRecipe Challenge. Chefs have the gift of creating great flavor and sharing it with the world but are used to leveraging two key ingredients to enhance and impart flavor in your dishes: salts and fats.
Imagine a world where salts and fats were not allowed, because eating them could mean the difference between living or dying. That might sound extreme, but it is the truth for many with kidney disease. That is the reality for millions of Americans living with kidney disease. That's why Spiceology and Chef's Roll are challenging chefs around the country to help those on restrictive diets by creating an approachable dish with no salts and low fats. (All selected chefs will receive Spiceology's new line of 13 salt-free blends to experiment with.
The goal is to have 370 healthy, easy-to-make recipes for an eCookbook. Why 370? They want one recipe for every 100,000 Americans with kidney disease. To learn more, click here.
Tripleseat Relaunches EventUp
Tripleseat relaunch enue discovery and booking platform EventUp. Previously operated by Gather, the site joins the Tripleseat Booking Network following the merger of Tripleseat and Gather Technologies.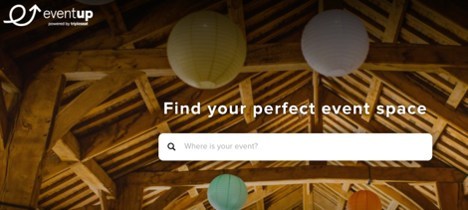 In complement to the existing VENUES by Tripleseat platform, EventUp is aimed at connecting anyone planning an event — not just professional planners — with restaurants and unique venues. Through EventUp, people can search for restaurants, aquariums, yachts, art galleries, estates, bowling alleys, breweries, and even a soccer stadium, located throughout the United States. Additional capabilities include the ability to read reviews from Facebook and Yelp, find floor plans, ask questions, and generate a request or proposal, quickly and from one convenient resource.
Lead generation is critical to driving business for venues, and EventUp provides the opportunity to reach more potential group business. Venues can leverage EventUp's ability to grow organic traffic from their listing on the site, or they can invest in premium services that boost visibility and drive more leads through bespoke, curated listings.
"Our conversations with customers all over the country have left us incredibly optimistic about the resurgence of the event and catering business as more regions get COVID-19 under control," said Tripleseat CEO Jonathan Morse. "As we head into the holiday season, EventUp provides a simple and effective platform on which planners and venues can connect and communicate, safely and virtually, so they can host the perfect event."
Trabon and MenuTrinfo Team Up
Trabon, menu management and publishing solutions, and MenuTrinfo®, nutritional analyst and food allergen expert, have forged a strategic alliance that enables an end-to-end solution for the calculation and presentation of menu item nutrition facts and allergen declarations. Nutrition and allergen data are mapped from MenuTrinfo®'s proprietary analysis software into Trabon's My Meal, My Way™ Nutrition Calculator and Allergen Filter platform. When presented on a restaurant brand's website and online ordering systems, guests can build the meals they crave while meeting their dietary needs and providing transparent options for guests with food allergies or intolerances.
The Trabon and MenuTrinfo® partnership was initiated in 2019 with the First Watch brand, Sun & Fork.
"In 2019, Sun & Fork brand by First Watch launched an interactive nutritional calculator and allergen wizard tool in collaboration with MenuTrinfo® and Trabon," says John Zimmermann, First Watch Vice President of Quality Assurance and Food Safety. "We have had great success with this new tool, and we know that our guests appreciate it as well. We look forward to continuing the partnership to provide valuable nutrition and allergen information for our guests to help them make informed decisions and enhance their experience."
"This partnership strengthens our commitment to helping brands like First Watch successfully navigate the FDA menu labeling requirements," says Trabon's senior director of integrations and partnerships, Christy Trinkler, "and the growing guest demand for nutrition transparency and meal customization with our My Meal, My Way Nutrition Calculator and Allergen Filter."
"We are so excited to be working with Trabon on the nutrition and allergen calculator. This is a service we've been wanting to offer to our clients for quite some time, and we couldn't be happier with the My Meal, My Way tool. We can now offer a seamless process from analysis to calculator launch, with best-in-class service along the way." Says Claire Peacock, Chief Operating Officer of MenuTrinfo®
SAVI 3 Debuts
SAVI Controls introduced SAVI 3, the next generation AV control and automation solution designed to streamline installation, programming and expense across commercial projects of virtually any size and bring freedom, flexibility, and ease to the pros designing and installing commercial AV experiences.
"Working as integrators ourselves, we experienced the needless complexity that comes with traditional commercial AV control. Our vision is to distill all of that complex programming into a modern, simplified approach that strips away the time-consuming, mundane tasks, making the process shockingly simple," said John Dorsey, SAVI CEO. "We've delivered on that vision with SAVI 3, dramatically reducing the time and cost associated with set up and programming, bringing back the fun to commercial AV for integrators, technicians, and customers."
Key Creator features include:
Smart Add. Integrators can sequentially name hundreds of devices or set IP addresses and add multiple displays with a few clicks, and easily create macros that modify any number of devices all from one page, significantly reducing redundant tasks and increasing install efficiency for any size job.
Streamlined driver integration and room creation. Creator enables programmers to easily group drivers and view driver properties in a clean, intuitive manner, keeping your project organized and making it easy to quickly reference specific components.
Advanced Search and Filter capabilities. The Creator interface boasts a responsive advanced Search and Filter feature that is specific to your current view, which is a huge advantage for larger projects consisting of many devices, connections, and drivers. Gone are the days of the never-ending scroll, and the frustration of navigating in and out of various screens to find what you need.
"We're thrilled to unveil Creator because it delivers a revolutionary way for techs of all levels to build stunningly impressive systems," said Derek Wilson, SAVI CTO. "We worked tirelessly to identify and eliminate all of the historical pain points of creating and installing a project and poured all of that knowledge into making the commercial AV project experience enjoyable, starting with programming in Creator."
TableBoost Partners with Dining Alliance
TableBoost is teaming with Dining Alliance which is the largest Group Purchase Organization (GPO) for restaurants in North America and part of the Buyers Edge Platform. Both TableBoost and Dining Alliance focus on reducing costs for small, independent restaurants, and their respective offerings are free for restaurants.
"The TableBoost app helps restaurants save up to 25% of the cost of managing their equipment (e.g. preventative maintenance, emergency repairs, and purchases)", says TableBoost CEO and Co-Founder Tim Collins. "We are so proud to be a partner of Dining Alliance and Buyers Edge Platform who have a great reputation for providing significant cost savings via their group purchasing contracts, technology offerings and supply chain expertise.Together our companies are helping our small, independent restaurant clients lower their costs so that they can survive and thrive into the future."
Sean Donahue, VP of Strategic Partnerships at Buyers Edge Platform said, "We believe that all Dining Alliance members can reap additional cost savings by utilizing the TableBoost app to manage their equipment.TableBoost users will likewise benefit from the wide variety of savings opportunities that Dining Alliance offers to operators on products and services they use to operate their business."
Saving More than Paper
Uptown Network, developer of the BYOM™ (Bring Your Own Menu) technology, saved restaurants more than three million pieces of paper to date by replacing their current menu options with the company's QR-code-driven mobile menus. Additionally, BYOM has saved restaurants more than a million dollars in printing costs and been used by more than 500,000 restaurant guests, according to data tracked and analyzed by the company.
Uptown Network released BYOM™ in May 2020 as a hospitality-friendly alternative to PDF menus. BYOM is mobile-responsive and easily updated. It runs on guests' smartphones (iOS and Android), delivering real-time menus directly to their personal devices. On average, BYOM™ has reduced printing costs by 80-90 percent while dramatically reducing waste.
Ready Partners with FreedomPay
Ready is partnering with FreedomPay to combine its contactless dining technology with the established payment processor, enhancing safety in consumer payment space
"FreedomPay is a leader in global payment processing, so it's great to welcome them to the Ready partnership ecosystem," said Laurent May, Head of Ready. "We have a shared vision to bring a highly secure, integrated and seamless experience to the hospitality industry and working together enables that even more. We look forward to the exciting road ahead and offering our solution to all existing FreedomPay customers."
With this partnership, guests will be able to use their own mobile device to order and pay for their meal without physically exchanging cards, cash or touching a payment terminal. It is a fully integrated, app-free solution that removes all the unnecessary touchpoints that traditional service, ordering kiosks, payment or tableside POS terminals have. The result is an enhanced customer experience and improved service times, all with world-class payment security. Being completely consumer driven and 100% touchless, the solution seamlessly facilitates safe dining practices both on and off-premise and, most importantly, provides a choice for guests at a time when it matters most.
"Short term, our combined solutions allow for hospitality operators to resume next-to-normal operations, allowing a completely safe and touchless end-to-end purchasing experience," said Chris Kronenthal, President & CTO of FreedomPay. "And in the long term, our partnership will provide merchants and consumers with an unrivalled, intuitive experience that will improve service times dramatically and streamline ordering and payment."
Glass Partitions
Charleston Forge has debuted Glass Partition Screens using Andrew Pearson Glass's Laminated Glass, used to meet health and safety standards in commercial or hospitality spaces, such as restaurants, during the pandemic.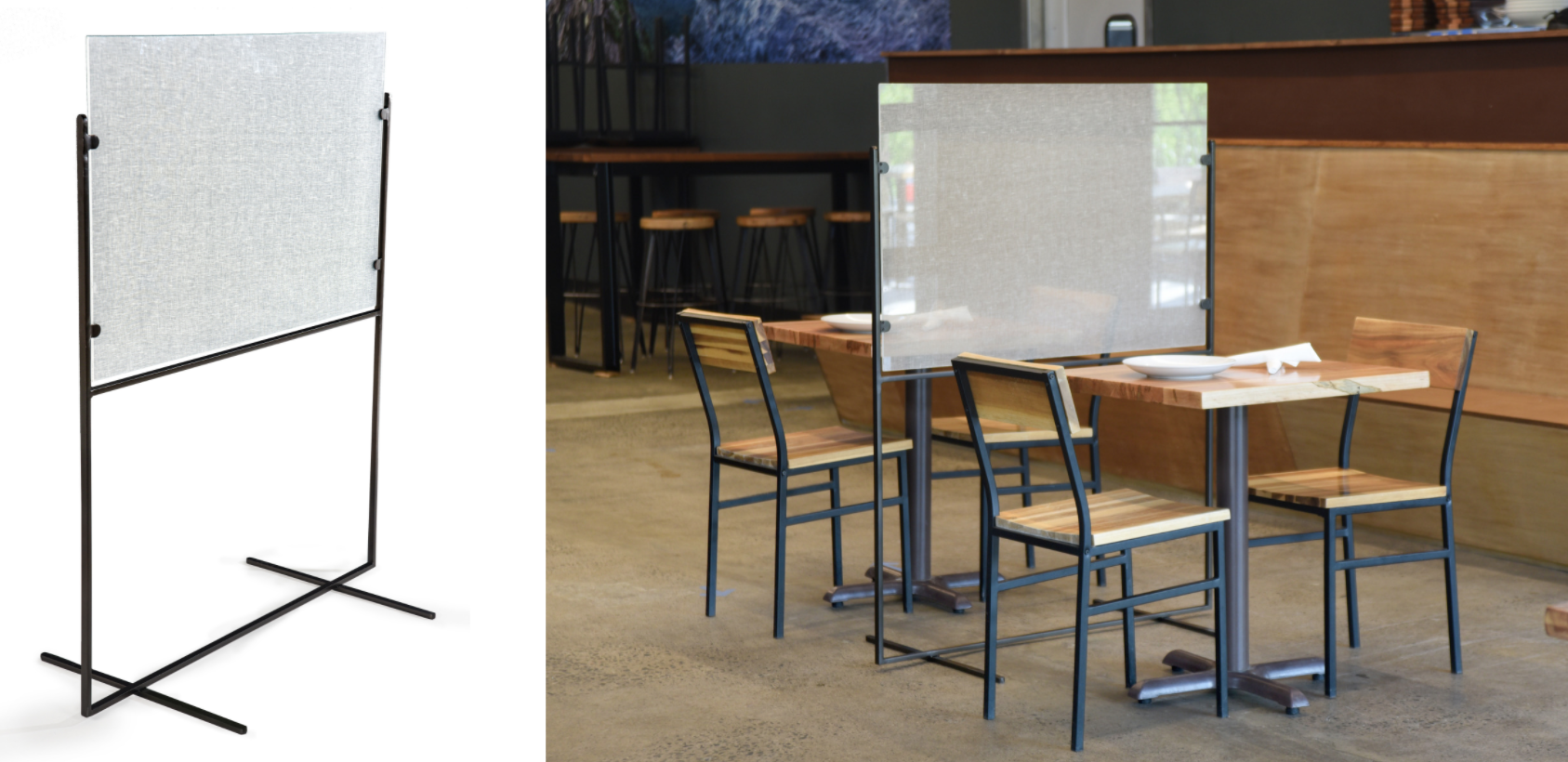 The partitions are constructed of steel manufactured by Charleston Forge, and can be made in any size or customized in a variety of finishes. The Laminated Glass by Andrew Pearson Glass can also be customized, as it seals any paper or fabric between layers of glass through lamination to create a secure and permanent bond.
Both companies are based in North Carolina, where the partitions are assembled.
1aJob? Helps Hiring
A new smartphone hiring app, 1aJob? now offers business owners and hiring managers a new completely virtual option that fast-tracks and simplifies the hiring process by connecting unemployed and furloughed workers with employers looking for an efficient, easy and safe way to hire amid the Covid-19 crisis.
"My family has decades of experience in the restaurant business so the idea for 1aJob? actually grew out of the hiring challenges we faced firsthand even before the Covid-19 crisis hit," said Sunny Patel, the founder of 1aJob Inc.. "Once we saw the impact of Covid on restaurant owners and other business owners, we made the decision to offer the app for free to do our part to get America back to work."
1aJob? (pronounced "Wanna Job?") offers job seekers — including critical essential workers – a fast and easy path back to work. The app eliminates the often-intimidating process of filling out complicated online applications and updating resumes. Instead, job seekers need only complete a simple, one-time profile.
For employers, 1aJob? provides a fast and free way to staff up with full and part-time employees, as well as short-term gig workers, without wading through endless resumes. The app offers a safe and secure way to hire workers in the age of social distancing, facilitating the entire process virtually —including unique embedded video interviewing—without ever leaving the app.
Hyatt Hashim, co-owner of Detroit-based Proof Technologies, recently used 1aJob? to quickly hire several security guards.
"This app works," Hashim said. "It's fast and easy to navigate. I can find my candidates, interview and hire them all within minutes."
"Many of the existing hiring platforms have hidden fees that end up being costly for business owners," said Patel. "I wanted to create the most transparent, easy-to-use app that doesn't charge any fees and doesn't even require any payment information from employers or job candidates."
The 1aJob? App can be downloaded at the Apple Store and Google Play.Apple App Store
Southern Glazer's Adds Schnall
Southern Glazer's Wine & Spirits appointed Ryan Schnall to the role of Senior Vice President, Financial Planning & Analysis (FP&A), effective immediately. Schnall, who will report directly to Executive Vice President of Finance Thomas Greenlee, will lead the continued development of the FP&A Center of Excellence, as well as standardizing ways of working and instituting financial reporting tools.
"We are excited to have a talent like Ryan as part of the corporate finance team," said Thomas Greenlee. "His field experience and thought leadership have been instrumental in the continued development of the FP&A roadmap. Ryan's leadership, professionalism, and collaboration will add immediate value and further our efforts to provide best-in-class financial services to the Southern Glazer's organization."
Schnall joined Southern Glazer's in 2010 and most recently held the role of Regional Vice President of Finance and Strategy for the West Region. Prior to that, he was the Controller for the Pacific Northwest subregion and was a team member of the Office of Strategic Management. Before joining Southern Glazer's, Schnall held finance roles of increasing responsibility at MGM Resorts and was a Senior Consultant with Chicago Partners, LLC, an economic and accounting litigation consulting firm.
Carlisle Squares
Carlisle FoodService Products, a CFS Brands company, addedd Carlisle Squares™ – a food storage solution with a feature set to store, rotate, and transport food safely.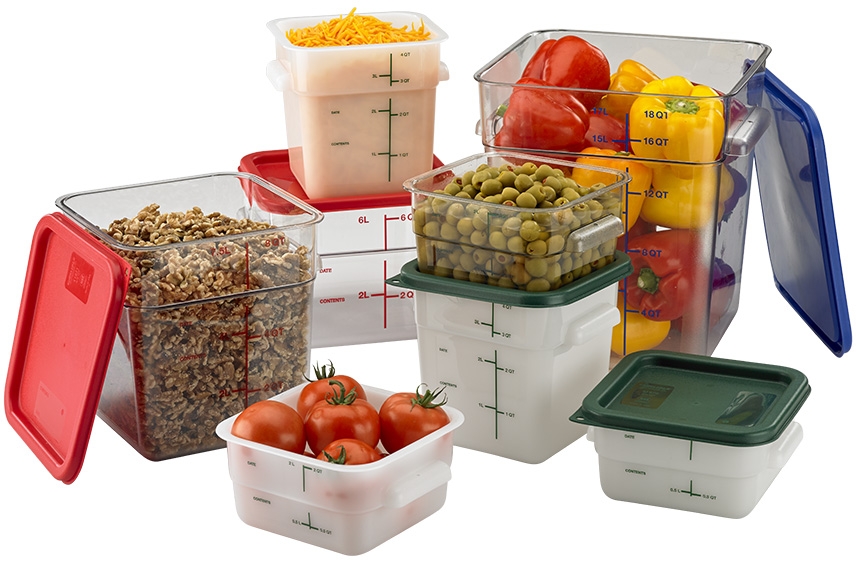 Carlisle Squares size have wide handles, integrated for easier and more sanitary lifting and carrying. Carlisle Squares shows both quarts and liters markings on the side of every storage container.
Carlisle Squares food storage containers are available in 2-, 4-, 6-, 8-, 12-, 18-, and 22-quart sizes in dishwasher-safe polycarbonate or polyethylene material with printed measurements and rounded corners for easy cleaning.
"At CFS Brands, we design products that help your foodservice operation run smoothly and profitably, while ensuring superior food quality and safety," said Katie Babcock, CFS Brands Director of Product Management. "Our new Carlisle Squares system is our latest innovation. It's one more solution that will help make your job easier and more efficient."
iVario Launches
RATIONAL launched the iVario® product line in the United States and Canada. The iVario is an intelligent multifunctional cooking system that exceeds the capabilities of conventional tilting skillets, kettles and deep fryers.
New to North America and now available from RATIONAL dealers, the iVario debuts a powerful new performance class in foodservice equipment defined by faster cooking times, extraordinary flexibility, and acute precision that delivers unmatched results. It also is up to four times faster, and uses up to 40% less electricity when compared to conventional equipment.
The iVario uses ceramic heating elements attached to a durable heat-conductive, scratch-resistant pan base designed to withstand extreme temperature swings and heavy everyday use. The iVario pan base reaches 400°F in less than three minutes, and can reduce the temperature with similar speed. Numerous sensors measure the pan base every second to adjust temperatures for consistent results and energy efficiency.
Another innovative feature provides flexibility by allowing the user to divide the iVario pan base into as many as four individual cooking zones. Each zone can have a different shape, size and cooking temperature. The feature even can save cooking zones, to keep operations consistent while helping staff to produce better food.
"This is the perfect time to introduce the iVario product line because every foodservice operation is looking to increase efficiencies, maximize productivity and produce outstanding food," states Markus Glueck, executive vice president for RATIONAL North America. "The technology incorporated into the iVario improves both the employee and customer experience, and advances the way commercial kitchens operate. It's what the industry needs now."
Absolutdata Joins Nielsen Network
Absolutdata joined the Nielsen Connect Partner Network, the largest open ecosystem of technology-driven solution providers for retailers and manufacturers in the consumer packaged goods (CPG) industry. The partnership enables integration of Nielsen data into Absolutdata's NAVIK AI-Enabled Intelligence Platform, starting with the ASK NAVIK module.
As a Silver Partner in the Nielsen Connect Partner Network, Absolutdata can build products that directly and quickly integrate Nielsen data, the gold standard in data for CPG retailers and manufacturers, into its solutions. The partnership supercharges Absolutdata's cutting-edge ASK NAVIK, an AI-powered intelligent virtual assistant for business users that enables a user to have a single window for accessing all the information included in structured and unstructured data. A business user asks a question in plain English and ASK NAVIK searches all the dashboards, databases and text reports to provide instantaneous answers.
"We are excited to welcome Absolutdata to the Connect Partner Network, as we continue to grow the network with highly qualified partners to fuel a smarter market for the retail and consumer packaged goods industry," said Brett Jones, Global Leader, Connect Partner Network, Nielsen. "Through the unmatched breadth of our collaborative ecosystem of trustworthy and innovative partners, our clients are uniquely positioned to solve their biggest problems and stay ahead of a rapidly changing consumer landscape."
ClockedIn Launches
Chicago-based Clockedin has launched a networking platform to help frontline workers get a head start on the recovery. Backed by funding from the humanitarian-focused Kairos Society, Clockedin's mission is to make worker's lives easier, changing them for the better by connecting them directly with hiring managers and industry influencers who can guide them to work opportunities. Clockedin is the go-to solution for permanent and on-demand positions in the evolving hospitality industry.
As the crisis moves into recovery, there will be more people looking for immediate work than any time in recent history. The reality of restaurant jobs is low-wage, part-time hours which means that workers need multiple jobs to earn a livable income.
Clockedin provides instant access to work opportunities for those who build a strong reputation and professional connections in their market. In turn, managers can recruit at the push of a button. The power of the network gives people immediate access to short and long-term earning opportunities helping them balance work and life.
The platform is available for iOS and Android.
UKG Rebrand
Ultimate Software and Kronos Incorporated today announced plans to rebrand the company. The combined company's new name will become UKG (Ultimate Kronos Group), effective October 1. Its new tagline is, "Our purpose is people,"
"Our new brand, UKG, truly unites Ultimate Software and Kronos, both as a business and as people," said Aron Ain, CEO of the joint company. "Our new brand is rooted in our combined passion and history of focusing on people at work. We believe the UKG brand represents our continued commitment to our employees, customers, and their employees—while at the same time giving us a modern new identity for our future together as one organization. Separately, Ultimate and Kronos have proven that remarkable cultures led by inspired people drive success, and now we are together as UKG, one company with people at our core."
"We believe when people feel valued, they're empowered to tap into their unique talents for the good of themselves, their company, and their communities. Our love for all things HR and workforce management is matched only by our people-centered culture," said Ain. "Every day, our people do what they do to improve the lives of the millions of people using our solutions. Our new brand represents the people-centric innovation, warmth, and partnership our customers will experience with UKG products and services. Since our purpose is people, feedback from our own employees, customers, and prospects was the biggest driver in the decisions we made about our new brand."
E Vehicles for F&B
Gallery teamed with AYRO, Inc. and Club Car to launch a new line of electric vehicles to help bring food, beverage, and retail merchandising safely to consumers this fall.
The custom-designed E Vehicles are designed and built by Gallery using AYRO's Lithium-Powered Vendor Box on the Club Car 411 Vehicle to support mobile power for a range of on-board food service. The new electric vehicles feature convenient hot and cold storage and dispensing to ensure food and beverage items are safely stored, transported and delivered. Operating on at least 50 percent of fuel costs, the zero-emissions vehicles require far less energy than full-sized, gas-powered food trucks and do not require any special charging infrastructure.
"As restaurant managers prepare for the return of employees and guests, traditional dining experiences are not possible. Companies are looking for creative new ways to provide food & beverages," said Dan Gallery V, President, Gallery. "Instead of bringing people to the food, we are bringing food to the people and now, more than ever before, consumers need convenient grab-and-go options that are safe, reliable, and efficient."
Gallery E Vehicles help food, beverage and merchandising operators bring their products directly to consumers. The environmentally friendly, cost-effective, fully customizable light duty vehicles are the latest in Gallery's line-up of innovative products being used in venues across the country, from major NFL stadiums to colleges and universities, conference centers, airports and malls.
"At AYRO, we pride ourselves in being able to quickly deploy purpose-built electric vehicles in order to enable sustainable fleets. We serve a wide range of industries that each experience unique challenges, but by collaborating with our customers and partners like Gallery, we can custom engineer solutions that fulfill specific needs – such as bringing food and other resources safely to the point of demand, reducing noise and emissions, and providing cost savings," said AYRO CEO Rod Keller.
"Whether you're running to class, on your way into the office, or heading to catch a flight, we all need convenient on-the-go food and beverage choices right now, and we need to know they are safe," said Gallery.

Eco-Friendly Packaging
Harvest Pack, founded by brother sister team Christina and Alex Pou, is a company on a mission to end plastic pollution through food packaging. Harvest Pack uses recyclable, biodegradable and environmentally-safe material to create a smarter food packaging solution for restaurants and food distributors. The company and their eco-friendly packaging is helping businesses stay open, keeping customers safe and connecting, and protecting the environment.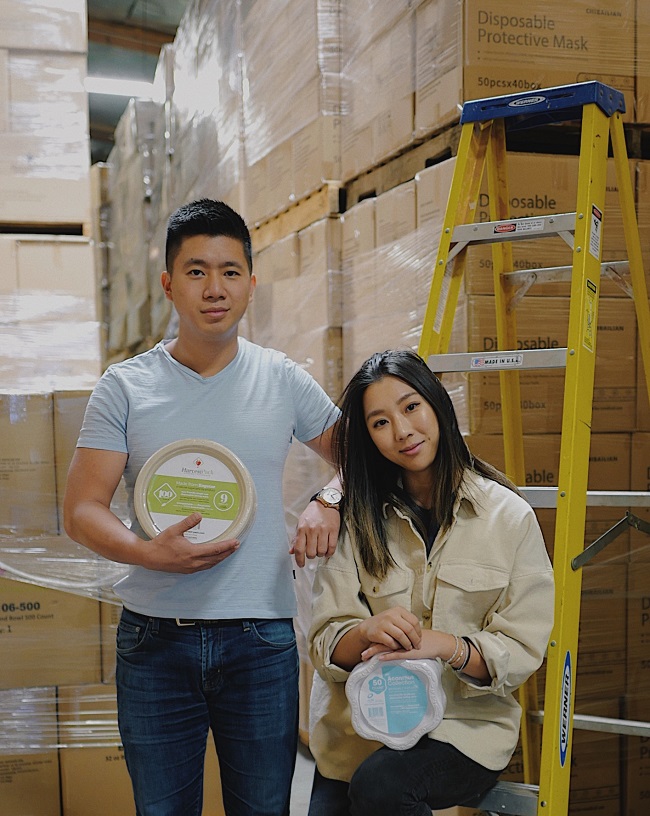 The COVID-19 pandemic is causing an excessive waste problem around the world with an increase in the use of plastic bags, delivery packages, and takeout containers. According toBloomberg, single-use plastics such as polystyrene (the material used to make Styrofoam™) are experiencing a renewed demand due to the pandemic. Plastic waste is increasing in the restaurant industry due to the rise in takeout and delivery orders (essential to keeping the industry afloat), and the proliferation of all these disposable containers.
While single-use plastics are the go-to solution for many restaurants right now, one company is working to curb plastic waste with green and recyclable packaging lines. Harvest Pack provides restaurants with branded, customizable, eco-friendly packaging made with 100 percent biodegradable plant fiber that won't hurt the environment. Harvest Pack introduced this line in 2013. In addition, the company also provides a 100-percent recyclable plastic line.
"First and foremost, we want to help keep people safe during this difficult time. We are working closely with restaurants so they can deliver customers' favorites and keep the experience as authentic as possible," said Alex Pou, who along with his sister Christina Pou, founded Harvest Pack. "It may be some time before many people feel comfortable dining in restaurants again and we expect takeout and delivery to continue to be in high demand. That's why the compostable packaging is more important than ever. People can feel confident supporting their local restaurants and know they aren't adding to the growing plastic waste problem."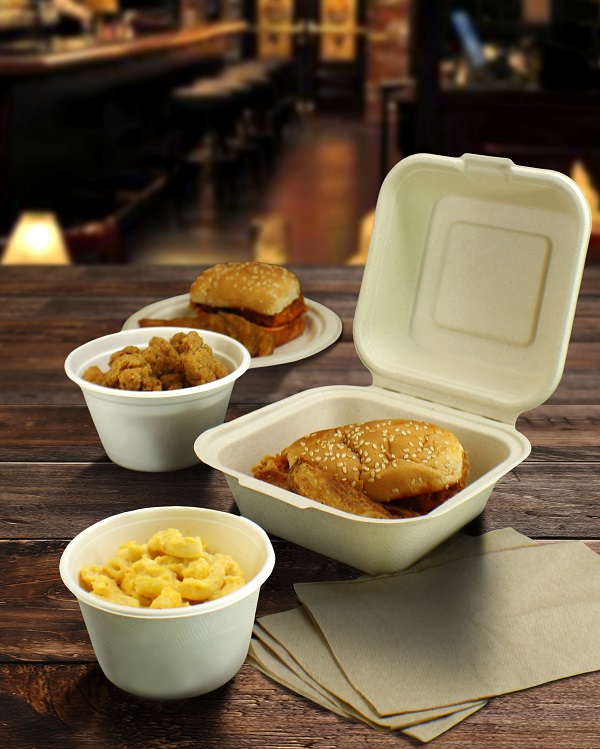 As they work on their mission to reduce food packaging waste, Harvest Pack is also helping restaurants stay connected to their customers by offering branded packaging. The company's design team works closely with restaurant owners to develop a customized line of to-go containers that reflect a restaurant's personality. It's another important touchpoint for business owners who don't have the opportunity to have face-to-face communication with customers right now.
One customer of Harvest Pack's eco-friendly packaging is Chowbotics, maker of the fresh food robot. As stated by a Chowbotics spokesperson, "Our foodservice partners utilize our product to provide safe fresh meals. With the onset of COVID-19, we searched for a wrapped bowl solution that would address new food safety challenges, while still limiting our customers' environmental footprint. We're thrilled with the compostable solution provided by Harvest Pack. Their ingenuity is helping us navigate new challenges brought on by the pandemic."
In addition to Chowbotics, Harvest Pack's clients include the upscale, LA-area Erewhon Supermarkets; The Paper Company, a division of Imperial Dade; and nearly 500 restaurants and food service distributors nationwide.
"Food packaging is used every single day and current events add to the demand," continued Pou. "It is extremely important to keep businesses up and running, but we need to be smart about the materials we use. We don't want to add to the pollution problem nor reverse years of working hard to improve and protect the environment. We hope more people will join us and go green with compostable products like ours."
In addition, to help restaurants keep their employees safe during the pandemic, Harvest Pack has added a special line of personal protective equipment.