Kindness Personified
4 Min Read By Dan Hyman
With Random Acts of Kindness Week celebrated February 13 – 19 we go inside Kennon Adkinson's journey as Chief Kindness Officer for Sonny's BBQ.
Kennon Adkinson believes in kindness. The sort of kindness that's unprovoked and selfless and stems from nothing more than having a beautiful heart. Yes, his is the sort of generosity that extends beyond simply being a good person — at his core, Adkinson believes in inclusivity and the need to spread joy. It's why he makes it a major life priority to participate in philanthropic efforts and, more directly, why, in early 2020, he was chosen as Sonny's BBQ's first Chief Kindness Officer (CKO).
"Now I need to step my game up," Adkinson remembers thinking upon his longtime company naming him to such a unique position. "I can't just talk the talk," he adds of his thought process at the time. "I gotta walk the walk. I love doing things for the community but now I have to represent that for the whole brand and inspire other people to do so as well."
He's wasted little time doing exactly that: in the just under two years he's served as CKO, Adkinson (who also heads up the catering division for 27 Sonny's locations) has made it his mission for Sonny's to be an inspired, giving partner in each of the communities its restaurants serve. "It's about challenging the team — everyone from managers to owners and employees — to do good and spread kindness," he says. To that end, "The CKO role became more than just an individual," Adkinson contends. "It's about pushing our positive culture out there into the world."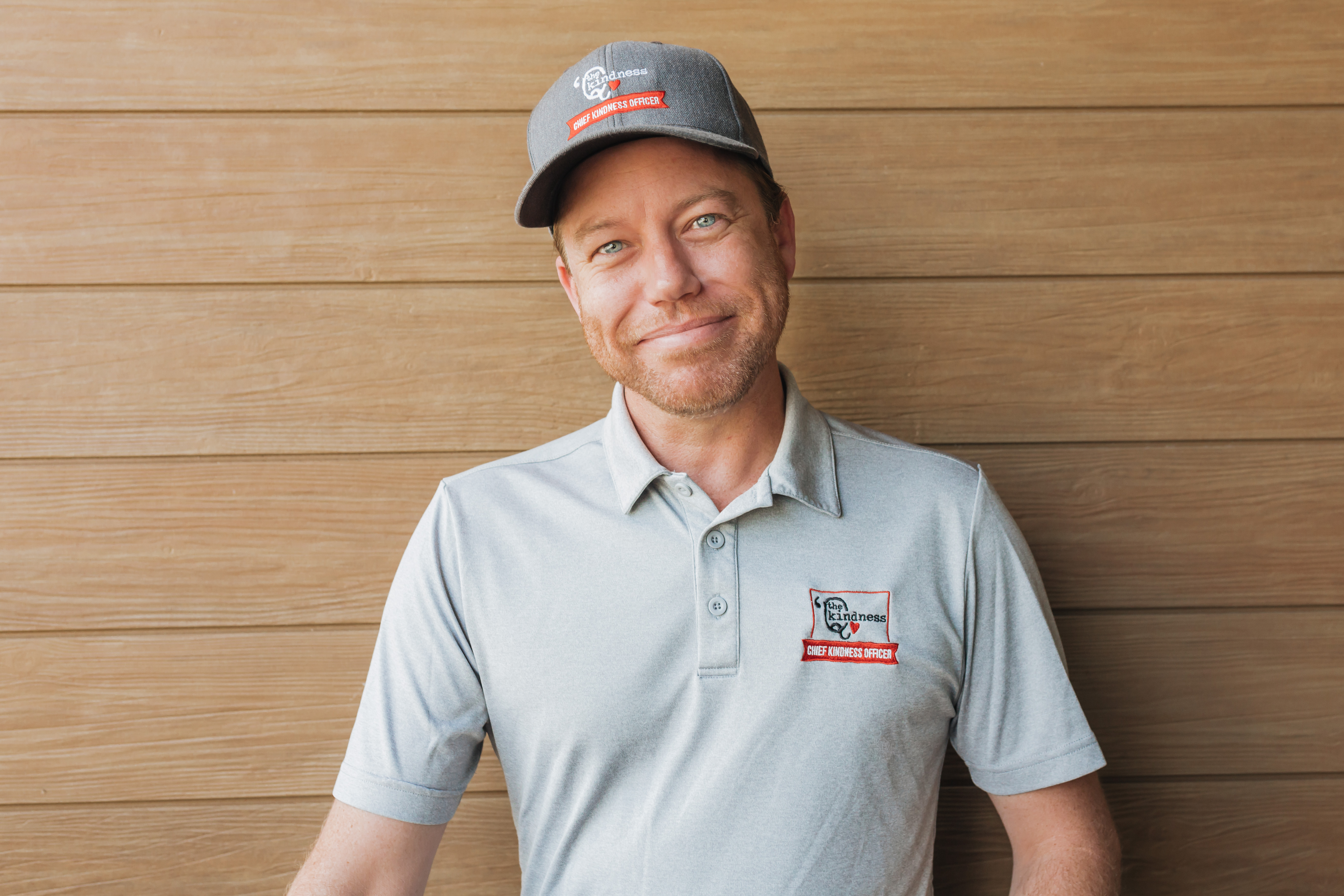 "I've always been passionate about giving back and was always taught to help others," Adkinson explains. "It's so important to me to do kind things because every act, no matter how big or small, has the power to impact someone's life."
To hear him tell it, inspiring kindness on the corporate level is as much about creating a positive spark deep within a company as whatever outward displays of giving the rest of the world might see. "A company can do things for the community for the wrong reasons —like simply for getting positive attention," he says. In his eyes, "to truly grow things organically, you have to make an impact from within and then go outwards…not just putting band-aids on something or fixing things that are already on fire. Rather, you light that fire internally."
It helps, Adkinson says, that philanthropy is baked into the culture at Sonny's. "Every store gives back to the community," he notes, and that giving comes from employees representing all areas and levels of the company. He refers to this collective as the "Kindness Crew." "We have to really represent kindness and be at the forefront. If we can't help with money, we can help with volunteerism, with food, etc. I've been talking to other companies that want to hear about what we're doing. And it means the world. Because we're changing the conversation and we're flipping the script for the better.
The CKO role became more than just an individual. It's about pushing our positive culture out there into the world.
"My passion for helping others has grown even more because of the opportunities Sonny's has given me over the years," he continues. "This platform has allowed me to make incredible connections and bring service-oriented individuals and organizations together. Sonny's is always presenting the right opportunities to give back through gifting, food donations, and volunteerism."
Adkinson and his Sonny's cohorts have been on the front lines in recent times helping in any way possible. Adkinson connected over 100 Central Florida families with a turkey dinner via One Heart for Women and Children, was nominated for Champion of the Year by Best Buddies for raising $30,000 in eight weeks as well as facilitating a Best Buddies Jobs program to hire individuals with intellectual and developmental disabilities at Sonny's locations, and he also serves on the board for Blessings in a Backpack, an organization that provides meals for students for nights and weekends when they're not in school. It's abundantly clear that making a positive impact on others burns deep within Adkinson — and Sonny's on the whole. "When you see that it's an entire movement and it becomes more than just one person doing good in the world, that's where the spark truly lives," says Adkinson, who also proudly notes how he and Sonny's organized a 120-person Veteran's Day meal this past November.
And he most certainly doesn't only help out through his career: Adkinson serves on the board of directors for Winter Springs Performing Arts as well as on the advisory council for the KindRED Pride Foundation. He also donates and participates in the Seminole County Sheriff's Office Community Foundation, Orlando Health Foundation, Orlando Magic Youth Foundation, Fairways for Warriors, American Cancer Society (Cattle Baron's Ball and Making Strides Against Breast Cancer), and Winter Park Foundation.
Now, he's ready to expand and extend the Kindness Crew, namely by ensuring that no matter how long he individually stays on as CKO, he'll always be a major part of Sonny's giving culture. As he sees it, each former CKO will transition to sitting on a steering committee helping oversee all the company's good works. "What would be really cool is to make sure that it's manageable but also grows and continues to be something really big and the core of what we're all about," he says. "The way to do that is to keep everyone in play.
"I don't see myself stopping anything," Adkinson concludes with a smile. After all, kindness is who he and his company, Sonny's BBQ are. "It's been fun and amazing," Adkinson says of his ongoing role as Sonny's Chief Kindness Officer. "I've done things I never imagined I could do. It has truly lit a fire in myself… and hopefully others, too."