Inching Through the Pandemic, the Path Forward is Paved With Delivery
2 Min Read By Jana Zschieschang
Since April, our team at Revenue Management Solutions (RMS) has been asking consumers how they are interacting with restaurants. Everything has changed, but customers are settling into new rhythms. Chief among those habits? Delivery, takeout and drive-thru.
In RMS' third consumer survey assessing US consumers' attitudes toward dining, fielded Aug. 5-11 with 800 US respondents, one in three (36 percent) consumers reported using delivery, takeout and drive-thru "more or much more" vs. pre-pandemic.
Most notable in this stat is that the use of contactless channels continues to grow, by significant percentages. Those using delivery "much more" jumped from 19 percent in April to 37 percent in August. The use of takeout grew from 25 to 37 percent in that same time frame, while drive-thru usage jumped from 23 to 36 percent. By comparison, the dine-in segment saw no increase from May to August, despite lifted restrictions.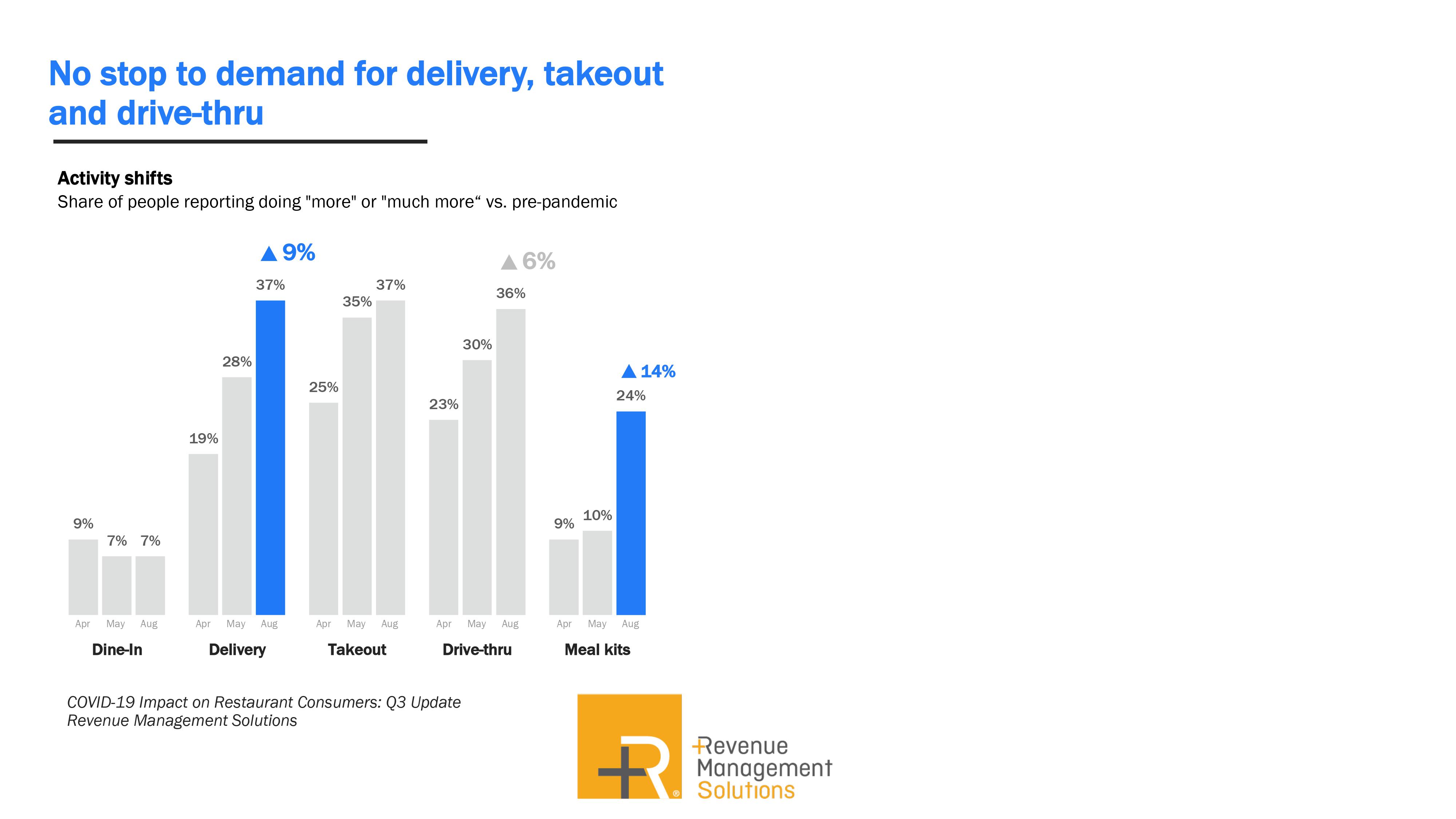 The increase in the use of contactless channels wasn't surprising in April or May — it was the only option, in most cases — but continued growth does indicate a new reality for restaurants, one likely to continue throughout the year. When asked about their post-pandemic intent to dine out at restaurants, 42 percent plan to go out less. Just 13 percent intend to dine out more, and that group tended to be heavy users pre-pandemic.
The risks to health and safety are, obviously, the most pressing reasons for the increase in delivery and the apprehension about returning to dining in. But 31 percent of respondents also mentioned a lack of disposable income and financial worries.
What does this mean for restaurants?
You'll find your customers on the phone, online and in your drive-thru. A stunning stat: 38 percent of millennial respondents in our survey reported ordering from restaurants through contactless channels at least five times per week.
Of all contactless channels, delivery is increasing fastest. Delivery also requires the greatest investment and, in some cases, costs your operation the most. But our survey found that consumers want to order from you — and don't like those third-party charges.
50 percent of non-boomer generations (Gen X, Gen Z and millennials) and 42% of boomers prefer ordering directly from restaurants and third-party apps.
For those who prefer ordering delivery directly from restaurants, 63 percent choose restaurants with a loyalty program.
Moreover, when ordering from a third-party site, 43 percent report they might abandon their order if fees are too high. Of those that bail:

63 percent say they'd order takeout instead
a whopping 84 percent said they'd order from a different restaurant
Rewarding those loyal customers could pay off: 24 percent reported ordering more food at one time — to have leftovers, save on the number of trips to restaurants, save on delivery charges and feed more people at home.
This bigger-order trend is evidenced in a continued disparity between sales and traffic. In our most recent impact report (9/11/2020), traffic remains down YOY, while sales remain flat to positive compared with 2019. This trend has held steady since we started reporting this data in early April.
The road to recovery is not going to be the path we planned. The key is in the data — understanding where your customers are now and finding new (and old) ways to meet them there.