How Your Restaurant Can Take Advantage of the Virtual Event Trend
2 Min Read By Jonathan Morse
With people staying home to avoid the spread of COVID-19, the popularity of virtual events has taken off. Virtual events allow people to feel connected and to enjoy themselves, despite the fact that they can't do so in a restaurant, bar, or other venues.
Although people may be restricted from dining in your physical restaurant space, there are many virtual events your restaurant can take part in order to connect with past and future guests.
Here are a few tips your restaurant can use to take advantage of the virtual event trend:
Live Entertainment
Does your venue host live entertainment such as bands, DJs, or comedy? You can still hold these shows at your venue with a virtual audience. Set up your livestream with the equipment and virtual event platform of your choice. Ask attendees to register and purchase tickets online, then email them the link to the performance when it's showtime.
Classes and Tastings
Your restaurant already has a crew of experts: chefs, bartenders, event managers, and more. Show off their knowledge by hosting virtual classes. These could include cocktails, food and beverage tastings, appetizers, main courses, desserts, event decor, and just about anything else you can think of. There's great potential for revenue here, including the class registration and any supplies you can sell for pickup at your restaurant or delivery to your customers' doors.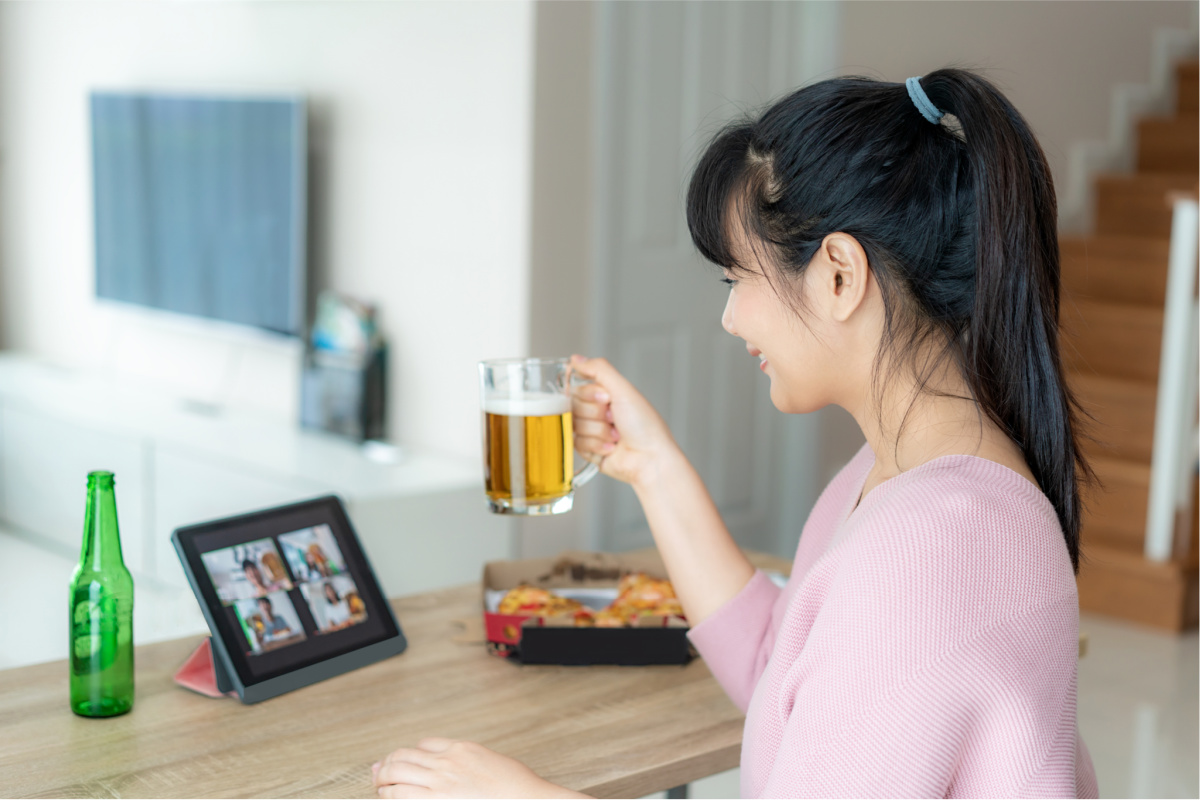 Trivia Nights
Many of your customers have spent a lot of time at home binge-watching during these last five months, so they will be well-prepared for a virtual trivia night. Sell tickets to trivia nights for particular movies or TV series, a general knowledge trivia night, or themes like rom coms or sci-fi. Promote them in advance so attendees have a week or two to watch or re-watch and be on the top of their game to crush the competition.
Virtual Meetings + Food or Swag
A lot of offices have closed down or opened for limited capacity, so virtual meetings and events have become part of the norm for office employees. Restaurants have helped to make these meetings more interactive by offering catering and events services to their corporate clients and virtual staff. Your virtual corporate events can supply attendees with regular catering such as breakfast or lunch delivered to their door, and swag packages like company T-shirts, colorful pens and notepads, or games or crafts that are based on a theme.
Get Your Gear Ready, Promote and Grow Your Revenue
If you already have the right audio and video equipment for broadcasting livestream events, you're ready to go. If not, your phone or laptop and broadcasting on Facebook Live, Instagram Live, YouTube Live, or a Zoom meeting will work as well. You can experiment and then look into purchasing more professional equipment as your virtual offerings expand.
Once your team has the professional equipment and know-how, you can use this expertise to generate revenue. Consider creating packages that let clients hold their own virtual events using your venue, staff, and technology.
Whatever you come up with, don't forget to share the news far and wide. Announce your virtual events via email, social media, your website, and anywhere else you post information for customers and prospects. Your virtual events will gain word of mouth and help your restaurant grow revenue for the second half of 2020 and beyond.