How Restaurants Can Use Technology to Expand Outdoor Space
4 Min Read By Yilmaz Ozturan
If one thing is clear, it's that outdoor dining is here to stay. Because of the COVID-19 pandemic, many restaurants have had to rethink their spaces in order to accommodate additional outdoor dining capacity. All over the country, restaurants have gotten creative to reconfigure outdoor spaces into al fresco dining areas.
It makes sense that customers are wary of the indoor dining experience right now. As the pandemic continues, it has become clear that standard sanitization and cleaning procedures aren't going to make the cut. While online food and restaurant deliveries have gained momentum, many diners still want to experience in-restaurant dining.
Restaurant owners quickly adapted to the new reality by creating outdoor dining spaces, often in creative ways. While many of these new outdoor dining spaces are ingenious ways of making patrons feel safe with limited resources, most are temporary structures. A tarp, tent, or other quickly erected structure is a good remedy for now, but not a long-term solution. In the future, restaurants will need outdoor dining spaces that satisfy consumers' changing needs for safer in-restaurant dining experiences while maintaining their comfort.
According to Datassential research, more than 60 percent of restaurant operators are preparing for a three-to-six month hit while 13 percent believe that this will be their "new normal." Investing in restaurant technology today can go a long way toward ensuring that restaurants are able to meet their operational needs and adjust to their patrons' new expectations at the same time.
Creating appealing outdoor dining spaces should be a top priority for the restaurant industry moving forward. Technological solutions can make this transition from indoors to outdoors easier with smart shelter products that create more comfortable outdoor dining spaces.
Outdoor Dining Will Need to be a Multi-Season Experience
Restaurants will need to create an outdoor dining space for all seasons. This means sun protection in the summer and shelter from the cold in the winter. According to a survey from Full Service Restaurant News and Study Hall Research, weather was the most important consideration for customers when it comes to outdoor dining. Overhead coverings also had a significant impact on the decision to dine al fresco, keeping customers protected and comfortable so they can focus on enjoying their meal.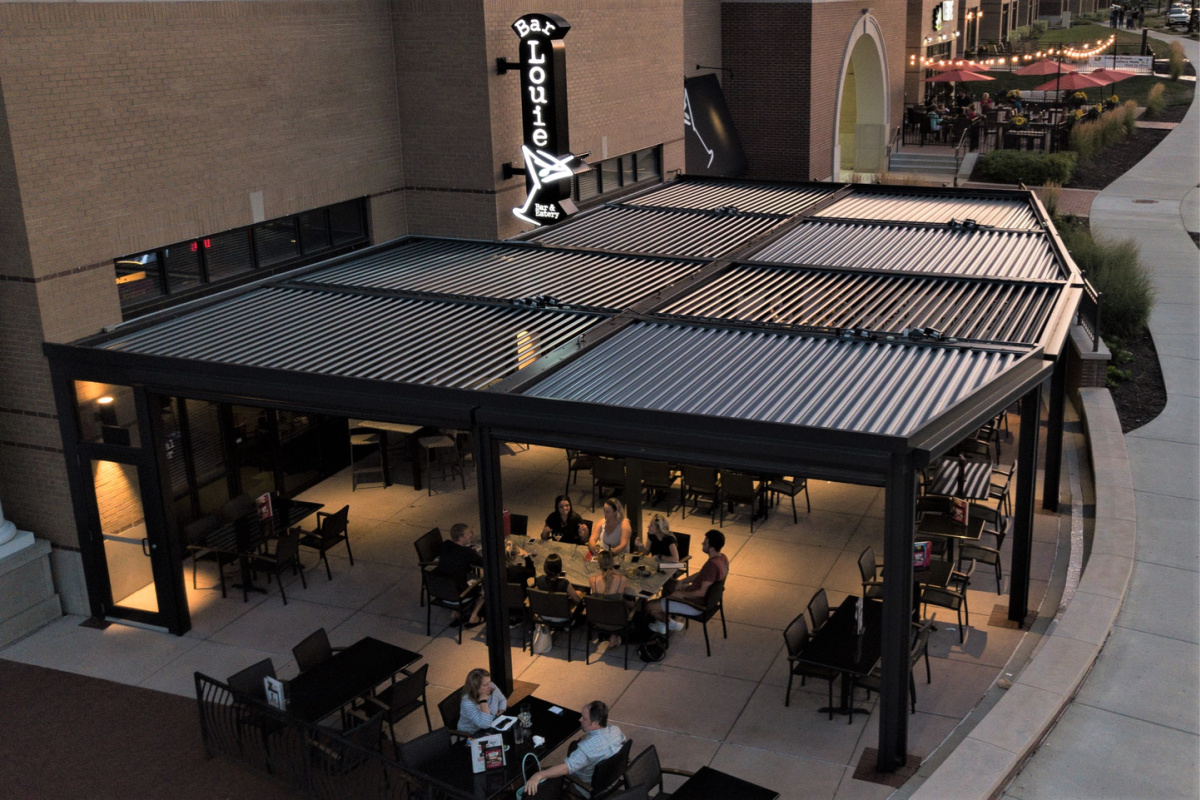 Motorized awnings, pergolas and screens are solid solutions for mitigating the elements. These overhead coverings help give patrons a respite from any uncomfortable weather happening around them. By utilizing motorized awnings and pergolas instead of static structures, restaurant owners can retract awnings or tilt pergola slats when the weather is beautiful so diners can enjoy the day. Meanwhile, motorized screens can ensure insects don't become uninvited dinner guests.
For cold weather, investing in heat lamps and infrared heaters can be a fantastic way for diners to stay toasty even when the weather is frightful. Outdoor spaces can be screened in to give customers a comfortable dining experience year-round. The transition from lunch rush to dinner crowd is made easy by utilizing dimmable lighting that can be added to awning arms or pergola structures to create the perfect ambiance.
For restaurant owners worried about protecting their outdoor investments from the elements, sensors can be added that automatically safeguard smart shading products in the case of strong winds or heavy rains. This adds a little instant peace-of-mind that a strong wind isn't going to take down a new outdoor dining structure.
Best of all, creating a more comfortable outdoor seating space can increase ROI for restaurants in a post-COVID world. According a study from the Simons Advisory Group, an outdoor dining space can boost a restaurant's total revenue by up to 30 percent. It's a classic 'turning lemons into lemonade' scenario, creating a comfortable outdoor seating space for today's restrictions that will work to generate increased revenue tomorrow.
Easy Control of Outdoor Spaces
Managing a restaurant involves a lot of moving pieces. Manually cranking out an awning or lowering a screen shouldn't have to be on that massive to-do list. Solutions are available that make it simple to control smart outdoor shading solutions from a remote, a smartphone or tablet app, and even with the power of voice control. Adding on lighting and heating that can also be controlled via one single remote or app makes it simple to take full advantage of outdoor spaces in winter as well as summer.
Plus, smart outdoor shading solutions can integrate with third-party automation systems. If a restaurant is already taking advantage of smart lighting, heating or even air filtration, those systems can be integrated together with smart shading for a full-business solution.

To make it even simpler, restaurant owners can create schedules for their smart products, lowering a screen at nightfall or extending an awning during before the hottest parts of the day. When outdoor dining can be set-it-and-forget-it, it frees up time for business owners to focus on the rest of their never-ending list.
Air Quality and Energy Efficiency Will be Key Considerations
Thanks to COVID-19, air quality has become a huge concern for businesses of all kinds. By taking seating outdoors, germs are more easily dispersed. A screened-in porch area can be made with breathable fabrics that allow for airflow.
Outdoor dining areas allow for better air quality, but that consideration should be taken indoors as well. Smart air filtration systems and air purifiers can be added to any space to improve air quality. Many of these products and systems also come with app control and integration options, allowing business owners to control both the indoors and outdoors from a single touchpoint.
Perhaps best of all, smart shading products don't just protect customers from the elements, they also provide energy efficiency. Smart awnings, shades and pergolas can all cool off both outdoor and indoor spaces, saving money on energy bills by reducing heating and cooling loads on HVAC systems. According to the US Department of Energy, motorized awnings can reduce heat gain by as much as 77 percent. This can save restaurants money on overhead during a time period when every little bit of extra cash helps.
For many restaurants, we're entering not just a new normal but a "next normal," as McKinsey & Company coined it. That next normal is likely to include more outdoor dining as customers get used to enjoying their meals al fresco. Smart restaurants will embrace their outdoor spaces by making them smarter and more inviting for diners now and when the pandemic is far in the past.
Photo(s) are courtesy of Struxure Outdoor, Inc.