How Order Ahead Restaurants Can Stave Off a Lackluster Experience
5 Min Read By Sam Tillotson, Sydney Hall
The COVID-19 pandemic has forced thousands of traditional restaurants to transform themselves into order ahead restaurants; pre-pandemic, only 15 percent of restaurants offered curbside pickup; today, that's up to 70 percent.
But volume doesn't translate to success—many restaurant chains have struggled to build an efficient curbside pickup system, and the ensuing results can be freely found on sites like TripAdvisor and app stores on Android and iOS: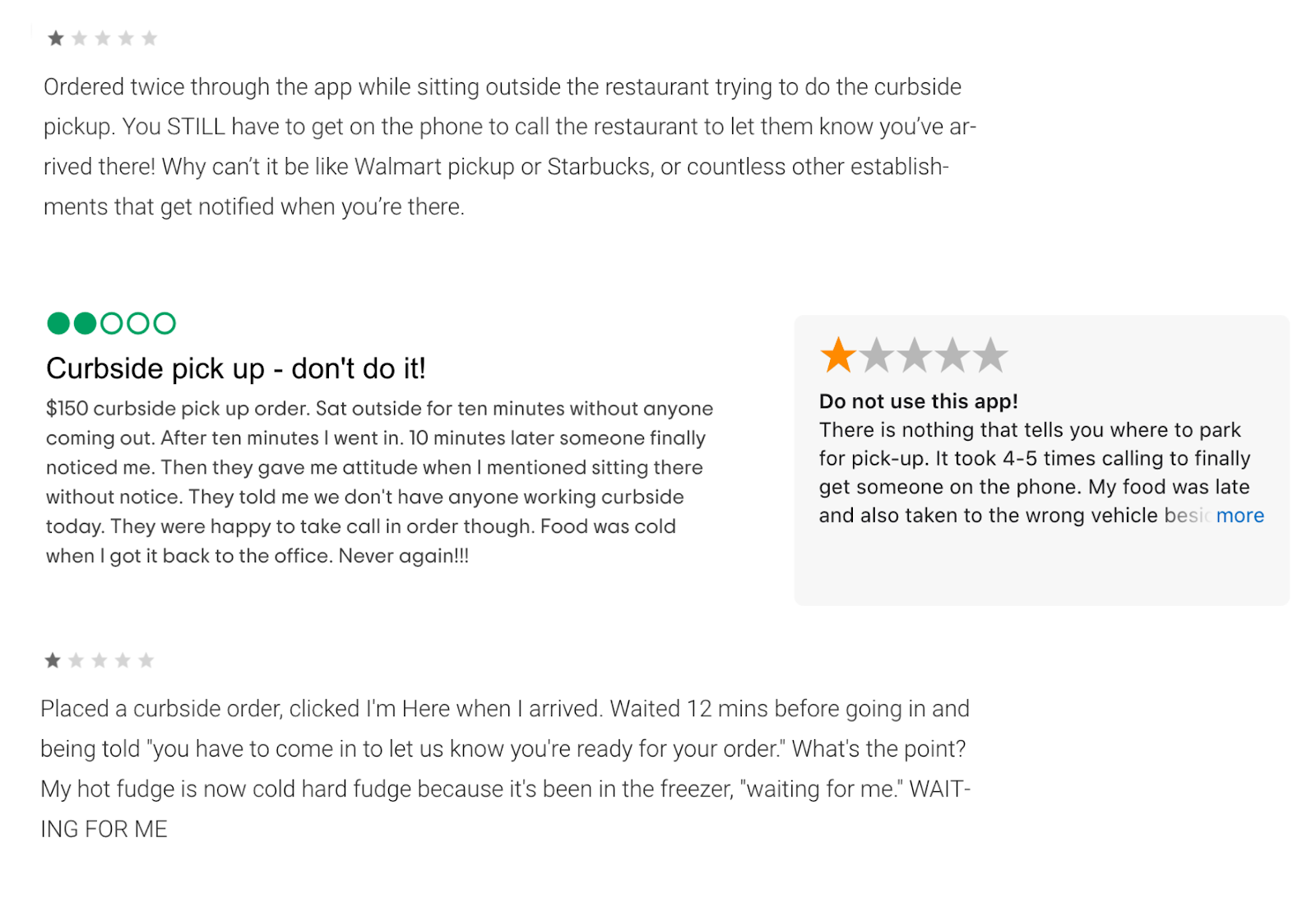 A year into the pandemic, we've learned a lot about where the pain points are for order ahead restaurants: order delays, meal prep logistics, and a changing competitive landscape.
With more restaurants relying on a strong curbside pickup game to thrive—alongside an expected long-term demand for order ahead services—mitigating these threats is now a priority. And ultimately, not only will a great order ahead restaurant see improved customer loyalty, but it will also decrease its reliance on third–party delivery services, which have cut into profits, withheld useful data, and hijacked the customer experience.
Smart location technology is a foundational element for avoiding the biggest pitfalls in building out a scalable order ahead restaurant service.
Automating Order Ahead Logistics
Navigating the curbside pickup sequence for order ahead restaurants can be challenging for both staff and customers.
When restaurants first launched their order ahead service, they had a great way to meet the customer, which was at the curbside. But they lacked a piece of technology to manage it.
Automating the logistical aspects of curbside pickup—like at-home mobile payments, instant check-ins, and automated text messaging—reduces customer wait times and allows restaurants to get more done with the same staff. By tying location technology into their digital order ahead services, restaurants can automatically initiate the right processes at the right time to customize each diner's experience. (See this customer's comparison of Walmart's location-based pickup system vs. Safeway's system, which doesn't use geofencing.)
Restaurants can also enjoy being able to directly communicate any extenuating circumstances to customers about their order and set limits on order volumes (something restaurants can't do through third-party delivery apps).
Sean Hagler, owner of a Texas-style barbeque joint in Berkeley, California, said that current ordering app options are frustrating because they offer no traffic control, wrongly estimate the size of an operation, and then restrict how restaurants interact with their customers when issues ensue.
To avoid lags, restaurants can use location capabilities that start tracking a pickup order the moment it's initiated and confirmed. From there, the customer's location can trigger events, starting from when they leave their initial location. Restaurant staff will get a real-time ETA, so they can prioritize order preparation more efficiently.
Toppers Pizza added geofencing to its curbside pickup system so that staff would know when a customer arrived, and that reliability and speed drove their curbside sales from 20 percent of their total revenue to 30 percent.

Cracker Barrel layers location technology on top of BOPIS (buy online, pick up in store) functionality to signal to staff when a payment wasn't completed. Instead of getting tied up in messaging around a failed payment and withholding an order, workers know to have customers pay at curbside via a tablet when they bring the food out.

Panera prompts customers to enter the color and make of their car once they arrive so that staff can find them more quickly in big parking lots.
From there, restaurants can even use their app to generate a quick survey to make sure the customer was satisfied and then use the data to improve their systems.
Integrating Digital and Physical Workflows
Splitting staff between curbside pickup and in-house customer engagements can get messy. Using location-based technology, restaurants can leverage richer data to inform their pace and make better choices to ensure a smooth pickup.
A restaurant survey from Oracle found that 27 percent of consumers stopped ordering from restaurants after a bad takeout experience. Nobody likes cold fries or melted ice cream, but that can feel unavoidable when it takes a customer longer to pick up an order than they had anticipated. Having clear insight into when the customer will arrive makes it possible to make in-the-moment decisions about packaging and cooking that keeps food fresh and stored at an appropriate temperature.
Another benefit of using location technology for an order ahead restaurant's physical component is that the aggregate data can help determine when they need to address structural or menu changes. Managers can tap into this to decide when they'll need a designated food staging and pickup area. Rather than just tackling order volumes day by day, mobile data can predict a locale's busiest times.
One final tip: if customer feedback shows that a food item simply can't make the trip home and meet the restaurant's high standards, it may be time to remove it from the pickup menu—it might not be cut out for order ahead dining. Figure out what works and what doesn't by triggering a review survey once the customer gets back home with their meal.
"The question isn't whether curbside orders are a worthwhile investment; they are," said Hope Neiman, CMO at Tillster. "Instead, the question is how to shift operations internally to deliver on guest expectations as a primary interest."
Rethinking Promotional Strategies
One of the biggest blows to order ahead restaurant revenue has been the reliance on third-party apps like Seamless and Doordash, which can take up to 30 percent of restaurants' profits. These apps also prevent restaurants from accessing valuable data that could better inform promotions (43 percent of restaurants say these apps interfere with direct customer relationships because they withhold information like location data).
By switching promotional strategies outside of these third-party delivery apps, restaurants break down the barrier those apps build between businesses and their customers. More than two-thirds (70 percent) of customers prefer to order directly from a restaurant rather than hand over more money to third-party delivery apps, which have been criticized for practices (like taking tip money). The most important opportunity this move offers restaurants is the ability to build more direct relationships with their customers and improve customer experience based on those relationships — which ultimately drives loyalty.
When restaurants integrate a location layer into their mobile apps, it becomes much easier to market to your customers wherever they are. By opting for "proximity marketing," restaurants can automatically interact with their nearby customers to offer a deal on appetizers during slower times, for example, to fill sales gaps to customers already in the area. Restaurants can also use location to recognize when a customer is actually in the store and motivate them to download the app.
And it works. According to research compiled by Salesforce, more than 50 percent of consumers visited a store after getting a location-based alert from that business.
The Future of Order Ahead
Using location technology to inform everything, from meal prep workflows to marketing strategies, has proven to be beneficial for order ahead restaurant models, facilitating quicker service, easier pickup navigation, and overall patron satisfaction rates.
But will all of this go away when the COVID-19 pandemic subsides? Probably not, since it looks like customers' buying behavior has changed forever. This is true for restaurants especially, as 87 percent of consumers want food brands to continue curbside pickup and other processes that limit in-person contact, according to this Future of Commerce report.
But even a potential reduction in the popularity of the order ahead restaurant model won't stop location technology from playing a role in how we make purchases. Technology will continue to play a role in-store, as consumers look to their phones as a guide, and location-based services will be key in personalizing on-premise dining and in-store experiences.