Hearty BBQ with a Heart: How Mighty Quinn's Is Adapting
3 Min Read By Micha Magid
Customer discounts and free sandwiches for healthcare workers are just two of the ways that the barbeque brand is showing its genuine care and appreciation for the communities it serves.
The coronavirus pandemic has resulted in challenging economic times, especially for the restaurant industry. Mighty Quinn's Barbeque has certainly felt the pinch. Like many restaurant brands, we've temporarily closed a number of locations and pivoted to offering only takeout and delivery at the ones that remain open.
So why are we doing this? Why are we not throwing in the towel and ceasing operations, at least for the time being?
There are two primary reasons. The first is to help the communities we serve retain a sense of normalcy. So many restaurants have closed, and we feel it's important that people still have access to the barbeque they love. Continued access to at least some of life's amenities can serve as a huge morale-booster to customers who otherwise feel cooped up in their homes.
Another reason for keeping certain restaurants open for business is that we want to keep our staff employed for as long as possible. Many, many people are hurting financially due to the coronavirus, and at Mighty Quinn's, we want to do what we can to help our employees mitigate such problems.
Continued access to at least some of life's amenities can serve as a huge morale-booster to customers who otherwise feel cooped up in their homes.
To those ends, Mighty Quinn's has taken several steps to make sure we stay as visible as possible in our communities and make the most out of this dire situation. Our brand has adapted to this unprecedented situation in several different ways, primarily through digital ordering and special promotions.
In terms of promotions, Mighty Quinn's is offering 15 percent off of all delivery and takeout orders placed through our website and app. In compliance with current allowances by the State Liquor Authority, Mighty Quinn's is offering beer and wine delivery at all open restaurants. We have redistributed staff for greater capacity to fulfill pickup and delivery orders through our app and website.
At Mighty Quinn's, we have also made changes to our menu offerings, primarily by removing products geared toward the lunchtime business crowd and bolstering inventory for larger orders to serve families at home. Our best example: We are currently offering our Brontosaurus Ribs, which are an excellent choice for feeding families, at half price.
Of course, we are also maintaining our hygiene and food safety standards. Those hold up regardless of what's going on outside of our restaurants, but we are also currently following the safety protocols recommended by the World Health Organization, the Centers for Disease Control and Prevention and the New York Department of Health. Our customers trust us to deliver a delicious product and a seamless experience, and we do not want to disappoint them in any way.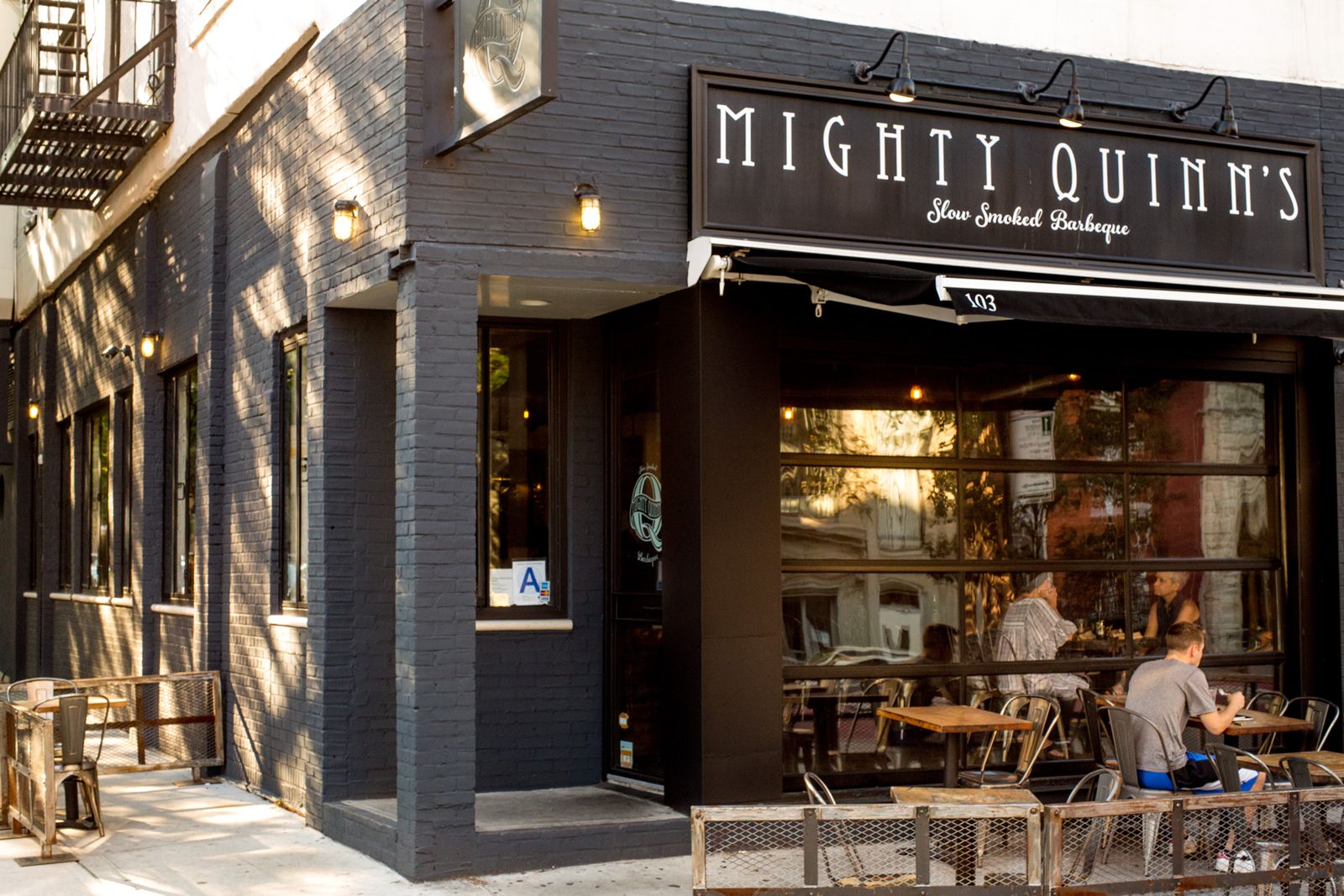 Most importantly, Mighty Quinn's is also offering free sandwiches to healthcare workers. Healthcare workers are being put through the wringer right now, which is why those who come to our restaurants in the East Village, Upper East Side and West Village in Manhattan, as well as our Clifton, New Jersey restaurant, can show their hospital ID in person and request one sandwich of their choice. We've seen a good response to this particular measure.
Throughout all of this, we are maintaining consistent contact with our customers through our app and website, as well as our social media channels. At Mighty Quinn's, we want to make it clear that while customers cannot dine in, we are still there for them.
Our efforts have not gone unnoticed. We've gotten great feedback online and lots of thank-yous on social media. Outside of hospital workers, the majority of business has been through our digital channels. The products we sell online via the mail order platform Goldbelly, for example, have seen a boost in sales as more people are staying home.
Such feedback helps us feel justified in what we are doing. Ultimately, the measures we are taking are rooted in our brand's core values. Everything we do at Mighty Quinn's reflects how we want to interact with the community. Offering discounts to customers and free sandwiches to healthcare workers and just helping out where we can in general helps us increase accessibility and proves we are here in a supportive role. Mighty Quinn's is a small restaurant brand, but we're putting our best foot forward during these challenging times.
Modern Restaurant Management (MRM) magazine visted with the Mighty Quinn's team to learn about their expansion plans. Click here to watch.