Happiness. Community. Spreading Generosity through Volunteering
4 Min Read By Tanner Wenzel
While opinions may differ about the best type of sauce and style of barbecue across regions, there is one fact that is indisputable: the spirit of barbecue is about community. It's about care, gathering, and enjoying the company of those around you. That is why community is a foundational pillar of Sonny's BBQ and they have made it their mission to give back to those neighborhoods they serve through their 'Q the Kindness programs.
Each day, Chief Kindness Officer Kennon Adkinson and his Kindness Crew set out to spread kindness through Random Acts of BBQ, donations and volunteering. It's that volunteering, boots-on-the-ground service hours, that really inspires them and those around them. "Giving back is all I know. It's incredible to see the comradery and opportunities that come from the Kindness Crew, not only at work but also in their personal lives. We're fortunate to see the power of helping others and hope to inspire more people to get involved in the communities they call home."
For National Volunteer Week, Sonny's Kindness Crew shares why they show up each day to do good in the community and make an impact.
Volunteering Brings and Spreads Happiness
Bringing joy to others doesn't have to be complicated. Volunteering is a simple way to make an impact in someone's life. From serving a warm meal to cleaning up garbage in a park, each small act contributes to a better day. Kindness Crew member and Server (Apopka) Claudia Hamilton has felt the impact of being around other volunteers first-hand especially during her time working with H.O.P.E of Apopka, a local non-profit that provides services to people that have fallen on hard times. She organized a donation drive with her colleagues for a H.O.P.E event where they provided hot meals, clothing, and toiletries to community members. "I love how our crew, and the organizations we partner with, are so passionate. It gives me the 'oomph' to keep going, keep spreading more happiness." It's also why she enjoys volunteering, "seeing the enthusiasm and happiness from the people you're serving, and the other volunteers, can't be matched."
For the Kindness Crew, spreading joy comes from their passion to serve and connect with members of their community. "My favorite organization to work with is Signature Healthcare of Orange Park," explains Jessica Spinelli, Server (Orange Park, Fla.) and Kindness Crew member. "My heart is with our older generations and this nursing home creates a welcoming community. We know every day isn't perfect, especially if you're sick or feeling lonely, so I love brightening their day and sharing an afternoon of conversation and care."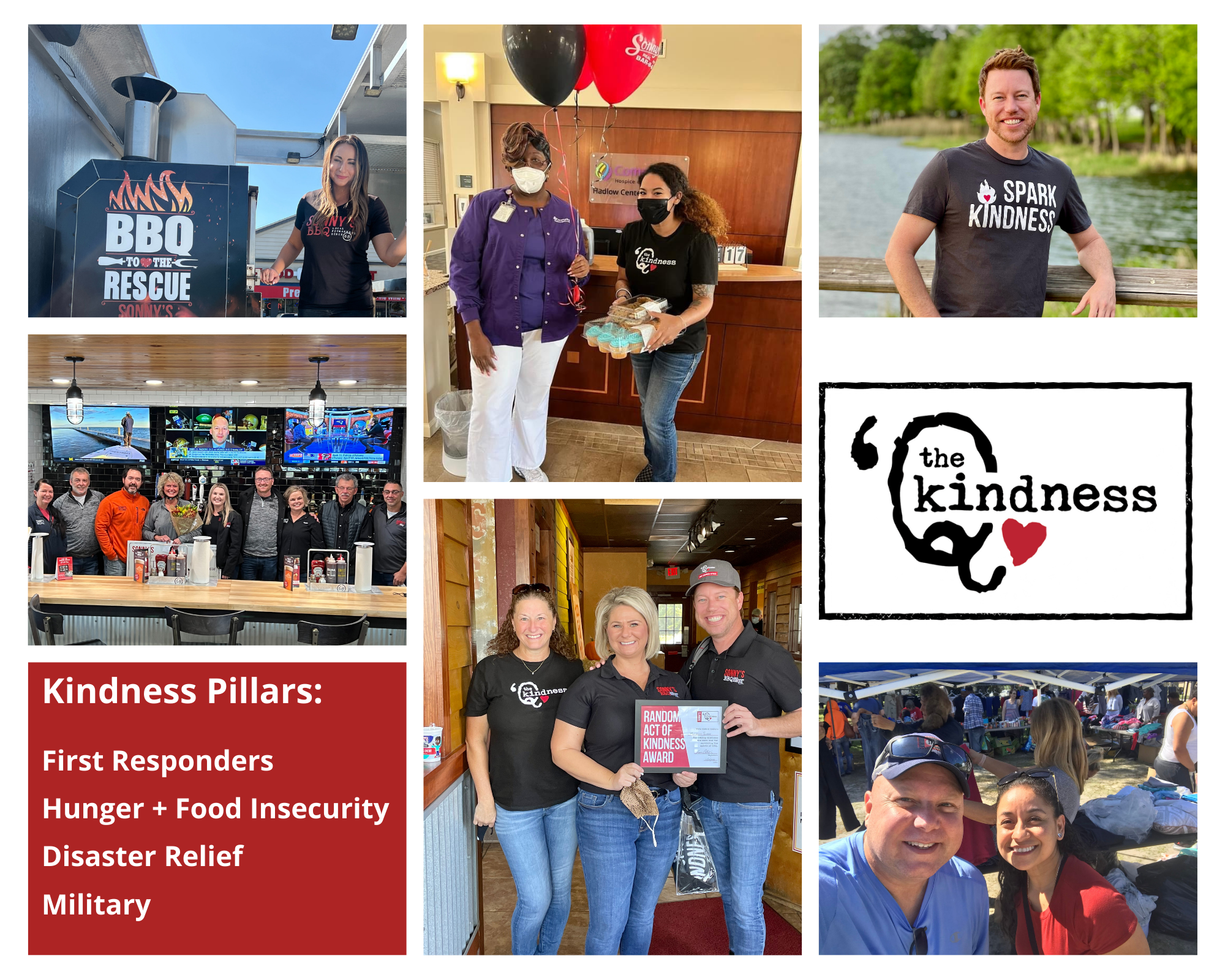 Volunteering Is Better with Friends and Family
Life gets busy and it can seem challenging to find time for things like volunteering. The trick? Bring those you care about along. "It's a family affair when we're heading out on a BBQ to the Rescue event. My children and husband enjoy being part of such an awesome experience," Tara Boyle, Pitmaster, Director of Operations (West Coast BBQ), and Kindness Crew member expresses how she's able to extend her volunteering impact by bringing along her family members. "It doesn't stop there; we also help my mom with food drives. Being a Pitmaster, I can't help but nourish the community through good food," Boyle says with a laugh. Boyle brings her passion for feeding others and connection to the community to life through annual events like the American Cancer Society's Relay for Life Survivor Dinner and Arry's Roofing Neighborhood Block Party. These events are symbols of hope for everyone involved, "it's through these gatherings where you really see what an impact volunteering and supporting each other can have. I'm grateful to share these moments with people that matter the most to me."
Another way to make volunteering a staple activity is by connecting it with milestone moments. Holidays are a natural fit and inspire us to think more about our community and how to help those less fortunate. "Volunteering with my children at the soup kitchen for Thanksgiving or collecting toys for Big Brothers Big Sisters of the Bluegrass at Christmas really makes our time together meaningful," reflects Tina Baker, Assistant Manager (Nicholasville, KY) and Kindness Crew member. Baker is known for her undeniable passion for helping others and it's her willingness to go above and beyond for her community that is extended to her family, and her coworkers.
Bottom line: bringing more people into volunteer activities makes a bigger impact, a stronger community, and is a lot of fun.
Pay-it-Forward Creates a Continuous Cycle
"What I enjoy most about volunteering is that it gives you the opportunity to pay it forward," shares Spinelli. "A word of encouragement or little assistance to those in need can help them get back on their feet, and when they do, they'll do the same for others. The cycle continues."
CKO Adkinson is always in awe of the time they spend with the Orange County Public Schools system through the Random Acts of BBQ: Student Edition. "This program searches for and celebrates selfless and service-oriented youth across the district. It's incredible how kind and generous these individuals are at such an early age. They carry this kindness with them through their life, and inspire adults and children alike with their spirit to give back."
It all comes back to the community. Sonny's BBQ Assistant Manager (Kingsland, GA) and Kindness Crew member Michelle Sweat emphasizes, "Community is what makes a company. Seeing what Sonny's puts into the community and the support we see from the community is absolutely amazing. It goes full circle." She carries that pay-it-forward spirit to her volunteering and giving. When joining the Kindness Crew, each member is given the opportunity to choose a charity, and Sonny's will make a $2,500 donation. Sweat knew exactly where that donation would go: Fisher House Foundation. The organization cared for her and her family while her dad was going through cancer treatment, and this was the way to keep the kindness loop going.
The Kindness Crew feels fortunate to be in a position to see firsthand the power of volunteering. And it's not lost on them that they have found a career path with a company that shares their values for kindness and giving to others.