Grubhub Grabbed and Contactless Is Everywhere
1 Min Watch By MRM Staff
In this edition of MRM News Bites, we feature updated links for the PPP, the acquisition of Grubhub and contactless products and services.
PPP Revisions
The U.S. Small Business Administration (SBA), in consultation with the U.S. Department of the Treasury, issued new and revised guidance for the Paycheck Protection Program (PPP). This guidance implements the Paycheck Protection Program Flexibility Act (PPPFA), signed into law by President Trump on June 5, 2020, and expands eligibility for businesses with owners who have past felony convictions.
The eligibility threshold for those with felony criminal histories has been changed. The look-back period has been reduced from five years to one year to determine eligibility for applicants, or owners of applicants, who, for non-financial felonies, have (1) been convicted, (2) pleaded guilty, (3) pleaded no contendere, or (4) been placed on any form of parole or probation (including probation before judgment). The period remains 5 years for felonies involving fraud, bribery, embezzlement, or a false statement in a loan application or an application for federal financial assistance. The application also eliminates pretrial diversion status as a criterion affecting eligibility.
SBA issued revised PPP application forms to conform to these changes. The guidance and revised application forms are available on SBA's and Treasury's websites. SBA will issue additional guidance regarding loan forgiveness and a revised forgiveness application to implement the PPPFA in the near future.
Click here to view the new Interim Final Rules.
Click here to view the new Borrower Application.
Click here to view the new Lender Application.
Just Eat Takeaway.com to Acquire Grubhub
In a deal that creates the world's largest online food delivery company outside of China, Just Eat Takeaway.com plans to acquire 100 percent of the shares of Grubhub in an all-stock transaction. The transaction represents Just Eat Takeaway.com's entry into online food delivery in the United States. The deal is valued at $7.3 billion.
Jitse Groen, CEO and founder of Just Eat Takeaway.com, said: "Matt and I are the two remaining food delivery veterans in the sector, having started our respective businesses at the turn of the century, albeit on two different continents. Both of us have a firm belief that only businesses with high-quality and profitable growth will sustain in our sector. I am excited that we can create the world's largest food delivery business outside China. We look forward to welcoming Matt and his team to our company and working with them in the future."
Matt Maloney, CEO and founder of Grubhub, commented: "When Grubhub and Seamless were founded, the online takeout industry didn't exist in the U.S.. My vision was to transform the delivery and pick-up ordering experience. Like so many other entrepreneurs, we started modestly – restaurant by restaurant in our Chicago neighbourhood. Today, Grubhub is a leader across North America. I've known Jitse since 2007 and his story is much like mine. Combining the companies that started it all will mean that two trailblazing start-ups have become a clear global leader. We share a focus on a hybrid model that places extra value on volume at independent restaurants, driving profitable growth. Supported by Just Eat Takeaway.com, we intend to accelerate our mission to be the fastest, best and most rewarding way to order food from your favourite local restaurants in North America and around the world. We could not be more excited."
Grubhub has nearly 300,000 restaurants across 4,000 U.S. cities and its portfolio of brands includes Grubhub, Seamless, LevelUp, AllMenus and MenuPages. For the 2019 financial year, Grubhub had 23 million active customers, recorded 180 million orders, GMV of $5.9 billion and revenues of $1.3 billion.
With more than 155,000 connected restaurants, Just Eat Takeaway.com offers consumers a wide variety of food choice. Just Eat Takeaway.com mainly collaborates with delivery restaurants. In addition, Just Eat Takeaway.com provides its proprietary restaurant delivery services for restaurants that do not deliver themselves. The combination of Just Eat and Takeaway.com has rapidly grown to become a leading online food delivery marketplace with operations in the U.K., the Netherlands, Germany, Denmark, France, Ireland, Italy, Norway, Spain, Belgium, Poland, Austria, Israel, Switzerland, Luxembourg, Portugal, Bulgaria, Romania, Australia, New Zealand, Canada, Mexico and Brazil. In the financial year ended 31 December 2019 and prior to the completion of the merger with Just Eat, the Company generated revenues of €416 million, loss before tax of €88 million and as at 31 December 2019 had gross assets of €1,659 million.
The transaction is subject to the approval of both Just Eat Takeaway.com's and Grubhub's shareholders, as well as other customary completion conditions. Subject to satisfaction of the conditions, completion is anticipated to occur in the first quarter of 2021.
F&B Shared Workspace Opens


CoLaboratory, Chicago's newest shared workspace exclusively created to streamline innovation and foster collaboration for food and beverage opened in the West Loop, the center of the city's dining scene.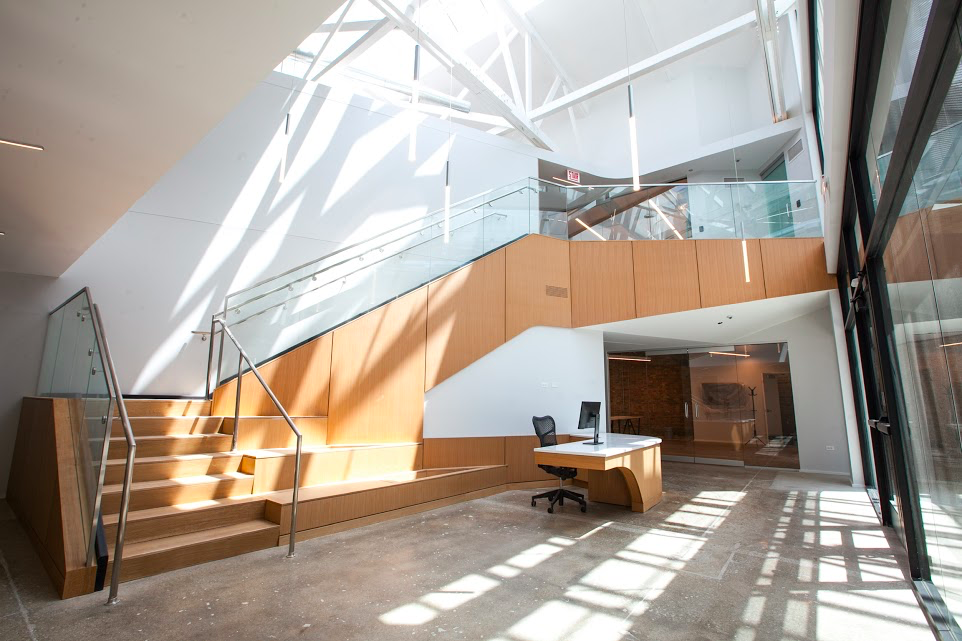 Designed specifically for food and beverage professionals by the team at Menu Collective, CoLaboratory provides all the amenities food and beverage companies need for a meaningful customer facing environment:
A commercial kitchen and two commercial bar areas with twelve bookable working stations stocked with essential kitchenware and tools for product development and testing
Rentable storage space designed to store equipment and perishable products
Expansive, communal working spaces bookable to membership and outside food and beverage organizations for intimate meetings and large-scale events
Bright, naturally lit, spacious walkways and seating areas comfortable to roam between or work from.
"We wanted to create a space where our members can enjoy their works environment as much or even more so than their own home," said Stuart McCarroll, CoLaboratory Founder and CEO. "We understand that businesses are changing the way they work in the digital era, but people still value human connectivity. That's why we carefully planned every detail of the space around flexibility, accessibility, efficiency, and connection – in addition, our members are excited to impress their clients in our space without the cost and hassle of having to manage a building such as ours on their own."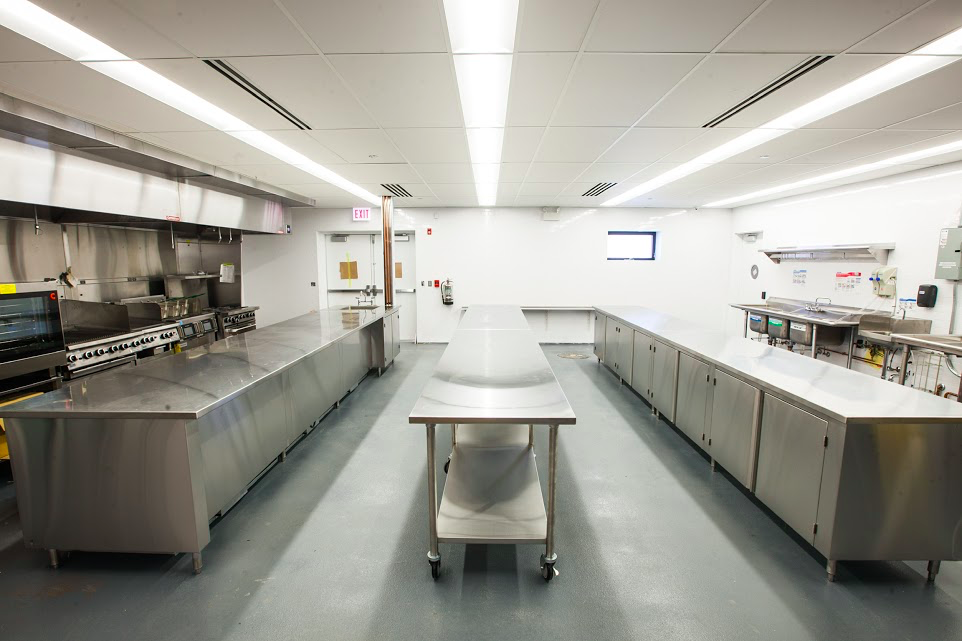 CoLaboratory membership admissions are ongoing. Built on a foundation of workspace flexibility, the space welcomes local businesses looking to work onsite regularly as well as businesses who are looking for a place to work, meet, and present in the Chicago area on an as-needed basis.
"We are excited to have that connection to a facility with likeminded professionals driving innovation in an industry we collectively support," said Brian Holdrich, Vice President of Sales and Marketing at Welbilt and CoLaboratory member. "The concept of the CoLaboratory aligns in many ways with the business strategy that Welbilt follows. Multiple brands, or in this case, segment suppliers curating solutions in foodservice."
Membership at CoLaboratory ranges from a single desk membership to a large office membership seating up to 30 people. All desk workspaces are complete with Herman Miller chairs tailored for comfort, and all members have access to technology-forward amenities including high speed WIFI, 24-hour smart phone activated office entry, and five reservable smart TV conference rooms.
VirusSAFE Pro Debuts
WorkMerk partnered with Robert Irvine to launch VirusSAFE Pro, a mobile health and safety checklist and verification software solution that will help businesses reopen around the country.
VirusSAFE Pro is a user-friendly software that closes the information gap in the workplace by providing health and safety checklists and reminders to employee mobile phones in a timely manner. An easy-to-read dashboard provides managers verification in real-time that employees are following and performing all mandated measures and protocols. VirusSAFE Pro standardizes and validates compliance with up to date guidelines from OSHA, CDC and NIH. Customers can be confident that their wellness is a top priority when they see a VirusSAFE Pro Check Mark decal in the window of a business.
"Businesses—and restaurants in particular—have been dealt a very tough hand in this pandemic," Irvine said. "But we've heard all the doom and gloom. This is the solution. We might not be able to dictate our circumstances, but we can control how we choose to react. For businesses that are ready to get back to serving their customers in the safest way possible—and give those customers real peace of mind in the process—VirusSAFE Pro represents the best way out of this crisis, and back to our way of life. There's nothing else like it, and I'm proud to stand behind it."
"We are thrilled to be partnering with Robert Irvine on the release of VirusSAFE Pro, as he is a man who has dedicated his life to helping others – whether during his time in the military or through his longtime TV show," said John New, WorkMerk Founder and CEO. "As businesses begin to reopen around the country, we are grateful to have his incredible insight to assist us in providing them the best possible tool to ensure the health and safety of employees and customers."
As part of WorkMerk's commitment to helping veteran organizations and to help address their unique challenges during the COVID-19 crisis, a portion of the proceeds from VirusSAFE Pro will be donated to the USO and other national Veteran Service Organizations (VSOs). These include veteran senior care centers and veteran home care providers, via a partnership with the Robert Irvine Foundation.
Earl Enterprises Makes Acquisition
Earl Enterprises acquired BRIO Italian Grille and BRAVO! Italian Kitchen from FoodFirst Global Restaurants. BRIO and BRAVO! join Earl Enterprises' existing collection of restaurants that include Planet Hollywood®, Buca di Beppo®, Bertucci's®, Earl of Sandwich®, Chicken Guy! ®, and more.
"We're very excited about adding these restaurants to our group and look forward to not only investing in the future of BRIO and BRAVO!, but also the employees who are the backbone of these two restaurants," said Robert Earl, Chairman of Earl Enterprises. "As a bright light in this challenging time, once all locations are fully operational, we look forward to welcoming back more than 4,000 employees who have been in limbo since FoodFirst filed for bankruptcy."
Contactless Dining Kit
Presto said thousands of restaurants across the world have signed up for its free Contactless Dining Kit. The kit is an innovative solution that allows restaurant guests to use their personal mobile devices to accomplish necessary actions like ordering and paying, without the need for touching any foreign surface or contact with people outside of their dining party.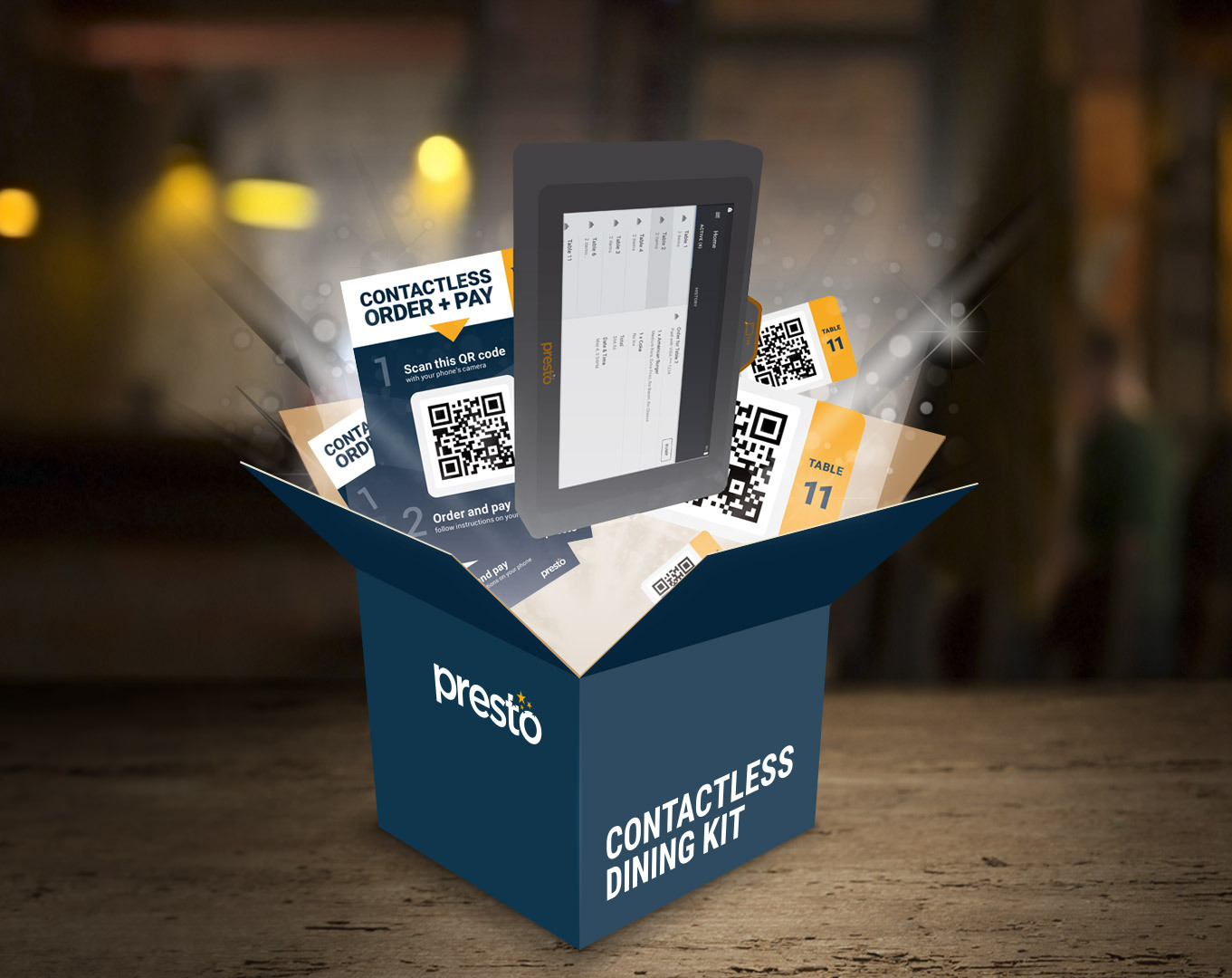 Since its launch two weeks ago, the Contactless Dining Kit has received orders from over 5,000 restaurants including enterprise restaurant chains and small business owners in 22 countries across 5 continents, and all 50 states, with categories spanning from quick serve to fine dining.
Sushi Sakura near Houston, Texas is one of many restaurants that are deploying the free kit to provide a safe dining experience to guests. After being closed for dine-in for over two months, the Japanese restaurant had the opportunity to reopen on May 22 at half capacity and while following new social distancing protocols. The restaurant received its kit in the morning and was able to start using it on the same day. The kit enabled the restaurant to operate at maximum permissible capacity for its opening weekend while maintaining a six-feet distance between servers and guests. The kit contributed to guests' enthusiasm about returning to the restaurant and being able to dine safely, which resulted in higher average check sizes.
"I value the fact that they're proactively thinking about my safety," says restaurant guest Shawn Powers while dining at Sushi Sakura using the Contactless Dining Kit. "This makes me more comfortable about bringing my family back."
Because guests were able to pay for the check at the table without waiting for the server and staff did not need to clean any menus or credit cards, the restaurant also saw significantly faster table turns.
"My restaurant has a strong reputation for providing safe and delicious meals," says Eric Zhu, manager of Sushi Sakura. "With Presto's free contactless technology, I can continue to do so despite COVID-19."
Similarly, The Oxford Kitchen and Gastropub in Sunnyvale, California found it challenging to follow new state protocols that encourage the use of digital menus and contactless payment systems, as well as local guidance that requires social distancing between servers and guests. By using the Presto Contactless Dining Kit, the modern-day pub was able to successfully reopen for outdoor dining while meeting social distancing requirements. The owner was happy to welcome guests back again in a safe setting.
"We are really excited to be early adopters of this end-to-end contactless dining technology," says Neil Ramarapu, owner of The Oxford Kitchen and Gastropub. "We needed a solution to reopen safely during COVID-19, and Presto was such a lifesaver. We started using the kit last weekend and the guests love it."
The Contactless Dining Kit is completely free to restaurants of all sizes and categories. The kit allows guests to use their personal mobile devices to scan NFC tags and QR codes at restaurants to get waitlisted, view the complete menu, place orders, and pay with their phone at the table without interacting with staff members. The kit is helping restaurants reopen while operating efficiently under local regulations and public health guidelines. For more information, go to https://presto.com/lp/contactless/.
BellyMelly Launches Zero-Touch Dine-In Technology
BellyMelly introduced a free first-of-its-kind solution to help restaurants across the country re-open amidst COVID-19. The BellyMelly app provides a zero-contact solution for restaurants and customers alike, whether they want to dine in person or have their meals delivered.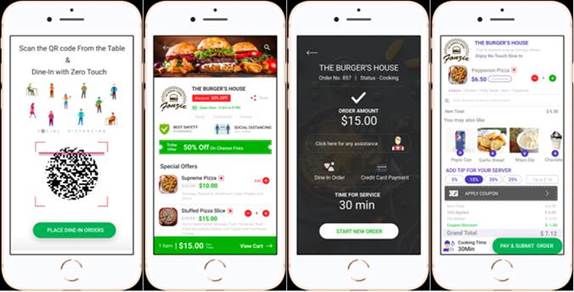 "As our country begins to re-open and restaurants welcome customers back inside, it's extremely important that everyone feel safe and confident during the dine-in experience," said David Litchman, founder of BellyMelly. "We wanted to offer a free solution for all restaurants as they navigate this complicated time. Our app offers a zero-touch experience, which is not only helpful during this global pandemic, but will also help propel the restaurant industry into the future."
How BellyMelly Works (Dine-In Experience):
Using the app, the customer scans the BellyMelly QR code, which can be displayed on each table within the restaurant.
The BellyMelly QR code will pull up the restaurant's menu directly to any smart device, eliminating the need for a physical menu and supporting social distancing efforts.
The customer orders a meal using the BellyMelly app, which is immediately sent to the restaurant's kitchen. The app also allows for the customer to make contactless payment for the meal and add a tip.
Restaurant waitstaff brings the food directly to the customer's table.
In addition, BellyMelly helps local restauranteurs compete with third-party sites for takeout and delivery orders, while allowing users the opportunity to give back to their local communities at no cost to them. Thanks to an unprecedented low processing rate of three-percent per order for takeout and delivery, BellyMelly works with local restaurants to donate a percentage of each sale to the restaurant's community partner of choice.
How BellyMelly Works (Takeout/Delivery Experience):
User orders from a local restaurant using the BellyMelly app or online portal.
Upon checkout, the user selects from a list of local community organizations to donate a percentage of the sale price – at no cost to the user.
Each restaurant decides an appropriate percentage to donate to its community partner of choice – anything from non-profit organizations to local schools.
BellyMelly collects payment, sends profit to the restaurant, and shares donation directly with community organizations.
"I've spent over 30 years in the restaurant industry and have seen firsthand how third-party technologies and their hidden fees, penalties and charges can cause serious problems for local restaurants," said Litchman. "Our mission is simple. We want to help local restaurants thrive. Instead of pocketing a large commission at the expense of our restaurant partners, we offer a free zero-touch dine-in solution and a very low processing fee for takeout and delivery orders."
Facial Recognition Pay
Panasonic and PopID, a Cali Group company, forged a marketing partnership that will bring facial recognition ordering and payment processes to both the restaurant and retail industries, top video.
Over the last several years, PopID has been deploying and refining its technology, which allows guests to be recognized at the kiosk, view their previous orders and loyalty account, and "Pay with their Face". Some regional and national restaurant chains now using PopID technology include CaliBurger, Deli Time, Dairi-O, Port of Subs, Plant Power, Belcampo, and Bojangles. Recently, PopID expanded its capabilities with the launch of its face pay wallet, called "PopPay," in a format to be used for contact-free payment at drive-thrus. The benefits of the platform include:
1. Safety and Wellness. PopPay helps to keep customers and staff healthy. When PopPay is used at the drive-thru or on a payment terminal at the counter with a cashier taking an order, there is less opportunity for pathogens to be transferred between guests and restaurant staff.
2. Increased Throughput in Dining Rooms and Drive-Thrus. At the Panasonic self-ordering kiosk with PopID, guests will be able to see their past orders and can quickly re-order the same items on the menu, rather than building the order from the start. This substantially reduces order time and enhances the customer experience. At the drive-thru, in addition to PopID login enabling speedy re-ordering, PopPay reduces transaction times and increases throughput by eliminating the need to transfer cash and credit cards at the payment window.
3. Increased Loyalty Program Participation. With PopID, guests are able to sign into their merchant rewards accounts using just their face, eliminating the need to look up their account by email or phone number. As a result, participation in such programs increases. The same sales boosts are expected when guests use PopID to login and see their past orders on digital menu boards at the drive-thru.
4. Increased Sales. When guests use PopID to login and see their ordering history on the Panasonic self-ordering kiosks, operators see a three-to-four percent increase in average ticket size for kiosk orders, as compared to when guests do not use PopID.
5. Lower Payment Processing Costs. PopPay reduces payment processing fees for restaurants and retailers, resulting in increased free cash flow.
Under the terms of the agreement between the parties, PopID and PopPay will be fully integrated into the Panasonic ClearConnect Kiosk application, and Panasonic will have preferential rights in the kiosk market. Additionally, Panasonic will jointly integrate PopID's PopPay solution into drive-thru systems and payment terminals. The Panasonic ClearConnect Kiosk offering is a turnkey solution inclusive of hardware, software, UI/UX Design, deployment, and support services. With over 40 years of partnering with some of the most recognized brands in the industry, Panasonic is a trusted technology partner to restaurant brands of all sizes.
"Panasonic has played an active part in the restaurant ecosystem and is excited to work with PopID to deliver a contactless solution that both enhance the customer experience while keeping the customer safe," said Faisal Pandit, President of Panasonic System Solutions Company of North America. "The integration of PopID's payment platforms within the solutions we deploy enables consumers to have a better experience and restaurants to operate more efficiently."
"Registering once for a PopID account enables guests to use their face as their identity for various purposes, ranging from temperature testing at the workplace to payment in restaurants and retail stores" noted John Miller, CEO of PopID and Chairman, Cali Group. "This partnership with Panasonic will rapidly expand the number of businesses that offer the PopPay and PopID technology in the U.S."
Consumers can register for PopPay on their phones at popid.com/register and use the payment service at any location that accepts PopPay whether at kiosks, payment terminals, or a drive thru.
TableTab Launches Free Contactless Service
TableTab, a Boston-based company founded by recent Tufts graduates, has launched their free contactless dining service with dozens of local restaurants to support reopening efforts. TableTab's contactless dining solution, tested and launched with restaurants prior to COVID-19, provides a high-margin, sanitary, and personalized dining experience restaurants can rely on.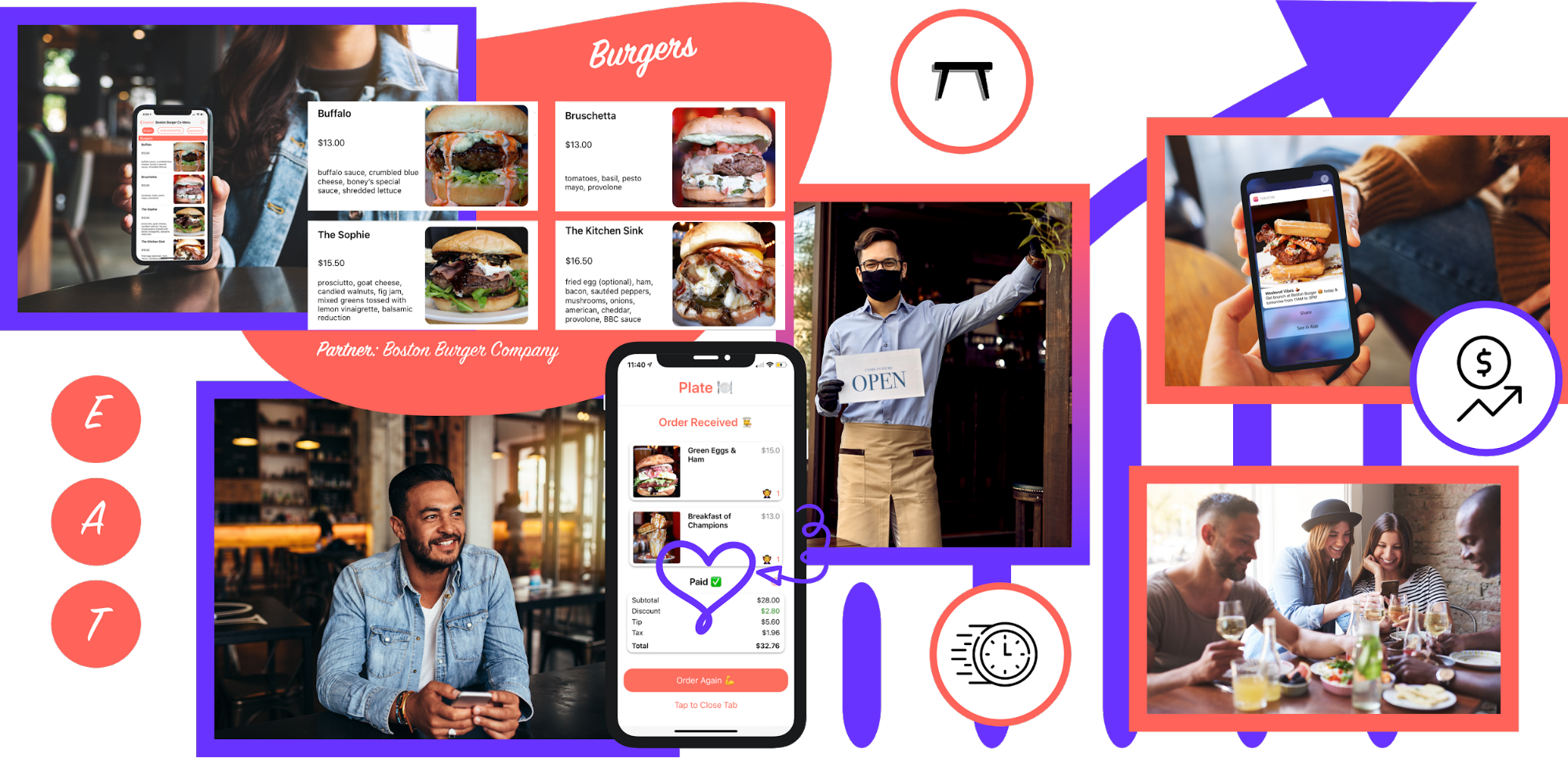 TableTab's mobile app allows restaurant guests to view digital menus, order, and pay for their meal from the convenience and safety of their own device. The service promotes a safe dining experience by eliminating the need to touch physical menus, transact payment, and exchange items like pens, check presenters, and receipts.
The product features full menus with photos and descriptions that drive social engagement and provide restaurants with increased word-of-mouth. TableTab acts as a critical tool to help restaurants reopen safely by meeting government guidelines on social distancing. With digital order and payment designed to improve turn times, increase check sizes, and lower overhead, there is an opportunity to aid restaurants against tight margins and commissions by third-party delivery providers. To that end, TableTab is completely free for restaurants.
TableTab launched earlier this year at Boston Burger Company and other restaurants in Somerville, Massachusetts. The original launch with restaurant partners enabled TableTab to gather the necessary insights to iterate its product and effectively serve restaurants under COVID-19. The company is now leveraging its contactless dining technology to help restaurants bounce back.
To meet demand and help restaurants outside Massachusetts, the company recently implemented remote on-boarding capabilities to serve its newest partners in states such as Michigan, Pennsylvania, New Jersey, and California.

Hygiene Verification
Sodexo and Bureau Veritas joined forces to introduce a hygiene verification label for Sodexo procedures and services. This label forms part of Sodexo's global endeavors to help clients and consumers resume work in complete confidence.
This label gives further quality assurance to clients and consumers that all necessary health steps have been taken when organizations reopen post-lockdown. It bolsters the 'rise with Sodexo' programs and the Sodexo Medical Advisory Council measures.
It covers both facilities management on-site services (i.e. reception, cleaning, disinfection, security and maintenance services), and catering services (adapted to take in to account social distancing and contactless services).
The label will be immediately introduced in France, UK, USA and Canada and then gradually rolled out in other countries.
Sylvia Metayer, Sodexo Chief Growth Officer, said: "Reestablishing trust among people so they have total peace of mind when resuming on-site work is absolutely paramount. Teaming up with Bureau Veritas, an independent auditor of workplace best practices and measures, is further proof of our commitment to support our clients, consumers and people so they can go back to work in complete confidence".
Didier Michaud-Daniel, CEO of Bureau Veritas, said: "We are proud to be Sodexo's partner in this international labeling project. The health and safety of clients, consumers and employees have always been core concerns of our two companies and have now become an absolute priority in this new normal. Through this collaboration, Bureau Veritas reaffirms its commitment to shaping a world of trust, which is an essential foundation for a sustainable society model".
Health Compliance Solution
March Networks® offers new solution to help enterprise businesses manage new health and safety compliance regulations in the COVID-19 era.
The company's Health Compliance Solution delivers a suite of new features to help banks, retailers, restaurants, schools and other businesses monitor and measure occupancy in real time, rapidly detect individuals who may pose a potential risk, and ensure compliance with new cleaning and sanitization procedures.
The solution combines data from video surveillance cameras and third-party sensors to alert operators in real time of potential compliance violations. The solution was recently selected for rollout by a major European supermarket chain with more than 150 locations.
The March Networks Health Compliance Solution is available starting this month on flexible one, three or five-year service terms. In Canada and the U.S., the solution will also be available as a hosted service, offering convenient monthly invoicing options.
Garden Fresh Liquidation
Garden Fresh Restaurants, LLC, operating as Souplantation and Sweet Tomatoes is liquidating all assets under their Chapter 7 Bankruptcy filing. The chain, which employed thousands, was a popular place to dine with self-service food bars, was not able to survive the impact of the COVID-19 pandemic and permanently closed all 97 restaurants and 3 distribution centers nationwide in early May. It is to-date the largest restaurant bankruptcy and liquidation as a result of the pandemic.
To ensure that the remnants oan be repurposed for use in other venues the equipment and other contents are being auctioned online through June 30th, 2020 in locations all over the country at www.RestaurantEquipment.Bid.
Neal Sherman, President of TAGeX Brands (which operates the RestaurantEquipment.Bid site), an expert in restaurant closures, equipment management and liquidation says, "The Garden Fresh bankruptcy is an early sign of the challenges to come for the restaurant industry in the wake of COVID-19. In conducting these online auctions, our aim is to ensure that these quality items don't end up in a landfill – but instead allows for a sustainable repurposing that not only makes economic sense but will provide a positive outcome for surviving restaurant operators who can benefit from this liquidation."
Leslie Gladstone, Trustee of the Bankruptcy who also serves as an officer of the National Association of Bankruptcy Trustees, says of the liquidation, "It is our first and foremost mission with this liquidation to get some return for the creditors of this chain. We also intend to provide a sustainable re-use of the equipment that will make a difference for other restaurants who have been incredibly challenged as a result of the pandemic."
Fuel Rewards Teams with DoorDash
The Fuel Rewards® program and Shell have joined forces to provide DoorDash's drivers, known as Dashers, with a limited time offer of saving 10 cents per gallon every time they fill up as part of their Fuel Rewards membership.
"We know demand for food delivery services from partners like DoorDash has greatly increased over the past few months," said Todd Gulbransen, manager, North America Loyalty & CRM, Shell. "Shell is incredibly grateful for the Dashers and their hard work, and we hope to offer relief at the pump by giving them added savings and security during these uncertain times."
The Fuel Rewards® program is a free loyalty program that provides members and participating Dashers with an easy way to lower the cost of everyday life by saving on something people use all the time – fuel. Whether you purchase fuel because your occupation requires driving or you need fuel as a consumer, with a Fuel Rewards account, members never pay full price for fuel at participating Shell locations.
Infrared Temperature Scanning
Safe Space Scan Technologies launched its new infrared temperature scanning technology for use in complying with CDC standards for the reopening of U.S. businesses, health and senior care facilities and government buildings during the COVID-19 pandemic crisis.
The 3S07T free-standing scanner features advanced proprietary, German-engineered technology, is FCC certified and can scan for elevated temperature and mask compliance in less than one second. Those without masks and/or with an elevated body temperature will receive an audio alert, while notifying the business or building management of the occurrence. It is easy to set up and can be used on a pedestal, counter or be permanently bolted.
Typical locations include the entrance to a building or retail location, at a security desk, elevator and more. Basically, wherever employees and the public can gain access is where this device can be placed.
"We wanted to offer an affordable solution that helps businesses comply with CDC's COVID-19 guidance while keeping employees, tenants, patients and visitors safe," said Safe Space Scan Technologies President Steven Shulman. "Similar systems in use at air and seaports cost $15,000 to $25,000, a cost that is out of reach to many with an immediate need."
The Safe Space Scanner sells for $1,499 and offers a broad selection of available stands and pedestals. It is easy to set up, simply plug in the machine and it is ready to go in minutes.
"By using our non-contact automatic body temperature detection technology, everyone will feel more secure, a must for reopening America and maintaining a safe and healthy environment," added Shulman.
The company is targeting markets such as office, retail, restaurant, hotel, health and senior care, multi-family, manufacturing, schools, theme parks and government facilities.
ParTech Teams with Techknow
ParTech, Inc.  is joining forces with Techknow to offer drive-thru timers and wireless communication systems to quick serve (QSR) and fast casual restaurants.
Techknow timer solutions use multiple sensors that can track the time and progress of vehicles from many different lane configurations, giving restaurant operators flexibility and access to real-time business intelligence.
Techknow's products, enterprise operating statistics software, remote monitoring HelpDesk platform and Techknow Challenge, a real-time competitive ranking system which "gamifies" the drive-thru, are an integral component to ParTech's comprehensive drive-thru solution.
"We are pleased to be working with ParTech as they continue to expand their portfolio in support of the QSR and fast casual markets," said Techknow's CEO Richard Elliott.
Scott Marentay, ParTech's Director of Products, Drive-Thru, commented "At ParTech, our purpose is to help restaurants create meals and moments that elevate the guest experience, and a key component to this is gathering as much data as possible. We expect the drive-thru to evolve significantly in the coming years, and our partnership with Techknow is a step towards that evolution. Techknow is a mature product with an eye towards innovation. We believe that together, ParTech's communications systems and Techknow's drive-thru management system are a great foundation to build the drive-thru of the future."
A New Breeze
Breeze launched a full-suite solution providing a digital interactive smart menu specifically created to facilitate the dine-in experience at a restaurant post lockdown. The platform allows dine-in customers to view menus, order and process payments from their personal devices by scanning a QR code. Customers will not be required to download an app or create an account, as the software integrates directly with a restaurant's existing POS system.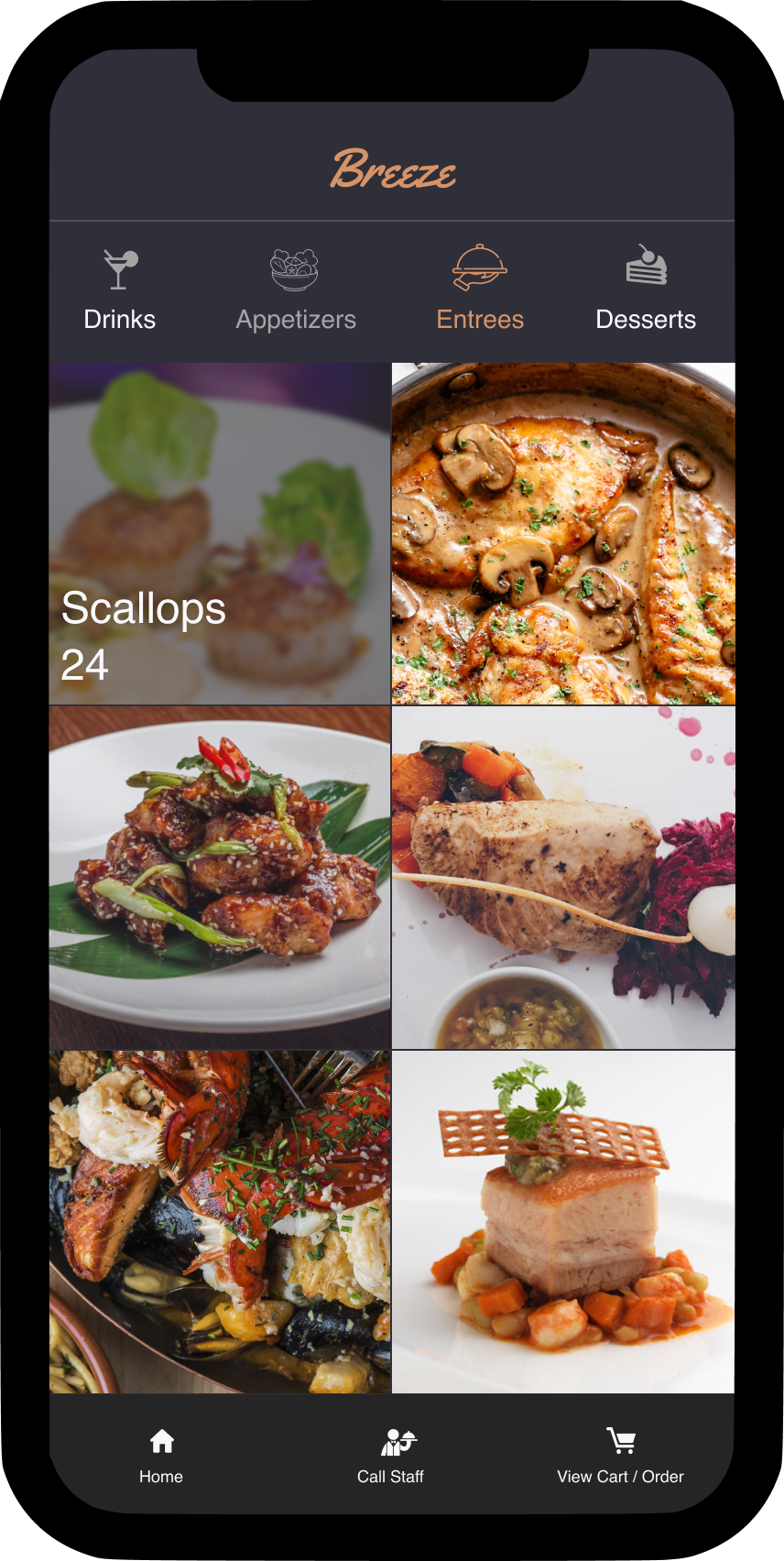 The platform is visually-led and allows restaurants to highlight their best items, update in real time and create multiple menus that are instantly interchangeable.
"Our goal was to create a tool that reassures customers it is safe to dine at their favorite restaurants, without facing inconvenient or awkward measures such as temperature checks," says Stefan Kouumdjiev, founder of Breeze. "When executed thoughtfully, technology doesn't have to undermine the vibe or hospitality at a restaurant and can enhance the experience."
A number of New York and New Jersey based restaurants are already implementing Breeze as the way forward as they prepare to reopen in the coming weeks. Breeze is readily available to restaurants in the tri-state area.
Grease Resistant Foodwrap
GP PRO introduced Dixie Ultra™ Grease Resistant Foodwrap, a new sandwich wrap designed to help foodservice operators improve both sustainability and hygiene.
The ongoing coronavirus pandemic requires foodservice operators to advance hygiene both in the front and back of house and to demonstrate their commitment to hygiene to patrons who are dining on site and off premise. But hygiene needn't come at the expense of sustainability, says Alec Frisch, vice president and general manager of Foodservice with GP PRO.
"As evidenced by our long history of innovation, we believe that sustainability and hygiene are of equal importance, and we are proud to offer a foodwrap solution to operators that promotes both," said Frisch. "With our new Dixie Ultra foodwrap, consumers and operators alike can rest assured that sandwiches are completely wrapped and less susceptible to contamination. In addition, the wrap is compliant with FDA food packaging regulations and is sustainable."
Dixie Ultra Grease Resistant Foodwrap uses a starch-based treatment that helps provide oil and grease resistance and has the potential to degrade naturally after use within industrial composting facilities. The product is undergoing review to ensure it meets the ASTM D6868 standard. That review will be followed by other major composting certification applications.
Multiple Traceability
GS1 US, in collaboration with four leading solution providers, confirmed that multiple traceability systems can interoperate to transmit and exchange information about a product's journey throughout the supply chain to support end-to-end food traceability. The first phase of a multi-phase proof-of-concept focused on supply chain visibility and included solutions that leveraged blockchain, cloud and other traceability technology from FoodLogiQ, IBM Food Trust, ripe.io and SAP.
The proof-of-concept participants defined and simulated seafood supply chain data sharing across four traceability systems leveraging GS1 Standards, the most widely used supply chain standards in the world. GS1 Standards support food safety in the supply chain by providing one consistent way for businesses to communicate information about products, leading to faster, more efficient food recalls. The group determined that the interoperability between solutions was possible when leveraging the GS1 System of Standards for the unique identification of products and locations, as well as GS1 Electronic Product Code Information Services (EPCIS) as a standardized data model. EPCIS provided a consistent format for sharing event data and transmitting key information from production to sale by uniformly facilitating the transmission of critical tracking events, such as whether a product had been shipped, received, packed or transformed.
"GS1 US is passionate about leading industry toward interoperable solutions," said Melanie Nuce, senior vice president, corporate development, GS1 US. "These four solution providers have joined together with GS1 US to help solve the challenge of systems interoperability because they recognize the value of GS1 Standards as a foundation for emerging technologies like blockchain and understand the tremendous benefit of that consistency to the end user."
In the next proof-of-concept phase, GS1 US will work with the four solution providers and industry partners, including suppliers, distributors, retailers and foodservice operators, to implement EPCIS and determine how it can be further extended in real-world product tracing. The proof-of-concept will focus on defining and validating industry data requirements before moving on to a phase exploring use cases that leverage traceability standards and any industry-specific requirements to enable interoperability at that stage.
In the next phase, the goal will be to understand data requirements and determine if there is a new technical standard or protocol required for interoperability to enable permissioning, privacy and access controls. Subsequent phases will explore the value of distributed ledger technology in more advanced use cases. This type of collaboration will ensure a consistent direction moving forward as traceability standards and their supporting technologies, such as blockchain, scale and mature.
DineVite Adds Features
What was once a bustling metropolis has slowed down to a sleepy town. New York, known as the city that never sleeps, has been shutdown amidst social distancing guidelines in an effort to curb the spread of COVID-19. While the city hasn't announced a go open plan yet, New York City residents are wondering what their home will look like once the phased re-opening begins. At the top of that list are restaurants, which have been one of the hardest hit industries in the city. Some of residents' favorite spots are still open for contactless delivery, but delivery, at least in its current iteration, could do more damage than good.
"What most people don't realize is that delivery apps can take upwards of 30% of the bill," says restaurant industry expert, Eddie Fahmy. "That's a hard-enough pill to swallow when dine-in is booked solid and you can offset the losses. In the new landscape, restaurants only using delivery apps will sign their death warrant."
To help restaurants handle the new normal, Fahmy, has adapted his app, DineVite, to meet the needs that both restaurants and diners will be facing. Here's a rundown of some of the features that DineVite will offer to ensure diner safety while maximizing table turnover:
Tools to navigate special offers for diners
Take-away rewards for customers that provide restaurants with scalability to meet their profit margins
Restaurant verification of social distancing guidelines
Online booking with set arrival time
"How many people are dining at this time" functionality
Pre-order of food via online menus
Payment via app
Dining duration
In the end, Fahmy's goal is to keep local restaurants thriving, "New York is a city known for its diversity of cuisine and one-of-a-kind local options. To let that fade away would be tantamount to giving up on what gives New York its own unique flavor."
MealConnect Expands
Due to rising demand at food banks and concerns about food waste amid the COVID-19 pandemic, Feeding America – the nation's largest hunger-relief and food rescue organization – is expanding its MealConnectTM platform to help provide more food to neighbors in need. The innovative donation app will now allow all food businesses anywhere in the country to donate their nutritious and unsold product to local nonprofits.
Feeding America developed MealConnect in 2014 as a solution for the nation's charitable food system, providing food banks in the Feeding America network opt-in usage of the platform to receive donations from their local food businesses in select cities.
Since then, leading investments from the General Mills Foundation, Google.org. and Walmart Foundation, with additional support from Cargill and Shipt, have helped scale MealConnect nationwide by adding new features and creating efficiencies for participating food banks and food businesses. In 2018, for example, Feeding America expanded MealConnect to help food manufacturers easily donate their rejected deliveries to food banks.
Now, the platform has scaled across the country and all 200 food banks in the Feeding America network are connected to MealConnect. Any restaurant, caterer, local grocery chain, hotel, independent food distribution company and other community food business can use the platform to donate product to the charitable food banking system – making MealConnect the only food rescue technology available nationwide.
The expansion comes at a time when the novel coronavirus has disrupted the supply chain and food business operations still facing restricted operations. With a wider scope of businesses participating in the platform, MealConnect will connect more donors with food pantries and meal programs, helping reduce food waste, benefit the environment and put food on the tables for neighbors affected by the economic downturn.
"As a network of 200 food banks, Feeding America is always looking for innovative ways to source more food for the 37 million people in America facing hunger," said Maryann Byrdak, chief information officer at Feeding America. "And with 17 million more projected to be at risk of hunger by the end of the summer due to COVID-19, making MealConnect available in every community is critical."
Feeding America updated the MealConnect website and revised the app to make the posting process easier for food businesses to post donations and for food banks to redirect those donations to corresponding agencies. Food businesses of all sizes can use the MealConnect app to quickly post their surplus food, confirm when it is available and coordinate with a local Feeding America food bank for pick-up. Donors can use the free app from any smartphone, tablet, or computer.
Donations made through MealConnect are tax-deductible. Food businesses interested in donating can visit https://mealconnect.org/ to donate. The MealConnect app is also available for free download in both the iOS App and Google Play stores.