Going Old School: Print Solutions for Restaurant Marketing
4 Min Read By Robert Barbera
It's a new world for restaurant owners and managers. Having already adjusted to the rise of takeout and delivery, now restaurants are figuring out how to reopen for dine-in service while navigating social distancing and other health guidelines. Marketing and communications has never been more important, but it has shifted: It's no longer just about marketing your establishment, but also communicating how your business is changing operations to help protect customers and employees.
With the demanding day-to-day of the industry, marketing can sometimes be passed over for more pressing needs – especially by smaller restaurants with tighter budgets. But we have already seen how signs and banners have helped communicate take out services over the past few months. As restaurants start welcoming back customers, print communications can play an important role in attracting customers, conveying new safety guidelines and the all-important menu options.
Here are a few options for restaurants looking for inexpensive ways to help with their reopening:
Embrace the Comeback of QR Codes
QR codes are hot again and popping up everywhere to promote touchless communication. For those less familiar, QR codes are a type of barcode readable by mobile devices that direct people to a web page or site with more information. This allows diners to view menus or restaurant guidelines on their mobile device.
One way that restaurants are using them is through direct mail promotions, which are rising in popularity as more people are staying home. Through mailed promotional flyers that contain a personalized QR code, restaurants can promote their hours, menu, coupons, reservation process and additional details about how they are operating in a today's new environment. These integrated campaigns can also provide valuable marketing data on which customers have visited the website via the QR code.
The utility of QR codes doesn't end there – restaurants are also using them as part of the dine-in experience to create a contactless environment. Just last week, I dined outdoors at a local restaurant. Rather than providing standard menus, we were instructed to scan a QR code on our table to access the menu on our phone. It was a seamless, clean way to access the information, and a selling point for consumers wary about going to a restaurant. The best part? QR codes are simple to create online and inexpensive to print, making it a great option for restaurants with limited marketing budgets.
Invest in Reusable and Disposable Print Materials
Ever notice how teachers, especially those with younger students, love to laminate everything in their classroom? Posters, sign-up sheets, bathroom passes. There's a simple reason for that: They are durable and easy to wipe clean. While cleanliness has always been a priority for restaurants, they need to be especially mindful about properly disinfecting surfaces and materials while not taking away from the guest experience.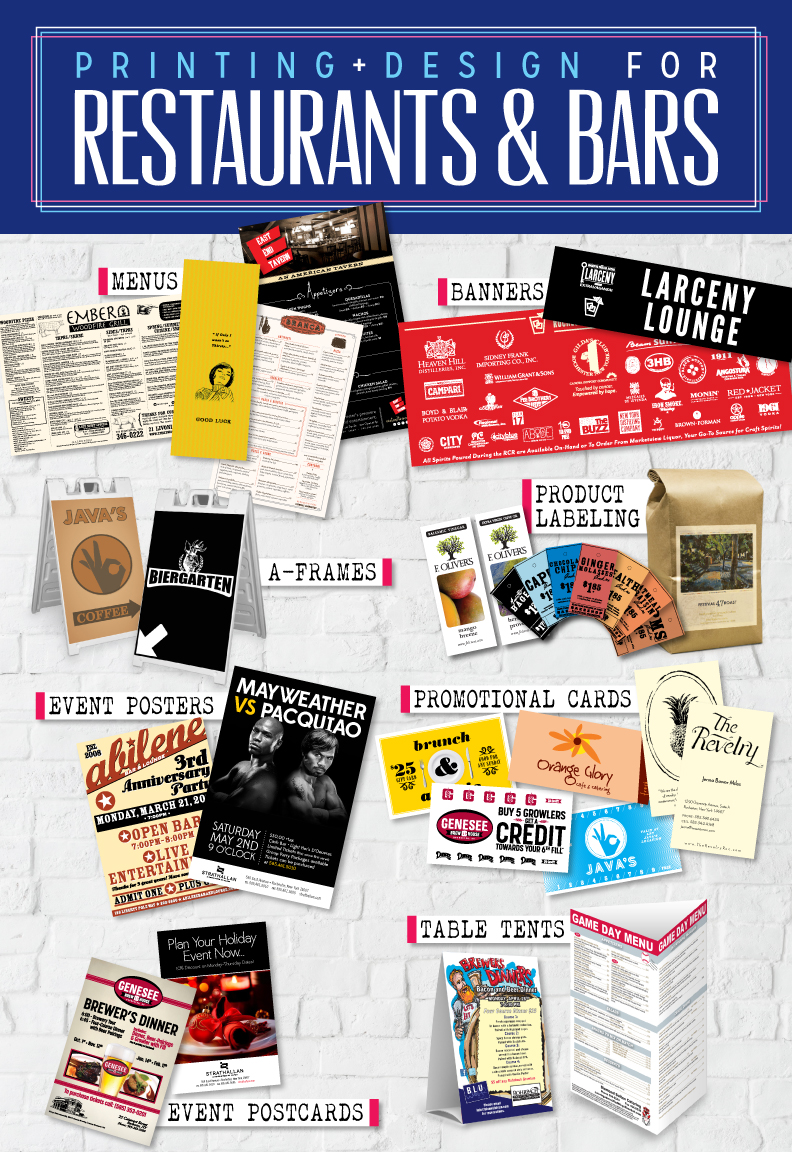 Another option is to digitally print onto synthetic materials. This eliminates the need to laminate the printed piece, which can also provide savings over a laminated menu. Synthetic materials can be waterproof and tearproof, as well as offer a high-quality aesthetic. City Blue Imaging of Rochester, New York, is leveraging Canon's imagePRESS technology to create synthetic, water resistant, as well as disposable food and bar menus that can be sanitized between uses to help restaurants as they resume in-person dining. These are a great investment for restaurants who want to maintain more of the traditional dining experience but also simplify cleaning and sanitation practices.
And while some restaurants may want to eliminate the extra step of cleaning the menu's after each use and utilize single use printed menus, the good news is they don't have to feel limited to a generic look and feel menu. Digital printing technologies makes it very affordable to print short run high quality menus on a wide range of papers. In this way, restaurants can have the same high-quality look and feel on their disposable menus.
Utilize Template Posters and Signage
It's no secret that the restaurant industry has suffered greatly as a result of COVID-19 – especially smaller operators. Luckily, one way many companies and creators are helping their communities is through template materials to help businesses get back on their feet. To support their reopening, City Blue Imaging is also producing signage and wall coverings in a variety of sizes and papers, including self-adhesive, for purchase utilizing its imagePRESS technology to help encourage customers of local businesses, as well as hospitals, to be aware of safety protocols upon entering.
In summary, take advantage of the resources that are available to help businesses get back to business so you don't end up wasting time or skimping on quality. (In fact, 76 percent of Americans say the quality and graphics of print is most important in capturing their attention, according to the recent Canon Print for Action survey, developed by Ipsos).
It's going to take some time to adjust to these new ways of operating, but often embracing tried-and-true tactics can go a long way during times of uncertainty. Just remember: Your customers and community want to hear from you. So keep it simple – bring them in with signage and keep them there with your great-tasting food and drinks.
Nothing hereunder is intended to constitute legal advice. Consult with your own qualified legal counsel to ensure compliance with COVID-19 related local, state and federal laws, orders, regulations and guidelines.