Gift a Plate and Ambient Restaurant Sounds Playlist
29 Min Read By MRM Staff
In this edition of MRM News Bites, we have tech investments, new products, charitable endeavors and more.
Yelp Reimagines Business Owner Platform
Yelp launched a number of new features to support businesses owners who have adapted their operational models, in addition to giving consumers the ability to better discover businesses that meet their needs. Additionally, the company announced Yelp for Business, an entirely reimagined business owner platform.
Virtual Service Offerings: New Virtual Service Offerings will now appear on business pages offering virtual consultations, classes, tours, shows and performances. These new searchable attributes are free for business owners to set up, and consumers are now able to easily find new virtual offerings from local businesses near and far.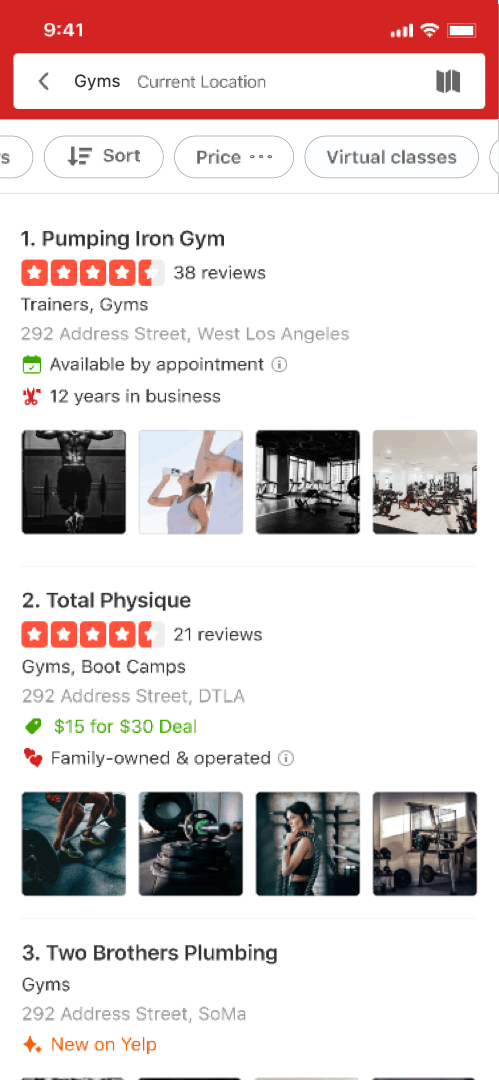 Yelp for Business: Yelp for Business is an entirely reimagined platform designed to improve the business owner experience with a fresh new user interface that gives business owners more transparency and insight into their Yelp Business Page. Business owners will see this brand new experience when they log into their account this morning. Updated / new features include: Recommendation cards, Tips, Content Feed and a faster load and response time. The new Yelp for Business will feature COVID-19 related content and prompts intended to help business owners communicate effectively with consumers and tips to weather the storm.
Personalized COVID-19 Banner Alerts: Personalized banners on business pages give businesses a much needed platform to share messages with their customers for free. Each business owner has an opportunity to share updates on their hours, what they're doing personally in response to COVID, where people can find additional information, etc. Since we've made new banner alerts available, more than 224,000 businesses have written personalized messages to their customers.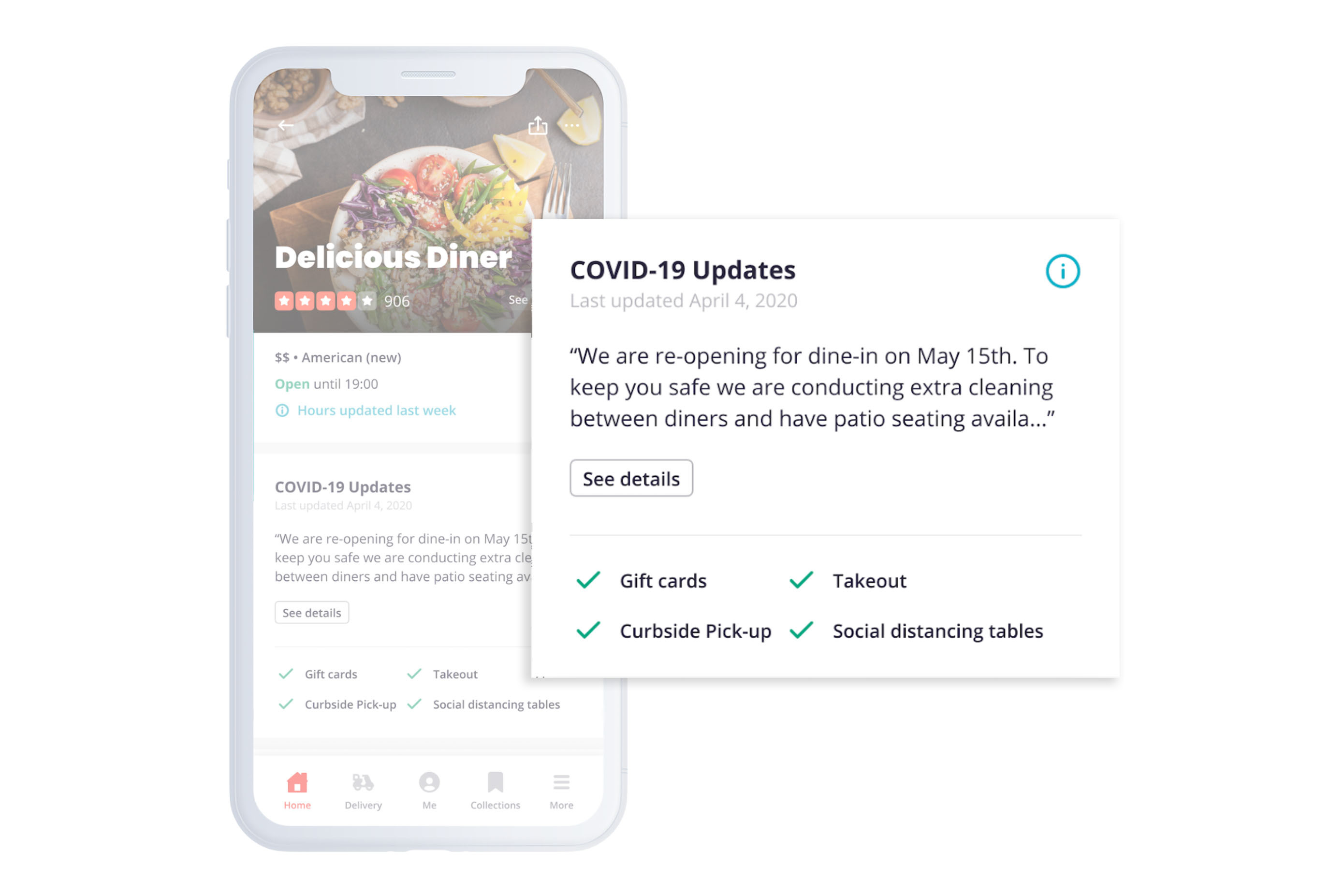 COVID-19 Business Highlights Badges: As an extension of the Business Highlights product, Yelp introduced new badges that help businesses showcase their availability and offerings during COVID-19. Businesses can also set two highlights to appear in their Yelp search results listing. Eligible independent local restaurant and nightlife businesses can set up Business Highlights for free as part of Yelp's $25 million relief effort.
Upcoming Products: Businesses will be able to indicate if they're offering curbside pickup – from bookstores, to grocery, to restaurants. Curbside pickup will also be searchable in the app so consumers can easily find these businesses.
Yelp Collections will soon be appearing in search results for the first time ever. This will help users discover carefully curated lists of relevant, open businesses.
Engage Acquires Boston Market
Boston Market® was acquired by Engage Brands, LLC, one of the Rohan Group of Companies, owned by real estate investor and restaurant operator, Jignesh (Jay) Pandya of Bucks County, Pennsylvania. Engage Brands will now assume ownership of Boston Market, purchasing the brand from affiliates of Sun Capital Partners, Inc.
Terms of the private transaction were not disclosed.
"We are very pleased to partner with Engage Brands as we embark on our next chapter of growth," said Eric Wyatt, Chief Executive Officer of Boston Market. "Engage Brands brings an enthusiastic, experienced, and successful ownership group to Boston Market, as well as access to resources that we need to continue to operate our business in this challenging environment. With the strategic and financial backing Jay and his team bring, we will continue to focus on key operational initiatives to improve guest experience, menu development, and focus on the growth of our brand. We are now well-positioned to achieve future success during a period of unprecedented disruption for our industry."
"I am thrilled to be a part of such an iconic brand as Boston Market, a truly great American restaurant chain with a high quality and delicious menu. I look forward to working with and being a resource for the Boston Market team, preserving the jobs of our more than 5,500 team members, and helping set the brand on solid footing for the future," said Pandya.
Boston Market was assisted in establishing the partnership with Engage Brands by Piper Sandler Companies who provided investment banking services and Mackinac Partners, Inc. who provided business advisory and restructuring services.
Cheetah Secures Funding
Cheetah, an e-commerce platform offering contactless pickup and delivery of food and supplies, closed $36M in Series B funding led by Eclipse Ventures, with participation from ICONIQ Capital, Hanaco Ventures, and Floodgate Fund. This investment brings the company's total funding to $66 million since it was founded in 2015.
"This pandemic has shed light on how technology can be used to quickly adapt core services within the food industry like delivery, fulfillment, and supply chains," said Lior Susan, Founder and Managing Partner at Eclipse. "Cheetah's team has demonstrated agility and ingenuity on behalf of their customers, and the resiliency of building a technology-centric operation. The company's vertical integration and technology stack have enabled them to accommodate changing buyer behavior as food supply chains shifted from a focus on commercial operations to consumer homes."
Cheetah offers transparent pricing to consumers, independent restaurants and small businesses with next-day, contactless delivery for orders placed through its mobile application. Using its fleet of refrigerated trucks, Cheetah delivers everything from bakery items to beverages, dairy, meat, poultry, seafood, fresh produce, condiments, snacks and cleaning supplies. Originally launched as a wholesale delivery service for restaurants and small businesses, Cheetah was able to quickly build on their existing technology foundation the week prior to California's shelter-in-place order, launching a direct-to-consumer service called Cheetah For Me. This service gives local residents and small businesses in the Bay Area safe access to essential food and supplies at competitive wholesale prices. Consumers simply order through the mobile app and pick up the next day from one of Cheetah's designated drive through locations.
Giftaplate.org Helps Families in Need
Plate IQ teamed up with several industry partners to establish the nonprofit organization, giftaplate.org, in an effort to aid those impacted by the coronavirus pandemic. The organization will source and funnel donations to local restaurants in Bayview so that they can produce meals for local shelters and food banks that are partnered with Gift a Plate, including the United Council of Human Services shelter in San Francisco.
Plate IQ is currently partnering with HotSchedules, PayActiv and ICR. Participating restaurants include Mixt, Curry Up Now, Fiorella, Sajj, Tendergreens and Oren's Hummus.
"Since 2014, Plate IQ has been working to help restaurants succeed," said Bhavuk Kaul, CEO at Plate IQ. "Giftaplate.org is an extension of our core mission and will support restaurant workers and their suppliers during this challenging time, while also lending support to shelters and food banks that are seeing increased demand from families impacted by this crisis."
Gift a Plate is partnered with Access Foundation, a 501c3 organization, and allows consumers to make a donation, either via giftaplate.org or through the dedicated restaurant partner's giftaplate.org web page, which is used to purchase prepared food from participating restaurants, and then delivered to local charitable organizations to provide those in need with fresh food. Donations are tax-deductible and 100 percent of donations will go directly to restaurants feeding families and individuals. Donations can be made at giftaplate.org.
While the nonprofit is currently only offering this service in Bayview, San Francisco, the organization plans to expand to several additional markets in the coming weeks.
"We are proud to partner on Gift a Plate to help local restaurants remain up and running and to feed their communities," said Clinton Anderson, CEO at HotSchedules. "During this difficult and humbling time, we are honored to be a part of bringing food to those who are in need, while supporting our restaurant partners as they look to keep their doors open and their team members employed."
America's Recovery Fund
ICSC announced the formation of America's Recovery Fund Coalition, an alliance of more than 100 trade associations and business organizations advocating for additional economic support in the form of a grant-based federal assistance program to help businesses retain and rehire employees, maintain worker benefits, and resume or continue economic activity. The Coalition's members span 30 business sectors and employ 45 percent of the nation's workforce – more than 58 million workers.
"We believe the establishment of America's Recovery Fund is the most holistic approach to address the economic impact of this crisis, without choosing industry winners or losers," said Tom McGee, President and CEO of ICSC. "The continuity of cash flow it would provide will allow businesses of all sizes impacted by COVID-19 to maintain their employees and emerge better positioned to advance an economic recovery. We are at a critical juncture and the most comprehensive way to approach this crisis is through a recovery fund created at the federal level."
In a letter sent to President Trump, congressional leaders, and the Secretary of the Treasury, the Coalition noted:
"Existing programs like the Paycheck Protection Program were a well-intentioned effort to help defray the impact of the COVID-19 economic crisis, but we must build upon the current options and address the overwhelming need for additional capital support to businesses. A broad-based, efficient recovery fund is the best path forward. Without such a fund, our retailers, theatres, restaurants, and many other industries will be decimated, and our communities will suffer."
"America's Recovery Fund Coalition believes Congress must urgently create a federal direct assistance fund to provide rapid liquidity to businesses impaired by the COVID-19 national emergency. We believe the fund should be designed to help businesses maintain ongoing capital obligations during the prolonged crisis and the next months of economic healing, enabling employees to continue receiving pay, maintain benefits, and helping employers rehire former employees while workplaces get back on their feet and safely reopen to the public."
To learn more about America's Recovery Fund Coalition visit www.AmericasRecoveryFund.org.
Toast Delivery Services
Toast unveiled Toast Delivery Services™ to enable restaurants of all sizes with an on-demand delivery network of local drivers — free of unpredictable, high-percentage commissions. Toast Delivery Services™ provides restaurant owners with the flexibility to offer food delivery for a simple, flat rate; when compared to third party delivery marketplaces, a restaurant processing $5,000 in delivery saves over $600 per month in commission fees with Toast.
Jarett Berke, owner and operator of Lou's Restaurant & Bakery in Hanover, New Hampshire said, "I'm worried about the future of our industry. If we continue to allow delivery apps to charge exorbitant fees and claim all of our profit as their own, we will never recover from the changes brought on by the pandemic. Most of us have profit margins in the single digits; yet, delivery companies charge up to 30 percent on every order. We should have access to our customer data. Toast is committed to helping us make this happen."
Toast Delivery Services™ is an on-demand solution that does not require a Toast Point of Sale or Toast Hardware purchase. Specifically designed to help the restaurant community adapt during the COVID-19 health crisis and beyond, Toast Delivery Services™ empowers any restaurant to service any delivery order, as well as:
Eliminate high third party commission fees: with flat-rate pricing, restaurants can offer delivery and maintain control of their costs. Restaurateurs pay one flat service fee per order – the cost to deliver within a five mile radius is under $8, versus a percent of sales.
Take control of expenses: unlike traditional third party delivery platforms, restaurants have complete flexibility to pass some or all of the delivery fees on to guests. In addition, restaurants can easily maintain separate menus to increase their profit on digital orders.
Own the guest relationship: with Toast Delivery Services™, restaurateurs capture all guest data and can build one-to-one relationships with their customer base while offering safe, contactless, delivery directly from their restaurant. Toast data shows that guests spend 25 percent more when ordering directly from a restaurant's own website.
Offer delivery for both phone and online orders: Toast Delivery Services™ is the only solution that enables restaurateurs to manage deliveries with both phone and online orders. Guests who want to speak to a person can simply call and request delivery; according to McKinsey, three-quarters of restaurant delivery orders are still placed by phone.
In addition to Toast Delivery Services™, Toast unveiled Toast Now™, a suite of on-demand, commission-free digital channels including Toast Online Ordering, a mobile ordering app called Toast TakeOut, and electronic gift cards. No Toast Hardware or Toast Point of Sale purchase is required to use Toast Now™ and it's free for the first three months.
"At Toast, we're hyper-focused on helping the restaurant community not only navigate the COVID-19 health crisis, but also take control of the guest experience so restaurants can thrive when the industry begins to recover," said Aman Narang, president and co-founder of Toast. "In the last month, we launched two products critical to the industry's success: Toast Now™ and Toast Delivery Services™. Both tools allow restaurants to not only survive in these uncertain times but also prepare for a world where guests will continue to expect a seamless omnichannel experience."
Paytronix Secures Funding
Paytronix Systems, Inc., secured an additional $10 million in funding, led by Great Hill Partners and the company's cofounders. The funding is designed to ensure that Paytronix is on sound financial footing and will continue to provide its restaurant, convenience-store, grocery, and retail clients with the communications tools necessary during this unprecedented COVID-19 pandemic.
The restaurant market has been hit particularly hard by this crisis, with nearly two-thirds of restaurant workers laid off and sales dropping as much as 90 percent in some states. A Paytronix examination of its customer data shows a leveling off within the industry and even a recent upward trend, with the hospitality market finding a baseline from which to grow.
"Our restaurant clients are suffering, but we've also seen signs of hope. We know from our experience enduring through boom and bust cycles that loyal guests help get brands through the tough times. This funding is designed to ensure that our tools will help our clients get through this crisis," said Andrew Robbins, CEO of Paytronix Systems. "We also know that restaurants need new and innovative approaches to services like mobile ordering and delivery. The COVID-19 crisis is driving remarkable innovation in the foodservice space and our goal is to be there for our clients, helping them deliver on their promises to their guests."
To meet this need, Paytronix has recently rolled out several technology updates and innovations:
Rapid-Launch Order & Delivery enables restaurants to get a simple online-ordering-and-delivery model up and running within two weeks.
Touchless payments and loyalty tie NFC payments to loyalty programs with a single tap and are part of our deep integrations with Google Wallet and Apple Pay.
New scoring helps brands quickly identify the guests most likely to take advantage of new offerings.
Additional Order & Delivery features like curbside pickup, group ordering, and point-of-sale integrations offer our clients more options for customizing and deploying their own programs.
"The hospitality market has clearly taken a powerful hit during this time of crisis. But right now is the time to double down on what works and invest intelligently. We believe the Paytronix team has a great vision for the future and is building products that will help operators navigate through these trying times today, as well as through the long-term recovery," said Nick Cayer, partner at Great Hill Partners.
The funding includes a series of investments from Great Hill Partners and Paytronix cofounders Matt d'Arbeloff and Andrew Robbins. Also investing is Tim Ridgley, founder of Open Dining, which was acquired by Paytronix in August 2019. Within the financing is expanded credit from Silicon Valley Bank.
Missing Restaurant Sounds?
Zaxby's uploaded a custom collection of ambient restaurant sounds to SoundCloud. The idea behind the playlist, which features five tracks dedicated to popular restaurant dayparts, is to bring Zaxby's particular dine-in experience to brand fans with sounds unique to Zaxby's. The soundtrack can be played at home or in the car to accompany drive-thru and pick-up meals.
"In the midst of shelter-at-home mandates and social-distancing recommendations, many of our customers are missing the familiarity of Zaxby's authentic dining experience," said Zaxby's CMO Joel Bulger. "We want brand fans to be able to close their eyes and imagine they're in our restaurants with their families and friends."
The Zaxby's SoundCloud playlist features music dedicated to four popular dayparts (lunch, dinner, late night and Sunday) complete with appropriate ambient noise and dialogue. The fifth track is purely ambient sounds, allowing listeners to create their own dialogue. Loyal fans of Zaxby's will recognize familiar sounds like orders being called out, the fizz of a Coca-Cola Freestyle Machine (which includes beloved pellet ice pouring out), sauce packs being opened and more.
Philly Restaurant Drive
A Philadelphia advertising agency has launched a creative social media campaign to help build business for local restaurants struggling during the ongoing COVID-19 pandemic. Think-Traffic, a full-service agency, with a special division specializing in restaurants, gaming & hospitality started the campaign called "Philly Restaurant Drive" on their agency Instagram.
The "First Drive" includes the neighborhoods of Rittenhouse and Queen Village with over 20 restaurants. Restaurants in different neighborhoods will be selected in subsequent "Drives" and $500 in gift cards will be awarded during each promotional period. Drive 1 winners will be announced on May 1st via Instagram at instagram.com/think_traffic.
Kate Talamo, president of Think-Traffic, said, "We work with clients from restaurants and hospitality organizations every day. These owners and employees have become like family and we feel the hardships they are facing right now. We felt we had to do something to help them and we know that Philadelphians love their local restaurants and are also looking for ways to help. We want them all to survive. With 'Philly Restaurant Drive' we are providing a fun way for them to help do just that."
Each promotional period participants can win one of five $100 gift cards to a restaurant of their choosing by submitting receipts via direct message or email for their takeout, delivery meals, or gift card purchases from three of the listed neighborhood eateries.
Those interested in actively supporting local eateries are asked to sponsor a neighborhood or donate a gift card prize purchased from a local restaurant. Staff selected the restaurants for the first promotional period but they are asking local eateries to apply for participation for future "Drives" by direct messaging on Instagram or emailing the agency.
Deliverect Raises Funds
Deliverect raised €16.25 million in its Series B funding round, led by OMERS Ventures, with existing investors Newion, Smartfin, and the company's founders also participating.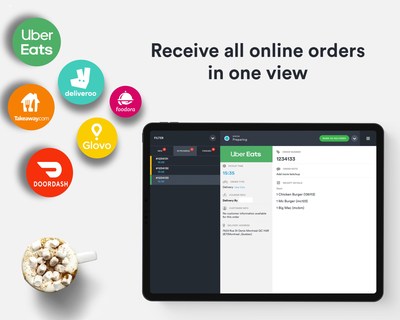 Deliverect is a subscription-based service that integrates third-party online ordering platforms like Uber Eats, Deliveroo, Glovo, and Doordash into restaurants' point-of-sale systems, automating the inbound online order flow through a single point. It eliminates the requirement for restaurant staff to monitor multiple devices and manually re-enter orders into their existing system, dramatically reducing both staff workload and the probability of errors.
Deliverect is also used by 'virtual' kitchens. These are essentially delivery-only restaurants where, assuming good food is standard, efficiency is paramount and technology plays a critical role in helping to build up brand loyalty with customers. With the number of virtual kitchens on the rise and an increasing number of FMCG businesses and food retailers entering the delivery marketplace, Deliverect aims to become the global gateway for online food ordering and delivery.
With the provision of online restaurant delivery at its core, in order to address the impact of COVID-19, over the past few weeks Deliverect has been on a mission to help hospitality businesses rapidly pivot to online ordering, following the closure of restaurant dine-in services enforced by local governments across Europe. The company has waived all set-up fees for its solution and launched new monthly – instead of annual – subscription plans which can be cancelled at any time. Deliverect has also waived set-up fees for its Click & Collect online ordering module, and is not charging anything for the first six weeks of use.
Deliverect, founded in 2018, has processed more than 3.5 million orders since its inception, with UK customers including Absurd Bird, You Me Sushi, Taqueria, and Crêpeaffaire. In addition, the company works with Unilever, which through Deliverect is able to integrate with Deliveroo and Uber Eats and deliver Ben & Jerry's and Magnum ice creams directly to customers.
Greasezilla Expands into Food Processing
Downey Ridge Environmental Company, developer of Greasezilla™, reports its installed base is expanding beyond its traditional wastewater treatment and grease trap waste hauling sectors and into the biodiesel production, anaerobic digestion, food processing and water reclamation industries.
Communities from North America, Europe, the Middle East, Asia, Africa and around the globe are seeking a workable solution to help them combat FOG to protect their water infrastructure and meet environmental goals. Greasezilla is the leading, purely ecological solution to manage the overabundance of FOG created from commercial and industrial food production facilities worldwide. The newest application of Greasezilla is in the food processing industry, where FOG can be processed at its source, instead of hauling it to other locations for processing and disposal. Greasezilla recently introduced a flexible, modular system configuration to accommodate remote and large-scale food production facilities. The new modular Greasezilla system can be placed at any large-scale collection point. Designed for both interior and exterior placement, the modular Greasezilla FOG separation system is scalable in 10,000-gallon increments, with a new system slated for Massachusetts.
Chefs' Warehouse Charitable Effort
The Chefs' Warehouse, Inc. surpassed $1,000,000 in Charitable Food Donations surrounding the COVID-19 Crisis. The Chefs' Warehouse has partnered with several national and local organizations such as The LEE Initiative, the restaurant workers relief program founded by James Beard Award winning Chef Edward Lee, as well as the #AskChefsAnything auction benefitting immigrant workers and their families, and fire departments in Connecticut.
"We are proud to support dozens of charity organizations including The Lee Initiative and their many local activations taking place across the U.S. that are helping communities get back on their feet," says Christopher Pappas, Chairman and CEO of the Chefs' Warehouse, Inc. "Taking care of out of work restaurant personnel is a priority for us. Surpassing the one-million-dollar mark in donations speaks to our dedication to support this industry we have been a part of for 35 years."
Most recently, the Chefs' Warehouse teamed up with Chef Nancy Silverton of Mozza, and Chef Jessica Koslow of SQRL in Los Angeles, to provide the ingredients used in donated meals serving the recently unemployed local hospitality community. This effort, and many more like it, are just one part of The LEE Initiative that the Chefs' Warehouse support. To date, it has provided over 120,000 meals to out of work cooks, bartenders, waiters and busboys across 20 regions around the country.
In addition, during the COVID-19 pandemic, the Chefs' Warehouse will also be donating 10 percent of retail sales profits from shop.chefswarehouse.com to r front-line furloughed employees and other impacted members of the foodservice industry, who are financially suffering while all restaurants around the country are mostly closed.
Heaven Hills Expands Distribution with Southern Glazer's
Southern Glazer's announced that Heaven Hill Brands will expand distribution of its portfolio in the U.S with the company.
The expansion primarily covers markets in Southern Glazer's West Region and Control States divisions. Southern Glazer's will represent the new Heaven Hill business in a dual capacity with Heaven Hill's current distributor partner beginning May 1, 2020, and then will become the exclusive distributor in Southern Glazer's West Region and Western Control States effective June 1, 2020.
"This commitment from Heaven Hill comes at one of the most challenging times our industry, and the world, has ever faced," said Wayne E. Chaplin, Chief Executive Officer, Southern Glazer's. "While both of our family-owned businesses have been hyper-focused on protecting the safety and wellbeing of our employees during the COVID-19 pandemic, we also believe it's just as important to continue planning for the future so we are positioned to be even stronger when this crisis is over. Our relationship with Heaven Hill goes back decades, and our ability to continue moving forward during this difficult period speaks volumes to that relationship. The Southern Glazer's team looks forward to further integrations of Heaven Hill's outstanding portfolio; preparing for growth and success as businesses in the U.S. ultimately prepare to reopen."
"Southern Glazer's has always been a tremendous partner and now we are excited to expand that relationship through their first class organization, structure and route-to-market," added Max L. Shapira, President, Heaven Hill Brands. "Our diverse portfolio of recognized brands positions us for success and we look forward to working with Southern Glazer's on a greater scale to help us execute our strategy and achieve our long-term business goals."
Helping the Helpers
New Jersey-based Dartcor Food Services partnered with one of their local clients, Crum & Forster Insurance, to provide meals to hospital staff working tirelessly on the front lines to prevent the spread of the novel coronavirus and to take care of those who are already afflicted with the disease, top photo.
Over the last two weeks, Dartcor coordinated with Crum & Forster, as well as US Foods, to provide over 1,000 meals to healthcare workers at Hunterdon Healthcare, Chilton Medical Center, RWJ Barnabas Hospital, and Morristown Medical Center. "Our employees are proud to be able to support the frontline healthcare workers in our local community, who are working around the clock to keep us safe and healthy," said Warren Leeds, CEO of Dartcor. "We get to collaborate with partners on a project of goodwill, and it uplifts our entire community," added Alan Daehnke, Chief Operating Officer.
Dartcor's team has designed a re-entry plan to maximize guest safety and comfort as employees re-enter the workspace. The program includes contactless food ordering and delivery, tamperproof packaging, and elevated cleanliness standards and hospitality norms to meet the new health and safety challenges presented by the current pandemic. Dartcor donated 200 pizza meal kits to the Boys and Girls Club of Northwest New Jersey. On April 23, Carmine DePasquale joined the children on Facebook Live to teach them how to make the pizzas.
#WhateverYouNeed
Wahlburgers and Crescent Capital said that 14 additional markets throughout the United States and Canada have confirmed participation in their #WhateverYouNeed campaign to feed first responders, hospital workers, and other frontline heroes in the coming weeks. The multi-city initiative builds off of the strong community response to the initial events recently held in Boston and Worcester where over 2,600 freshly made meals were delivered.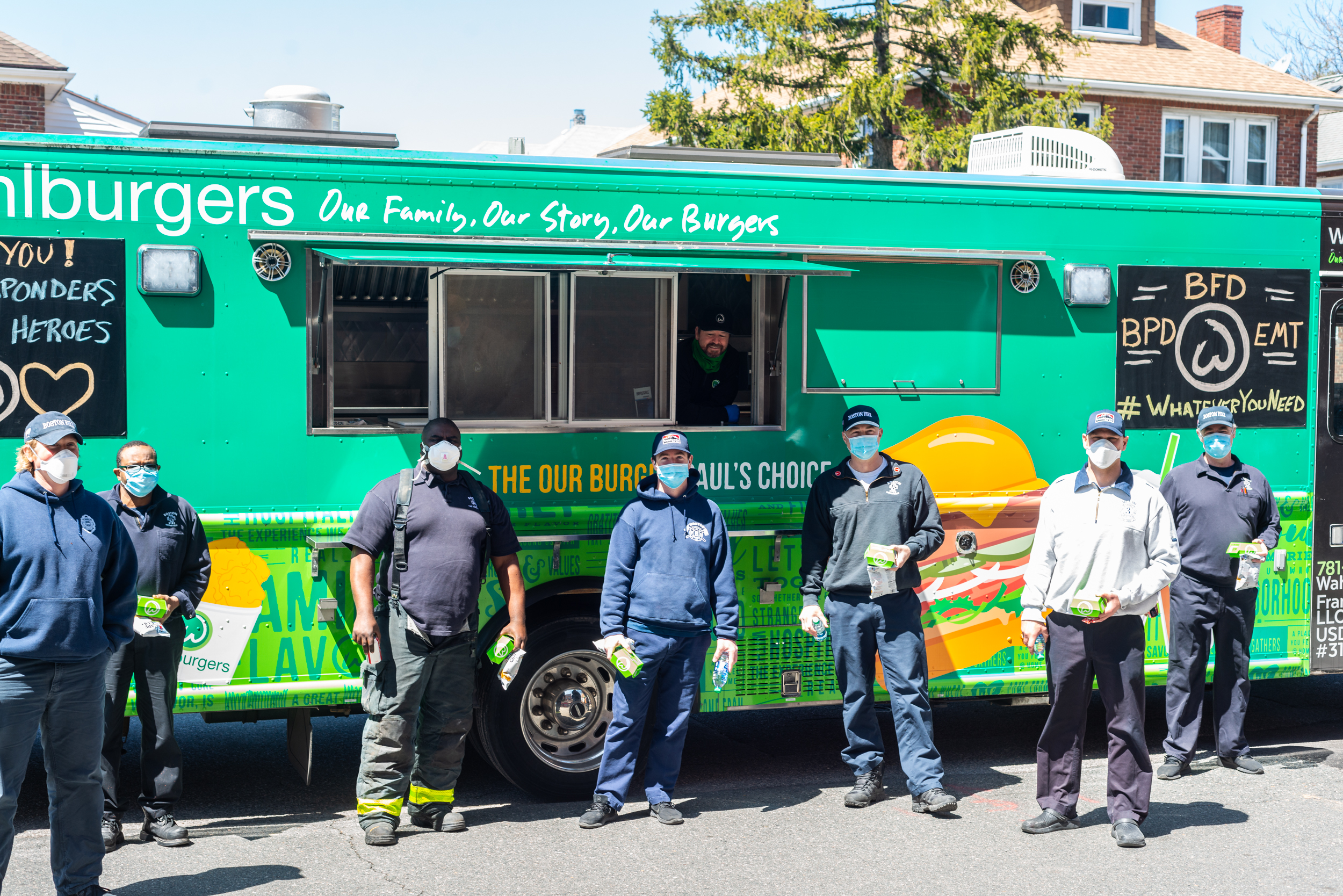 "Not being able to be fully operational these past several weeks has been heartbreaking for our entire organization," said Mark Wahlberg, co-founder of Wahlburgers. "But that hasn't stopped our commitment to supporting the communities we serve however we can. Partnering with Crescent Capital has allowed us and our local franchisees to give back the best way we know how, by providing warm meals to the frontline heroes battling this virus each and every day."
Targeting police precincts, fire stations, hospitals, nursing homes, testing sites, shelters, UPS branches, and more, Wahlburgers has committed to donating thousands of warm meals to support those battling and greatly affected by the COVID-19 pandemic in these markets as part of their #WhateverYouNeed program. Cities scheduled to receive Wahlburgers meal deliveries starting with National Nurses Day (May 6) and continuing through May 15 include the following:
New York City
Northern New Jersey
Hartford
Los Angeles
San Francisco Bay Area
Detroit
Orlando
Pittsburgh
Milwaukee
West Des Moines
Minneapolis
Kansas City, KS
Toronto
"Crescent is proud to partner with Wahlburgers to serve the heroes on the front lines in some of the communities most affected by this pandemic," said Mark Attanasio, Co-Founder and Managing Partner of Crescent Capital Group. "We are committed to doing what we can to help the hard-working public servants, grocery workers, and healthcare workers as they work to keep our communities safe and healthy, and are grateful to be able to expand this program to provide meals to both those battling this crisis as well as those greatly impacted by it," added Mark DeVincentis, Managing Director of Crescent Capital Group.
To learn more about this partnership and Wahlburgers' current efforts with the #WhateverYouNeed campaign, go to https://wahlburgers.com/whateveryouneed.
Feed the Frontlines
Over the last two weeks, the newest program from Chopt Creative Salad Co. and Dos Toros, Feed the Frontlines, has donated over 23,000 healthy meals to medical professionals on the frontlines helping battle COVID-19.
After raising $250,000 with several founding partners, both eateries have been nourishing those on the frontlines by providing over 1,000 fresh, healthy meals a day to sustain the people who are sustaining us starting with NewYork-Presbyterian Hospital and Mount Sinai Hospital. Since launch, Chopt and Dos Toros have expanded the program to include other hospitals including Memorial Sloan Kettering, North Shore University Hospital and Mount Sinai South Nassau in New York, Morristown Medical Center and Overlook Medical Center in New Jersey and Emory University Hospital in Atlanta.
In an effort to help as many medical professionals as they can, Chopt and Dos Toros are also providing their customers the opportunity to join their giveback efforts, by simply adding a "Feed the Frontline" salad to their cart with 100 percent of donations used to provide meals to those on the frontlines.
Handing Control to Guests
Moreplate provides software that allows restaurant guests to take control of their dining experience from their smartphones. Restaurants are able to gather customer with unprecedented insight. By focusing on individual preferences rather than aggregate data, restaurants are able to deliver a personalized experience to every customer by default, whether it is their first visit or their twentieth.
By allowing customers to order what they want, when they want it, restaurants are able to capture missed revenue opportunities. Restaurants are able to adjust menus and pricing for experimentation and revenue maximization. Discounts and deals are easily pushed to customers who would otherwise be unaware. Moreplate integrates with POS and tech stack so as not to disrupt workflows in place, minimizing training for managers and staff. Moreplate is being offered at cost at the moment.
Cultural Intelligence for Restaurant Managers
With the increase of discrimination, health disparities, and emotional stress brought on by COVID-19, restaurant operators have been left scrambling to better understand how to address these challenges now and when restaurants return to full operation. The Multicultural Foodservice & Hospitality Alliance (MFHA), in collaboration with the National Restaurant Association, are hosting a roundtable Cultural Intelligence for Restaurant Managers During COVID-19 to discuss the issues and best practices for addressing the issue. This on-demand resource is available online at no charge.
The roundtable brings together cultural experts and industry leaders to discuss how the coronavirus pandemic is impacting communities of color. The dialogue and situational scenario exercises answers some of the most important questions operators are considering.
"As anxiety, stress, and uncertainty continue to grow during COVID-19, now more than ever is the time to have a straight-talk about how to effectively engage with individuals of varying backgrounds," said Gerry Fernandez, founder and president of the MFHA. "By providing on-demand access to a conversation about cultural competencies, discrimination, and wellness disparities in the workplace, we are optimistic that managers can adapt their behavior to include empathy, inclusive practices, and overall a safer working environment."
The roundtable, moderated by Fernandez, features Claire Tse, owner and founder of Tse Solutions LLC; José Gómez, president and chief inclusion officer at Multicultural Solutions, LLC; and Ray Johnson, divisional vice president at Cracker Barrel.
The discussion addresses:
How discrimination and health disparities are impacting communities of color and restaurant management both during and after the pandemic.
Cultural insights and specific recommendations for how restaurant management can best support multicultural employees, customers, and communities with the challenges brought on by COVID-19.
Cultural intelligence best practices to integrate into the process of re-opening restaurants.
COVID-19 Training and Assessments
EcoSure and Lobster Ink, Ecolab divisions focused on food safety and public health, are offering COVID-19 assessment and training programs to help food service and hospitality customers protect their employees and guests, and restore safe and profitable operations.
"Prevention is the best protection," said Mandy Sedlak, EcoSure manager for Food Safety and Public Health. "By training frontline employees on COVID-19 prevention, providing coaching on best practices and enhancing standard operating procedures (SOPs), we will help arm food service teams with the right knowledge and tools to combat this pandemic."
In addition to Ecolab's industry-leading cleaning and disinfecting, hygiene and warewashing programs, EcoSure's experts developed the Coronavirus Training and Assessment Program to help prepare and protect frontline employees. The program includes a COVID-19 response readiness assessment of risks and best practices and onsite training that provides practical guidance for COVID-19 prevention and remediation.
To help reduce onsite assessment time and maintain a laser focus on critical areas, EcoSure also introduced the High-Risk Assessment Program, a best-in-class program to reinforce best practices, mitigate food safety and public health risks, and protect employees and guests. For areas where onsite assessment is not feasible at this time, EcoSure also provides a Virtual Training and Assessment solution, which is guided remotely by an EcoSure food safety and public health expert.
As restaurants are adapting to new ways of serving guests, they also are facing a new set of challenges and standard operating procedures. In response, EcoSure's has offered the Takeout & Delivery Assessment Program, which is focused on all aspects of takeout and delivery, including cleaning and sanitation, food integrity, packing and storage and third-party delivery.
"As leaders in food safety and public health, we are committed to providing our customers with the expertise to help ensure safe and profitable operations," said Bob Sherwood, Ecolab executive vice president for Food Safety and Public Health. These training and assessment solutions will help food service operators proactively manage their current operational challenges while preparing for the future."
In addition to EcoSure's program offerings, Ecolab's Lobster Ink business is offering the Essential Rebound Training Program, which provides concise online training for line-level staff and managers, including hand hygiene, sanitizing and disinfecting, time and temperature control and protocols to prevent cross-contamination.
For hotels and full-service restaurants, the program also includes training on revenue-generating skills and lessons on manager motivational strategies. The training content is designed to refresh and solidify essential behaviors, and the program also provides management with a record of employees who have completed the training.
Facedrive Foods Debuts
Facedrive Inc. launched Facedrive Foods, an initiative to connect residents and local restaurant businesses during the COVID-19 pandemic. Facedrive Foods will first launch pilot programs in the Greater Toronto Area, and London, Ontario, in the coming weeks, with subsequent expansion into other regions in which Facedrive is operational in the future.
Facedrive pursues a "people and planet first" business model, and Facedrive Foods adheres to these principles by offering eco-friendly deliveries, with each delivery contributing a portion of the fee towards local tree-planting initiatives to help reduce carbon emissions in the atmosphere. Facedrive partners with municipal authorities and local 'green' organizations to ensure compliance with the region's forestation plans, promote adoption of best practices of tree-planting, and to achieve the best possible survival rates for each tree planting campaign.
"As part of Facedrive's ongoing commitment to help the environment and its people, we are excited to announce the launch of Facedrive Foods," said Chief Operations Officer, Suman Pushparajah. "During these unprecedented times, we want to support our local businesses and, as such, we will be waiving all fees for restaurants during our initial pilot program".
"While social distancing has proven to be one of the most effective ways to reduce the spread of this outbreak, we want to ensure that people in our community at least have access to good, healthy food that can be safely delivered right to their doorstep," added Pushparajah.
Tabit is Ramping Up
Tabit Technologies plans to ramp-up North American operations to address the dire needs of a crippled restaurant industry. The company was founded in 2014 in Tel Aviv, Israel, where it has a current market share of over 40 percent. Globally, the group is working with fine-dining restaurants, mom-and-pop operations and even large chains. With a new round of venture capital ($35 million in the latest round B), the company has added American senior executives to its staff of over 100, struck partnership agreements and plans a nationwide expansion amidst the Coronavirus pandemic.
"Our original vision several years ago was to help the restaurant industry become more efficient, profitable and ultimately successful," said Nadav Solomon, Co-Founder and President of Tabit. Solomon previously was a Lieutenant Commander in the Israeli Navy responsible for command and control operations. "Now more than ever, we have a sense of urgency about this critical mission. The entire restaurant industry has been uprooted, and inexplicably the aggregator services such as Uber Eats and GrubHub are still charging customers a suffocating 25 percent – 30 percent commission. This is unacceptable. Tabit hopes to disrupt the status quo by serving an industry that has long served all of us."
Tabit is a platform for managing restaurants, incorporating point-of-sale, back-office, online ordering and reservations, kitchen display, kiosks, guest management, loyalty and more. The platform is MobileFirst that provides a command and control capability to restaurant owners while improving the customer experience.
"There is no question we are living in the single most challenging environment I have ever endured," said Benny Shabtai, owner of the beloved restaurant group Serafina. "We must find ways to innovate in order to survive, and Tabit has really become a partner to navigate these times and help us emerge even stronger when we come out of the crisis."
Dragontail Updates Cleanliness Solution
Dragontail Systems Limited is updating its patented AI-based computer-vision quality management system, the QT AI camera, to detect cleanliness and sanitation. These enhancements are announced in conjunction with the company's launch into the U.S. market and opening of an official New York office.
In addition to monitoring key elements during the preparation and packing process, including the quality and accuracy of ingredients and temperature of the food, these enhancements specifically introduced to combat the spread of coronavirus will detect the presence of gloves and masks, and how often equipment and workspaces are sanitized and replaced. This information is closely monitored by managers and can be shared with the customer so as to ensure service compliance with defined quality standards.
"Dragontail Systems' technology will empower fast-food services and restaurants of any size to address the growing concern of health and safety during the coronavirus pandemic," said Ido Levanon, CEO and Director of Dragontail Systems. "Our unique AI camera already helps hundreds of stores recognize even the smallest of errors often undetected by the human eye, for example pizza toppings above and below the cheese, or even the food's temperature. Now we are upgrading our technology to monitor processes that may lead to virus spread or contamination. In doing so, we expect to develop more impactful insights that foster transparency and ensure quality standards set by the businesses and the end-customer."
The new QT AI Camera, in conjunction with Dragontail's Algo Dispatching Systems, fully optimizes and automates the kitchen and dispatching flow, including order receipt and kitchen prioritization for meal preparation, as well as food packing, dispatch, route management, and delivery. By optimizing the entire restaurant operation, Dragontail Systems can turn any restaurant into a delivery powerhouse within just a couple of days.
"The food industry needs an edge-complete solution that is specially customized with the end product in mind. Our system is designed to take on the role of the super manager, processing every relevant data point inside and outside the restaurant and taking into consideration multiple variables such as number of orders and locations of customers and drivers, in order to optimize decisions at every point in the supply chain. This enables us to work directly with our customers to find more ways to streamline operations while bringing in more business, guaranteeing meals arrive hot and fresh, reducing costs and increasing repeat-customers," continued Dragontail's CEO.
At all times, the system enables real-time employee management that drives critical business decisions while calculating relevant variables that lead to more accurate and faster deliveries, as well as improvements in customer satisfaction and food quality and safety, all of which impact the bottom line.
Waitbusters Adds Features
Waitbusters, LLC added features designed to make it easier for restaurants to offer curbside pickup and delivery of alcohol to their customers. With the rise of the Covid-19 pandemic and the economic toll suffered by restaurants that were required to close their dining rooms, many states began loosening their liquor laws. For example, in Virginia, where Waitbusters' headquarters is located, the Virginia ABC allows restaurants to sell beer and wine in sealed containers for either curbside pickup or delivery without a delivery permit. Restaurants can use their own drivers for delivery or they can use third party delivery services to deliver alcohol on their behalf with a specific written contract in place.
Due to the relaxed restrictions, Waitbusters added two distinct features to assist restaurants in the sale and delivery of alcohol. The first feature allows the restaurant to request a picture ID with any alcohol order, thereby preventing underage individuals from placing an order. The Id must be uploaded upon checkout. Second, restaurants can now add a custom tax rate to alcoholic beverage items since that rate typically differs from the standard sales tax rate on food.
According to Waitbusters' CPO, Shane Gau, "These additional features are just another way we are trying to make things easier for restaurant owners. Every dollar counts in this new economic climate and paving the way for a smooth transition into curbside pickup and delivery of alcohol to their patrons is essential. Furthermore, because most states require alcohol to be sold in combination with a food order, the check size is increased. It's a win-win for both the restaurant and the customer."
US Foods Completes Acquisition
US Foods Holding Corp. completed the previously announced $970 million all cash acquisition of Smart Foodservice Warehouse Stores. The transaction that closed today excludes the Smart & Final retail grocery business, which was previously separated from Smart Foodservice.
Founded in 1955 and headquartered in the greater Portland, Oregon area, Smart Foodservice operates 70 small-format cash and carry stores across California, Washington, Oregon, Idaho, Nevada, Utah and Montana that serve small and mid-sized restaurants and other food business customers with a broad assortment of products. Smart Foodservice will operate as a separate operating unit within US Foods, with minimal integration required.
"We are pleased to welcome Smart Foodservice to the US Foods family," said Chairman and CEO Pietro Satriano. "With our shared commitment to supporting restaurant operators and providing best-in-class customer service, Smart Foodservice will complement our CHEF'STORE cash and carry model and provide a platform to enhance our presence in this attractive channel."
US Foods funded the purchase price for the acquisition with cash on hand and the proceeds from a $700 million term loan. US Foods expects to achieve approximately $20 million in annual run-rate cost synergies by the end of 2023, primarily through purchasing efficiencies and expansion of private brand products.
Monin Pitching In
Monin Americas produced an additional 6,000 bottles of hand sanitizer as a response to product shortages from the COVID-19 virus outbreak. Monin's national sales team has donated a portion of the supply, filled in 1L branded bottles, to restaurants serving takeout in various markets across the U.S. The remaining limited supply is now available for purchase on Monin.com.
Monin first batched and bottled 1,100 liters of the hand sanitizer earlier in April and donated to more than 140 restaurants, first responders, companies and organizations in the Tampa Bay area. With restaurants, the intent was to assist with safe takeout procedures locally and Monin also encouraged those restaurants to 'pay it forward' and donate a bottle to their food delivery drivers.
Companies across various industries are stepping in to fulfill the growing needs of their communities as a result of this global shortage of hand sanitizer. Monin decided to leverage their manufacturing knowledge, materials, and machinery to produce hand sanitizer in support of service businesses. To date, the company has bottled more than 7,000 liters with plans to double their previous batch in the coming weeks.
"The Monin sales team is thrilled to help extend recent local donation efforts to the restaurant industry across the nation," said Joe Smith, Monin Senior VP of Sales. "Monin is honored to give back to those who serve our flavors every day and who continue to persevere during this challenging time. Our partnership with Jean Niel is a great example of how the industry is coming together to help our communities."
Monin partnered with longtime vendor, Jean Niel, a French flavors and fragrances company with a U.S. subsidiary in Odessa, FL. Monin's hand sanitizer contains 80 percent alcohol and follows the guidelines recently outlined by the Federal Drug Administration (FDA) and World Health Organization (WHO).
"Jean Niel Inc. is honored to partner with Monin in supporting the local community," said Mireya Perez, Jean Niel Sales & Marketing Manager. "Uniting our resources to produce hand sanitizer brings our two companies together to help keep our neighbors safe."
Monin, a 3rd generation family-owned company, has further provided support to the community by donating $10,000 to longtime partner CORE (Children of Restaurant Employees) to help families in the food and beverage service industry who are impacted by the COVID-19 virus. Additionally, Monin has made the wellbeing of their employees a top priority by equipping them with key supplies such as hand sanitizer, medical-grade masks, toilet paper, and paper towels. As a result of this hand sanitizer initiative, Monin has been able to sustain business and continue to employ their 200+ team members in Clearwater and sales team nationwide.
Enhancing Food Safety
As the coronavirus pandemic has led restaurants to shift to takeout and delivery and healthcare facilities to ensure sanitary meal delivery, Hoffmaster Group, Inc. ® announces four new products to enhance food safety for the restaurant and healthcare industries.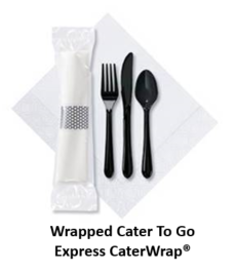 ● Individually Wrapped CaterWrap®: An extension of the current CaterWrap® line, disposable cutlery is pre-rolled in a napkin and individually overwrapped for ease and safety. Two wrapped CaterWrap® products have been added to the line;
● White Peel & Seal Bands for Tamper Evidence: Intended for restaurants for takeout and delivery, this band wraps around a container, proving that the food package has not been tampered with; and
Linen-Like® Ready-Set Napkin™: Great for nursing homes and assisted living facilities where residents are eating on-site, this napkin has an innovative pocket fold design where the napkin serves as a slot to hold and cover utensils.
The new products are available for purchase through traditional distribution channels or on www.hoffmaster.com. Products can also be requested through distributors.
"Foodservice operations and institutions are looking for products to protect their customers and patients from germs and cross-contamination," said Andy Romjue, president of Hoffmaster's Foodservice Division. "Our customers have come to us asking for additional sanitary solutions, which is why we launched these products. These are trying times, and we want to help our customers and theirs as best as we can."
After seeing an increase in demand for products such as individually wrapped pre-rolled napkins and cutlery, takeout containers and healthcare tray covers, Hoffmaster has shifted its manufacturing focus to products that will aid the industries in need the most.