Five Ways to Create a Safer Dining Experience and Workplace
2 Min Read By Diane Matheson
In response to the unparalleled challenges created by the COVID-19 crisis, restaurants are going to great lengths to adhere to countless hygiene protocols that will provide a safer, cleaner environment for their customers and employees. Whether it's offering dining in, takeout or delivery, businesses are committed to keeping their employees safe and helping a cautious public feel more confident about eating out again.
At Buffalo Wings & Rings, the health and safety of our guests and staff is our number one priority. It's why we've put in place numerous measures to maintain the highest standards of cleanliness and hygiene at every one of our restaurants.
Here are five ways in which Buffalo Wings & Rings is adapting to meet the challenges of this extraordinary situation and better serve our customers.
A Clean Slate
At every franchise, we've significantly increased the frequency of cleaning, especially in congested areas such as lobbies and restrooms — which contain hand sanitation stations for easily accessible hand hygiene. For dining areas, we've removed all tabletop items, such as condiments and cutlery, and replaced them with individually wrapped packets to prevent the spread of germs. We use a peroxide bmulti surface cleaner and disinfectant to thoroughly clean and disinfect surfaces between visitors.
Giving People Space
We've limited our capacity for indoor dining and are complying with social distancing mandates that are informed by local and state guidelines. This includes displaying informative signage, applying floor decals to denote proper distancing, increasing the space between tables, and installing plexiglass dividers between booths to reduce the spread of containments. Where possible, we've also set up open air tents and mounted electric heaters for powerful, efficient heating to create a more enjoyable outdoor dining experience as the temperatures get colder.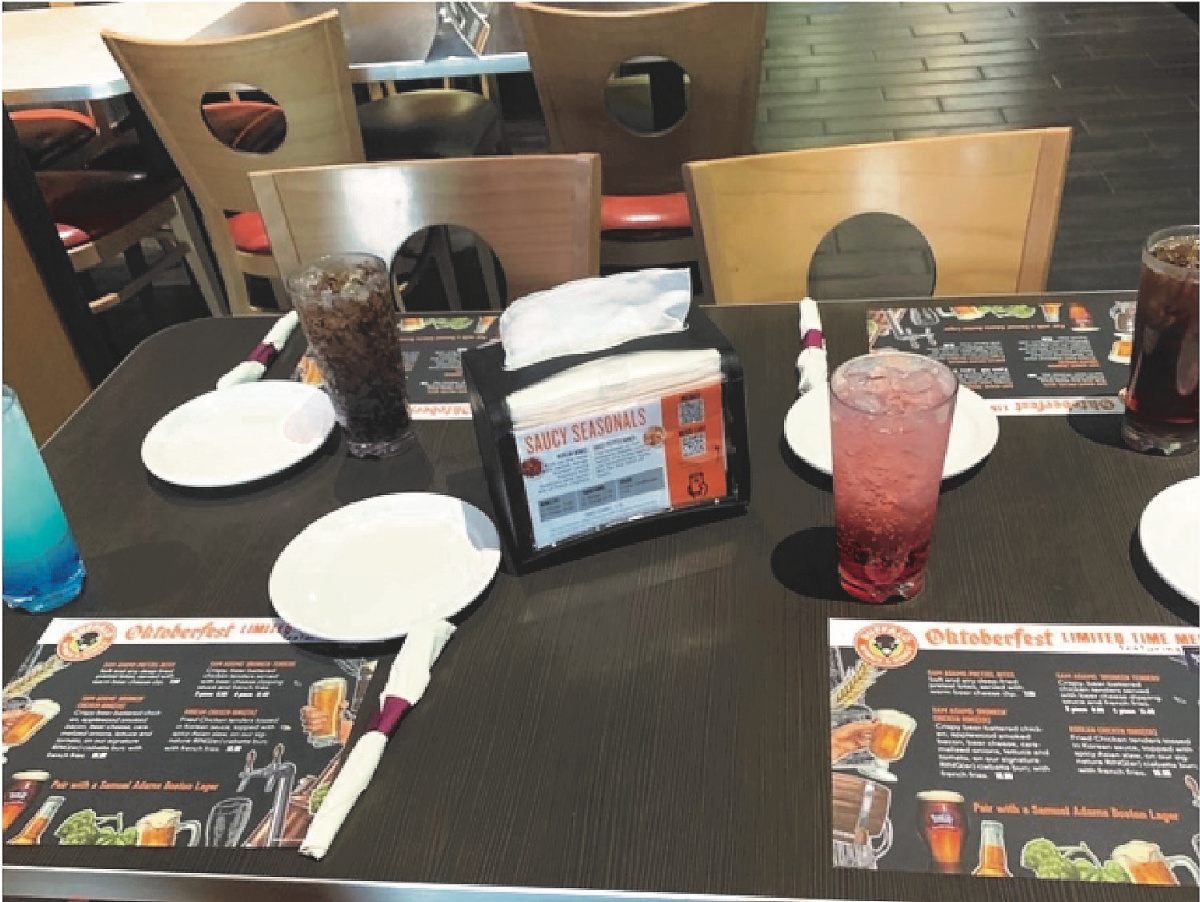 We'll Take Those Menus for You
As a way to maintain hygiene, we've replaced our paper towel holders with one from Tork that dispenses one napkin at a time, such that only the napkin needed is touched for improved hygiene. This mechanism reduces napkin consumption by roughly 25 percent. We've also inserted a QR code into the dispenser's advertising panel so that guests can view our menu digitally, eliminating the need for paper menus. Lastly, the dispensers are easy to clean so we remove the top-most napkin and wipe them down after each seating for boosted hygiene.
Keeping Calm and Carrying On
To accommodate the influx of delivery and carryout, and to ensure safe handling, we offer contactless curbside carryout at all locations and contactless delivery in select locations. Orders can be pre-paid so guests can pick up their food with limited interactions — we'll even place them directly in drivers' trunks or backseats if requested. We've also introduced sealed, tamper proof packaging, so even when orders are placed through a third-party delivery service, food will remain untouched.
Helping Our Staff Stay Healthy
Our goal is to create a safe climate for everyone who walks through our doors. Therefore, for everyone's protection, all kitchen and wait staff members are required to wear masks and vinyl and stretch poly gloves at all times, have their temperatures checked daily, and fill out a symptom survey before each shift. Franchisees are also abiding by strict contact tracing protocols and follow explicit instructions for if, or when, an employee tests positive for COVID-19. Coupled with these safeguards, the restaurant encourages staff members to work in pods to minimize co-mingling.