Five Ways to Capture Frequent Users in a Tightening Economy 
3 Min Read By Jana Zschieschang
We're all aware of the value of an existing customer. Restaurant operators have scrambled to launch loyalty programs and subscription services in recent years – capitalizing on new technology to keep that "old" customer, often 16x more valuable than a new one.
Recent data from our team at Revenue Management Solutions confirms the importance of loyal-to-the-brand customers. It also reveals the importance of loyal-to-dining customers, or as we call them, "frequent users."
When we asked nearly 800 US consumers about past and future restaurant usage, consumers who frequented restaurants ten or more times per week (frequent users) are twice as likely to increase their future use.
Going into 2023, 45-50 percent of frequent users said they plan to use restaurant channels "more or much more" compared to just 20-23 percent of the whole respondent population.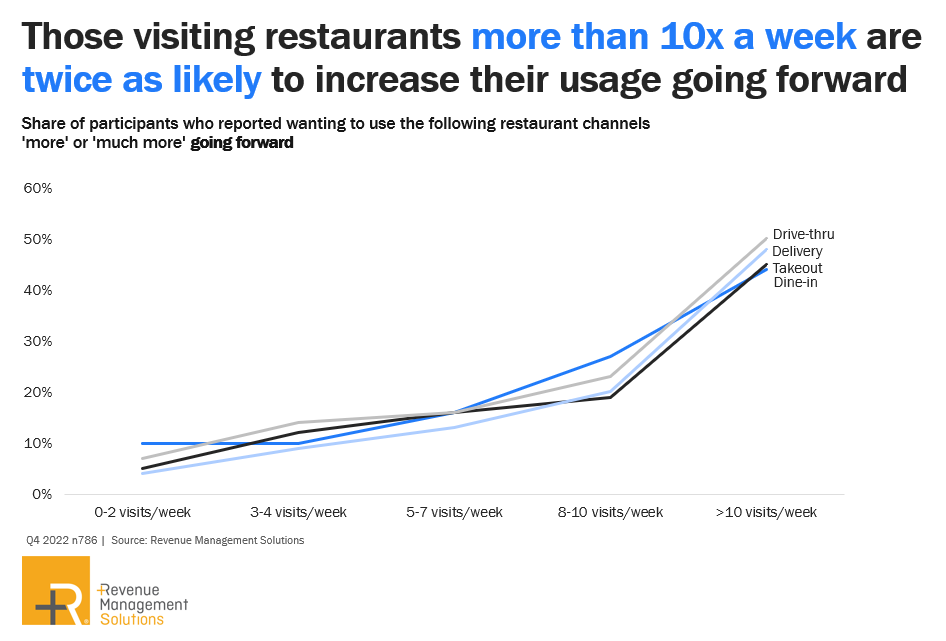 This isn't just "talk," either. When Revenue Management Solutions asked respondents about their past behavior, frequent users reported increased usage across all restaurant categories in Q4 2022, particularly quick-service. By restaurant category:
50 percent reported using quick-service restaurants "more" or "much more"
36 percent increased visits to full-service restaurants
39 percent increased visits to casual eateries
39 percent increased visits to breakfast restaurants
So who are these frequent users? And how can you attract them to your restaurant?
Gen Z and millennials are your most frequent users
Those most likely to use restaurants most frequently are also likely born after 1981. When analyzing usage by restaurant channel, the difference between generations was sizable. A whopping 85 percent of Gen Zers reported at least 1x weekly drive-thru visit, compared to just 69 percent of boomers. Millennials make the most weekly calls for delivery (78 percent) compared to just 30 percent of boomers.
The younger generations were also the most likely to order takeout and dine in.
How can restaurants best appeal to frequent users?
To gain market share among frequent users and younger generations and, ultimately, increase margins and traffic while stealing share, we recommend:
Providing a solid app experience. Younger generations are ready and willing to use technology, so train them to open your app instead of someone else's. Hint: rewards help.
Developing concise marketing messages. Be mindful of consumers' time and patience so that they can reward you with loyalty.
Using precision menu engineering practices to fire up sales. For example, upsell suggestions as customers browse online menus deliver 18% higher sales, compared to just two percent when presented at checkout.
What about the rest of the market?
Here's how to reach everyone else (and surprise — you can also add these tricks to your frequent-user toolkit):
Deliver short-term promotions that meet your customers' needs, keeping variances by generation and region in mind.
Move value menus from low-price to abundance. In our survey, 84 percent of households with children report at least one weekly takeout order. Shareable meals with a variety of offerings satisfy varying preferences. They can offer the added value of leftovers, so consider a balance of customization and scale, and keep value and quality top of mind.
Lean on technology. While the jury is still out on kiosks, guests generally like the ease of digital ordering(web, app, or mobile-based) and appreciate the extra time to order.
When using apps, make personalized offers to keep them engaged on your platform instead of moving on.
A final word
Most consumers are fatigued from 2022's rising food away-from-home prices, and our data suggests that future dining intentions are declining (see chart). The key is to maximize all the data and tools available. Notes RMS COO Mark Kuperman, "Around the globe, we're seeing success among brands that take the long view. Instead of relying solely on price to improve margins, they are moving forward with strong development, smart menu engineering and strategic marketing calendars. In other words, they are meeting consumers where they are."