Feed the Front Line, Small Brand, Big Heart and Seafood for Heroes
15 Min Read By MRM Staff
This edition of MRM News Bites features ezCater, Sōmrus, Audible, 7shifts and SevenRooms, Restaurant Revolution Technologies, Checkers & Rally's, Subway, Chipotle, Napa Seafood Foundation, Igloo, Bringg and Karbach Brewing Co.
Feed the Front Line
ezCater launched Feed the Front Line, a program that helps anyone contribute meals to healthcare workers fighting coronavirus. In just over a week, the program has already sent more than 20,000 meals to 145 hospitals across the country.
Healthcare workers are risking their health to protect ours, and restaurants are fighting to stay in business. The program connects people who want to support healthcare workers with local restaurants who need orders, through contributions of any size. $10 feeds one healthcare worker, $300 feeds a unit, and $3,000 feeds a whole hospital floor.
To support restaurants, ezCater has waived commissions on all Feed the Front Line meals. "With orders down so much right now, feeding hospitals makes a huge difference to our business," said Paul Barker, Owner of Pauli's in Boston. "Sending meals to hospital workers who need support means a lot, too. And it keeps my staff working."
"ezCater feeds people at work, and right now that means feeding the healthcare workers who are protecting us," said Diane Swint, ezCater's Head of Marketplace. "With Feed the Front Line, you can order a meal in under a minute, and ezCater figures out how to get it to the hospital reliably. And, today, more orders are a lifeline for restaurants."
Small Brand, Big Heart
Sōmrus– a line of India-inspired cream liqueurs, launched "Small Brand. Big Heart.™" with an initial donation, aiming to raise $125,000+ for Children of Restaurant Employees (CORE), a nonprofit that assists the families of service industry members navigating life-altering circumstances. In its first few days, the campaign raised $5,800. All donations are tax-deductible and go directly to Children of Restaurant Employees (CORE). Sōmrus' 10% matching program will kick in once the fund reaches $25,000 and remain in force until it reaches $125,000.
Mr. Pankaj K. ("PK") Garg, CEO and founder of Sōmrus, says: "As a young company, we are truly grateful to the bar and restaurant industry professionals who have supported and guided us on our journey and we are determined to help this hard working and special community get through this difficult time. We invite other small businesses with big hearts to join us in this effort to help the restaurant community."
Executive Director of CORE, Sheila G. Bennett, adds: "We at CORE continue to stand by the food & beverage service employee with children every day when they face a health crisis or natural disaster. Additionally, and in response to the COVID-19 pandemic, CORE is working to ensure that food & beverage service employees who have children are supported if they or a member of their family are diagnosed with COVID-19. We are grateful for our partners, like Sōmrus Liqueurs, who provide financial support. Please join us in letting the food and beverage service industry know how much we appreciate all they have given to us by supporting them."
To donate, visit https://www.gofundme.com/f/small-brand-with-a-big-heart.
Newark Working Kitchens
During this unprecedented time, Audible is doubling down on its commitment to Newark and leveraging our resources to help where we are needed most. They are redirecting catering operation and expanding our local restaurant funding to feed as many local residents as possible. In collaboration with José Andrés's World Central Kitchen (WCK) and Marcus Samuelsson, they are launching a free, daily meal delivery service for Newark residents—Newark Working Kitchens (NWK).
Audible will seed the NWK initiative with a $1M commitment, providing 100,000 meals at $10 each (paid directly to participating restaurants). We're also launching a mentorship program with Newark Venture Partners (NVP) and Invest Newark to provide restaurant owners and other small businesses free guidance on how best to navigate available federal, state and local funding in response to Covid-19.
7shifts Teams with SevenRooms
7shifts and SevenRooms are partnering to bring SevenRooms' Direct Delivery platform to 7shifts network of 350,000 restaurant professionals.
As restaurateurs around the world navigate the uncertainty of COVID-19, Direct Delivery was designed to provide a streamlined digital ordering solution for delivery and takeout orders. Its delivery function is unique in that restaurants can easily fulfill commission-free, direct orders placed through their own website, and other owned channels. They can then deliver it using their own staff or by plugging into existing delivery networks. By offering a direct solution to their customers, restaurant operators can retain customer data, enabling them to boost loyalty through targeted marketing efforts.
With restaurants closed, and uncertainty around when they will be able to open again, operators need new revenue streams to support their business, and by extension, their teams. With Direct Delivery, restaurateurs will be able to:
Increase online order profitability, driving commission-free orders from their website, email and social media channels
Drive repeat orders and revenue through owning every guest relationships across direct delivery channels
Capture guest data and item-level order history to drive repeat orders through automated marketing campaigns
"Since the COVID-19 crisis took hold, our teams' sole mission has been to support our customers and the industry at large," said Jordan Boesch, 7shifts CEO. "We are excited to partner with SevenRooms as they share in this vision of doing whatever it takes to help restaurants succeed in the face of uncertainty. Right now, independent restaurants feel they need to be on a third-party delivery network to survive. We believe in providing restaurateurs with best-in-class technology so they feel empowered to make the right long-term decisions for their business."
"Our partnership with 7shifts enables us to get Direct Delivery into the hands of operators who need a solution now to keep their businesses running, and their employees paid," said Joel Montaniel, CEO at SevenRooms. "By offering a commission-free online delivery platform, we are helping restaurants increase profitability with delivery and pick-up, while also capturing customer data that can be used to boost repeat orders through automated marketing. In a world where every dollar can mean the difference between reopening or not, we are excited to have 7shifts as a partner in providing industry-leading solutions for hospitality operators as they navigate the challenges related to COVID-19."
Direct Delivery is available at no cost for the next 90 days for existing U.S.-based 7shifts users.
Order One Maverick
Restaurant Revolution Technologies (Revolution) introduced Order One Maverick, the newest variation of the Order One platform. Revolution created Order One Maverick to satisfy the demands of Revolution's independent-minded chain restaurant operators that want more control over the ordering experience, including the ability to rapidly launch locations and promotions and make real-time changes to their menu, pricing or ordering experience.
Now more than ever, customers and the market require a restaurant to offer digital ordering. To empower chain restaurants to act right away, Revolution is launching Order One Maverick with an irresistible offer, including no set up fees (waived set-up fee with a compatible point-of-sale) and no monthly fees for the first three months.* Thereafter, Order One Maverick chain restaurant customers can enjoy speed and control for a low monthly per location fee of $99 and a dime per order.
Like Revolution's Order One Enterprise version of its platform, Order One Maverick incorporates all digital orders directly into the restaurant's POS. As the restaurant industry originator and patent owner of POS integration (Patent #9,805,351), Revolution continues to offer sensible innovations to POS integration and other platform features evolving with the off-premise opportunity.
The Order One Maverick self-provisioning administrative portal is equipped with robust tool kits for brand asset management, pricing and menu management and promotion execution providing operators direct control over the experience presented to customers.
Additionally, Order One Maverick provides delivery convenience through the option of Ground Control, a direct delivery enablement feature enabling customers to order direct from a restaurant's website with delivery fulfilled by third-party services like DoorDash. Order One Maverick with Ground Control includes a seamless order flow for operators by eliminating the need of specialized tablets that require valuable staff to manage and re-enter orders. Order One Maverick is also equipped with a proprietary loyalty program that provides restaurant chains the ability to enable customers to earn and redeem points tied to digital transactions.
"Order One Maverick is the digital ordering platform created for independent-minded restaurant chain operators that think differently about the off-premise opportunity. Rather than controlling these operators, we want to empower these mavericks. Digital ordering platforms should provide convenience to customers, grow the restaurant's off-premise business, and provide restaurant chains direct control over menus, brand assets, promotions and customer data," said Brad Duea, CEO of Revolution. "Other software providers and delivery service providers want chain restaurants to serve the needs of the technology provider. We want to liberate restaurants from those operational headaches and provide restaurant chains the power and tools to deliver the best digital ordering experience to their customers."
"The convenience of digital ordering has become a necessity for restaurants, especially during this Coronavirus health crisis, and the need to empower restaurants is critical now more than ever. For our restaurant operator colleagues, we recognize that operational velocity is one of their greatest competitive advantages. Technology should enable this velocity and responsiveness—not hinder it." said Brad Duea, CEO of Revolution. "During this historically challenging moment in America, we wanted to provide a special Order One Maverick offer with no set up fees and no platform fees for the first three months so that we can help restaurant chains get online and not just survive–but thrive!"
Checkers & Rally's Offers Free Food for First Responders
Checkers & Rally's launched an initiative that offers free meals to medical workers and first responders at more than 250 company-owned Checkers & Rally's restaurants across the country.
Uniformed medical workers and first responders will receive a free small combo, which includes the choice of a Big Buford®, Baconzilla!®, Cheese Champ®, 5pc Classic Wings Combo, Spicy Chicken Sandwich, Deep Sea Double®, Half-Pound Chicken Bites, Chili Dog or BBQ Bacon Roadhouse with small Famous Seasoned Fries and a small drink. Employees at the 250 company-owned restaurants will also receive a free small combo on days they work. Employees of the 250 company-owned restaurants, also considered essential workers, will receive a free small combo on days they work.
"It has been heartwarming to see amazing acts of kindness throughout our system by our franchise owners, team members and customers over the last few weeks," said Frances Allen, CEO of Checkers & Rally's. "It is more important now than ever before to focus on giving back and supporting the communities that have supported us for more than 30 years."
Several Checkers & Rally's franchisees have implemented programs to give back in their local markets. Joe Hertzman, owner of 32 Rally's restaurants in the Louisville, KY, market, recently partnered with Jefferson County Public Schools to donate over 164,800 meals to kids in need. He also made a $5,000 personal donation to be used toward Chromebooks for students, and he's working with the Boys and Girls Club of Kentuckiana to donate 4,800 meals. Bruce Keehn, who owns seven Checkers locations in New Jersey, has always provided free meals for first responders, but he recently donated 2,750 additional meals for various local organizations including Community Medical Center and Make-A-Wish Foundation. Retired NFL player Donnell Thompson, co-owner of six Birmingham Rally's locations, is offering free lunch five days a week to kids while they're out of school, as well as giving free meals to first responders.
"As a brand, we are fortunate to be faring better than a lot of other restaurants, thanks to our drive-thru model, closed kitchens, contactless procedures and the proven delivery program that we rolled out last year," said Allen. "At the end of the day, the brands that survive this will be the ones that take the extra step — not just to make their food convenient and safe to access — but to give back to the communities they serve. We have come together as a brand and look forward to coming out of this a stronger, more united Checkers & Rally's."
Subway Gives Back
Subway and Feeding America® are teaming up to provide up to 15 million meals* to feed people in need across the country. With the purchase of every Footlong through April 30 for takeout, catering and delivery, Subway will provide a meal* to Feeding America.
With Feeding America predicting food banks needing an additional estimated $1.4 billion over the next six months to feed people in need due to the COVID-19 pandemic, Subway and its guests are lending their support by simply ordering their favorite Footlong from participating restaurants through the Subway app, on order.subway.com or by visiting Subway.com to find their closest restaurant offering takeout.
"Subway has always been a part of the community to provide delicious subs and a helping hand – and we plan to continue to do just that during this time of hardship," said Subway's North America President, Trevor Haynes. "From keeping our restaurants open and safe, to providing better-for-you food options, to our Franchise Owners dedicating their time and donating food, Subway is open to serve. And, we are proud to once again partner with Feeding America to help make sure our neighbors are getting the nutritious meals they need and deserve."
As of December 2019, the Feeding America network of food banks served about 40 million people a year. It has seen a drastic uptick in need, an unprecedented increase of 17 million people, who will rely on food banks during this uncertain time. This has put an unexpected burden on the Feeding America network, and despite increased support, it still doesn't have all of the resources it needs to meet demands.
"Feeding America network food banks have seen an unprecedented increase in need for food assistance across the communities they serve," said Claire Babineaux-Fontenot, CEO of Feeding America. "Subway's donation of 15 million meals will help ease the burden felt by our neighbors struggling with hunger so they can instead focus on navigating this difficult time with their families."
Along with keeping restaurants open and ready to serve, Subway Franchise Owners across the globe have stepped up in big ways in their local communities donating meals to those on the frontlines including healthcare workers and first responders, as well as donating meals to children who normally rely on school lunches.
Subway has also taken steps in restaurant to ensure a safe experience, including increased frequency of cleaning and sanitizing, continued reinforcement of existing health and food safety protocols and moving to a takeout and delivery-only model.
Chipotle's Direct Giving
Chipotle Mexican Grill debuted an egift card program that will support healthcare workers on the frontlines. The brand will be matching 10 percent of special egift card purchases and donating to Direct Relief, an organization working to provide personal protective equipment and essential medical items to healthcare workers in the U.S. and around the world.
To learn more and purchase a Healthcare Heroes egift card through May 31 by visit: https://www.chipotle.com/healthcareheroes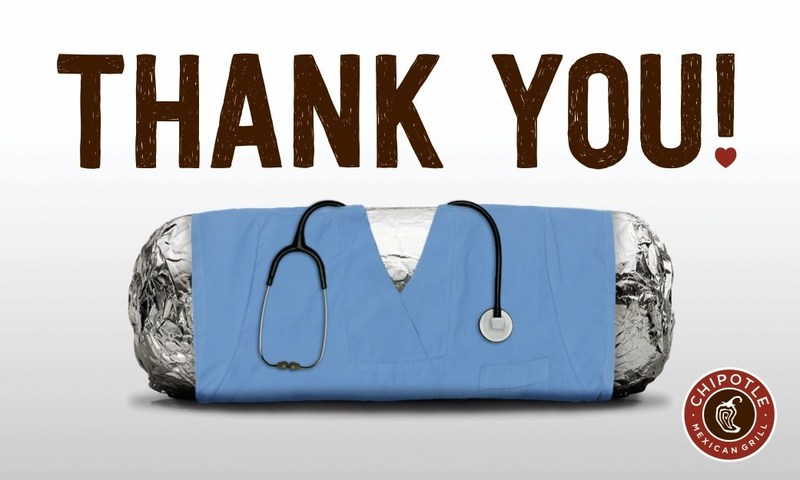 "We wanted to create an easy way for our fans to come together and support our healthcare heroes," said Chris Brandt, Chief Marketing Officer. "Proceeds from the gift cards will help Direct Relief's efforts to provide brave medical workers with the supplies they need to help save lives."
Last week, Chipotle announced it is giving away 100,000 burritos to healthcare heroes working at various hospitals and medical offices across the country.
The brand's Delivery Kitchens, which are comprised of dedicated ingredient stations operated by special teams, will continue to prepare digital orders with care. Chipotle is taking additional precautions to help ensure customer safety during this time including: a tamper evident packaging seal for delivery orders, in-app delivery tracker providing step-by-step real-time updates as food travels from the restaurant to its destination, and a place for special instructions so guests can request a contactless delivery when ordering digitally.
The last day to purchase a Healthcare Heroes egift card is May 31, 2020. Purchaser receives the full value of the egift card. Proceeds will be based on specific Healthcare Heroes egift card denominations available via the website. Donation percentage of 10 percent of sales with minimum donation of $5,000, and maximum donation of $250,000.
Seafood for Heroes
Napa Seafood Foundation, a 501(C)3 non-profit organization, has established the Seafood for Heroes meal drive to provide healthy, protein-rich meals to healthcare facilities across the country. Napa Seafood Foundation has gathered its collective resources and network to develop a program that not only helps the people and businesses that drive both the restaurant and seafood industries, but also allows them the opportunity to say thank you and provide a necessary meal to the hard-working healthcare workers around the country.
"We're all facing challenges the likes of which we've never seen. We are truly humbled by the sacrifices of our healthcare workers and first responders, who put their lives on the line for our safety and well-being, each and every day," said Larry Cotter, Chairman of the Board, Napa Seafood Foundation. "We believe it is our duty, as a seafood industry, to thank and support these frontline heroes the best way we know how: by providing delicious, healthful meals that offer the energy they need to keep fighting for us all."
The Seafood for Heroes meal drive provides the funds for the food, and restaurant partners handle the cooking and delivery. The program is partnering with a number of both local and national restaurants, including Red Lobster, leveraging the reach and networks these restaurants have to make connections with healthcare workers and first responders in local communities.
In addition to first responders and healthcare workers, the meal drive benefits the restaurant and seafood industries that, like all industries, are experiencing the devastating impact of Covid-19. Napa Seafood Foundation is turning to its partners across the industry to help support the Seafood for Heroes meal drive. Partners like The Food Group, a food and beverage marketing agency, are donating the tools and resources needed to drive awareness of the program and help facilitate donations and support.
To further awareness and expand its footprint, Napa Seafood Foundation is encouraging everyone to spread news of Seafood for Heroes. Any contribution, from awareness to financial support, can help ensure these healthcare workers receive a fresh, well-deserved lunch or dinner break or take-home meal to enjoy with their families.
To learn more about Seafood for Heroes and other ways to help, visit SeafoodForHeroes.com. Restaurants interested in getting involved can contact restaurants@napaseafoodfoundation.com for more information.
Playmate for Relief
Igloo and award-winning chef, restaurateur, author and television host, Guy Fieri, launched a limited-edition Playmate cooler to support the National Restaurant Association Educational Foundation's (NRAEF) Restaurant Employee Relief Fund (RERF). With Guy Fieri at the forefront of leading the nationwide fundraising drive, the Restaurant Relief America campaign was created to support U.S. restaurant workers financially impacted by the COVID-19 crisis.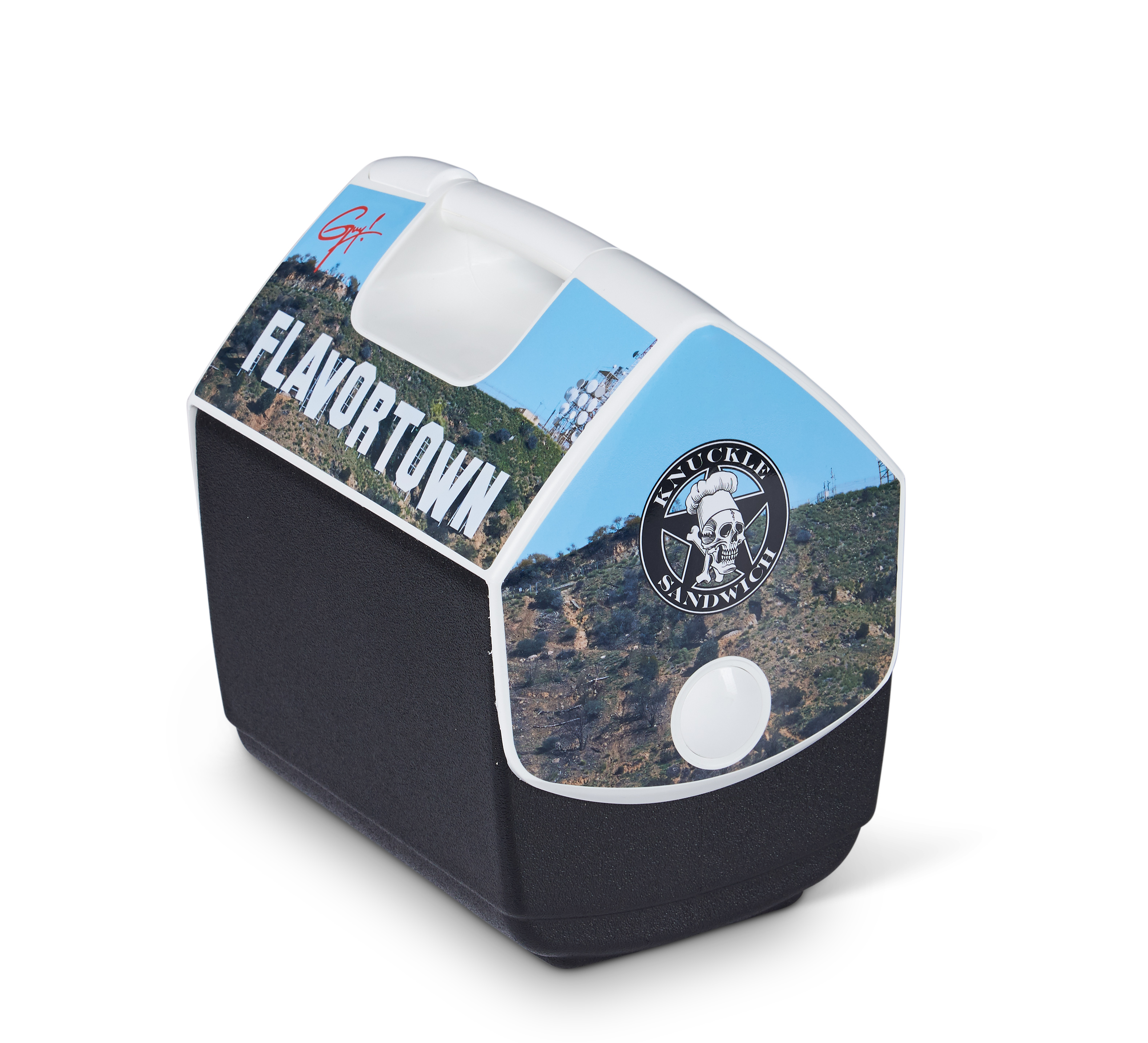 Flavortown just got even cooler as 100% of the profits from the Guy Fieri Playmates sold on Igloocoolers.com will directly support U.S. restaurant workers financially impacted by the COVID-19 crisis. To support the Restaurant Employee Relief Fund and secure your limited-edition cooler, visit igloocoolers.com/guyfieri.
"If you don't have a need for a good cooler, I don't think you're having enough fun! When we get through this crazy time, you're gonna want to get back out into the sunshine and a great American-made Igloo cooler should be the first thing you grab," said Guy Fieri. "With all profits going to support America's restaurant workers, there couldn't be a better time to stay cool in Flavortown."
"The restaurant industry and its workers have already felt a tremendous impact due to COVID-19," stated Brian Garofalow, VP of Marketing at Igloo. "We're honored to support Guy Fieri's movement and do our small part to help American restaurant workers."
The Guy Fieri design is based on Igloo's iconic 7-quart Playmate style personal cooler featuring artwork with the "Flavortown" phrase made famous by Guy, the Knuckle Sandwich and Restaurant Relief America logos, and a print of Guy's signature. The cooler is available now for $39.99 with 100 percent of the profits being donated to the Restaurant Employee Relief Fund.
Impacted restaurant workers can apply online for a one-time, $500 check to use towards housing, transportation, utilities, child-care, groceries, medical bills and/or student loans. These grants will be administered by the NRAEF and offered on a first-come, first-served basis. For more information on donating to RERF visit RERF.US.
Postmates on BringgNow
Postmates is now part of the BringgNow solution. Small and medium sized restaurants and grocers using the free BringgNow delivery solution can now deploy two of the country's largest and most advanced delivery fleets with a single seamless integration, providing users with rapid access to a wider and more flexible range of delivery options.
Using BringgNow, restaurants and grocers can manage their delivery operations including in-house drivers for free, while using Postmates for no more than their regular delivery fees, to augment their delivery options in real-time. The combination will allow SMEs that were either previously unable to deliver or cope with delivery demand in the wake of COVID-19, to provide dependable, contactless deliveries that customers are counting on, even during times of high demand.
"BringgNow is about providing a free delivery solution to SMEs to help them survive the market upheaval and growing demand that COVID-19 is causing," said Guy Bloch, Bringg's CEO. "Our partnership with Postmates is a major boost to those businesses because now they will be able to augment existing drivers, provide contactless deliveries, and not have to close up shop while only the big players are able to cope with this new environment of delivery needs."
"Being part of the BringgNow offering isn't simply about business as usual, it's about making an impact by helping out those businesses that would normally be far less capable to adapt to the shift Covid-19 has brought," said Andreas Lieber, Senior Vice President, Business & Corporate Development, Postmates. "Bringg's' new SME solution will be instrumental in ensuring that small and medium sized businesses have the ability to utilize Postmates to help their businesses during this time."
Brewing Up a Way to Give Back
Karbach Brewing Co. has announced an initiative to give back to those in the food and beverage industry impacted by COVID-19.
For every case equivalent of Love Street, top photo, purchased to-go at bars and restaurants across the state of Texas, Karbach will donate $1 to the Southern Smoke Foundation, a charity founded by chef Chris Shepherd to raise funds to support and assist service industry workers.
"For Houston and for the country as a whole, service industry workers are the backbone of our communities. At Karbach, our staff is like an extended family and our brewery simply would not survive without them. We are proud to support Chris Shepherd and Southern Smoke to help our family and friends during this difficult time," said David Graham, Brand Manager at Karbach Brewing Co.
"Our industry is there for our communities in times of joy and in times of crisis," said Chris Shepherd, chef/owner of Underbelly Hospitality and co-founder of the Southern Smoke Foundation. "I can't thank Karbach enough for stepping up to take care of our industry when we're in crisis. Southern Smoke is a safety net for everyone involved in the food and beverage industry – cooks, servers, distillers, wine makers, dishwashers, brewers, delivery drivers – and support from companies like Karbach provides us the funds to support everyone who needs it. I'm really looking forward to creating this beer with Aaron and the Karbach guys. Aaron has supported Southern Smoke since day one, and I'm so glad to mark this collaboration between Southern Smoke and Hot Luck with a great beer."
But the partnership doesn't stop there. Karbach will be releasing a new pilsner later this year, brewed in collaboration with industry colleagues and friends, Chris Shepherd and pitmaster Aaron Franklin, with a portion of proceeds from the new brew to benefit the Southern Smoke Foundation. Originally brewed alongside Franklin for his Hot Luck food and music experience, Karbach, Franklin and Hot Luck organizers decided to broaden the scope of this beer in the wake of COVID-19, given the increased need for assistance in the service industry. Franklin and Shepherd have supported each other throughout the years at their respective events and view this new beer as a true collaboration and opportunity to provide further support to food and beverage workers.