Fast-Casual Academia, Climatarian Menu and Ice Auction
By MRM Staff
This edition of MRM News Bites features tech takeovers and teamings, product introductions, the latest Fall Scoop and how much would you pay for a cup of ice?
Hospitality Recovery Coalition
The Distilled Spirits Council of the United States (DISCUS) announced the formation of the Hospitality Recovery Coalition with the goal of supporting on-premise partners, including restaurants, bars and distilleries, facing harsh economic impacts due to the COVID-19 crisis.
The Hospitality Recovery Coalition includes DISCUS, the American Distilled Spirits Alliance (ADSA), the Council of State Restaurant Associations (CSRA), the National Restaurant Association and TIPs.
"Our friends in the hospitality industry have been some of the hardest hit during COVID-19 and continue to face uncertainty and instability," said Chris Swonger, president and CEO of DISCUS. "Without assistance at all levels of government, many of these businesses will be forced to close their doors. Unfortunately, many already have. This coalition seeks to provide a unified front willing and able to affect positive policy changes that support restaurants and bars both large and small."
Some efforts supported by the coalition include extending or making permanent effective and responsible revenue-boosting measures like cocktails to-go on the state level and supporting relief legislation like the RESTAURANTS Act on the federal level.
"With all that is going on, we cannot allow these businesses to be forgotten," Swonger added. "We offer our combined voices in support of all of the hardworking hospitality workers and business owners across the U.S."
According to a survey conducted by the National Restaurant Association, the restaurant industry is expected to lose $240 billion by the end of 2020. The study also found that 8 million employees were laid off or furloughed during the height of the pandemic.
Each member of the coalition is committed to responsibility. Laws governing alcohol consumption must always be observed, and hospitality businesses must remain informed of current rules and regulations. TIPs offers training for individuals on the responsible sale, service and consumption of alcohol.
NAB Acquires SALIDO
SALIDO was acquired by North American Bancard (NAB.) NAB will vertically integrate SALIDO's Restaurant OS on top of their existing payments platform, EPX, to offer a single and powerful payment solution for all hospitality partners.
Since the acquisition, SALIDO has operated in stealth mode, strengthening its product team, focusing on product development, and introducing many key features. These features include tableside mobile ordering, NFC contactless payments, and direct online ordering. Additionally, SALIDO has launched integrations like Oracle OPERA to support the evolving needs of SALIDO's hospitality operators during this challenging time.
SALIDO leverages design, data, and workflow management to optimize both front- and back-end operations. Single restaurant proprietors and large franchise chains alike utilize SALIDO's enterprise-level solution to revamp traditional and outdated operational systems.
"In the face of the COVID-19 pandemic, the resilient women and men of the hospitality industry are adapting to survive in this unprecedented and difficult business landscape," said Shu Chowdhury, founder and CEO of SALIDO. "We're both humbled and lucky to support our amazing customers during this critical time. By placing SALIDO onto NAB's payments and distribution platform, our team will focus solely on continuing to build best-in-class solutions for our hospitality partners with their success remaining our top priority."
"SALIDO has gone to great lengths to incorporate our team's feedback and ensure they can support EATALY's complex hospitality technology needs," said EATALY co-founder and CFO Adam Saper. "We have officially rolled out SALIDO to support all of our flagship stores across the United States and Canada and are looking forward to continuing our partnership."
Following his transitional leadership role at SALIDO and NAB, Chowdhury will focus his efforts on the Bowery Engine, an early stage direct investment and incubation company that previously supported SALIDO. Chowdhury will continue to support SALIDO as a strategic advisor to NAB founder and CEO Marc Gardner.
Gardner stated, "We are delighted to announce the addition of the SALIDO team and their hospitality-focused product to the NAB family. We will continue investing heavily in expanding SALIDO's core technology and evolving our Restaurant OS offerings. Our 3000+ Sales Partners are excited to begin SALIDO distribution on top of NAB's EPX payments platform."
The majority of SALIDO's employees joined NAB following the acquisition to continue innovating the Restaurant OS. SALIDO continues to execute on its hiring plans to recruit and invest in talent across their Product, Engineering, Customer Experience, and Sales Teams.
SALIDO has been backed by hospitality operators including Phil Suarez, Top Chef Tom Colicchio and Stephen Starr as well as financial investors including FirstData Ventures, 500 StartUps, Accelerator Ventures, 3KVC and Great Oaks VC. SALIDO's Restaurant OS has been adopted by top US-based and international hospitality operators, such as Eataly, Restoration Hardware, Eleven Madison Park, Laconda Verde, and Jean-George's ABC Kitchen. NAB will operate SALIDO's installations in New York, Chicago, Detroit, Boston, Philadelphia, Nashville, Baltimore, San Francisco, Los Angeles, Miami, Austin, Charleston, Toronto, and London.
Dining for the New Corporate America
As businesses across the nation gradually welcome workers back to the office, the Chicago-based restaurant incubator, FOODWORKS has launched a solution for the new corporate America. Market Cafe Powered by FOODWORKS is both a cost-effective, contact-free dining option, while simultaneously helping local restaurants and food artisans who were affected by COVID-19 get back on their feet and provide them with a way to restart their services.
Launched in New York City this month, the streamlined concept and technology allow corporations and businesses to offer delicious dining options to employees and guests in their buildings without the operational costs of a full-service cafe. A hybrid grab-and-go market and cafe serves both breakfast and lunch, is tailored to the needs of sizable office buildings and features the best local restaurants in rotation.
Market Cafe is completely contact-less: guests scan and pay for all their items and leave. They also have the choice of using the MarketConnect app to order and pick up from a designated shelf onsite, avoiding interactions and maintaining necessary social distancing.
"We are excited to bring Market Cafe to New York City as we are the only company currently offering a solution such as this one for safe, supportive and sustainable corporate dining." says John Cocker, FOODWORKS's president. "Our goal has always been to support local communities and our beloved restaurant partners. By creating this, we can provide a first of its kind dining solution for large corporate offices."
Featured restaurants at the first Market Cafe in NYC will include the famed Katz's Deli, Hummus & Pita Co, Parm, Lukes, Yupling, and many more. The team has also partnered with local New York City providers to create pre-made sandwiches on site, as well as locally made snacks, cookies, and chips to help out the community during this time of need. Individually packaged grab-n-go items and basic household needs complement the menus on the app, offering a convenient, one-stop, digital-first shopping experience.
FOODWORKS has plans to expand the Market Cafe model in other locations such as Chicago and Houston.
Lunchbox Partners with Ordermark
Lunchbox is teaming with Ordermark to develop sophisticated connected solutions that help restaurants bolster their digital commerce initiatives.
Lunchbox will integrate its first-party digital ordering solutions, customer relationship management tools and growth marketing capabilities with Ordermark's online ordering management platform to provide restaurants with more opportunities to grow and retain revenue. With the integration of both platforms, first-party orders made through Lunchbox will effortlessly feed into Ordermark's platform to ensure that restaurants can manage both first-party and third-party orders from one location.
"Lunchbox is the right partner to help us achieve our goal of helping restaurants grow their digital ordering capabilities. With COVID creating more emphasis on digital ordering, now more than ever is the time for restaurants to master all of their digital channels," said Alex Canter, CEO and Cofounder of Ordermark. "The Lunchbox and Ordermark integration provides the perfect solution."
As a result of the pandemic, restaurants have been forced to prioritize digital orders in order to stay afloat as regulations prevent them from fully reopening in the interest of guest safety. In addition to using third-party platforms, restaurants must develop their own muscle to communicate and transact with consumers. Both companies intend to deepen their integration in the future in order to help restaurants achieve more stability and longevity while reopening continues to fluctuate.
Lunchbox is able to orchestrate services like native ordering through app or web based platforms, delivery and digital marketing, through one platform thanks to its strategic partnership integrations with companies like Toast and Doordash Drive. Instead of paying for these services separately, Lunchbox offers a standard fee based on which services restaurants would like to include, keeping operational costs down.
"Through our partnership with Ordermark, we aim to give restaurants all the digital tools they need to thrive and provide a sense of stability during our industry's most trying time. We've admired all of the accomplishments Ordermark has achieved and can't wait to help restaurants today, tomorrow and the future," says Nabeel Alamgir, CEO and Co-Founder of Lunchbox.
On Point With Off-Premise
US Foods Holding Corp. launched Fall Scoop 2020, titled "On Point With Off-Premise – Designed To Make It." This special edition of Scoop features 14 products designed to address trends within off-premise dining such as labor-saving products perfect for DIY meal kits and products that will help ease diner safety and hygiene worries, including tamper-evident packaging and sanitation items.
"The restaurant environment has changed immensely with the surge in off-premise dining, and the ability for restaurant operators to adapt with creativity, labor savings and safety in mind is more important than ever," said Stacey Kinkaid, vice president, product development and innovation, US Foods. "With Fall Scoop, we've designed a targeted lineup of products to help restaurant operators turn obstacles into opportunities and convert these latest trends into profits."
DIY Meal Kits Made Easy
With more than 60 percent of diners interested in ordering a take-home DIY meal kit from restaurants1, the Fall Scoop lineup provides a variety of preportioned, prepackaged ingredients ideal for creative takeout options in the form of DIY meal kits and offers operators labor savings, versatility and waste-reduction benefits.
Chef's Line® Portioned Cilantro Lime Riced Cauliflower: Preportioned in an eight-ounce microwavable bag, this on-trend riced cauliflower is cut to emulate the shape and texture of rice. It's the ideal ingredient base for a DIY buildable bowl, taco or burrito meal-kit recipe. It's mixed with extra virgin olive oil, lime juice, cilantro, black pepper and sea salt, and offers a simple ingredient profile, which means the product also meets the US Foods Unpronounceables List* initiative.
Patuxent Farms® All Natural** Sliced Fire Grilled Chicken Breast: Preportioned in an eight-ounce bag, this whole-muscle chicken breast is fully cooked and fire-grilled for premium flavor and meets the requirements for the US Foods' Unpronounceables List* initiative. Presliced, the chicken is great for any number of applications – including fajitas, salads and an array of take-home DIY meal-kit recipes.
Monarch® Portioned Fire Roasted Corn and Poblano Pepper Blend With Onions: Preportioned in an eight-ounce bag, this is the perfect blend of supersweet corn, poblano peppers and onions, charred for a smoky-sweet fire-roasted flavor. This product is highly versatile as a side or DIY nacho, taco or burrito meal kit to go.
Chef's Line® Gluten-Free Italian Pizza Crust: Produced in Italy, this certified gluten-free pizza crust is the perfect DIY meal-kit starter for take-home pizza nights. It is an approximately 10-1/2" thin crust made with buckwheat flour, potato starch, rice flour and Italian olive oil. It is versatile and can be used in a wide variety of applications, including classic and dessert pizzas, strips for appetizers and chocolate fondue.
Tamper-Free Takeout and Delivery
With 85 percent of consumers saying they would like restaurants to use tamper-evident labels,2 US Foods' tamper-free takeout solutions will help assure diners that their food is untouched while in transit.
Monogram® Tamper Evident Bag: Virtually impossible to open without creating an obvious seal break, this product is a useful all-in-one to-go solution. Its size and wide opening can accommodate most dishes. It is also easy to carry and open by the diner.
Monogram® Tamper Evident Container: This recyclable, easy-to-close container has a tight perimeter seal. It is immediately obvious when the container has been opened, which helps to assure diners that their orders are safe and secure. The containers come in 12-ounce, 16-ounce and 32-ounce sizes.
Monogram® Tamper Evident Labels: Designed to stick well to nearly any container surface, hot or cold, the label provides a secure seal that causes tearing upon opening. The 2" X 4" label backs up the promise to diners that is scripted on the label design: "Sealed For Your Safety."
Sanitizing and Cleaning Solutions for Safety and Security
As 76 percent of consumers report that a restaurant's cleanliness and food-safety procedures matter more now than they did before, Fall Scoop offers several products to help operators meet immediate and longer-term diner-safety standards.
Monogram® Individual Hand Sanitizer Gel: Designed for cleanliness and with the safety of diners in mind, this individual hand-sanitizer gel is clear, fragrance-free and contains 70 percent ethyl alcohol. It comes in single-use, portion-controlled pouches for easy distribution to diners eating in or taking out. Each pouch includes a barcode so that operators can also offer the product as an item to purchase.
Monogram® Medium Duty Scouring Pad: Diners are paying more attention to cleanliness as they catch a glimpse of cookware and amenities. Pristine and shiny pots, pans, sinks and other stainless-steel surfaces are the hallmark of an operator who puts cleanliness first. This unique, low-scratch dot technology pad is also dishwasher-friendly.
MASTERCHEF Concept Coming to America
Endemol Shine North America, producer of the culinary competition series MASTERCHEF on FOX and private equity financier VC Capital Holdings, announced today that they are teaming up to bring the first MASTERCHEF restaurant concept to the U.S.
The concept aims to be more than an eatery, but a true, immersive dining experience. From screen to plate, the menu is expected to feature signature dishes and recipes that have been prepared on the show. Diners will have the opportunity to experience first-hand what it's like to be in the famous MASTERCHEF kitchen by participating in familiar show challenges, such as ordering the 'Mystery Box' and selecting surprise ingredients for the chef to prepare. Past contestants and winners will have the opportunity to showcase their talents and favorite dishes to guests through exclusive tasting menus, residencies and hosted events.
"We are so thrilled to be partnering with VC Capital Holdings to bring this unique MASTERCHEF dining experience to restaurant-goers in the U.S.," says Amber Sheppo, SVP, Licensing, Endemol Shine North America. "VC Capital has had success in providing unique experiences and concepts in the restaurant and hospitality industry and we couldn't have a better partner to bring the excitement and energy of MASTERCHEF to American diners."
"After seeing the success of the MASTERCHEF restaurant in Dubai, I knew this was the perfect concept for diners here in the U.S.," says Antonio Primo, Managing Partner, VC Capital Holdings. "With a menu curated from the hit show's Champion and Finalist recipes, MASTERCHEF is about the passion for cooking and the emotional connection we have with food. From the famous Clock to the 'Mystery Box' to finalist and Champion residencies and masterclasses, the experience is extraordinary. Particularly in the current environment, this type of vibe dining, where people can stay for an evening and safely socialize, is reshaping the hospitality market. Our investment community has energized around the launch and we're looking forward to opening the first of several locations in 2021."
The award-winning restaurant 'MasterChef, the TV Experience' in Dubai features an interior design inspired by the famous MASTERCHEF kitchen and a menu that spotlights former contestants and winners from various international seasons of the hit global series. Endemol Shine North America and VC Capital Holdings are excited to bring this unique concept stateside.
Location and opening details to be announced at a later date.
JBF Food and Beverage Investment Fund for Black and Indigenous Americans
In acknowledgement of the immeasurable contributions the Black and Indigenous communities have made to the modern American foodscape, the James Beard Foundation announced the James Beard Foundation Food and Beverage Investment Fund for Black and Indigenous Americans, a new grant initiative to provide financial resources for food or beverage businesses that are majority-owned by Black or Indigenous individuals. The initiative is a component of the organization's Open For Goodcampaign launched in April to rebuild an independent restaurant industry that is stronger, more equitable, more sustainable, and more resilient post-pandemic.
"The new Fund is part of the Foundation's ongoing commitment to continually lift up the Black and Indigenous business owners in its industry, not just in light of the pandemic, but for good," said James Beard Foundation vice president of community Colleen Vincent. "Financial resource is that much more impactful when coupled with support from organizations and experts who make themselves available to provide guidance on professional skills like marketing, structuring business plans, and negotiating contracts. The Foundation is creating new partnerships to deliver this value to its grant recipients in an effort to see these businesses thrive for the long term."
In order to properly appreciate the contributions of Black and Indigenous Americans to the nation's food culture, the efforts of all types of food and beverage businesses, not just those that have been acknowledged at the James Beard Awards, must be recognized. Food trucks, pop-up supper clubs, fast-casual restaurants, and brewpubs are all a part of the unique culinary fabric of this country. With this new Fund, the Foundation aims to support and encourage businesses of all forms that help to make American food delicious and diverse.
The Fund aims to disburse grants equally across Black and Indigenous populations throughout the United States. Using the most recent census data, six regions of the country have been delineated, each containing 16-17 percent of the total Black and Indigenous population in the U.S.
To help guide the development of criteria, craft partnerships to deliver non-financial resources to grantees, and to support the promotion of application cycles, the Foundation created the JBF Fund Leadership Committee. Founding committee members include:
Bleu Adams, IndigeHub, and JBF Women's Entrepreneurial Leadership Program Fellow
Cheryl Day, Baker and Author, Back in the Day Bakery, JBF Food and Beverage Industry Relief Fund Grantee
Carla Hall, Celebrity Chef and Cookbook Author
Raymond P. Lewis, President, RPL Consulting, LLC (Events Marketing, Public, Community Relations Firm)
Zella Palmer, Chair, Dillard University Ray Charles Program in African-American Material Culture
Michael E. Roberts, President and CEO, First Nations Development Institute
Sean Sherman, Chef, Author, and Activist, The Sioux Chef, and JBF Leadership Award Honoree
Alexander Smalls, Chef, Restaurateur, and Author, Alexander Smalls & Company LLC
Dana Thompson, Co-Owner and Activist, The Sioux Chef, Executive Director, North American Traditional Indigenous Food Systems
Heather Dawn Thompson, Principal, Native American Capital
A complete outline of criteria, regions, and categories is listed below. The Fund is launching with support from the Willamette Valley Wineries Association, who contributed $100,000 in proceeds from their annual Pinot Noir Auction which took place on August 13, 2020. The Fund will also be the beneficiary of proceeds from the "HEARD Initiative" bracelet created by chef Ming Tsai and chef George Mandakas of Chef Metal Jewelry (chefmetal.com). Donations to the Fund can be made at members.jamesbeard.org/jbf-investment-fund or by contacting grants@jamesbeard.org.
TooJay's Emerges from Chapter 11
TooJay's Deli emerged from Chapter 11 bankruptcy protection, successfully completing its debt restructuring process and implementing its Chapter 11 reorganization plan. The restructuring process allowed the Company to emerge debt free, which it believes will provide significant financial flexibility to support its operations. The Company's new owner, Monroe Capital, is providing capital to support growth in the business going forward.
"For 39 years, TooJay's has been an iconic, well-recognized brand serving many Florida communities. Prior to COVID-19, the Company's revenue was ahead of last year, but the pandemic's impact created difficulty for many industries. We want to thank our team members and guests for their support during this time. Our locations are open and continue to serve our communities, and we look forward to the future," said TooJay's CEO Maxwell Piet.
How to Launch Online Ordering
Rewards Network launched a new guide, How to launch online ordering for long-term success. Since the onset of COVID-19, delivery and takeout have now become a main – and in some cases only — dollar generator for many restaurants across the country.
The guide breaks down each step below on how to successfully launch an online ordering system.
Choose an online ordering system: The first order of business when setting up an online ordering system is to evaluate your restaurant's current takeout and delivery capabilities.
Plan for success: Now that you have chosen an online ordering solution, it's time to set it up for continued success and profitability. This can include deciphering which tactics are working well for your neighboring competitors, creating a limited delivery/takeout menu, setting seasonal promotions, and implementing added health/safety standards.
Establish your digital presence: With the building blocks of your online ordering system's foundation firmly in place, it's now time to make sure that your restaurant shows up in a favorable spot in search results.
Promote your new offering: Your website is your most powerful marketing tool. Use it to promote your new online ordering platform by showcasing your takeout/delivery capabilities front and center on your homepage with a call-to-action (CTA) button that links to your online ordering page/menu.
You can view the full guide here.
Allset Teams with Olo
Los Angeles-based food pre-ordering platform Allset with with Olo to enable fully integrated takeout and dine-in pre-ordering through Olo Rails for mutual restaurant partners.
Takeout and dine-in orders placed by customers on the Allset app and website will flow directly into Olo restaurant partner's point-of-sale systems (POS). The integration streamlines order fulfillment experience and allows restaurants to access Allset's contactless ordering feature. Rails is Olo's solution that makes it easy for restaurant brands to publish their menus, prices, and location information on participating third-party marketplaces and apps in order to drive incremental sales, simplify workflows and manage orders in multiple places.
"We are excited to partner with Olo to streamline the Allset ordering experience for our restaurant partners," said Stas Matviyenko, CEO of Allset. "Allset takeout and dine-in orders are now injected directly into the order stream at the restaurant, increasing order accuracy and operational efficiency of the restaurant. We look forward to adding new favorite brands to our platform while helping restaurants benefit from contactless, commission-free orders."
"Digital ordering has proven mission critical for restaurants, and we're delighted to work with Allset to provide our joint partners a solution that further simplifies the process of managing disparate channels," said Jackie Berg, VP of Marketing at Olo. "The demand for technology that consolidates the growing options for restaurant ordering will continue to grow as consumers increasingly look to digital ordering to get their next meal."
As the integration continues, diners will see more national favorites available on Allset in the coming weeks. With the addition of automatic menu updates, customers will be able to order from the most up-to-date menu, minimizing the risk of order cancelation.
Learn About Fast-Casual Dining
Fast-casual dining is dominating the restaurant industry, and its growth is expected to continue at a rapid pace in a post-pandemic economy.
Aspiring restaurateurs looking for a formal education in this fast-growing segment of the restaurant industry will soon be able to turn to UNLV's Harrah College of Hospitality. Thanks to a $5 million gift from Andrew and Peggy Cherng, co-founders and co-chief executive officers of Panda Restaurant Group—the parent company of Panda Express—the college has created a first-of-its-kind academic program in fast-casual dining.
"This gift is an absolute game changer for the college and helps further UNLV's position as a world-leader in hospitality education," said Stowe Shoemaker, dean of the Harrah Hotel College. "The Cherngs are helping UNLV build a curriculum in an area that is underrepresented in hospitality programs worldwide, and one that will only grow in demand as interest in fast-casual dining continues to surge."
The gift will support:
● The hiring of a full-time Hospitality College faculty member to design a comprehensive fast-casual curriculum as well as teach courses
● The development and launch of a15-credit fast-casual academic concentration, offered as part of the college's Bachelor of Science degree in Hospitality Management
Over the past several years, Panda has placed dozens of UNLV students and graduates into line employee, supervisory, and management positions. By offering this first-of-its-kind specialization in fast-casual dining, Panda will help the college build a pipeline of professionals ready to lead this emerging dining segment.
"It will give our students a broader understanding of the complex facets of the food and beverage market, and it will set them apart for growing employment opportunities in the fast-casual segment," said Shoemaker.
"Peggy and I want to empower people through education, and what better place to do that than at the world's premier Hospitality College," said Andrew Cherng, who appeared at the event alongside Peggy virtually. "We give because we want to be part of developing these students and providing them with opportunities to thrive in all aspects of their lives."
When Andrew Cherng began serving on the Dean's Global Advisory Board in 2017, a partnership between the Cherngs and the college quickly developed—one that was rooted in a shared vision.
"We [the Cherngs and the college] share the philosophy that life's greatest rewards come from changing the lives of others," Shoemaker said. "But as I've observed Andrew and Peggy over these last few years—the way they constantly strive to awaken the potential of others—I've become even more inspired to reach for that goal."
The Cherngs' history of philanthropy is well established. In 1999, they created the organization's philanthropic arm, Panda Cares, which has raised more than $216M to date to support the health and education of youth in underserved communities as well as disaster relief.
"Giving is essential for us," said Peggy Cherng. "Giving allows us to show our appreciation to the community that embraced us."
Plans are to offer a single course in fast-casual during the 2021 spring semester and to develop a full concentration within the next 18 to 24 months. The college currently offers academic concentrations in Event & Design Management, Hospitality Beverage Management, Innovative Restaurant Management, PGA Golf Management, and Gaming Management—with a new concentration in Tribal Gaming Operations also in the works.
Climatarian Menu
Just Salad, the fast-casual brand with a mission to make everyday health and everyday sustainability possible, is marking Climate Week 2020 with two industry firsts intended to transform the way society thinks about food and climate change. Just Salad will launch on September 17 a Climatarian Menu of seven items with the lowest greenhouse gas emissions on the Just Salad menu. To kick off its "Eat for the Earth" campaign, Just Salad will offer its Climatarian Menu items at a price reflecting their individual carbon footprints on September 17 only. For example, a salad with a carbon footprint of 0.41 kg CO2e (carbon dioxide equivalent) will cost $4.10.
In conjunction, Just Salad will unveil its carbon footprint label displaying the greenhouse gas emissions associated with each menu item, becoming the first U.S. restaurant chain to do so. The brand's online ordering platform orderjustsalad.com will also now calculate the greenhouse gas emissions of any build-your-own salad, giving consumers a real-time look at the environmental impact of their selections. For each item, Carbon Footprint information will be displayed under Nutrition Facts. In addition, the item's carbon footprint will be compared to that of a quarter-pound beef patty to help guests put the numbers in context.
"Climate-smart eating should be easy, and our Climatarian menu takes the guesswork out of making sustainable food choices," said Sandra Noonan, Chief Sustainability Officer of Just Salad. "Just Salad's carbon footprint label is part of a growing movement toward Carbon Transparency in the food, beverage and consumer goods sectors."
"You don't have to view good climate stewardship as an all-or-nothing lifestyle," said Nick Kenner, Founder & CEO of Just Salad. "We hold a lot of power in what we choose to eat. Our goal at Just Salad is to make Eating for the Earth simple, accessible and delicious."
Just Salad's Climatarian Menu consists of two categories:
Carbon Counter: For those who want to keep emissions to the bare minimum.
● Feisty Fiesta Bowl = 0.41 kg CO2e
● Tokyo Supergreens Salad, Tofu = 0.41 kg CO2e
● Beyond Tex Mex Salad = 0.52 kg CO2e
● Banh Mi Bowl = 0.56 kg CO2e
Conscientious Carnivore: For meat-eaters concerned about climate change.
● Thai Chicken Crunch Salad = 0.64 kg CO2e
● Tokyo Supergreens Salad, Chicken = 0.70 kg CO2e
● Mediterranean Bowl = 0.77 kg CO2e
"Awareness and choice are two ideas that are central to how Climate Week NYC pushes for climate action," said Adam Lake, Head of Climate Week. "Just Salad's Climatarian menu and carbon labeling initiatives are exciting and innovative examples of how businesses can work with their customers to support informed decisions. As a community partner and supporter of our 'Climate Action is Our Business' campaign, they are affirming that individual choices are crucial in driving climate action and showcasing how the week is a platform for positive change."
The launch of the Climatarian menu and carbon labeling is another step in Just Salad's sustainability efforts following the introduction of plant-based Beyond BeefⓇ in 2019, and its EPA-award-winning Reusable Bowl Program that started at the company's founding in 2006.
Developed in partnership with a team of NYU Stern School of Business MBA students through a Stern Solutions Project, Just Salad's carbon labels reflect total estimated greenhouse gas emissions associated with the production and transportation of the ingredients in each menu item, allowing consumers to make informed decisions about food consumption as it relates to planetary health.
Eatable Sacramento
Sacramento had no large-scale citywide meal delivery service driven by the city's own farmers, crops, and community – until Eatable Sacramento (Eatable) was launched on September 2, 2020. With ingredients sourced locally from Sacramento, the husband and wife team behind acclaimed restaurants Allora and Woodlake Tavern created Eatable to provide healthy, affordable, and high-end, restaurant-quality meals that reflect their city.
With zero-preparation dinner entrees ranging between $12 to $15, breakfast options at $8 to $10, along with desserts and kids' meals at only $5. Every dollar spent with Eatable supports Sacramento's own farmers, purveyors, and artisans. Eatable not only provides Sacramento residents affordable, chef-quality meals, but injects money into some of the community's most struggling sectors. Eatable is also the only meal delivery service that directly supports many of Sacramento's most integral workers. A portion of all Eatable proceeds will be donated to the Children's Food Literacy Center.
Eatable Sacramento (Eatable) is the city's premier farm-to-fork meal-delivery service. The husband and wife team of acclaimed chef Deneb Williams and master sommelier Elizabeth-Rose Mandalou behind restaurants Allora and Woodlake Tavern saw Sacramento's need for a meal-delivery service reflecting the city's own culture and ingredients.
Village Inn, Bakers Square and Legendary Baking Emerging from Bankruptcy
American Blue Ribbon Holdings, LLC's Chapter 11 Plan for Reorganization ("Plan") was confirmed by the U.S. Bankruptcy Court of Delaware today, meaning its Village Inn and Bakers Square restaurant brands along with Legendary Baking will emerge from bankruptcy. The effective date for emergence is forthcoming.
The reorganized businesses will operate independently within two new corporate entities with one comprised of 21 company-owned Village Inn restaurants, 118 franchised Village Inn restaurants and 14 company-owned Bakers Square restaurants. The other new corporate entity owns Legendary Baking which will continue its operation as an award-winning manufacturer of more than 20 million pies annually. Legendary recently consolidated all manufacturing operations to its 60,000 square foot facility in Chaska, MN.
"The confirmation of the Plan by the Court results in a healthy capital structure and foundation for each of the businesses to optimize their value," said CEO Craig Barber. "The emergence of the businesses from the reorganization process is especially rewarding given the challenges since March with COVID related restrictions. We look forward to fulfilling a singular focus on delivering value for the benefit of all stakeholders, including our customers, employees, franchisees, suppliers, creditors and owner. We are truly excited for the days and years ahead."
As noted in the original filings, the bankruptcy of American Blue Ribbon Holdings, LLC and subsequent restructuring of its businesses does not involve or affect the operations of O'Charley's or Ninety Nine restaurants in any way.
BBS Flex
yrKing, leading food prep equipment manufacturer, has introduced the BBS Flex, a new series of Breader Blender Sifter (BBS) models.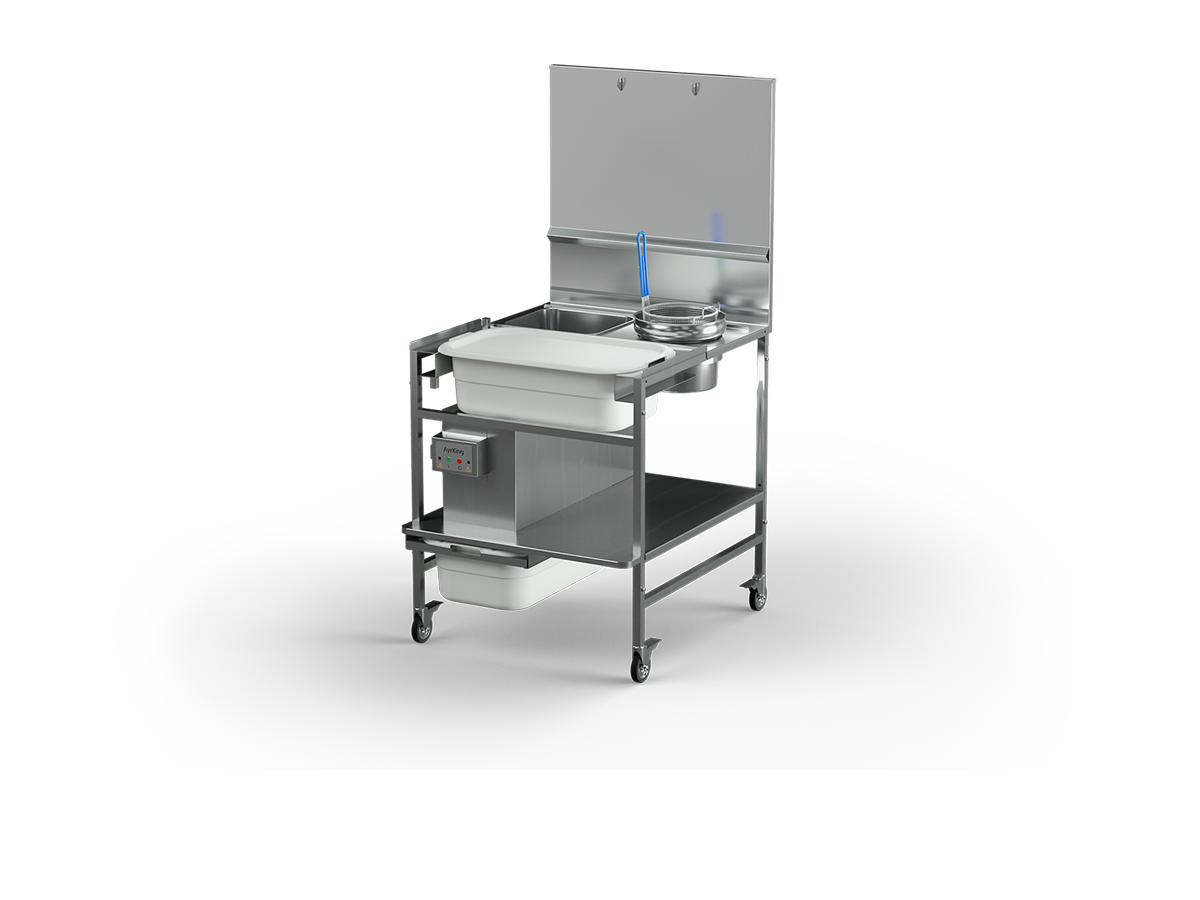 Adding to AyrKing's line of auto sifters for freshly blended breadings, the BBS Flex is purpose-built to easily add, remove or reconfigure components and accessories — even on-site from shift to shift. This modular design enables it to meet the varying needs of foodservice operations looking to improve flavor consistency and reduce hand-sifting time by up to 80% when preparing fried food items.
"The BBS Flex incorporates all the features of our popular BBS model, but in a more adaptable form — providing maximum flexibility," said Jim Bell, CFSP, president of AyrKing. "Our decades of experience and partnerships with our customers informed the customizable offerings so that they suit any food prep process."
The BBS Flex line-up has 18 models available to meet operations' workflow needs. Features of the BBS Flex include:
Custom configuration: In just seconds, operators can adapt the BBS Flex to fit employee height or workflow direction by adjusting the placement and height of components.
Design options: The BBS Flex offers choices between stationary feet or casters and a fixed or foldable back panel, as well as optional accessories like a bun pan rack, ice baths or side shelves, available with holes for dip pans and pots.
Increased sifting capacity: With a larger sifting chamber than the standard BBS, the BBS Flex handles more breading per sifting cycle.
Compact design: With a compact footprint as small as 31" x 31", the BBS Flex takes up minimal floor space, and its collapsible design means a smaller shipping size and reduced freight cost.
Ice on the Block
SONIC® Drive-In celebrates guests' love for the famous SONIC Ice and will test to see how much guests are willing to pay for it. To answer this question, SONIC is placing a cup of ice – yes, a cup of ice – up for bidding via online auction.
"It's not 'just ice' – it's SONIC Ice! It's cherished, cold and crunchable. Really, it's America's Hottest Ice," said Lori Abou Habib, chief marketing officer for SONIC. "Many of our guests who live near a Drive-In can conveniently get SONIC Ice in every drink, or just order a cup of ice if they want. But for fans who may not live near a SONIC and may be craving SONIC's Ice, here's a way they can get some delivered straight to their door."
Through Sunday, Sept. 20, guests can bid on a 44-ounce cup of ice via a web auction. The highest bidder will receive the prized ice delivered to their front door by one of SONIC's iconic skating Carhops. SONIC will also donate 100 percent of the funds from the highest bidder to DonorsChoose, SONIC's longtime nonprofit partner that helps public school teachers in need of resources for their students.
Guests can take their ice game to the next level by entering into a sweepstakes* awarding one lucky winner a mini SONIC Ice machine for their home. Starting on Sept. 14 at 2 p.m. EST, anyone who purchases a SONIC Ice t-shirt on SONICSwagShop.com will be entered into the sweepstakes while supplies last. For a no-purchase** entry method, see additional details below.
"The crunch and texture in every bite of SONIC's Ice is one reason guests love it so much," said Scott Uehlein, vice president of product innovation and development for SONIC. "Our ice melts more slowly, keeping the refreshing flavor of our drinks longer, but we also know some of our guests enjoy the cold ice just as much by itself. This is for them."
Transformative Wave Adds Feature
Transformative Wave added a new feature to its eIQ Platform, enabling facility operators to automate ventilation adjustments to comply with The Centers for Disease Control & Prevention (CDC) recommendations associated with the COVID-19 pandemic.
The CDC has issued guidelines for commercial buildings including malls, retail stores, and restaurants to increase the amount of fresh outside air from HVAC systems as a strategy for mitigating the spread of the COVID-19 virus. New York and Connecticut have made compliance with these standards a requirement for certain businesses seeking to reopen indoor operations. Compliance presents an extreme challenge for the majority of businesses who are interested in making their facilities as safe as possible.
Modifications to an HVAC system's ventilation settings and schedules typically require a technician to visit each individual facility to make manual adjustments to each HVAC system. This represents a significant expense and management nightmare.
"We were faced with the need to increase ventilation rates in order to reopen nineteen of our stores in New York and Connecticut. With Transformative Wave, all we had to do is call and ask them to make it happen," said Alex Douris, Energy Specialist at H&M. "With our older building automation system, we would have been forced to physically go out to hundreds of HVAC units in order to do what Transformative Wave did in a few hours for us. The cost would have been significant."
Compliance with CDC guidelines requires operators change three HVAC settings – eliminate demand-controlled ventilation (DCV), increase the minimum amount of outside air, and extend the length of time the HVAC systems operate (up to 24/7). The Enhanced Ventilation Mode addresses all three by allowing users to set multiple ventilation schedules with increased outside air assignments for each period. It is possible to aggressively purge the building with fresh air prior to occupancy and/or ventilate at predetermined levels for longer periods of time.
Enhanced Ventilation Mode can be applied globally across all buildings in a customer's portfolio or only select buildings and individual HVAC units in the portfolio. This flexibility allows operators to navigate variations in local standards, occupancies, or climate realities. Once the Enhanced Ventilation Mode parameters have been defined, enabling and disabling is accomplished with the "push of a virtual button" in the eIQ Platform user interface. Another advantage of this feature is the ability for operators to return systems to normal ventilation settings once the pandemic has passed and a return to pandemic ventilation standards can be easily accomplished should it be necessary due to an isolated or widespread outbreak. This is a mechanism for enterprises to protect themselves now and in the future.
"COVID has created many new challenges for businesses seeking to reopen. Our goal was to remove the burden of ventilation compliance by adding this ground-breaking feature to our product suite. Given the alternative of manual compliance, automating this process has immense value," said Danny Miller, President of Transformative Wave. "This is possible due to the deep reach our technologies have into the HVAC assets. We leverage the substantial energy savings we generate and then exploit associated utility subsidies to create an economical path to intelligent buildings. The Enhanced Ventilation Mode feature now adds compliance with these emerging standards in pandemic ventilation management to our toolbox."
PyePOS QSR Kiosks
MagTek® and PyePOS debuted PyePOS QSR kiosks have MagTek's DynaDip and DynaWave secure hardware built-in. This combination of payment acceptance devices meets current needs in quick service restaurants (QSR) looking to create proper social distancing and limited interaction while still providing excellent customer service and payment security.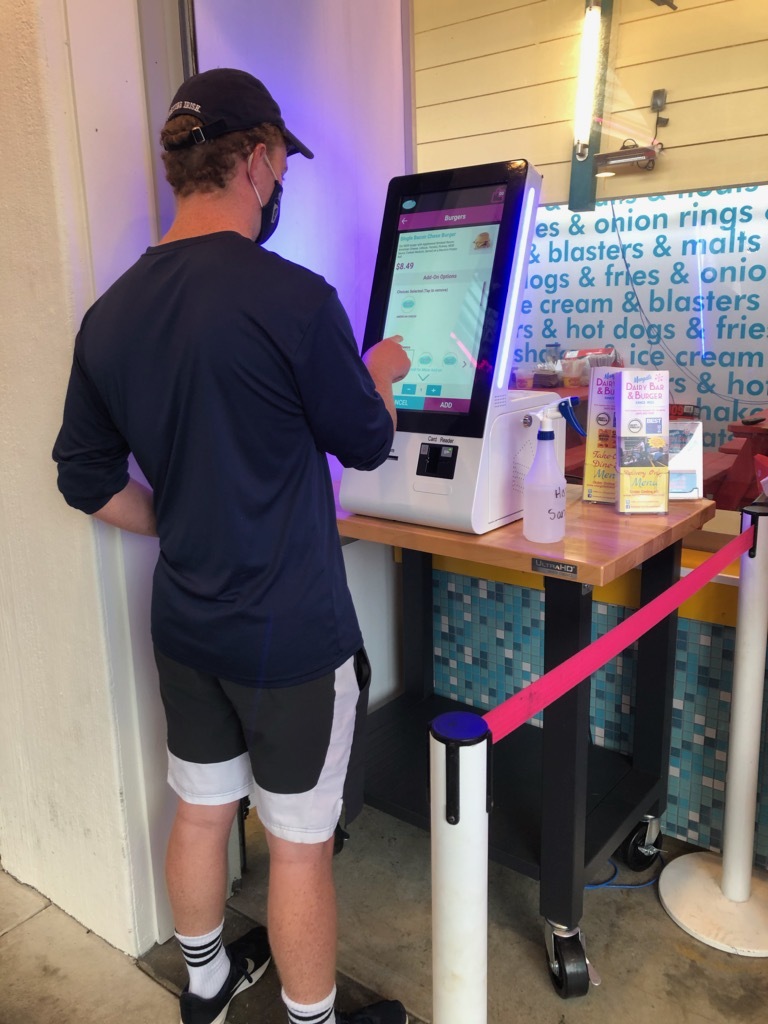 A restaurant's main goal is to sell good food and provide a great customer experience. PyePOS has based their technology on delivering beautiful kiosks that fit comfortably in quick service restaurants and give the customer an excellent experience. Pye kiosks have shown a 20% increase in order size, reduced wait times, allow for upsell and cross-selling, and improve labor efficiency.
The devices can be deployed free-standing, on a countertop, or mounted. This allows QSR to position the kiosks at selected distances that meet their space and proper guidelines. Pye offers a variety of payment acceptance options including cash, magstripe, EMV chip, and NFC which includes contactless chip cards and most mobile wallets. The ability to accept tap and go payments makes the experience faster and cleaner. PyePOS supports most major processors including First Data, TSYS, Elavon, Heartland and Shift 4. This combination of acceptance options, readers, and processors makes integration and installation easy for the restauranteur, while delivering a sleek and clean station for self-service ordering.
"Building technology that helps people is our passion," said Jegil Dugger, Founder and CEO of PyePOS, "We design our technology to alleviate struggles and to create a seamless customer experience that is enjoyable and keeps people coming back. The flexibility of the devices offers restaurants a choice of how they want to manage their customer experience."
MagTek's DynaDip and DynaWave are engineered with the MagneSafe® Security Architecture. The foundation of MagTek hardware is to create payment peripherals that are built for durability, easy integration, and security using encryption, tokenization, and authentication so users can work, play, and shop securely. DynaDip is a hybrid insertion OEM card reader with magstripe and contact EMV reading capabilities. DynaWave is a EMV contactless/NFC reader that accepts contactless card payments and most mobile wallets and wearables including ApplePay, Samsung Pay, and GooglePay.
"The cornerstone of MagTek hardware is security," says Rebecca Robinson, MagTek's marketing manager. "It's great when we can build a partnership with companies like PyePOS to help deliver secure self-service kiosks that also have the ability to offer a wide variety of payment solutions, including contactless, which make everyone feel a little safer right now."
PyePOS QSR kiosks are available now.
SimpliSafe Business Security
SimpliSafe® debuted SimpliSafe Business Security, a suite of products and services curated to meet the unique needs of both single and multi-unit business owners.
The innovative offering has been designed to support businesses across industries, including healthcare, restaurant and retail, and directly addresses many of the pain points that businesses often encounter when it comes to their protection. Unlike traditional solutions where a contractor drills holes through walls and floors, SimpliSafe Business Security features a wireless system that is comprehensive, yet affordable with cellular back-up. The solution's do-it-yourself installation provides significant cost savings at the outset, and offers fair, transparent pricing with no long-term commitment required. With affordable fixed pricing, customers have the ability to adapt and add components as their needs change with no additional monitoring charges.
"Over the last decade, we've protected more than 100,000 businesses of varying sizes and industries across the country," said Don LeBlanc, Chief Commercial Officer at SimpliSafe. "With the launch of SimpliSafe Business Security, we're taking the insights that we've gained from thousands of customer conversations over the years and introducing an offering that meets their diverse needs, including business-specific SKUs and a fully dedicated e-commerce shop. We're building on our proven ability to support business owners and making protection even more accessible. The number of challenges and insecurities business owners face has been exacerbated by the COVID-19 pandemic. We believe the security of their business should not be one of those challenges, and we're helping to deliver protection and peace of mind at a time when they need it most."
The specialized offering has features and services specifically geared towards multi-site businesses, including a Property Management Dashboard, which offers a streamlined, single screen view into and control over all of their systems, and dedicated account management from SimpliSafe's Commercial Customer Success Team.
"When COVID-19 struck, it became abundantly clear that the pandemic would have a significant impact on retailers like ourselves, and ensuring the security of our stores and safety of our employees was a non-negotiable," said Yasha Darakhshanian, Chief of Operations for Titan Connection, which owns and operates a number of Boost Mobile retail locations throughout Nashville. "We decided on SimpliSafe because not only does it offer award-winning products and professional monitoring at a fair and transparent price, but it is well-suited for multi-unit operators, providing streamlined visibility into what's happening at each of my locations."
"COVID-19 brought on a number of challenges for restaurant owners, with security being one of the most pressing," said Doug Adcock, President at Adcock QSR, which operates several McDonald's locations throughout Greater Houston. "After a string of local break-ins, there was an urgent need to secure our restaurants quickly. Thankfully, I found SimpliSafe and was able to work directly with the team to build custom kits for five of our restaurants. The product was shipped directly to us in a matter of days, and we were able to set the systems up on our own with ease. SimpliSafe has given me immense peace of mind and confidence during this time, knowing I have the necessary protection for my restaurants, customers, employees and management."
Atar Acquires WinCup
Atar Capital completed the acquisition of WinCup from funds managed by BlackRock, Inc., a global investment management firm. Headquartered in Georgia, WinCup employs nearly 1,000 people across eight manufacturing facilities that provide nationwide production and distribution of a comprehensive portfolio of traditional and biodegradable foodservice packaging products. The company is first to market with two flagship products, Phade®, an award-winning marine biodegradable, home and industrial compostable straw; and Vio®, the only biodegradable foam-based cups, lids and straws in the US and Canada. WinCup serves an impressive blue-chip client base of distributors, restaurant chains and fast-moving consumer goods (FMCG) retailers that include Fortune 100 businesses with globally recognized brands. Financial terms of the agreement were not disclosed.
This is Atar Capital's seventh platform acquisition since 2017. Commenting on this latest acquisition, Cyrus Nikou, founder and managing partner of Atar Capital, said, "While the COVID-19 pandemic created significant barriers to the timely completion of many M&A transactions around the world, the Atar team successfully circumnavigated these challenges to complete the acquisition of a company of such an exceptional caliber as WinCup. We are particularly excited about the opportunity this presents to drive major evolutions in foodservice packaging given the profound changes affecting the FMCG industry. WinCup has a clear head start in responding to these ongoing changes. We look forward to supporting the company as it continues to expand into new brands and categories."
Robert Lezec, senior managing director at Atar, added, "Today there is an accelerating expectation for eco-friendly packaging solutions, whether in foodservice or in other segments. WinCup has been working diligently to remain at the forefront with a growing portfolio of unique and innovative products and a scalable production footprint that provides proximity to many of the nation's leading foodservice customers. In this context, we anticipate the next few years to be transformative for WinCup and the customers it serves."
Through this acquisition, Atar confirms the appointment of a new leadership team for WinCup with Brad Laporte serving as chief executive officer and Michael Winters as president and chief revenue officer. "With the support and direction to be gained from working with Atar Capital, we look forward to leading this evolving market with an even broader range of safe, sustainable packaging solutions," said Laporte.
Nikou led the Atar investment team that also included Senior Managing Director Robert Lezec, Managing Directors Stanley Huang and Vijay Mony and Senior Associate Roman Zelinsky. Dykema provided legal counsel to Atar Capital and Ares Capital Corporation provided financing. Lincoln International was the sell-side investment bank.
Squadle Secures Financing
Squadle closed on its Series A financing, which will support the company's exponential growth. In addition to the completion of the Series A financing, Squadle named successful tech CEO and long-time retail industry executive Charlie Piper as Chairman of the Board of Directors.
"Squadle's Series A funding round comes in response to the phenomenal market demand for our Digital Checklists™," said Squadle founder and CEO Le Zhang. "With our latest financing round, Squadle will continue to invest in our product while increasing our focus on customer success. At the same time, Charlie's appointment will have an immediate impact on Squadle's business, helping to drive efficiency across the business and refine Squadle's market-leading product offering."
As Chairman of the Squadle Board of Directors, Charlie Piper will draw upon his successful track record in leading sharply accelerating growth businesses with game-changing technology. Currently serving as Chairman of the Board for Vanco, Charlie brings extensive prior experience as a Board Director and CEO across a broad range of industries, where he has consistently driven strategic focus and organizational rigor in order to achieve rapid product adoption.
"The Squadle Digital Checklist is becoming an indispensable tool as food compliance becomes increasingly more complex," said Charlie Piper, Chairman of the Squadle Board of Directors. "For multi-unit operators, Squadle provides the data and visibility that operators crave, allowing brands to focus on delivering a unique and memorable food experience for their guests."
SWIPEBY Launches Web Ordering
SWIPEBY has launched the latest addition to its turnkey curbside pickup platform, web ordering. Restaurants can now process curbside, pickup, and delivery orders from their website.
While web ordering solutions for restaurants is a hyper-competitive marketplace due to high demand, SWIPEBY enters into this saturated arena with momentum and a strategic purpose, to help their partners offer a best-in-class, unified off-premise experience.
"Our mission is to provide everyone with accessible and exceptional off-premise service through curbside pickup,' said Carl Turner, founder of SWIPEBY, "and web ordering powered by SWIPEBY is a natural extension to our platform while we remain true to our core focus of curbside pickup".
SWIPEBY's state-of-the-art service also includes:
No additional cost : The SWIPEBY web ordering feature comes at no additional costs to new and existing partners, with no added contracts or service fees.
Cross-platform tracking: Guests can place the order on their desktop, login to their mobile app, and head to the store for pickup without disruption.
No App Needed Experience: While the best SWIPEBY experience comes when using the apps cross-platform tracking and geo-fenced arrivals, the web ordering feature does provide a text messaging engine that allows the guest to trigger an arrival notification with a text message.
Because web ordering is an addition to the larger SWIPEBY platform, order batching, automation of pick up times based on order volume, and SWIPEBY's personalized coupon/promotion tools, all work seamlessly with this new feature.
In addition to the web ordering feature, SWIPEBY will be releasing a data analytics dashboard. The soon-to-be-launched dashboard will allow restaurants to harness the powerful data behind their web and mobile orders to inform strategy and marketing campaigns.
"We are very excited to provide this robust but accessible data dashboard to our partners,' said Nathan Pieratt, director of marketing, " It brings our mission of being a full-service platform to life in a very real and tangible way."
"We built our platform in partnership with operators and eaters, leveraging mobile apps, geo-fenced arrival notifications, and sales promotion tools to offer an excellent takeout experience. With the addition of web ordering powered by SWIPEBY, we've become a one-stop-shop for merchants to meet the growing demand for quick and easy off-premise operations and in doing so, our partners have upgraded from excellent to exceptional," said Corey Paul, head of sales at SWIPEBY.
Leanpath Scout
Leanpath launched Leanpath Scout, a food waste tracking platform custom designed to fit in small spaces, achieve fast ROI even with lower food budgets and still deliver big food waste reduction.
Leanpath has met the needs of large foodservice operations with its Leanpath 360 line of robust tracking tools. Small operations have our tablet-based tracking tools. But mid-size facilities didn't have a "Goldilocks" solution that fit their particular needs, until now. And as production levels drop due to COVID-19, the need for a smaller, more cost-efficient solution has become paramount.
"With Leanpath Scout, we are making automated food waste prevention technology attainable to even more of the foodservice industry," says Andrew Shakman. "COVID-19 has made it more important than ever for kitchens to control food waste to keep costs in line. With our suite of food waste tracking tools–now including Leanpath Scout–any kitchen of any size can take control of its food waste."
Based on Leanpath data, low volume operations actually tend to generate higher rates of food waste. As the foodservice industry slowly reopens from COVID-19 shutdowns, lower volumes are expected for some time.
Leanpath Scout is a small-footprint food waste Tracker with a connected scale, perfect for lower volume foodservice environments that still need the speed and ease of a fully integrated solution. While the 360 Bench and Floor scales are designed for the heavy volume generated in central and main kitchens, Leanpath Scout is ideal for satellite kitchens, including catering, and retail cafe kitchens.
Restaurant Workers COVID19 Crisis Relief Fund Update
Restaurant Workers' Community Foundation, a national advocacy and action nonprofit founded in 2018 by and for restaurant workers, established its Restaurant Workers COVID19 Crisis Relief Fund on March 15. To date, RWCF has raised almost $6.8M and distributed over $6M, including this third round of $405,000 to 15 organizations providing crisis relief services to restaurant workers.
"We are disgusted but undaunted by the federal government's complete disregard for the restaurant worker community, and even more determined than ever to maximize our limited grantmaking resources," said John deBary, president of RWCF, who was one of the signatories of a recent joint statement calling on Washington leaders to create a real plan to address the needs of restaurant workers. "These fifteen organizations are doing amazing, wide-ranging work that will support the restaurant worker community long after the COVID-19 crisis ends."
Based on fundraising projections, RWCF will have at least $1.4 million available for grants to nonprofits serving workers in crisis. RWCF's grantmaking committee aims to move funds to essential organizations needing additional resources to serve workers, a staggering number of whom are unemployed and will not receive adequate government help. RWCF's board has distributed the following third-round grants:
Culture Aid NOLA, New Orleans, LA – $25,000
For its no-barrier, stigma-free food aid program that supports hospitality and culture workers and local supply chains.
Food Connect, Philadelphia, PA – $25,000
For a meals initiative to help support local restaurants that aim to make meals with shelters that have an immediate need for emergency meals and groceries.
Fulfill , Neptune, NJ – $25,000
For the foodbank's partnership with the New Jersey Restaurant and Hospitality Association providing a meal stipend program that pays restaurants to supply meals to the community.
Greater New Orleans Foundation, New Orleans, LA – $25,000
To provide case management services to restaurant workers impacted by Covid-19.
Immigrants Rising (a project of Community Initiatives), Los Angeles, CA – $25,000
For general support of Immigrants Rising, especially to provide undocumented restaurant workers training and support to transfer their current skills into new employment opportunities.
Liberty's Kitchen, New Orleans, LA – $25,000
For general support of Liberty's Kitchen's food service training program and emergency food provisions.
Made in New Orleans Foundation, New Orleans, LA – $25,000
For MiNO's work serving individual hospitality professionals of color providing emergency relief funds, Build Your Business program and New Orleans Hospitality BIPOC Network.
National Day Laborer Organizing Network, Pasadena, CA – $25,000
For the Immigrant Worker Safety Net Fund.
National Immigrant Law Center, Los Angeles, CA – $20,000
This is RWCF's second grant to NILC for general support, especially the production of materials for workers such as "Know Your Rights" guides.
New Orleans Workers Center for Racial Justice, New Orleans, LA – $35,000
For general support of worker organizing among is majority Black and Latinx restaurant worker population.
Saint City Cullinary, New Orleans, LA – $50,000
To provide wellness and mental health resources to workers in the hospitality service industry in San Antonio, New Orleans and Dallas, with plans for expansion to District of Columbia and Baltimore.
Service! (a project of Independence Day, Inc.), Columbus, OH – $25,000
For a financial assistance grant program for restaurant and service industry professionals in Franklin County.
Service Workers Coalition, New York, NY – $30,000
For general support to grow the organization and its ability to provide mutual aid and grocery stipends to unemployed restaurant workers.
Shift Meals (a project of Intervale Center), Burlington, VT – $20,000
For mobilizing restaurants and agricultural producers statewide to produce and distribute nourishing meals to those in need, while providing employment to restaurant workers.
We Help NOLA, New Orleans, LA – $25,000
For free and accessible mental health resources to restaurant workers in New Orleans.
Over the course of three rounds of grantmaking to nonprofits providing crisis relief services to restaurant workers, RWCF has distributed a total of $845,000. With its crisis fund grantmaking, RWCF aims to build the restaurant worker-focused ecosystem of nonprofits. The crisis fund has made grants to organizations such as: Big-Table (Seattle), Giving Kitchen (Atlanta), Hot Bread Kitchen (Brooklyn), La Cocina (San Francisco), Make the Road NY (Brooklyn), Pilot Light (Chicago), Staff Meal/FestEvents Foundation (Dallas), and Support Staff (Chicago), as well as national organizations such as National Day Laborers Organizing Network for the Immigrant Worker Safety Net Fund, National Immigration Law Center, The LEE Initiative Restaurant Workers Relief Program, ProBono.net, Ben's Friends, and RAINN (Rape, Abuse & Incest National Network).
"Our grantmaking committee members continue to solicit input from restaurant workers and nonprofit leaders across the United States seeking to identify organizations serving workers with crisis services and we welcome more suggestions," said Zachary Litif, RWCF's Grantmaking & Nonprofit Partnerships Committee chair. "We're an all-volunteer organization, so restaurant workers who identify great potential grantees are a huge help. We want to hear from you."