Falling in Love with Chicken Salad
3 Min Read By MRM Staff
First-time Chicken Salad Chick (CSC) franchise owner Claibourne (Clay) Rogers was introduced to the fast-casual concept in 2015 when she served as an account director at the brand's public relations firm, Fish Consulting.
At the time, there were 40 locations and her contributions to supporting the brand's rapid growth ranged from assisting with grand opening strategies to boosting consumer awareness and more. In the process, Clay and her husband, Nick, fell in love with the concept and its story.
In 2019, they signed a franchise agreement to develop two locations in South Florida – the first just opened in Coral Springs and the second slated for Boca Raton in the next few years. With more than 175 locations today, CSC plans to continue that growth momentum in 2021 and open additional Sunshine State locations in St. Petersburg, Ocala, Gainesville and Wellington over the next several months.
"When my husband, Nick, and I first started to discuss the idea of owning our own business, we asked ourselves what our 'why' would be," Rogers told Modern Restaurant Management. "We knew the list of reasons 'why' we wanted to open our own business needed to closely align with whatever franchisor we chose. When researching different concepts, Chicken Salad Chick popped up and it was a true aha – or more like DUH – moment. I had worked with the brand for many years at Fish Consulting and knew their core values – spreading joy, enriching lives, and serving others – were almost identical to ours. They immediately jumped to the top of our list."
The couple felt South Florida is a prime location for the brand due to the weather and chose Coral Springs in particular for the strong sense of community and rapid growth in the area. The location is in a high-end shopping plaza called The Walk filled with strong daytime foot traffic.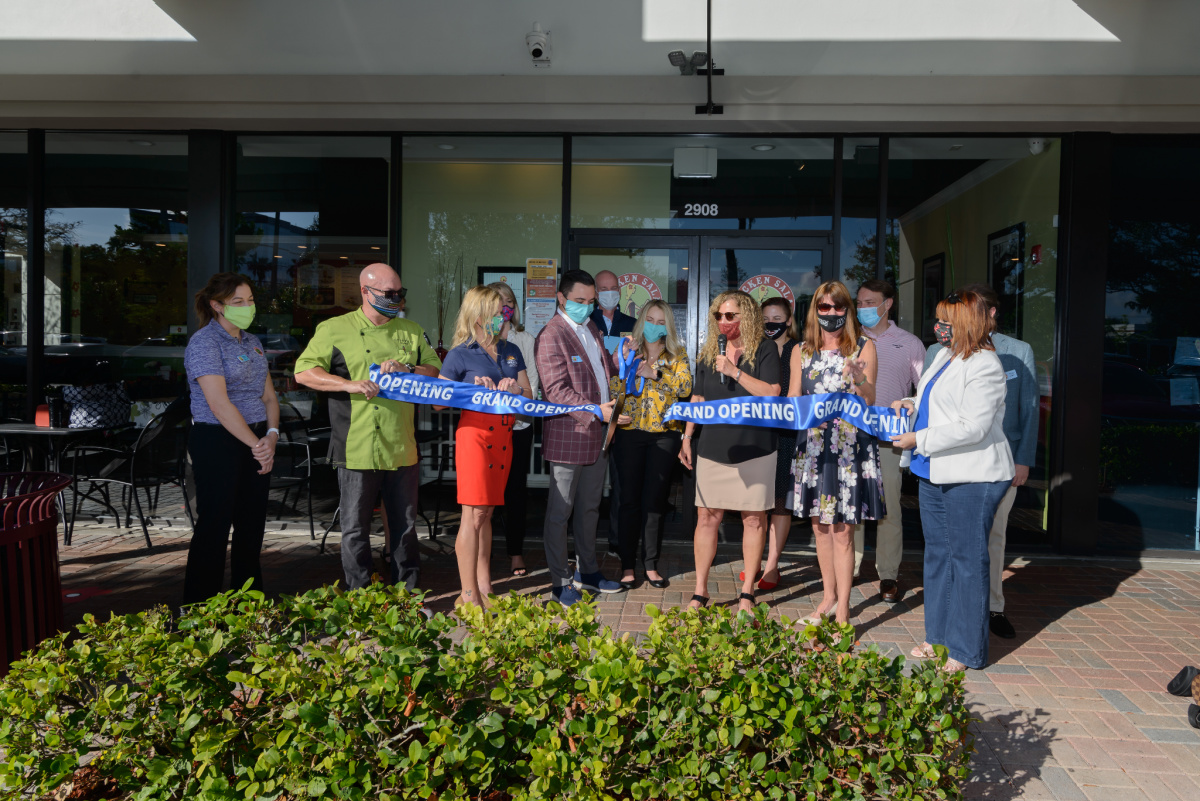 They gravitated to franchising because they had no experience in opening a business.
"We knew, in order to be successful, we would need the support of an established brand behind us," she said. "Chicken Salad Chick's values are lived every day by their executive team."
When Fish first came on board to work with the brand, Clay was a member of the team that traveled to Auburn, Alabama to learn more. Stacy Brown, Chicken Salad Chick's founder, took the team on a several hour driving tour of Chicken Salad Chick's history around Auburn and then invited them into her home for lunch.
"I was blown away by the hospitality and passion she showed. That's just one moment of dozens that I experienced over the years of working with their executive team as a vendor/partner."
The couple, who are parents to three boys, said it was also important to find a franchisor that shared that same family-oriented mentality.
"Starting up a franchise is a lot of work but also provides flexibility with owning your own business. Chicken Salad Chick for example closes on Sundays to allow for family down time and also encourages those family moments through brand values. It's running through the veins of this company."
It's all about giving guests options so they can choose for themselves whichever option that makes them the most comfortable.
The couple opened the restaurant during a pandemic with the brand putting together an array of COVID-safe practices while still allowing them to offer the "free chicken salad for a year" giveaway that draws excitement around the grand opening.
"To me, it's all about giving guests options so they can choose for themselves whichever option that makes them the most comfortable," Clay said. "For instance, along with activating online ordering and delivery options from the start, our patio has plenty of seating for those who choose. If a guest is wary to come inside to order, we happily take their order outside. Inside the restaurant, we added hand sanitizer stations, no-touch menus via QR code, increased cleaning measures and team member temperature checks at the beginning of each shift. We want our guests and our team to feel as safe as possible."
While Clay is able to use her public relations and marketing savvy to help promote the restaurant, she is also enjoying her time on the other side of the counter.
"It's certainly different – in a good way," she said. "Even though I knew a lot about the brand, I did not know everything. It's been exciting to learn about processes outside of my wheelhouse, everything from the buildout process to building our team. I truly could not have done it without the support from the Chicken Salad Chick home office and training teams, and I'm still learning and improving every day. I wake up each day excited to go into the restaurant and greet my team and our guests. In the course of six weeks, I had a baby and successfully opened a restaurant. If I can accomplish that, I can accomplish anything life throws at me."