Face Pay Network, Restaurant of the Future and The Main Course
1 Min Watch By MRM Staff
In this edition of MRM News Bites, we feature a webinar that looks into the future of restaurants, face pay, delivery robots, drone delivery and a new venture for MRM.
The Main Course
Modern Restaurat Management (MRM) magazine is collaborating with the team at MarketScale on The Main Course, a podcast that aims to explore the intense and competitive modern restaurant industry.
"We always viewed a podcast as a natural extension of the MRM brand," said Executive Editor Barbara Castiglia. "When MarketScale approached us, we knew their B2B expertise was a great fit for us and ran with the opportunity."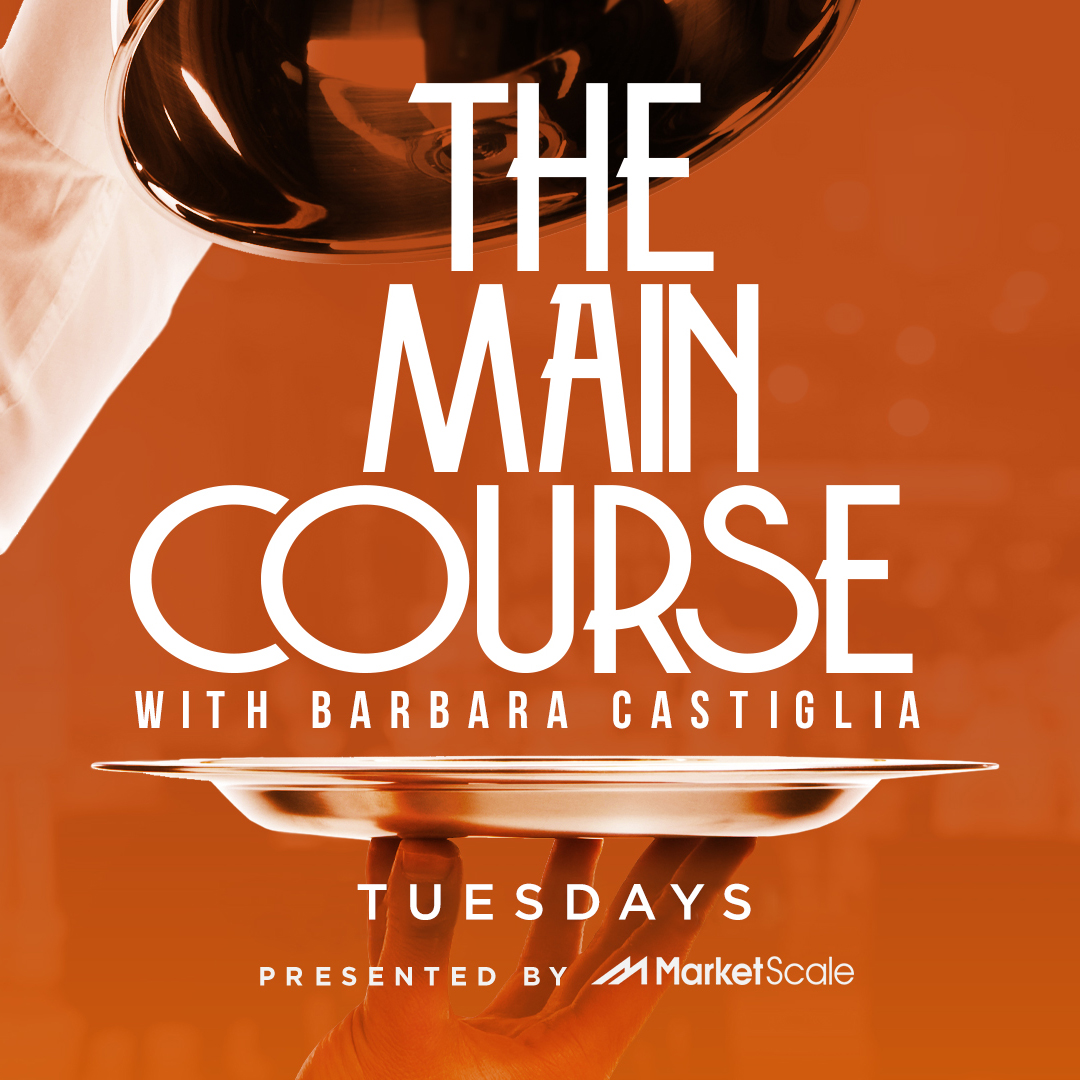 Take a listen here to learn about Scott Patterson's entrepreneurial venture into the world of coffee and reach out to Castiglia with any topic or guest suggestions at bcastiglia@modernrestaurantmanagement.com.
Restaurant of the Future Panel
"Restaurant of the Future: How to Take Advantage of the Digital Transformation," a panel discussion about how technology spurred by COVID-19 will help shape the way restaurants operate, will take place on Thursday, Aug. 20 at 4 p.m. EST

Alonso Castañeda, VP of Brand Development & Strategy for Savory Restaurant Fund, will discuss how the brands he works with have been able to take advantage of the current landscape to creatively serve customers.
Additional Panelists include:
Ryan Volberg – SVP and GM, PAR Restaurant Solutions Group
Brad Duea – CEO, Restaurant REVOLUTION Technologies
Barbara Castiglia, MODERATOR – Modern Restaurant Management
Space is limited, so click here to register.
FAT to Acquire Johnny Rockets
FAT (Fresh. Authentic. Tasty.) Brands Inc. will acquire the Johnny Rockets restaurant chain from an affiliate of private equity firm Sun Capital Partners, Inc. for approximately $25 million. The deal will be funded through cash on hand and proceeds generated from the Company's securitization facility. The purchase is expected to be completed in September 2020. With the acquisition of Johnny Rockets, FAT Brands will have more than 700 franchised and company owned restaurants around the globe with annual system-wide sales exceeding $700 million
Johnny Rockets was founded in 1986 with its first location on the iconic Melrose Avenue in Los Angeles, California. Known for its 1950s diner style décor, the chain serves up freshly-made, classic burgers and indulgent, hand-spun real ice cream shakes. Johnny Rockets currently has over 325 locations across the U.S. and internationally, including nine company owned locations.
"FAT Brands is delighted to carry the torch from the affiliate of Sun Capital Partners, Inc., a global private equity leader with deep investment and operational experience, and run hard," said Andy Wiederhorn, President and CEO of FAT Brands. "Similar to Fatburger, Johnny Rockets got its start in Los Angeles, and we couldn't be more pleased to add another true staple in our home city to our portfolio. This acquisition is a transformative event for FAT Brands in terms of scale and brand awareness. We see a lot of synergy with Johnny Rockets and our current restaurant concepts and we are eager to take the brand to new heights."
Duff & Phelps served as financial advisor to Sun Capital Partners, Inc. and Morgan, Lewis & Bockius LLP acted as legal counsel to Sun Capital Partners, Inc., Loeb & Loeb LLP acted as legal counsel to FAT Brands and Andersen Tax LLC served as tax advisor to FAT Brands Inc.
Creating a Face-Pay Network
A number of restaurant and retail store owners in the city of Pasadena have quietly established the nation's first dense "face-pay" network, top video.These small business owners have embraced an advanced facial recognition technology that lets their customers make secure, hands-free purchases using only their faces.
PopID, a Cali Group company, today announced the city-wide deployment of its PopPay "face-pay" service following the successful roll-out of the company's PopEntry facial recognition device that lets workers and students safely "scan-in" to their workplace and college campus facilities. Users can now add a credit or debit card to their PopID accounts for a safer, truly hands-free alternative to cash, credit cards or Apple Pay.
The launch in Pasadena of a dense network of businesses and people using the PopID platform for both payment and entry kicks off a city by city rollout of the contactless payment service. "In each new city we enter, we initially focus on installing PopEntry systems in the workplace and on local college campuses," said John Miller, chairman of Cali Group and CEO of PopID. "As these communities grow comfortable using PopID to check-in, we enlist area restaurants and retailers to offer PopPay for transactions."
Customers can take advantage of PopID's facial recognition payment service in one of a number of ways: at the drive-thru, at an in-venue kiosk, via a display screen affixed to the sneeze guard at the counter, or tableside with a waiter scanning the patron's face using a hand-held Android device. Once recognized, the business simply draws from the customer's PopID account before sending a text message confirming payment. PopID accounts also tie to loyalty programs for automatic credit with every purchase. The user has full control over their account and can opt out of the secure service at any time.
Over the last three years, PopID has been tested and adapted for payment and loyalty programs at regional and national restaurant brands throughout the country including Belcampo , Bojangles, CaliBurger, Dair-i-o, Deli Time, Plant Power, and Port of Subs. In addition to allowing a safer, hands-free payment method, the system has been shown to make the ordering process quicker and more efficient.
PopPay follows the national roll-out of PopEntry+, the combined facial recognition and thermal temperature screening device now in use in private and government offices, factories, restaurants, assistant living facilities, sports venues and on college campuses.
US Foods Ghost Kitchens
US Foods Holding Corp. launched US Foods Ghost Kitchens, a program designed to guide restaurant operators every step of the way when opening their own operation, helping them easily add a new revenue stream. With the addition of this program, US Foods customers now have access to exclusive resources developed to streamline the process of starting a ghost kitchen, including proprietary technology to help identify menu opportunities, a detailed playbook to guide decision making, dedicated marketing support, webinars and one-on-one consultations with US Foods specialists.
Ghost kitchens, also referred to as dark or virtual kitchens, are professional kitchen facilities set up to support delivery or carryout meals only, offering restaurant operators an opportunity to start an additional revenue stream. Currently, with dine-in restrictions due to Covid-19, most restaurants are experiencing challenges managing through the minimum dining room capacity operators say is needed to make reopening work financially. As a result, 75 percent of restaurant operators now consider off-premise dining to be their best growth opportunity.1
"The Ghost Kitchens program was developed in response to growing interest among our customers, but we've also been tracking the trend, and ghost kitchens are projected to reach a $1 trillion global market by 2030,2 making them an attractive concept for operators even after dine-in restrictions are lifted," said Jim Osborne, senior vice president of customer strategy and innovation at US Foods. "We also know ghost kitchens are a departure from the traditional brick and mortar format, so some independent operators need help to jumpstart a new venture, which is why our program takes out all the guesswork. We help the operator through every major decision. And since operators using the program often set up within their existing facilities, we're able to help them open a ghost kitchen with minimal start-up costs in a matter of weeks, with the goal of higher profit margins and expanded customer reach."
The program highlights include:
Accessing US Foods' proprietary technology to identify the right concept based on their unique, local market conditions
Leveraging US Foods' knowledge and support in building and creating strong brands and digital marketing
Creating and optimizing the menu based on US Foods' exclusive food-costing tools, industry analysis and recipes designed by in-house chefs that focus on both profitability and diner trends
Providing guidance on how to quickly get started so that operators are up and running in a matter of weeks
Plamondon Celebrates 40 Years
Plamondon Companies is celebrating 40 years of business in the hospitality industry. The organization owns the Roy Rogers brand, as well as Marriott and Hilton franchises in Maryland, Pennsylvania, and Georgia. This milestone marks an exciting point in time for the family- owned organization and signifies a new era of expansion and growth for the future.
To celebrate 40 years, Plamondon Companies hosted a "drive-by" event on August 5 at the Roy Rogers on Route 40, the first Roy Rogers founded by Peter Plamondon Sr. in 1980. Tamar Osterman, Senior Business Development Representative with Maryland Department of Commerce also made an appearance to congratulate co-presidents Pete, Jr. and Jim Plamondon and present a secretarial citation from the state.
Jim and Pete Plamondon received a proclamation from Mayor Michael O'Connor and Richard Griffin, Director of Economic Development at the City of Frederick responders 40 percent off their purchase for the day as an expression of appreciation for all their hard work and dedication to helping others.
Plamondon Companies was founded in 1980 by Peter Plamondon Sr. After 16 years as a corporate executive vice president for Marriott overseeing its restaurant division, he left in 1979 to become an entrepreneur. At the time, Marriott owned the Roy Rogers brand, which led Peter to opening his first restaurant on August 5, 1980. Peter's two sons, Pete, Jr. and Jim, chose to follow in their father's business-minded footsteps. Pete, Jr. joined the company in 1993 and Jim joined in 1995.They both went through a management training program. They expanded their business into the lodging side of hospitality, opening their first hotel, a Fairfield Inn by Marriott, in Frederick in 1996. Then, in 1998, the two brothers bought the business from their father.
"To see our dad working a fry station was a bit humbling," Pete Plamondon, Jr. reflects. "Here's this guy who led an entire division as an executive vice president, and now he is working a fry station. This is one of the reasons why we encourage everyone who works in the corporate office to go out and spend time working in the field in our restaurants and hotels. It's critical to our corporate mission and the values we strive to achieve."
When the brothers purchased the company, they developed a corporate mission, The Values You Respect, that emphasized the importance of family, safety, community, education and relentless attention to guests. These were the principles that made the company successful under the ownership of Pete Sr., and the brothers wanted to continue the legacy. The mission not only benefits their customers and guests, but the associates who are truly the cornerstone of the company.
In 2002, Jim and Pete, Jr. purchased the Roy Rogers brand and trademark, and became the chain's official franchisor.
Plamondon Companies credits much of its success to their associates, the mission and culture Jim and Pete have cultivated as a company, and the values their father passed onto them. Because the associates are the key to the companies' long-term success, the two give back by providing opportunities for its associates to flourish. Plamondon Companies currently employs over 1,000 associates, often promoting from within, and providing educational opportunities and tuition reimbursement programs.
"When hiring, we look for a certain kind of person that loves hospitality, loves to serve others and has the spirit to serve," said Jim Plamondon. "Our associates are the ones that make us a successful hospitality company."
Plamondon Companies has always been heavily involved in the communities they serve, both in the business community and in public service. Owners and executives of the company have served as members and board chairs for a variety of nonprofits. They have hosted a United Way campaign for 40 years. Peter Sr. started the beloved Frederick tradition Historic Houses of Worship Tour during the holiday season, as well as assisted in starting the culinary arts program at Frederick Community College.
Plamondon Companies has supported educational organizations, disaster relief, and public service efforts, and have received numerous recognitions including the Maryland Chamber of Commerce Award, "Wellness at Work" Award, part of Maryland's Healthiest Businesses, Diversity and Inclusion Award, and Outstanding Contribution Award, presented at the Marriott Owners Conference.
Diversified Foodservice Reorganizes Portfolio
Diversified Foodservice Supply LLC, reorganized its portfolio of businesses to better support its customers.
The new alignment brings the full offering of DFS products to market through two primary business units — TundraFMP, which will serve restaurant operators, and AllPoints, which will support service agents, dealers and parts resellers.
"By positioning our brands to better reflect the markets we serve, TundraFMP and AllPoints are working to align our people, our product assortment and our service approach to meet our customers' unique needs," said Jeff King, President and CEO of DFS.
The new TundraFMP unit combines the Tundra Restaurant Supply and Franklin Machine Products businesses as well as KNG and Restaurant Discount Warehouse. Keith Kelly will serve as president of TundraFMP.
The new AllPoints unit combines the AllPoints brand with Factory Direct Worldwide and the HoodFilters.com brands. Tom Pendrey will serve as president of AllPoints.
"The entire DFS team is excited about the opportunities we have to provide industry-leading value to our customers with high-quality products and solutions at unbeatable prices," King said.
Saladworks Gets Cozier with Sally the Robot
Saladworks is set to expand its reach into hospitals, universities, grocery stores, and more with the world's first fresh food robot, Sally. This announcement comes as part of a recent partnership with the robot's creator, Silicon Valley-based Chowbotics. The two companies have joined forces to offer a version of Sally the Robot that will exclusively serve Saladworks' rotating, seasonal menus. Working in just a 3'x3' space, the fresh food robot utilizes precision robotics to assemble customizable salads made from up to 22 ingredients that are sealed for safety and freshness in an airtight refrigerated container.
"It is our mission at Saladworks to be original in everything we do, and this partnership with Chowbotics to offer a unique version of Sally the Robot certainly takes our brand to the next level," said Kelly Roddy, CEO of Saladworks. "We are excited to bring our healthy and delicious salads to all kinds of new guests across hospitals, universities and beyond. The possibilities are endless.
This partnership comes at a time when the demand for safe, fresh meal solutions has been heightened by food safety concerns brought on by the coronavirus pandemic. Chowbotics has already deployed more than 100 robots that have served over 185,000 meals to date, and the company is thrilled about the possibilities that will now be opened for potential fresh food robot customers. CEO Rick Wilmer stated, "We're excited to partner with a brand that has been so successful at leading the way in health-forward menu development. Together, we're opening up new revenue streams for foodservice providers looking to expand their footprint, at a fraction of the cost needed to open a new restaurant location."
DoorDash Partners with NBA
DoorDash was named the Official On-Demand Delivery Platform of the NBA, WNBA and NBA 2K League. As the NBA's first partner in the on-demand delivery platform category, DoorDash is launching its #PlayItForward Challenge, a new social media campaign designed to unite communities and encourage fans to support Black-owned restaurants. Ensuring greater inclusion of Black-owned and operated businesses across NBA business activities addresses the goal of the 2019-20 NBA season restart, which is to find tangible and sustainable ways to address racial inequality across the country.
As part of the #PlayItForward Challenge, DoorDash will continue its commitment to support Black communities and donate $1, up to $100,000, to the National Urban League for every order placed from a Black-owned restaurant* on the DoorDash platform through the end of August. DoorDash will also offer $0 delivery fees** from all merchant partners in DoorDash's program to support Black-owned businesses on DoorDash through the end of 2020. Hundreds of Black-owned, independent restaurants across the nation opted into DoorDash's program to support Black-owned businesses and are searchable on DoorDash by keyword "Black owned".
The challenge encourages participants to use their social platforms to highlight Black-owned restaurants in their neighborhoods, while challenging followers and fans to #PlayItForward by supporting and bringing awareness to Black-owned restaurants. In partnership with the National Basketball Players Association (NBPA), the #PlayItForward Challenge tipped off on social media with support from more than 10 NBA Players, including Bradley Beal, Shai Gilgeous-Alexander, Aaron Gordon, Jrue Holiday, CJ McCollum, Donovan Mitchell, Ja Morant, Jamal Murray, Victor Oladipo and Dennis Schröder.
"Growing up in Illinois as an avid basketball fan, I have always loved the sport and the joy it brings to communities. We are so proud to be the inaugural on-demand food platform partner for the NBA, an innovative and dynamic league," said Tony Xu, DoorDash CEO and Co-founder. "This partnership will bring together food, sports, culture and technology to create memorable experiences for fans, while at the same time advancing our shared values of diversity, access and empowering local communities."
"This new partnership is a timely first for us as DoorDash is uniquely positioned to amplify our efforts to engage with fans who are watching games from their homes while also stepping up to support the Black-owned businesses in their communities – a key priority and area of focus across our leagues," said Dan Rossomondo, Senior Vice President, Head of Media & Business Development, NBA.
Seated Acquires VenueBook
Seated acquired digital event booking platform VenueBook.
"Events are not only an important part of a restaurant's revenue stream, but they're important for internal operations. Restaurant events help to increase employee retention because both front and back of the house employees are able to exercise creativity and tap into different skill sets while planning and executing events," said Bo Peabody, Executive Chairman and Co-Founder of Seated and a long-time restaurant operator. "We are thrilled to be able to offer yet another way for restaurants to maximize their profitability. With Seated Events, Seated at Home, and Seated, restaurants can drive demand to their three primary sources of revenue in a single, easy to use rewards platform."
It's estimated that private events typically make up 10-15 percent of a restaurant's revenue, and up to 20 percent of a restaurant's profit. With the National Restaurant Association reporting that restaurants likely suffered a loss of more than $120 billion during the first three months of the COVID-19 pandemic alone, Seated Events provides a seamless way for restaurants to begin rebuilding this critical revenue stream, allowing families or smaller groups of people who would like to take extra precautions while dining out to book private rooms.
"We are always looking for new ways to support restaurants' profitability and longevity, and with the acquisition of VenueBook, Seated Events offers a new way for restaurants to drive demand in yet another revenue stream," said Brice Gumpel, CEO and Co-Founder of Seated. "COVID-19 has proved to be one of the toughest challenges the restaurant industry has ever faced and this acquisition and new funding will help us refine our current products to ensure we're doing whatever we can to help our restaurant partners keep their doors open and remain profitable."
Building upon its success in New York City, Boston, Chicago, and Atlanta markets, this acquisition of VenueBook expands Seated's presence to the New York tri-state area, Denver, San Francisco and Bay area, and Washington, D.C. and the surrounding region. Seated will also work with VenueBook's stable of 120,000 professional event planners who can now book clients' events on the platform.
"The last few months have proven to be incredibly difficult for restaurants, but Seated has continued to show up for its partners," said Kelsey Recht, CEO and Founder of VenueBook. "VenueBook was built to make booking private and event spaces simple in order to help restaurants maximize revenue, and we're thrilled to join Seated to support more restaurants through these challenging times."
Seated secured a total of $30M in funding, led by Insight Partners with participation from Craft Ventures, Greycroft, and Rho Capital Partners. Originally focused on dine-in bookings, Seated evolved its business model in response to restaurants' changing needs throughout the pandemic with the addition of pickup and delivery with Seated at Home, and now, Seated Events. These funds are being used to further build out Seated's platform and improve performance and capabilities for new product developments.
Rouxbe Partners with French Pastry School
Rouxbe partnered with The French Pastry School to provide an online pastry course curriculum through the Rouxbe platform. The new course, available in September, will provide an introduction to bread baking, pastry arts, and cake decorating. Additional, more comprehensive courses are slated for development in 2020 and early 2021.
"The French Pastry School is no doubt one of the leading pastry institutions in the world with a deep history of providing a top-of-the line educational experience for aspiring pastry chefs for more than two decades," said Ken Rubin, Chief Culinary Officer at Rouxbe. "Through this partnership, Rouxbe students will now have the opportunity to learn not only foundational cooking techniques, but pastry as well, all in a flexible and affordable way."
The course was developed by chef educators at the French Pastry School, including co-founders Sébastien Canonne, M.O.F., and Jacquy Pfeiffer, James Beard Award-winning author, who are both recipients of the French Legion of Honour Award. The course has been developed with special attention to both knowledge and competency based learning. The course will include dozens of assessment activities, including production activities that will be evaluated by the chefs with opportunities for direct student feedback and engagement.
"Learning and embracing the art of pastry is quite an undertaking, and one that takes time, dedication and a love for all things sweet," said Pfeiffer. "We have committed our lives to educating eager, driven students, and will continue to do so with those enrolled in our online courses."
"Rouxbe has a proven track record of providing a solid culinary education online, and we believe the platform will provide even more opportunities for students to learn fundamental pastry skills to help them both establish and enhance their careers," said Canonne, M.O.F., at The French Pastry School. "We believe that with the flexibility Rouxbe provides, along with our mastery of teaching pastry, we are enabling an entirely new group of individuals the opportunity to study and train in this incredible artform."
Rouxbe also partnered with Bay Area Community College Consortium (BACCC), a group of 28 colleges surrounding the San Francisco and Monterey Bays. Seven member schools with culinary programs will be using the Culinary Arts Package provided by Rouxbe, in conjunction with college instructors, to teach the techniques and foundations needed to embark on a culinary arts career. This news comes as all California schools are instructed to be conducted online.
"With the current situation around COVID-19, faculty are using Rouxbe in a creative way to move forward with a blended learning environment," said Scott Samuel, Vice President of Culinary, at Rouxbe. "Over the past 15 years, we have taught tens of thousands of students the foundations of the culinary skills they will need to succeed in the food industry. We like to think of Rouxbe as a digital library that culinary students can use to enhance the actual physical act of learning to cook."
The Rouxbe learning platform allows for each college to manage a customized online culinary program for their students to ensure that they do not fall behind in their schooling plans. It is designed to be flexible depending on the needs of each institution, and the dozens of instructors teaching courses this fall. Teachers select specific units to assign based on their curriculum, and the courses are available online from any device, anywhere. The Culinary Arts Package includes:
High-definition instructional videos
Interactive activities and assessments
Ability to support 100 percent online as well as blended programs
Communication platform
Available curriculum includes: Culinary Foundations, Plant-Based Foundations, Seafood Literacy, James Beard Foundation's Waste Not, and American Egg Board's EggPro Course
"Once it was mandated that classes be taught online this fall, we realized that courses with lab requirements, like our culinary programs, would be especially hard to recreate and set out to find a solution," said Audrey Le Baudour, Regional Director – Employer Engagement for BACCC. "By working with Rouxbe, we are able to teach and support our students effectively during these unprecedented times."
Including today's announcement, Rouxbe has now partnered with over 40 schools, including Washington State University, Miami Dade College and Montana State University.
Ghost Kitchen Incubator Project
ShiftPixy, Inc. revealed its new contest program as part of the ShiftPixy Labs Ghost Kitchen Incubator Project. As an addition to the company's Ghost Kitchen expansion, the contest will offer qualified chefs and restaurant operators the chance to earn a spot in the Incubator by pitching and testing new ideas with fully simulated ghost kitchen and delivery experiences. The contest as well as the Incubator Project will be streamed on YouTube, providing the Company and all participants with an elevated platform for a global audience.
With the restaurant industry experiencing a seismic shift towards ghost kitchens and delivery-centric business models, it's more important than ever for operators to learn how to succeed using these concepts. The services provided by the ShiftPixy Labs Incubator Project are designed to prepare operators to launch new businesses — and coach them on how to build and optimize their businesses around delivery and off-premises dining from the ground up.
"At our core, ShiftPixy's mission is about helping operators succeed. In today's landscape, that means guiding them through the process of running a strong ghost kitchen and delivery-based restaurant," said ShiftPixy co-founder and CEO Scott Absher. "Our Ghost Kitchen Incubator Project will change the way restaurants are created and launched, and this new contest program opens that opportunity to a huge range of participants, which also gives us the chance to discover and partner with the exciting brands of tomorrow. From culinary students with great ideas to aspiring restaurateurs trying to open their second restaurant, the Ghost Kitchen Incubator Contest is open to anyone who applies – and viewers around the world will be able to see how entrepreneurs can leverage ShiftPixy's engagement and strategy. We look forward to sharing more news and information about these revolutionary programs in the coming weeks."
Drone Delivery Station
Valqari launched the Drone Delivery Station. This new technology offers a safe and convenient landing station with six separate storage units to accommodate multiple drone and traditional deliveries or pickups. The drone delivery station also maintains a digital chain of custody throughout the entire delivery process to give users peace of mind knowing their packages are secure until retrieved.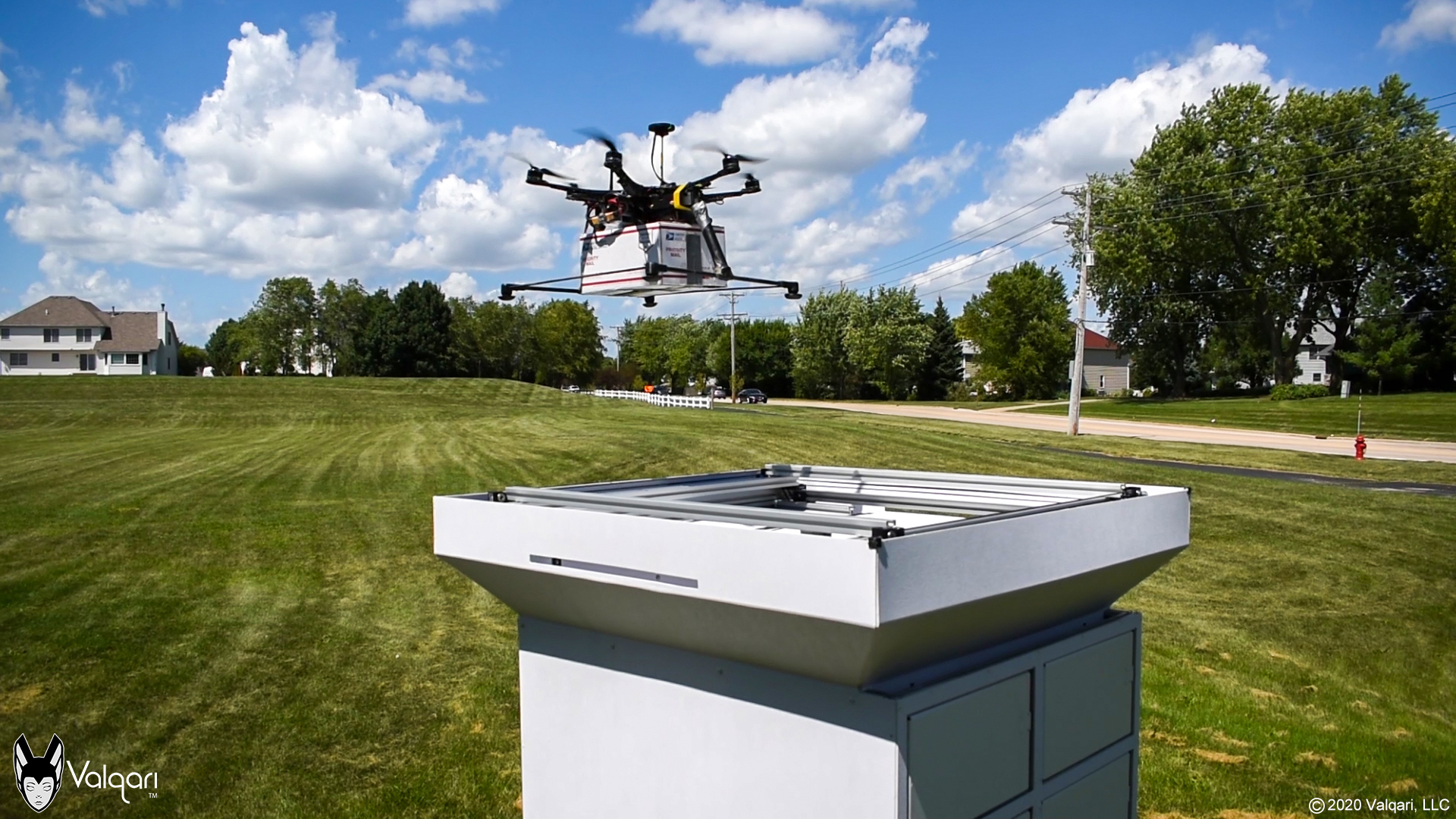 The Drone Delivery Station is entirely drone agnostic and enables a fully autonomous point-to-point delivery to provide a reliable, universal location for drone deliveries and pickups up to 25 pounds. It also has the ability to accept packages numerous ways including winched packages, hover-dropped packages, or pickups and deliveries can be done via landed drones and traditional methods. This new innovation reinforces Valqari's commitment to addressing common logistical problems associated with drone deliveries for residents, commercial businesses, pharmaceutical, meal delivery services and government.
Ryan Walsh, CEO and co-founder of Valqari, said, "Our goal at Valqari is to keep paving the way for how people and businesses around the world send and receive packages in urban, suburban and rural areas. Current drone delivery applications don't properly address the last stage in the delivery process. What we are creating is the only universal, standardized, safe, and secure drone landing station that protects people, property, and packages. Our new Drone Delivery Station is weatherproof, theft-proof and temperature controlled, which is critical for how items like food and pharmaceuticals are properly delivered."
The seven and a half-feet high Drone Delivery Station can accommodate packages up to 12"x12"x9" and has automated route planning and scheduling features. Plus, deliveries and pickups can easily be scheduled on Valqari's app (available for iOS and Android). This entirely automated process provides communication technology that authenticates and verifies every delivery while also eliminating any potential interference that may happen during the final stage of drone delivery.
This technology will debut in pilot tests later this year.
Delivery Robots in Korea
The service that allows delivery robots to come and go outdoor between restaurants and apartments to deliver food has become a reality for the first time in Korea. Woowa Brothers Corp. (CEO Bomjun Kim), the mother company that runs "Baedal Minjok" (hereinafter Baemin) stated on August 18 that the company has started a delivery service using self-driving outdoor delivery robot, "Dilly Drive," at "Gwanggyo Alley Way," a multipurpose housing complex in Gwanggyo, Suwon city.
It can run for more than eight hours, and it can deliver at night as well with its headlights. Dilly Drive can carry about six lunch boxes or 12 cups of beverages per delivery.
The outdoor delivery robot service newly introduced to Gwanggyo Alley Way can be used by anyone, including residents and visitors. 1,100 residents of apartments and studio flats in Gwanggyo Alley Way can choose the menu and make orders from the restaurants and cafes within the apartment complex by just opening their Baemin applications and scanning QR codes in their houses. Orders can also be made at the plaza within the complex, using QR codes placed on outdoor tables.
Joseph Kim, Head of Robot Business Development at Woowa Brother said, "Outdoor delivery robot service includes a lot more obstacles that interrupt the robot's drive, such as the road surface, obstacles, the weather, unexpected events, and so on. It can be commercialized when sophisticated technology and service know-hows come together." He also added that "Woowa Brothers will continue the development of delivery robot service for advanced delivery ecosystem."
How to Build a Successful Restaurant Website
Rewards Network has launched a new guide, How to Build a Successful Restaurant Website, as it's important now more than ever for restaurants to have effective websites that give customers all of the information they need to make a dining decision.
The guide breaks down each step below into further detail for restaurants to bring their website to life.
Getting Started: The first step in building a website is to nail down some of the basics such as you domain name, hosting provider, and web development platform
Mapping Out User the Experience: This is planning out how a visitor to your site will be able to navigate through your different webpages, sections, buttons, forms, etc.
Bring Your Website to Life: Now it's time for copy and design to work together to provide a visually enticing and emotionally compelling experience for the user.
Planning For Success and Tracking It: After your website design and structure are in place, the next step is to set your business up on Google My Business and Google Places to ensure you show up at a favorable spot in search rankings.
Establish a Maintenance Plan: It's a good idea to set aside time each week to perform upkeep on your website, including updating plugins, ensuring all images/content are rendering correctly across desktop and mobile, and adding/removing pages.
OhWaiter Debuts
OhWaiter launched its text messaging platform, offering contactless and efficient communication between guests and service-based businesses. Currently, in dozens of restaurants on the West Coast, the service is available nationwide and priced at $149 per month per property.
"We created OhWaiter because we not only saw a service need for busy restaurants but during COVID19, it's especially important for restaurants to offer exceptional service while maintaining physical distancing and contactless customer service," says founder and LA-based restaurateur, Jonathan Chu.
OhWaiter enables businesses to provide full-service to guests via text message (SMS) alerts without downloading an app. Guests can use their phone via QR code to text their dining requests to the number assigned to the business and place an order, make a request, and pay. While originally created for restaurants, OhWaiter has expanded its capabilities to include hotels, stadiums, bars, just to name a few.

OhWaiter customers are provided with up to two tablets per location. When a guest makes a text-messaging request, that message is sent to the provided tablet and any team member is capable of fulfilling the request. This enables both the restaurant staff and their guests to communicate seamlessly and prevent delays.
Guests can connect with OhWaiter customers with their mobile device, by texting the OhWaiter provided number. Customers are immediately alerted via the provided tablet whenever a request is received.
Krispy Kreme in Times Square
Krispy Kreme'sTimes Square Flagship Shop will open Tuesday, Sept. 15. The one-of-a-kind, 4,500‑square-foot shop offers a deliciously immersive and interactive doughnut experience, including:
The world's largest Hot Light
An iconic doughnut-making theater
The largest and iconic Glazed Waterfall for spectators to watch doughnuts run through
Stadium‑style seating inside a giant Krispy Kreme dozens box
A 24-hour street-side pickup window where people can get doughnuts as they walk by
Merchandise specific to New York City and Times Square to commemorate the experience
A special edition and commemorative "Big Apple" Doughnut exclusively at the Times Square Shop
The opening of the flagship at 1601 Broadway (at West 48th Street), will serve more guests annually than any other Krispy Kremelocation in the world, had been scheduled for May but was pushed back due to the pandemic.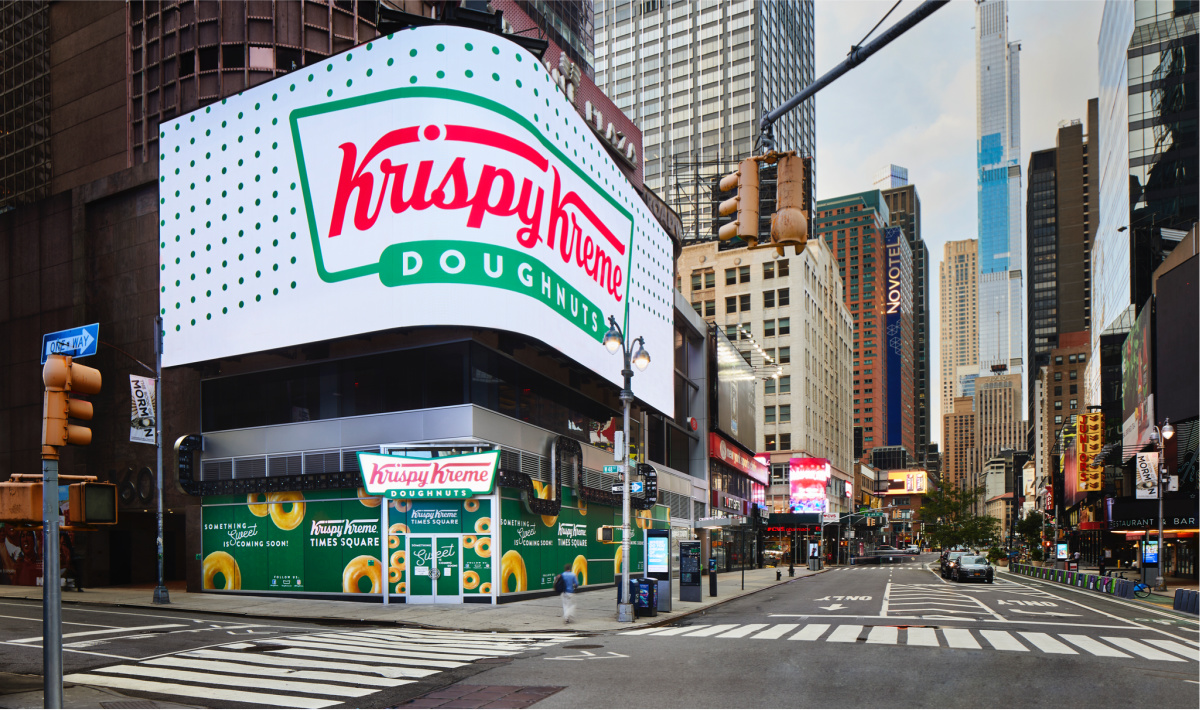 "We're filled with joy to share the sweet news that Krispy Kreme is opening in Times Square," said Michael Tattersfield, CEO of Krispy Kreme Doughnut Corporation. "We said earlier this year that when New York City and Times Square are ready, we'll be ready. We can't wait to bring a new bright Hot Light to Broadway beginning Sept. 15."
Safety of guests and team members being the top priority, Krispy Kreme will implement a plan designed to keep everyone safe by controlling crowds, including remote queueing and providing guests the ability to reserve a time to visit the shop online. Krispy Kreme will provide more details on this closer to the grand opening. The shop also has a "grab-and-go" counter and window for curbside ordering and pick-up.
Inside the shop, Krispy Kreme will adhere to COVID-19 regulations and guidelines provided by the city and CDC, including employee health screenings at the beginning of shifts, washing hands regularly, wearing face masks, social distancing floor stickers, protective barriers at ordering points, and additional disinfecting throughout the shop. For added convenience, people can order doughnuts ahead of time for pick-up at the Times Square location by visiting our website or via mobile app.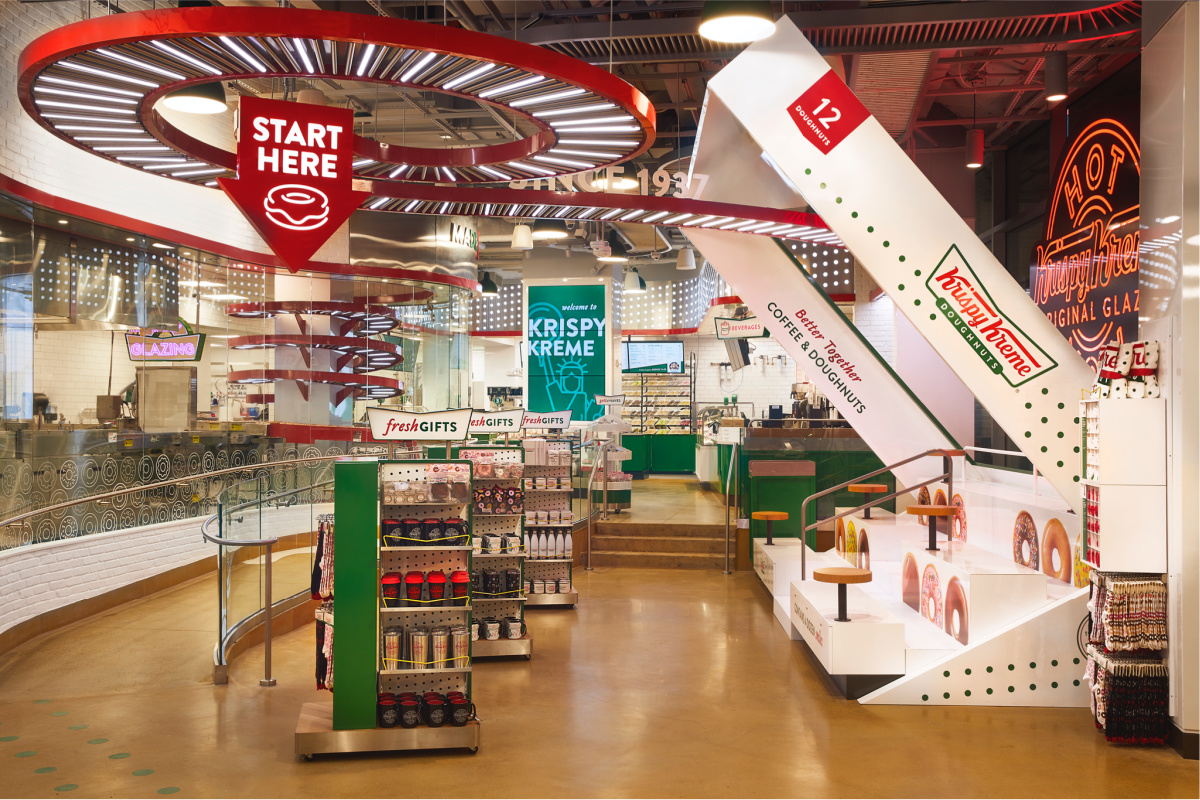 The Times Square shop is part of Krispy Kreme's 2020 expansion in New York City, which by the end of the year will total eight shops from uptown to downtown, including the brand's remodeled Penn Station location. Krispy Kreme will hire more than 400 new team members in New York City so far this year.
"We all need a little joy right now and with that we welcome the Krispy Kreme flagship location to the heart of this great city​. We're thrilled for New Yorkers and visitors to enjoy the one-of-a-kind treats and the famous Hot Light experience. This iconic brand will make Times Square sweeter and we can't wait to take a bite," said Tim Tompkins, President of the Times Square Alliance.
GIG Enhances Branding
The Gluten Intolerance Group (GIG), an industry leader in the certification of gluten-free products and food services, is enhancing the branding of its Gluten-Free Food Service (GFFS). GFFS, which audits and validates restaurants and food businesses that serve gluten-free food, is launching a newly designed logo and signage that designates establishments as "Validated Gluten Free Safe Spots." The new and easily identifiable Safe Spots logo and signage, which establishments can display at locations, on menus and on their websites, is designed to give gluten-free consumers a simple way to ensure they will receive gluten-free food that meets the nonprofit GFFS's rigorous standards and expectations for safety. Additionally, GFFS has launched a new website that features a locator map to help gluten-free consumers conveniently search for validated Safe Spots.
Since the program was established in 2009, GFFS has always held its food service establishments to the highest standards and now, with this new rebranded look, consumers will better recognize the locations that have been validated as Gluten Free Safe Spots. GFFS validates participating establishments, from restaurants to college dining, senior living and more, by visiting locations in-person to ensure they follow best practices for gluten-free food safety and ensure high-quality staff training. In a 2017 study by GIG, 80 percent of gluten-free consumers said they feel safer eating in an establishment that is validated by GFFS and 95 percent of them are more likely to try a new restaurant that has gone through the GFFS process.
"GFFS is excited to continue its dedication to the gluten-free community by providing clear designation of Validated Gluten-Free Safe Spots," said Lindsey Yeakle, GFFS Program Manager. "Safe Spots give gluten-free consumers the confidence and peace of mind they are making smart dining decisions. Additionally, through being a Safe Spot, our validated clients build trust with these consumers, helping their business reach more customers. They've earned this designation through their hard work and commitment to safety."
GFFS validated restaurants include chains such as California Pizza Kitchen, The Melting Pot and Bolay, along with several independent restaurants. GFFS also validates food trucks, university dining halls, hospitals and senior living facilities. At-home meal kit services Freshly and Green Chef are also currently validated. Validated Gluten Free Safe Spots can all be found on this locator map.
MomandPopRestaurants.com
Realizing that increasing customer loyalty is key to helping independent eateries survive, Virtual Restaurant Consulting created a free online resource for diners and restaurateurs alike — MomandPopRestaurants.com. The website serves as a single location to search for, and order from, locally owned and operated restaurants.
Designed as a completely free service with a unique social format, the site's features allow local diners to "meet" the restaurant owners through shared stories—serving up a more personal search experience.
The site allows restaurant owners to direct diners to the ordering platform of their choice, and does not impose any additional fees or commissions on the restaurant beyond those charged by the ordering platform.
Besides the social feature, a unique benefit of the site is the review system that accounts for negative reviews but does not 'weaponize' them against the restaurants.
Paul Kalms, senior partner at VRC, explains: "The only reason to leave a great review is if you enjoyed a great meal; but our analysis of thousands of 1-star reviews indicates negative (and frequently angry) reviews often reflect issues other than the quality of the dining experience…including the obvious bad mood and bias of the reviewer."
MomandPopRestaurants.com provides unique badges for four- and fie-star reviews and a review ranking that compares all restaurants across the platform and awards badges accordingly. The result, according to Kalms, is a "review system that incorporates poor reviews in the overall ranking without unfairly punishing restaurant owners for the occasional bad customer experience."
MomandPopRestaurants.com is currently in the pre-launch phase and will become publicly available once it is populated with restaurants across the nation.
For information, visit: https://momandpoprestaurants.com/about-us.html