Virtual Cocktail Studio
5:30 pm to 6:30 pm Virtual
Rémy Cointreau USA and Drizly are teaming up to unveil the new virtual Cocktail Studio – a complimentary one-stop destination for cocktail enthusiasts to discover, learn and experiment with at-home mixology. As the art of at-home cocktail making continues to flourish more than ever before, Drizly and three premier spirits from the Rémy Cointreau portfolio – Cointreau, The Botanist Islay Dry Gin and Mount Gay Rum – are enlisting industry experts to further educate and inform all cocktail makers, from beginners to connoisseurs, on the basics of at-home cocktail making.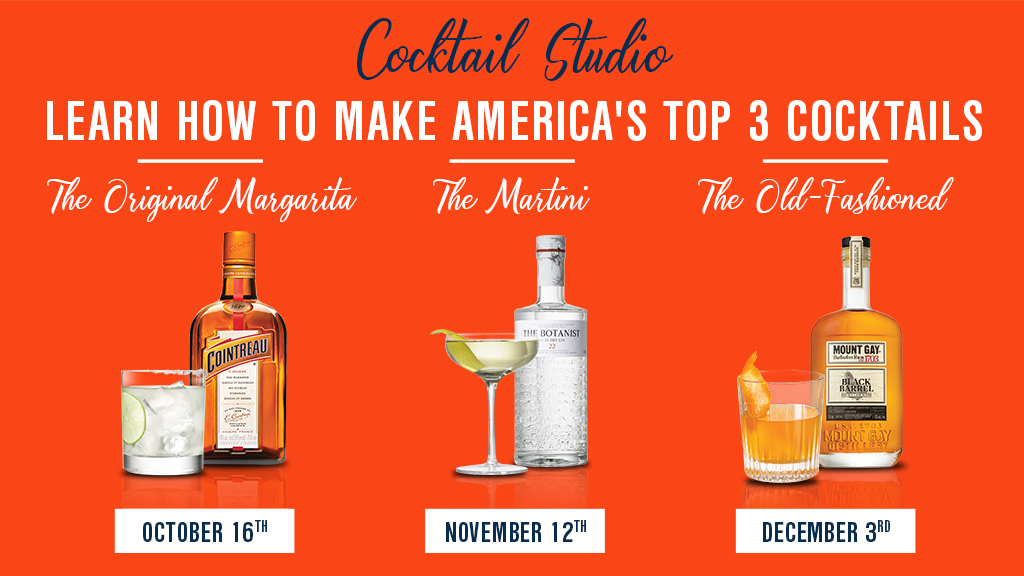 Starting this month, cocktail enthusiasts can learn to craft America's top three cocktails – The Original Margarita, The Martini and The Old Fashioned – from world renowned mixologists and leading industry experts, just in time for the fall and holiday season. Each Virtual Cocktail Studio session will take participants behind the bar with an expert in the space, from master blenders to head distillers and provide an in-depth look at one of these leading classic cocktails. During each session participants will learn all about the core essential ingredients found in each of these classic cocktails – from Cointreau and The Botanist Islay Dry Gin to Mount Gay Rum – while following a step-by-step tutorial on how to mix up the classics, along with a few twists on the recipes. Each session is slated to be 45 minutes to one hour.
Rémy Cointreau USA x Drizly Virtual Cocktail Studio Sessions:
Friday, October 16 at 5:30 p.m. ET – The Original Margarita

Hosted by Alfred Cointreau, sixth generation of the Cointreau family, and Lynnette Marrero, Co-Founder of Speed Rack, Bar Director, and Mixologist on Masterclass

Thursday, November 12 at 5:30 p.m. ET – The Martini

Hosted by Adam Hannett, The Botanist Islay Dry Gin and Bruichladdich Head Distiller, and Liana Oster, Dante, #1 World's Best Bar 2019

Thursday, December 3 at 5:30 p.m. ET – The Rum Old Fashioned

Hosted by Trudiann Branker, Mount Gay Rum Master Blender, and Taylor Adorno, bartender at Dead Rabbit and Ghost Donkey, NYC, Imbibe's Cocktail Bar of the Year 2020
For more information and to attend a Virtual Cocktail Studio session visit, Drizly.com to sign up or join the livestream on the Drizly Facebook page on the designated Cocktail Studio day and time listed below. Ahead of each session, participants are able to purchase all necessary ingredients for each cocktail directly from Drizly.