Easter Eat-In, Potbelly Pantry and #ThePlateFund
20 Min Read By MRM Staff
This edition of MRM News Bites features the Independent Restaurant Coalition, Tripadvisor, Inspire Brands Foundation, WorkJam, EZ-Chow, US Foods, Potbelly Pantry, Just Salad, Zalat Pizza, Kentucky Fried Chicken, California Pizza Kitchen, Nando's and Street Factory Media.
Saving Restaurants: 'The Heartbeat of the Nation'
Noting that restaurants are the "heartbeat of the nation," Kwame Onwuachi was among the more than 3,500 chefs, restaurateurs and workers from across the country of the Independent Restaurant Coalition who called on Congress to take urgent new actions to ensure independent restaurants and the 11 million people they employ are able to survive the Coronavirus pandemic. In a letter sent to congressional leaders, the Coalition lays out a series of critical policy actions that Congress should take now to ensure the nearly 500,000 independent restaurants that contribute close to $1 trillion to our economy are able to not only reopen but stay open through the year as the economy slowly recovers and the nation gradually returns to normal rates of socialization.
"We have significant issues with the CARES Act treatment of independent restaurants as it currently stands. If these can be resolved to better reflect the realities of our industry's unique operating challenges, we will have a better chance of reopening, rebuilding, and ensuring our continued position as fundamental to the fabric of our rich and diverse communities across America," the letter states.
Among the Coalition's proposed changes to the CARES Act — the recently passed stimulus package aimed at supporting businesses impacted by the ongoing pandemic — are:
1. Fixing the Paycheck Protection Program by extending the maximum loan amount to three months after restaurants can legally reopen to full capacity, reinstating the $500 million gross revenue cap, and increasing the length of time restaurant owners have to repay their loans to 10 years from two years.
2. Launching a Restaurant Stabilization Fund that provides up to $100 billion in grants to independent restaurants that will give them the upfront capital they need to reopen.
3. Creating new tax rebates that incentivize employment so restaurants continue to employ full staff and pay rent when business is slow.
4. Ensuring business interruption insurance covers COVID-19. Right now, restaurants aren't receiving the benefits they deserve from insurance companies.
"It's simple: Without help, many of your favorite restaurants are not going to be there once this crisis is over," said Tom Colicchio, Chef & Owner of Crafted Hospitality and a founding member of the Independent Restaurant Coalition. "The longer restaurants remain closed, the larger the risk to the nearly $1 trillion economy they create through their supply chain of farmers, fisherman, linen services, and so many others. Over two million waiters and waitresses need a job when this crisis ends, and we need assurances from Congress that they will listen to the specific needs of independently-run restaurants during the next round of discussions. "
"Many of us quickly shut down our businesses and paid our employees' health benefits out of pocket because it was the socially responsible thing to do. But we need help," said Naomi Pomeroy, owner of the James-Beard Foundation Award-winning restaurant Beast in Portland, OR, and a founding member of the Independent Restaurant Coalition. "I was proud to directly employ a team of 30 people at Beast, and kept several others in business including local farms, wineries, and beverage distributors. Communities simply can't afford for our restaurants to fail. We are the lifeblood of our economy and our communities, and we need help. We are grateful to be able to pay our employees for eight weeks and just want to ensure they'll still have a job when our restaurants can reopen."
"The bar for someone trying to open a restaurant is now impossibly high, especially for minority owned businesses," said Onwuachi, James Beard 2019 Rising Star and a founding member of the Independent Restaurant Coalition. "People infected by coronavirus in the Bronx, for example, are three times more likely to die than those in Manhattan. These are the people that feed America. Even if our doors open tomorrow, business will be slow. We just lost several months of revenue, and will need to purchase new supplies, retrain a new staff, and pay any outstanding supplier bills and our rent. The CARES Act just isn't enough to ensure we're able to serve our communities and build our local economies. It's small steps on a large staircase."
The Independent Restaurant Coalition was formed by chefs and independent restaurant owners across the country who have built a grassroots movement to secure vital protections for the nation's more than 500,000 independent restaurants and the more than 11 million restaurant workers impacted by the coronavirus pandemic. The Coalition's leadership team includes José Andrés, Kevin Boehm, Sean Brock, Andrew Carmellini, Ashley Christensen, Tom Colicchio, Suzanne Goin, Will Guidara, Camilla Marcus, Mike Lata, Sam Kass, Nick Kokonas, Kwame Onwuachi, Patrick Phelan, Erika Polmar, Naomi Pomeroy, Marcus Samuelsson, Adam Saper, Steven Satterfield, Michael Shemtov, Nancy Silverton, Frank Stitt, Bobby Stuckey, Caroline Styne, and Andrew Zimmern.
Tripadvisor's Plan to Help Restaurants
Tripadvisor launched the first of several initiatives to provide immediate economic support to our local communities, enabling diners and travelers to assist in the long term recovery of travel and hospitality businesses impacted by the COVID-19 pandemic.
"Tripadvisor has always been a platform where humans help other humans by generously sharing their experiences (both good and bad) so that the next person, a complete stranger, can benefit. In a time of incredible uncertainty, the very vibrancy and diversity that inspires people to travel is at risk. The local businesses, and people who work at them, hold the keys to the culture we all desire to feel a part of — both as locals and travelers. That deep connection to a sense of place, even if only for a long weekend, is in the hands and hearts of so many people who need support right now. Small actions like buying a gift card, ordering take-out, or leaving a review can make a difference. And today, the world needs each other," said Lindsay Nelson, Chief Experience and Brand Officer at Tripadvisor.
There are five million hospitality businesses on Tripadvisor that need help. Gift card purchases, in particular, serve as much needed microloans to help operators pay their rent, continue to pay employees and fund benefits like healthcare, as well as fund other critical expenses. Tripadvisor is making it easier to purchase gift cards and identity restaurants that are still open for takeout and delivery.
Tripadvisor is also calling on members to write reviews and create guides that highlight favorite restaurants, bars and cafes. These small gestures of support make a meaningful business impact. The rank of a business on Tripadvisor is based on the quantity, quality and recency of reviews, with a recent Cornell Study finding that as the number of reviews increase, the ratings in these reviews tend to be more positive.
The Tripadvisor Foundation is committing $1 Million to support organizations serving the most vulnerable populations around the world in response to COVID-19. Initially, within the hospitality sector, the Foundation will contribute $1 (up to $150,000 USD) for each Tripadvisor review posted or shares of the #LoveYourLocal hashtag on public Twitter, Facebook or Instagram accounts. Proceeds will go to two organizations helping impacted restaurant and front line workers: World Central Kitchen and The Restaurant Workers' Community Foundation.
"With guidance from governments being updated frequently, there is a risk that customers won't be able to keep up with the right information about which businesses are open for delivery. That is why we're rolling out these features — for free — to make it easier for restaurant owners and operators to highlight the latest information about their business, the options they can still provide to their customers, and encourage gift card purchases," said Bertrand Jelensperger, Senior Vice President, Restaurants at TripAdvisor and CEO of TheFork. "If everyone who can afford it ordered one gift card or a meal for delivery, that income could make all the difference in helping the local restaurant they love pay its bills and its staff during this period."
Restaurants interested in learning more about how to feature gift card, take-out or delivery capabilities can visit https://www.tripadvisor.com/ForRestaurants/covid19 for more information.
As part of an initial donation, the Tripadvisor Foundation will contribute $1 (up to a total of $150,000 USD) each time a customer does one of the following actions and shares the #LoveYourLocal hashtag on public Twitter, Facebook or Instagram accounts, including posting:
An image of a gift card receipt from a restaurant you love anywhere in the world
A link to a Tripadvisor review of your favorite dining experience
Your favorite dish at your favorite local restaurant linking to a Tripadvisor business listing
A tribute to your favorite chef or culinary experience linking to a Tripadvisor business listing
A list of your local favorites using Tripadvisor's "Saves" feature by clicking on the heart icon on any Tripadvisor restaurant listing
These donations will be equally distributed between World Central Kitchen, a nonprofit organization that mobilizes urgently to provide meals in the wake of natural disasters and crises, and the Restaurant Workers' Community Foundation dedicated to making the restaurant industry more hospitable and providing support to those in the restaurant industry impacted by the COVID-19 crisis.
While the immediate needs are focused on supporting the restaurant industry, the partnership with these two organizations will evolve to support impacted small businesses across the tourism and hospitality sector.
#ThePlateFund Provides Relief
A coalition of Greater Seattle restaurants, foundations, organizations and individuals created #ThePlateFund, an initiative to provide emergency financial assistance to restaurant and food-service workers who have lost jobs and income due to business disruptions caused by the COVID-19 pandemic. The fund, created by the Schultz Family Foundation in partnership with #allinseattle, Seattle Foundation and UpTogether, launches with $4 million in seed funding and has a goal to reach as many in-need restaurant workers as possible in King County. Members of the community are encouraged to join the effort and help their neighbors in need by donating at www.theplatefund.com.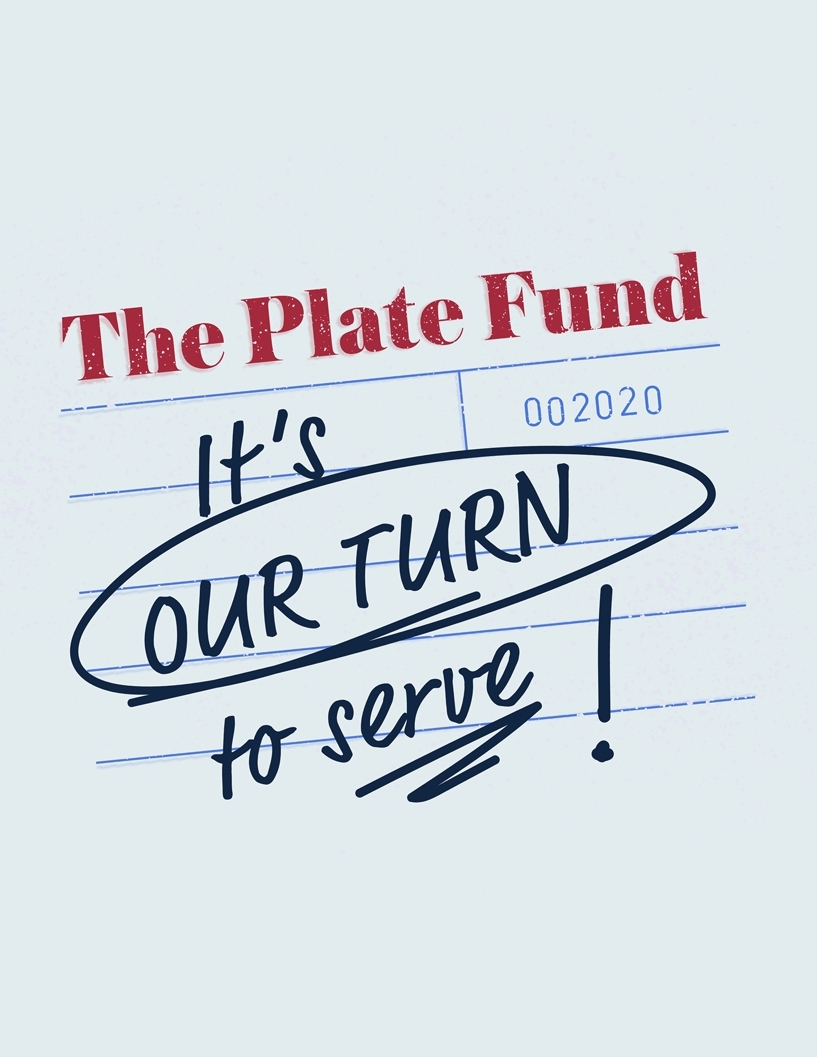 #ThePlateFund will provide immediate, one-time payments of $500 to restaurant workers hardest hit by the COVID-19 crisis, prioritizing the most vulnerable and in-need individuals in the restaurant community so they can quickly pay for essentials such as food, medicine, transportation, baby products and other expenses. Individuals may apply for assistance from #ThePlateFund via a mobile-enabled website, without having to leave their homes.
When COVID-19 hit the Seattle area, more than 100,000 people were employed at some 5,000 food establishments in King County. Most restaurants have been forced to close or reduce operations, laying off some or all of their employees.
A vast majority of line cooks, wait staff, dishwashers, bartenders and other restaurant and food-service industry employees rely on every paycheck, as well as tips, to support themselves and their families. Many have already depleted their savings and find themselves without money as they wait for federal stimulus payments and unemployment insurance benefits, which may not arrive for several weeks or months. The fund is also intended to assist restaurant workers who will not qualify for unemployment insurance or the federal stimulus payment because of immigration status or other issues.
While most restaurant owners are doing everything they can to help their people through the crisis, the situation is especially challenging for single-location establishments and smaller businesses.
Any restaurant or food-service worker that has experienced a reduction in hours or been laid off as a result of the COVID-19 crisis can apply for assistance from #ThePlateFund. To qualify, applicants are required to provide proof that they live in King County; confirm that they have experienced a reduction of hours or been laid off; and upload a recent pay stub via photo or other means, showing they have an annual gross pay of less than $62,000, inclusive of tips. #ThePlateFund will also provide electronic codes for restaurant owners to distribute directly to workers who are in the greatest need.
Workers who want to apply to receive payments can do so here.
Donors who want to contribute to the fund can do so here.
"We can help bridge the gap between the time workers received their last paychecks and the time they access government-provided payments and benefits. For some, this may be the only assistance they receive," said Sheri Schultz, President of the Schultz Family Foundation. "All of us have a responsibility to help those in need during this unprecedented crisis. With #ThePlateFund, we have an opportunity to serve those who contribute to the vibrancy of our community, and now need a lifeline. We are grateful that so many are coming forward to help."
Inspire Brands Foundation Offers Assistance
The Inspire Brands Foundation, the charitable arm of Inspire Brands, launched a one million dollar COVID-19 relief fund, dedicated to supporting childhood hunger and restaurant industry relief efforts.

"We're hopeful that with community support, we can grow this fund beyond our initial investment, allowing us to serve more impacted youth and restaurant workers through the summer months and beyond."
The initial disbursement from the fund is a $100,000 grant from the Arby's Foundation, a division of the Inspire Brands Foundation, to support GENYOUth, a non-profit organization dedicated to creating healthier school communities. These funds will support GENYOUth's newly established COVID-19 Emergency School Nutrition Fund and will provide up to 33 schools across the country grants of $3,000 each to purchase supplies for meal distribution and delivery.
"As a restaurant company, serving others is at the heart of who we are and how we operate," said Stuart Brown, executive director of the Inspire Brands Foundation. "We're hopeful that with community support, we can grow this fund beyond our initial investment, allowing us to serve more impacted youth and restaurant workers through the summer months and beyond."
To help support America's youth and restaurant industry workers through a charitable donation, please visit the Inspire Brands Foundation COVID-19 Relief Fund giving page.
WorkJam Secures Funding
WorkJam closed an oversubscribed $50 million USD Series C round led by Canadian venture capital firm Inovia Capital, with participation from Fonds de Solidarité FTQ and Claridge Inc. All existing investors also participated in the round including Lerer Hippeau, Blumberg Capital, Harmony Partners and WorkJam's management team.
The latest funding round will allow WorkJam to continue to innovate, expand geographically, seek acquisitions, and invest in its employees, the company said.
In addition to this new capital, Inovia Capital's Growth Fund brings the partners Dennis Kavelman and Patrick Pichette, former CFO's of BlackBerry and Google, respectively, as well as founder Chris Arsenault and the experience of Inovia's global team and network of advisors. Kavelman will be joining WorkJam's board of directors.
"WorkJam's ability to meet the needs of the modern frontline workforce strongly aligns with our thesis for the future of work," said Kavelman. "Not only are we impressed with WorkJam's established leadership position versus other vendors in the high-growth employee engagement platform market, we're impressed with WorkJam's customer base, which includes some of the world's largest companies and most iconic brands. We believe that given the current environment, it has never been more clear that every company with a frontline workforce will require a digital workplace platform like WorkJam's, now, and into the future."
Currently, there are over 1.5 million frontline employees using WorkJam's Digital Workplace Platform across 35 countries, operating in 28 languages.
"WorkJam's vision has always been to help a broad spectrum of businesses — from mid-sized companies to larger enterprises — improve the management and livelihood of their frontline workforces," said Steven Kramer, CEO and President of WorkJam. "We've always believed in the positive impact our technology has on non-desk workers and the business goals of the companies that employ them. Now, we can further accelerate the digital transformation of scheduling, training and communication processes at a time when there are profound changes taking place which impact non-desk workers and how businesses operate."
EZ-Chow Completes Funding Round
Online ordering software platform EZ-Chow completed its first round of seed funding, exceeding its goal of $1 million. EZ-Chow is a digital customer engagement platform for hospitality organizations looking to grow their off-premises dining revenue.
"We are excited about the opportunity EZ-Chow has to help small and medium-sized restaurant and hospitality organizations thrive in this era of technology. Closing this round means that we will be able to assist even more restaurants in launching their digital platforms while maintaining ownership of their customer data," said Mo Sloan, EZ-Chow founder, CEO and CTO.
The funding will give EZ-Chow the opportunity to add additional engineering and sales talent, improve software architecture and introduce additional products, with the mission of helping restaurants and hospitality organizations own their digital channel. One of the notable investors in this round is Render Capital, a new $15 million fund focused on
creating an environment where entrepreneurs in Louisville and Southern Indiana can build businesses and thrive. This is the first investment from Render Capital, which launched in February 2020.
US Foods' Helping Hand
US Foods Holding Corp. secured approximately 20 retail distribution partnerships across national grocery store chains, wholesale grocers and consumer packaged goods brands. To date, more than 700 US Foods distribution associates have been temporarily contracted to support this work. These associates are primarily in warehouse roles such as selectors who choose product for shipping and truck drivers who deliver product directly to a retailer's distribution center or retail location.
In addition to these new distribution partnerships, US Foods is selling much-needed product to retailers across the country as they strive to maintain inventory given unprecedented consumer demand.
"As our country responds to the impacts of COVID-19, the demand on grocery retailers continues to grow," said US Foods chairman and CEO Pietro Satriano. "Through these partnerships, we are creating new opportunities for our distribution workforce while helping to maintain the nation's food supply. We value these new relationships and expect to add more partners as the situation continues to evolve."
The company's also launched an Easter Eat-In campaign. It calls for diners across the country to support their favorite restaurant operator by ordering carryout or delivery as they plan modified in-home celebrations. Whether it's for the Easter holiday or simply a celebration, this campaign encourages all diners to enjoy their favorite restaurant dish at home on Sunday, April 12, while taking a moment to reflect on what they are grateful for as they support their local restaurant community.
"Traditionally, many families have enjoyed dining at their favorite brunch or lunch place as a part of their Easter celebration. Even with dining restrictions in place, we believe people can still make this a special day," said Diane Hund, senior vice president of marketing at US Foods. "We hope families use this as an opportunity to break up their shelter-in-place routine by putting on their Sunday best, setting the table and sitting down to enjoy their favorite Easter meal."
As part of the Easter Eat-In campaign, US Foods has launched new tools and resources on the company's website to help operators rethink their approach to Easter brunch needs in the carryout or delivery environment. Restaurants around the country are ready to provide the food, and some are even ready to provide tablecloths, Easter baskets and other things that will make this a special day.
Potbelly Pantry Debuts
Potbelly Sandwich Shop is launching Potbelly Pantry – which allows fans to stock up on their favorite Potbelly staples, like its famous hot peppers, fresh hand-sliced meats, cheeses, breads and even pre-portioned A Wreck® and Italian sandwich ingredients. Orders can be made at Potbelly.com or through the Potbelly app for curbside pickup or delivery.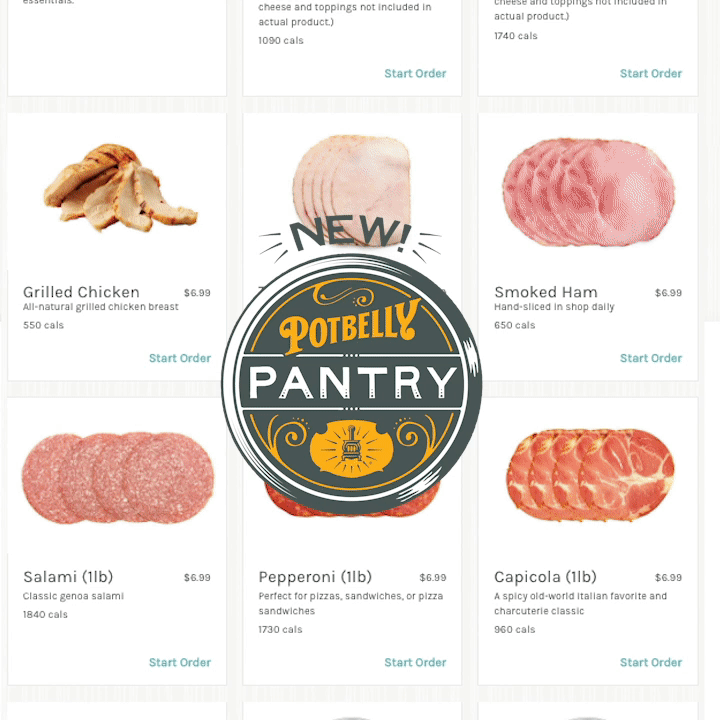 "Potbelly fans can make our famous Wreck or Italian sandwiches at home anytime they want – they just need our amazing, authentic ingredients," said Chef Ryan LaRoche, Executive Chef at Potbelly.
"Everyone needs to log off every now and then and take a break, even while working from home," said Brandon Rhoten, CMO of Potbelly. "Potbelly Pantry is an easy way to bring a touch of our relaxing shops and delicious sandwiches to your day."
Just Salad Delivers to Hospitals
Just Salad partnered with Richard A. Friedman, Co-Chair of the Boards of Trustees for Mount Sinai Health System, to deliver 10,000 meals a week to seven hospitals in New York City, serving Manhattan, Brooklyn and Queens during the COVID-19 pandemic.
"Taking care of our healthcare workers is incredibly important, so that they can in turn take care of their patients," stated Richard A. Friedman, Co-Chair of the Boards of Trustees for Mount Sinai Health System. "Medical supplies remain critical, but so is providing healthy, delicious meals that are delivered directly to them. When presented with this opportunity from Just Salad, we were able to move very quickly to ensure our medical teams have nutritious food in the weeks ahead."
"As a NYC-based company, we are honored to serve the healthcare workers taking care of New Yorkers at this extraordinarily challenging time," stated Nick Kenner, Founder and CEO of Just Salad. "I'm also gratified that this program will bring some of our team members back to work while providing nutritious and satisfying food to the heroes providing medical care at these seven hospitals. This is a proud moment for our company."
"Our hospital workers are truly the frontlines of this national crisis and fresh, healthy meals are so important for our team's health and morale," said David Reich, President of Mount Sinai Hospital. "We sincerely thank Just Salad for their partnership and generosity."
Zalat in the Clouds
Khanh Nguyen's pizza concept, Zalat, is growing to its seventh unit and will open at 4007 Lemmon Ave., Suite B, Dallas TX 75219 on Monday, April 13, top photo by Kathy Tran. This location will function as a cloud kitchen for the pizza brand, strictly serving take-out and delivery via third party delivery apps.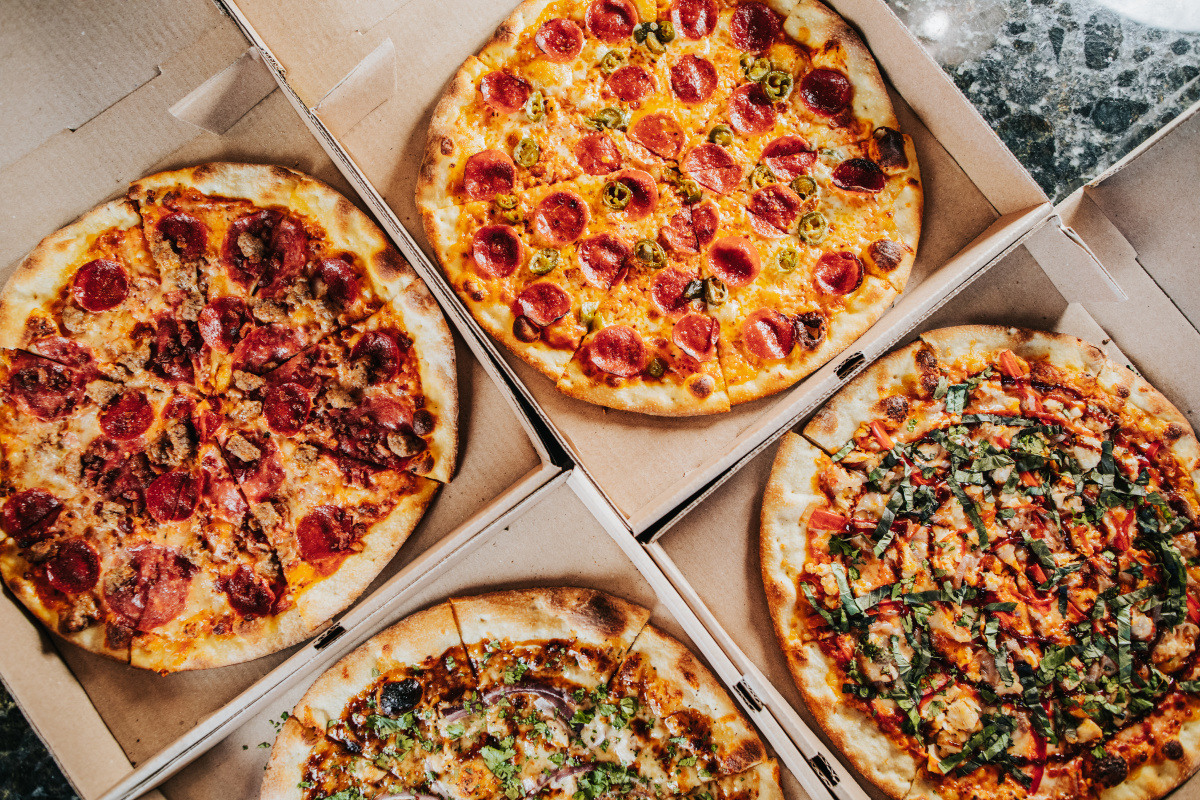 "The plan for the new Lemmon Ave. location was always to serve as a cloud kitchen, and the model couldn't be more appropriate given the current climate," said Nguyen, CEO and Founder of Zalat Pizza. "We've always had high delivery volumes to begin with, so we are adapting during this time to implement health standards and safety precautions for both staff and third party drivers alike."
He continues, "When we were building out the Lemon Avenue location, rather than pull up old tiling because we couldn't find the matching tile pattern, we opted to put in non-matching tile. Our mentality is that we are all about pizza, so who cares if the floor tiles don't match. We would rather focus our efforts on the quality of our pizza, ingredients and taking care of our staff."
The first Zalat Pizza opened on Fitzhugh Avenue in 2015 and the brand now has six locations in the DFW area. Nguyen pays more for cheese than he does in rent every month!
Zalat is known for elevating the common pepperoni pizza into a work of art along with many unique pizza combinations like The Zealot, Pho Shizzle, Elote, Loaded Notato, Chicken Teriyaki and more. An equally famous and crave-able must have item is their trademarked sauce, Sirancha– a combination of Sriracha and ranch dressing.
KFC Says Thanks a Million
Kentucky Fried Chicken® is sending one million pieces of chicken to KFC restaurants across the country, earmarked specifically to support local communities in need through donation during the COVID-19 pandemic. KFC and its franchisees operate more than 4,000 U.S. restaurants, serving Americans in all 50 states, and have continued feeding America through delivery, drive-thru and carryout during this unprecedented crisis.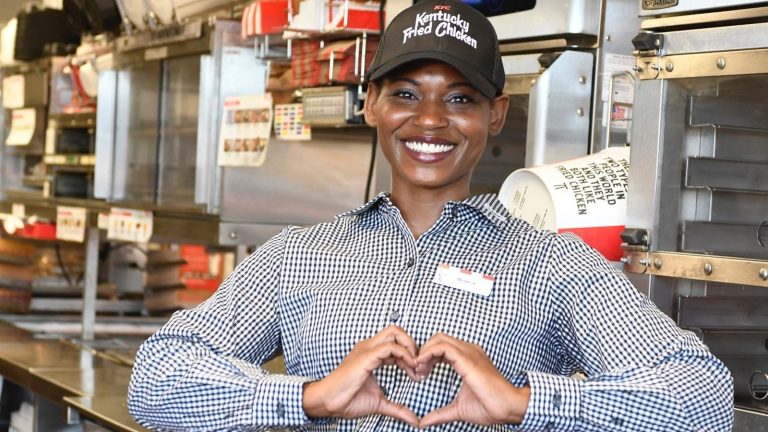 In recent weeks, many KFC franchisees, who live in and employ more than 80,000 team members in their local communities in America, are already showing up to support their local communities in a big way. From donating one thousand meals to frontline healthcare workers in southern Indiana (AJS, Inc., a 42-year KFC franchisee) to delivering KFC meals to essential workers (KBP Foods, KFC's largest franchisee), KFC restaurant teams across the country are setting an example of what it means to band together in a time when it's needed most.
KFC U.S. is supporting its nationwide workforce and providing the means to do even more in their communities by shipping every KFC in the U.S. additional chicken supply – at no cost – that's specifically purposed for good.
"Seeing our franchisees coming together and helping their neighbors during this crisis has inspired us to do more," said Kevin Hochman, president, KFC U.S. "Many KFC restaurants across the U.S. are small, family-owned businesses, and while they are facing uncertainty, they continue to keep their restaurants open every day to feed our customers. During this unprecedented time, our franchisees are also helping make sure those in need are able to enjoy the comfort and familiarity of a hot meal."
"During this crisis, we've experienced first-hand the power of our local communities and their heroes," said Thomas Broome, president of KFC franchise Scottish Food Systems, Inc., and a member of the KFC family for more than 25 years. "I'm incredibly proud of the work the KFC family is doing, and this effort will help us do even more."
KFC has also made the following commitments to support its people, communities and franchisees during the COVID-19 pandemic.
Continuing to keep America fed with drive-thru, carryout and free delivery: KFC is open and ready to feed your family via drive-thru, carryout or delivery, which is free through April 26. Our $20 Fill Up feeds a family of four, or if you want an abundance of food for today and tomorrow, a $30 Fill Up offer will be available starting April 1. Contactless delivery options are available, and we're using?tamper-evident seals?so that your food travels safely.
Industry-leading food safety practices and standards: We have increased the frequency of cleaning and sanitizing in our restaurants and are reinforcing our already strict sanitation, handwashing, and health and wellness policies. Also, more of our team members are wearing gloves for safety.
Prioritizing the wellbeing of our employees: As we announced on March 13, we are offering sick leave for all employees affected by COVID-19 at corporate-owned restaurant locations. This week, KFC parent company Yum! Brands announced the creation of the Yum! Brands Foundation Global Employee Medical Relief Fund, which will provide hardship grant opportunities for team members of all restaurants impacted by the coronavirus pandemic.
Supporting communities in need: Giving back is one of KFC's core values. KFC recently announced a $400,000 donation to Blessings in a Backpack to provide meals to children who may otherwise go hungry due to school closures. Additionally, KFC's Harvest program continues during this time of increased food insecurity, with participating restaurants donating unsold food to local food banks for those in need. Across the country, KFC franchisees have donated and delivered thousands of meals to staff at hospitals, COVID-19 testing sites, first responders and more in their local communities – and we're not done yet!
Providing relief to franchisees: KFC will grant franchisees a 60-day grace period on current royalties, giving peace of mind during growing concerns and unknowns tied to operational challenges during this time. KFC parent company Yum! Brands (including KFC, Pizza Hut and Taco Bell) has also deferred all 2020 capital obligations for remodels and new unit development through the end of this year. KFC U.S. and its franchise leadership are working to implement additional support for its franchisees, most of which are small, family-owned businesses.
CPK Market Debuts
California Pizza Kitchen (CPK) said CPK Market is available at the chain's restaurant locations nationwide.* This all-new offering will provide specialty meal kit solutions and individual pantry, fruit, vegetable, and meat items to guests in cities across the country.
"With food access currently top-of-mind for us all, we wanted to find new and creative at-home cooking solutions to ensure our guests and the communities in which we serve have as many high-quality fare options as possible," said Ashley Ceraolo, Senior Vice President of Marketing at CPK. "Given the entire country is dining differently and family mealtime is more important than ever, establishing a concept where guests could confidently purchase affordable produce, meat, and other essential pantry items was the best way we felt we could attend to immediate needs while still doing what we do best – serving our customers the most delicious food options available."
To help make mealtime easy and affordable, CPK Market will feature six fun, fast, and family-friendly specialty meal kits complete with recipe cards for guests to make and enjoy together at home. Comprised of a few CPK classics as well as tried-and-true kitchen staples boxed-up and ready to make whenever is most convenient, these kits include:
Chef's Board: featuring a Baguette, Two Cured Meats, Two Premium Cheeses, Dried Fruit, and Mixed Nuts; $25.
Raw Fruit & Veggie Box: featuring various quantities of Apples, Broccolini, Carrots, Cauliflower, Cucumbers, Fingerling Potatoes, Grapes, Onion, Oranges, Pineapple, and Tomatoes; $34 for 20 lbs.
Lettuce Wrap Kit: featuring Lettuce Cups, Asian-Inspired Lettuce Wrap Sauce, Green Onions, Shiitake Mushrooms, Water Chestnuts, and Chicken; $12 for four servings.
Taco Kit: featuring Cilantro, Limes, Roma Tomatoes, Serrano Peppers, Yellow Onion, Vegetarian Black Beans, Shredded Cheese, Tortillas, and a choice of Flap Steak, Mahi, or Chicken; $15 – $24 depending on meat selection for four servings.
Kids Build-Your-Own Cheese Pizza: featuring Par-Baked Dough, Pizza Sauce, and Shredded Mozzarella Cheese; $5 each.
Kids Build-Your-Own Pepperoni Pizza: featuring Par-Baked Dough, Pizza Sauce, Shredded Mozzarella Cheese, and Pepperoni; $5 each.
For those looking for more traditional pantry needs, CPK Market will also feature 35-plus individual food and beverage choices, including beer and wine, if allowed.
"Each and every item from CPK Market shares the same quality ingredients as our legendary California-inspired menu and is still carefully prepared by our expertly-trained chefs before being personally collected and bagged by a CPK team member for all of our guests – a quick, convenient, and affordable way to obtain your meal-prep and pantry must-haves in a crowd-free environment with much less contact than one would experience at a grocery store," Ceraolo continues.
To shop CPK Market, guests can log onto www.cpk.com/market to place an online order or visit their local CPK to receive and fill out a pantry checklist.
Nando's Helps Out Hospitals
In just 10 days, Nando's PERi-PERi has provided 15,847 free meals to stressed-out hospital workers and laid-off restaurant workers in the US. On Friday in DC, for example, Nando's donated 600 free meals of flame-grilled chicken and sides to Howard University Hospital, to thank Howard's nurses and ER doctors for taking care of patients during the Coronavirus crisis.
"We want the communities we serve to know that Nando's is here for you during this crisis," said John Fisher, Nando's North American CEO. "We feel especially honored to feed hospital workers, who are truly on the front lines during this pandemic. At Nando's, we will Stand Together, 6 Feet Apart. We don't just serve chicken. We serve the community. We're all in this together," Fisher said.
On March 26, Nando's launched the largest community service program in company history. Nando's is:
Providing free Nando's takeout to any nurse, doctor or healthcare worker who shows up at a Nando's in uniform or with valid healthcare ID, or calls to place a to-go order and presents ID at collection
Bringing hot catered meals, for free, to hospitals near every Nando's in North America, to provide comfort and sustenance to the nurses, doctors and hospitals workers struggling to keep us all safe and alive
Donating up to 50 free meals per day per restaurant for laid-off members of the restaurant industry. They can walk in and take away Nando's with pride
Nando's is open for takeout and delivery in Chicago, Washington, Maryland and Virginia–with safety. The company allows a maximum of 10 workers and customers per restaurant at any given time, and constantly enforces elevated hygiene. All Nando's employees frequently wash hands, clean surfaces, and stay home when feeling ill. Nando's will continue to do health checks at the beginning and end of each shift, and leave to-go orders at the front of its stores.

Creating a Safer Environment
Experiential marketing agency Street Factory Media (SFM) has put its seasoned builders to work on a way to make local restaurants safer, while still staying open for business.
"Our friends at Muddy Waters Bar & Eatery in Minneapolis wanted a better way to ensure social distancing between staff and customers while serving pick-up and delivery orders," said Matt Kelly, co-founder, Street Factory Media. "We realized a lot of places without a drive-through might have similar issues, and we knew we could put our problem-solving minds to work quickly. The solution, because we didn't have time to think of something funnier, is what we call the "Safe Serve Door System."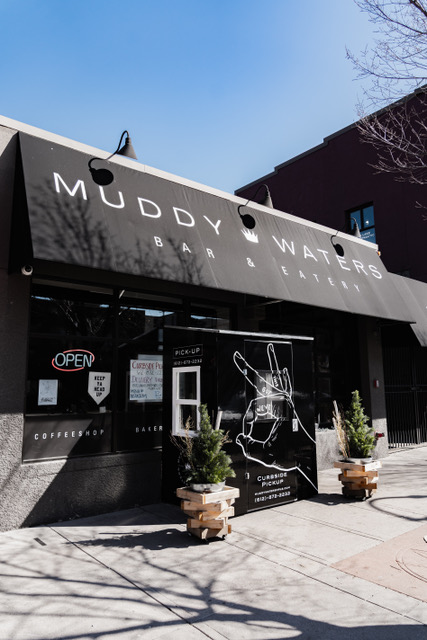 "Our Safe Serve Door System is a game changer for an industry seeing what is likely its biggest crisis ever," adds Kelly. "And it quickly and easily converts any restaurant or retailer into a walk-up takeout window." Street Factory Media designed the kiosk with Muddy Waters co-owner Sarah Schrank and her husband, musician and rapper Andrew Sims, to keep staff and customers safe by limiting foot traffic to outside the restaurant, and making transactions contact-free. In addition, each door system is designed to be modular, so when 'normal' life resumes it can be repurposed as a sampling station at future events.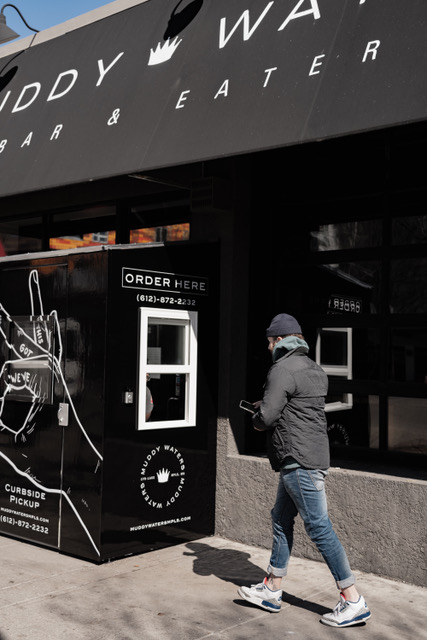 "There's also opportunity for other industries to support Safe Serve Door Systems," adds Kelly. "We are already in conversation with brands to sponsor these for restaurant partners and use them as advertising vehicles. Local shops like liquor and convenience stores, or other essential businesses that are remaining open, can also implement this system for the same purpose."