Drive-Thru Is Down; Gen Z Is a Big Factor
2 Min Read By Jana Zschieschang
Talk about a dichotomy. At nearly $100 billion, Generation Z has enormous spending power — and yet, among all generations, they are reacting with the most intention to rising costs borne from inflation.
At Revenue Management Solutions, we see evidence of this shift across multiple channels and frequencies. Our analysts examined how dining habits differ across Gen Zers, millennials, Gen Xers and baby boomers in our consumer study. Among the more than 800 US diners surveyed, responses revealed that while older generations have not strayed from habits developed during the pandemic, the youngest generation feels the pinch.
Gen Z's penny-pinching is most dramatic in the drive-thru, the pandemic darling of off-premise dining. With gas prices over $4 a gallon, a drop in drive-thru traffic is not surprising, and our historical data shows a positive correlation.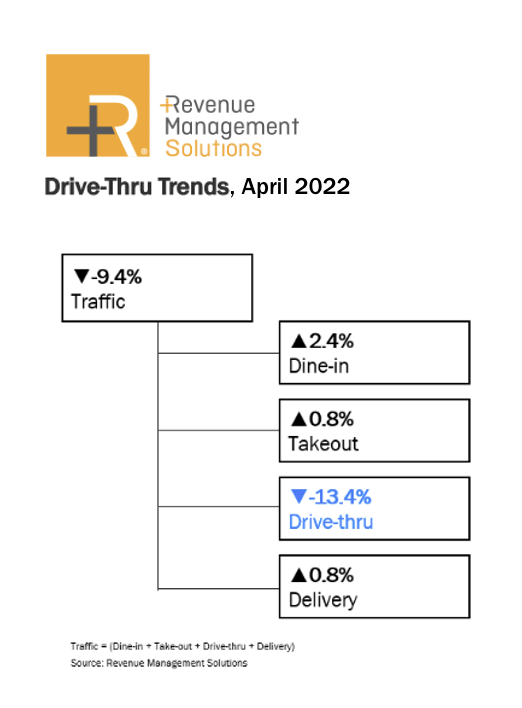 But the drop in Gen Z's frequency is notable. In Q4 of last year, 91 percent of those under 25 reported at least one weekly drive-thru visit. However, when asked in Q1 2022, just 81 percent had made a weekly stop. For all non-Gen Z diners, weekly visits to the drive-thru dropped, but at most by 5 percent.
Is this a temporary blip? Based on survey answers, all signs point to no. When asked in March 2022 whether they anticipated ordering from drive-thru restaurants "more" or "much more" going forward, Gen Z respondents had the most significant drop, moving from 34 percent at the end of 2021 to 12 percent in March 2022. Millennials' intent dropped from 29 percent to 22 percent; boomers and Gen X are staying steady, though fewer than 20 percent will increase their drive-thru visits.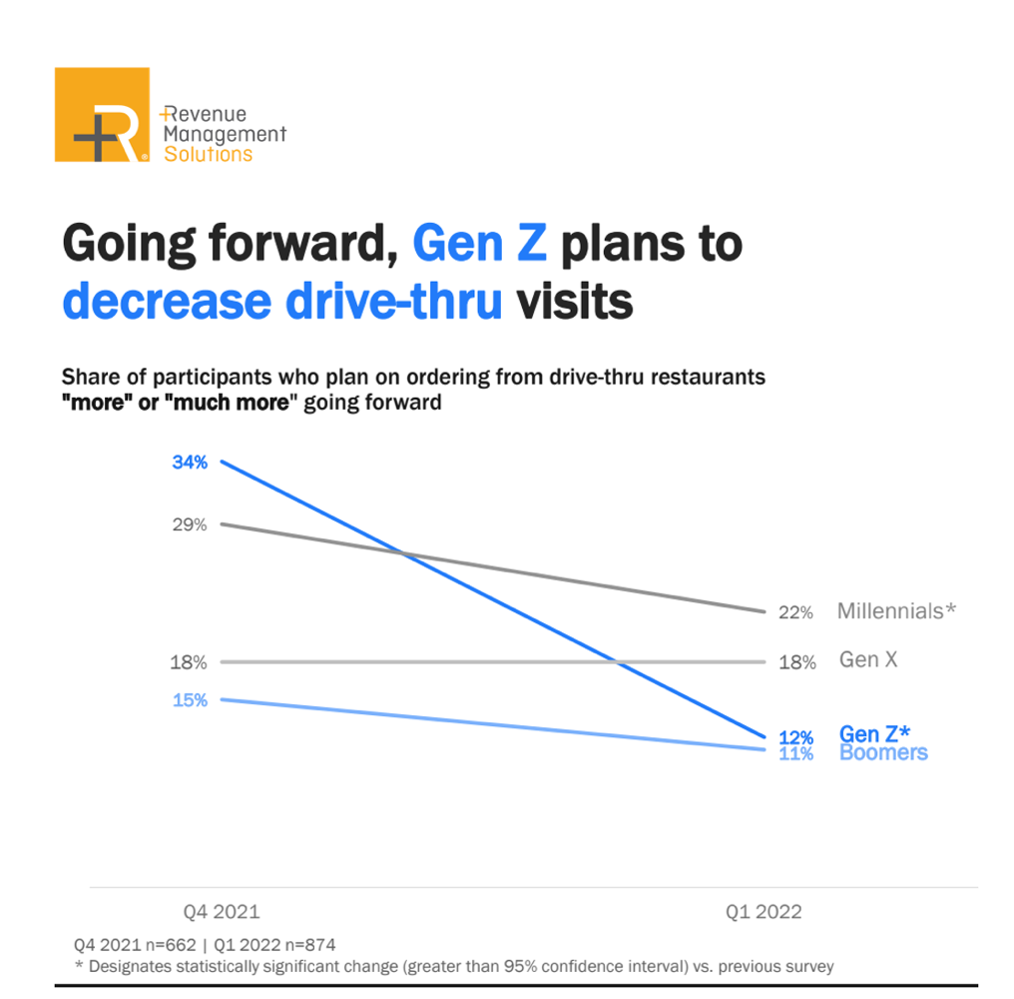 The drive-thru is not the only place where Zers are curbing spending. Weekly delivery orders declined, and QSRs also saw much less of Gen Z in the past quarter, with visits dropping by more than half. Gen Z respondents reported a decrease in full-service visits, too, from 33 percent in Q4 2021 to 15 percent in Q1 2022. Their generational opposites, the boomers, are also less likely to dine out, a decrease of 11 percent over the past quarter.
If there's any sunny spot for restaurants when it comes to Gen Z, it lies in the special occasion. While Gen Z is cutting back on off-premise and quick-service visits, they are more likely to celebrate special occasions at restaurants. On the other hand, nearly 50 percent of millennials and family households reported entertaining more at home than a year ago, and almost two in three millennials generally cook more at home.
Households with children also offer encouraging data. RMS found that with deeper pockets and a greater need for convenience, family households maintained a consistent delivery frequency. On the other hand, households with no children cut their food delivery orders by six percent over the past three months.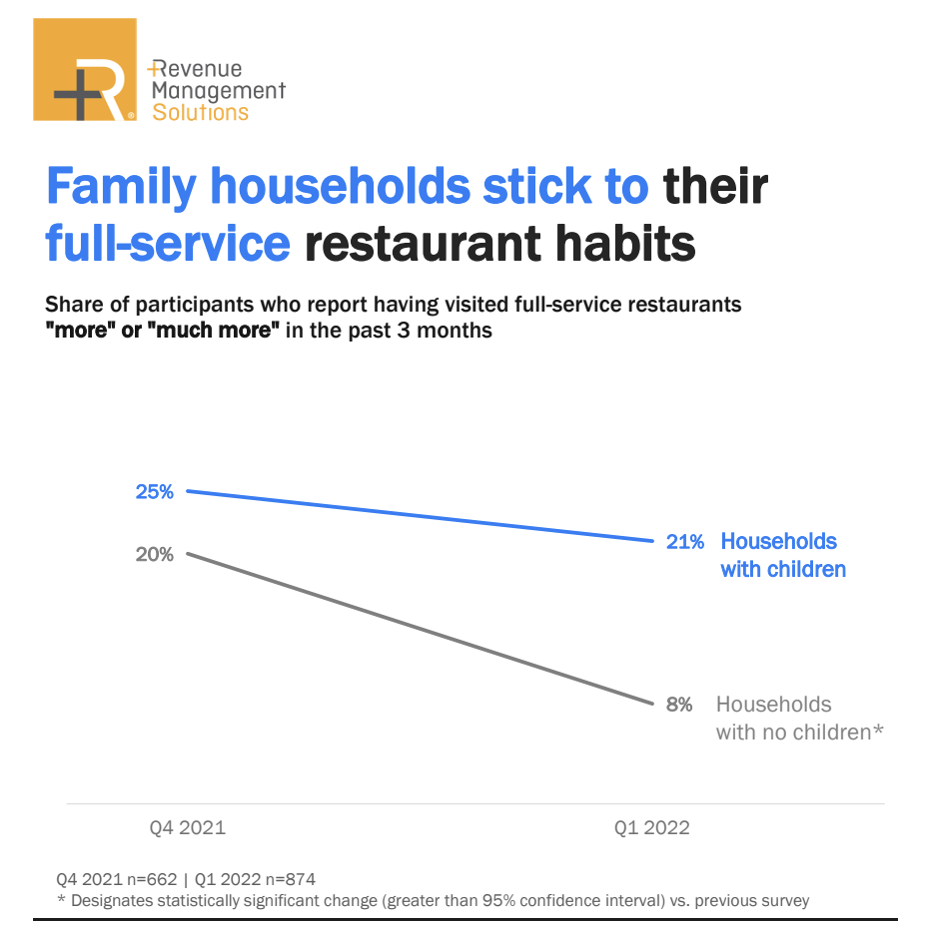 RMS' viewpoint is that boomers are not dine-out-averse. They are simply budget conscious and managing their spend by giving up items or choosing less expensive menu items. The takeaway for Gen Z is more straightforward: the adverse impacts of high inflation are taking a toll, and it shows in their purchasing decisions and restaurants' sales.
Ultimately, generations are dealing with inflation differently. Restaurants must respond to each with offerings based on who they are and what's important to them.