Drink Special Ideas for New Year's Eve
4 Min Read By Megan Prevost
It's December, which means a new year is just around the corner! People have already started making lists of possible locations to ring it in, and your restaurant, bar, or party needs to be the place to be. There are oodles of ideas to draw in the masses to your locale of choice, but the one detail not to skip is the booze!  Alcohol is an integral piece of a successful New Year's Eve. Having some choice specials on hand is an excellent way to stand out from the crowd.
Let's start out with what gets the crowd going for New Year's: Champagne! This has been the alcohol of choice for celebrations since aristocratic Europeans poured bubbly at their royal parties back in the 16th century, so this is an excellent way to make your guests feel like royalty themselves.
1. Kir Royale
½ oz Crème de Cassis

Champagne, chilled
Let's start with a traditional piece: the Kir Royale! With two ingredients, it's an easy way to add drama to a simple glass of Champagne. The blackcurrant of the liqueur brings a tart sweetness to the bold bite of the Champagne. To make this perfect, just add the Crème de Cassis to the flute and fill it with Champagne. You can substitute it with dry, sparkling wine or add a couple of fresh raspberries to change it up. Get ready to cheers with this classic twist.
2. Cranberry Champagne Cocktail
1 oz Cranberry Juice (sweetened)

1 lime wedge

Champagne or sparkling wine

Rosemary, cranberries, and mint for garnish
Let's get a little fancier with this vibrant cocktail. Add cranberry juice and a squeeze of lime to a chilled Champagne flute and fill it with Champagne. Sprinkle in a couple of frozen cranberries, mint, and a bit of rosemary for an attractive garnish. Now, the fun about this concoction is its versatility! Make yourself a mocktail by substituting a non-alcoholic sparkling cider so everyone can have a taste. Or you can make it jolly by adding orange liqueur to make a Poinsettia.
3. Blood Orange Champagne Mule
1 oz or ½ medium-sized blood orange juice

½ oz lime juice

1 oz vodka

7-8 mint leaves

2 oz chilled ginger beer

Champagne for topping
We'll get into the sweet tooth later; this mule is sure to satisfy a different need. Just mix vodka, blood orange juice, and lime juice in a glass topped with ginger beer, followed by Champagne. Don't forget to garnish with a slice of orange and fresh mint! The ginger provides warmth while maintaining that refreshing kick of citrus and mint. Cheers to the night!
4. Sparkling Champagne Sangria
1 orange sliced thinly

½ lemon sliced thinly

1 cup blueberries

1 cup raspberries

10 large strawberries cut

1 750 oz bottle of sweet white wine

1 750 oz bottle of Champagne
For this one, think of large-batch punch bowl vibes. This easy-to-make sangria is sure to be a fruity hit to add to your menu. Combine fruit and wine in a large pitcher or bowl and allow to sit in the refrigerator until it tingles your tastebuds (think 3 to 24 hours). Before serving, drop in that champagne as a finisher! 
We agree that your menu needs Champagne but don't discount the multitude of alcoholic goodies that could spice up an NYE menu.
5. Winter White Cosmo
1 ½ oz vodka

¾ oz Cointreau

1 tbsp elderflower liqueur

½ os fresh lime juice

½ oz simple syrup

1 ½ oz white cranberry juice
Drinking Champagne would make anyone feel rich, but a cosmopolitan is another choice drink for all those chasing those fancy feelings. Shake all the ingredients over ice in a cocktail tin before straining it into a chilled martini glass. You can always enhance the festive appeal by rimming the glass with sugar or garnishing it with rosemary or cranberries. This is a recipe that will have your party-goers keeping their tab open long after the ball drops.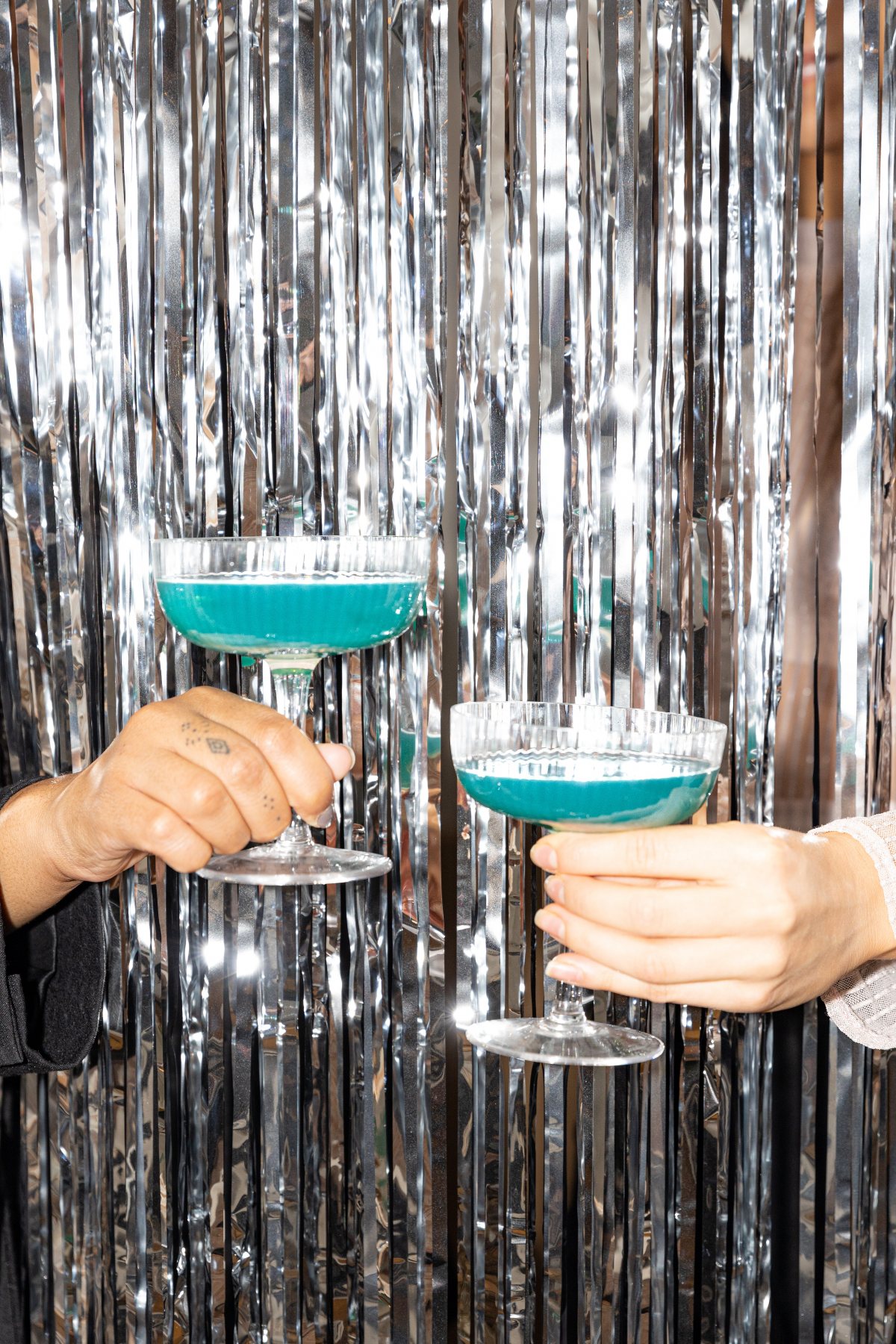 6. S'mores Martini
Crushed graham crackers and melted chocolate to rim the glass

2 oz vodka

¾ oz chocolate liquor

¾ oz Bailey's

1 oz half and half

Toasted marshmallow for garnish
Before our new year's resolutions cut us away from what we crave, entice your patrons with this scrumptious chocolate treat. Rim a martini glass with melted chocolate and crushed graham crackers. Shake liquids and ice in a shaker tin and strain into your guest's glass to watch their sweet tooth peek out of a grin. Garnish with a toasted marshmallow to really bring out that winter feeling. 
7. Chestnuts Roasting on an Open-Fire Cocktail
6 oz eggnog

2 oz brandy

1 oz Torani Marron syrup

1 oz high-proof grain alcohol
The holiday season is closing, so capitalize on this spiked eggnog. And yes, like its name says… you light this baby on fire before drinking. Those thirsty for picture-perfect posts with a cozy taste will surely love this concoction. Mix eggnog, brandy, and syrup together in a rocks glass and stir. Add the high proof by slowly pouring over the back of a bar spoon against the edge of the glass. Take a long lighter and enjoy the burn.
8. Toasted Almond
1 oz vodka

1 oz amaretto

½ oz coffee liqueur

1 ½ oz heavy cream
Though this could be a drink for any season, something creamy and nutty with a tinge of coffee is perfect for New Year's. The sweetness of amaretto accentuated with a punch of vodka is sure to keep your customers happy. For this velvety mix, add ingredients and ice to a cocktail shaker, shake until cold, and strain into a lowball glass. For any guest who loves a White Russian with a twist, try out this balanced dessert cocktail.
9. Mediterranean Cheer Punch
2 oz Canadian Club

4 oz ginger beer

4 oz cranberry juice

½ oz thirster lemon

Dried cranberries

Rosemary Sprig
Not every New Year's is celebrated in the dead of a cold night so bring a hint of all those celebrating in warmer coordinates to your party! This drink will give you a coastal and cool taste to remind you that after the new year, you'll get those warm spring days again. Start by rolling these liquids in a shaker tin. Strain over ice into a highball glass, garnish, and—voila!—you have yourself some liquid cheer.
10. Rumchata Hot Chocolate
Milk chocolate chips

Caramel sauce

Heavy whipping cream

Rumchata

Cocoa powder

Vanilla

Toffee pieces, whipped cream, and caramel sauce for garnish
Let's wrap these all up with a bow with your very own spiked hot cocoa. This simple recipe is as simple as tossing the ingredients into a crockpot and leaving them on low for the party (we left out amounts since they will depend on the consistency and alcohol level you want, so make sure to experiment a bit). What better way to snuggle up in the early evening or in the wee hours after the Champagne has all been poured?