Digital Dining and 'Restaurant Recovery' Show
24 Min Read By MRM Staff
In this edition of MRM News Bites, we feature help for small business owners and products for the 'new normal' for restaurants as they reopen.
On-Demand Delivery for Square Online Store
Square is launching On-Demand Delivery for Square Online Store where sellers can dispatch a courier through delivery partners for orders placed directly on their website.
Wally Sadat, CMO of The Kebab Shop, a chain of restaurants in California and Texas, has been using On-Demand Delivery for Square Online Store during our beta test and said it helped him manage costs and retain customers during recent months. "This new feature helped us keep our doors open and continue serving our customers during the recent downturn," he said. "The ability to customize delivery limits and costs to our customers was especially powerful, as it helped us remain competitive at a cost our business can afford."
Traditionally, to enable delivery most sellers list their menu on food delivery platforms because the restaurant doesn't have their own couriers. This approach is often expensive because these platforms charge a commission to fulfill the delivery for each order. With On-Demand Delivery for Square Online Store, sellers can take control of their fulfillment process by offering delivery to their loyal customer base directly from their own website.
When an order is placed on the seller's online store, a courier from the restaurant's delivery partner is dispatched to the business location, picks up the order, and delivers it to the buyer. The buyer receives text updates with links to live maps to track delivery progress. Sellers pay a flat fee of $1.50 per order to Square, plus a fee to their delivery partner that is calculated in real-time based on distance and other factors. Sellers can pass this fee entirely to the buyer or offer custom delivery promotions. When applied across hundreds of delivery orders each month, sellers can save a significant amount on per-order costs.
Additionally, when buyers place an order through Square Online Store, sellers receive their contact information in the Square Customer Directory and are able to maintain sales history for those customers. When paired with other products like Square Marketing and Square Loyalty, sellers can strengthen customer relationships, create open lines of communication, and incentivize patrons to keep coming back.
Sellers can get started with On-Demand delivery powered by Postmates now, with additional delivery partners coming soon. Processing is free on all on-demand delivery orders through July 8, 2020—up to $50,000 in sales. Plus, Square is also waiving dispatch fees until July 1, 2020.
Visa SMB Help
In the wake of the COVID-19 pandemic. Visa is introducing a range of locally designed programs and solutions to enable SMBs to drive efficiency and sales through acceptance of digital payments, building online businesses and incentivizing neighborhood support. Visa also formed the Visa Economic Empowerment Institute (VEEI) focused on economic and societal issues, including pandemic challenges SMBs face and closing racial and gender opportunity gaps.
"Small businesses on the frontlines of the global economy deserve extraordinary support in this extraordinary time," said Al Kelly, CEO and chairman of Visa. "We are putting our network to work to help 50 million businesses globally not only survive, but also to thrive, along with the communities they serve."
To help small businesses, Visa is focusing initially on four strategic areas to promote digital commerce and economic growth, with plans to continue to create products and services as the needs of entrepreneurs change over time. These areas include:
Empowering digital-first businesses: Visa has built localized online resource centers – now available in more than 20 countries – providing tools, partner offers and information on how to start, run and grow digital-first small businesses. Across European markets, Visa is investing to increase the number of digital payment acceptance devices within shops by more than 50 percent. In the U.S., Visa is expanding its partnership with IFundWomen providing grants and digital training to U.S.-based Black women-owned small businesses.
Encouraging digital payments: Major shifts in consumer behavior have occurred around the globe, including the overarching need for a touchless experience at the point-of-sale as 90% of shoppers are hesitant to shop in-store due to coronavirus.4 Deploying easy to adopt contactless payment technology – rapidly, and at scale – is critical to enabling faster, more secure commerce. Visa is working with a range of partners to increase the number of locations where consumers can tap their contactless card or mobile phone. Starting in July, Visa street teams will visit merchants to provide "back to business" kits with new point-of-sale materials, branding, educational resources and special offers. The program will kick off in the 50 largest U.S. cities and expand globally to 15 countries including Singapore, Italy, and South Africa.
Incentivizing neighborhood support: Visa partnerships encourage consumers to shop local and remind them that where you shop matters. The Visa Back to Business Project – an online tool that helps consumers identify businesses that may be open in the wake of the pandemic or a natural disaster – is now live in Australia, New Zealand and the U.S., and further expanding globally. In Europe and across Central Europe, Middle East and Africa, Visa has launched new SMB initiatives that champion and enable entrepreneurs while encouraging consumers to support small businesses. Visa is teaming up with eCommerce platforms like Shopify, and restaurant delivery companies, including Deliveroo, to reward consumers for spending their money locally.
Developing positioning and policy: In addition to the initiatives Visa is undertaking, the company today announced the formation of the Visa Economic Empowerment Institute. This new institute comprised of Visa experts and partners will help address underlying problems and provide insights for SMB growth and closing racial/gender gaps. Key projects in the next six months will address topics including post-crisis recovery and resilience, urban mobility, closing equality opportunity gaps and insights into the gig economy.
'Travel Safe' Tools
Tripadvisor® launched a new suite of "Travel Safe" tools to help consumers find, filter for, and validate health and safety information to feel more confident with their future travel choices across town and around the world. Travel Safe features are available in all 49 markets where Tripadvisor operates.
How Travel Safe helps travelers and business owners
For travelers:
Health & safety checklists: Leveraging expertise from public health organizations and industry associations across the globe, hotel and restaurant owners can share safety measures directly on their Tripadvisor listing. These include sanitation procedures, mask-wearing guidelines, social distancing policies, and more.
Search filter: A new filter allows users to easily find which hotels and restaurants are taking these added safety precautions.
Traveler reviews: New review submission form prompts allow users to validate safety measures and share their experiences with other travelers.
Q&A with business owners: If users still have questions, they can directly message business owners about their safety measures (or anything else).
For owners:
Businesses can now select safety measures they have in place at their property by accessing the checklist in their Tripadvisor management center (for free).
The checklist also enables properties to submit a text description of the steps they are taking to protect customers, including links back to safety information on their own websites.
"If we want to get the world traveling again, the safety needs of consumers must be appreciated and recognized as the biggest hurdle to closing the confidence gap created by this pandemic," said Lindsay Nelson, chief experience and brand officer, Tripadvisor, Inc. "With the launch of Travel Safe, we're allowing owners to showcase how they're putting health and safety at the forefront to protect their staff and future customers. As always, by submitting reviews, our hundreds of millions of members will be the best check and balance to ensure these businesses are responsibly abiding by their policies."
Dine Brands Adds to Team
Dine Brands appointedTony Moralejo as President, International and Global Development; and Justin Skelton, Chief Information Officer. Moralejo and Skelton are both experienced leaders who will make an immediate impact in the recovery and acceleration of the business post crisis. They will report to Thomas Song, Chief Financial Officer, and join the Dine Brands Executive Team.
Moralejo joins Dine from CHURCH'S/TEXAS CHICKEN (Cajun Operating Company), an international quick service restaurant company. Moralejo's prior experience spans over two decades, leading global teams in various operations, franchise development and legal leadership roles at Burger King.
Skelton joined Dine in June 2019 as Vice President, IT Infrastructure and Operations and most recently served as Dine's acting Chief Information Officer. Previously, Skelton served as Vice President, Infrastructure, Support, and Operations at CVS Health. He also held various leadership positions at Bank of America, serving as Senior Vice President/Chief Information Officer within the Insurance Services division, as well as Chief Technology Officer for the home loans and insurance division.
"As we get through the global pandemic we realize we must have key leadership and capabilities in place to compete effectively everywhere, on all brands, across all geographies," said Thomas Song, Dine Brands, Inc. CFO. "Re-shaping our portfolio for long-term growth for all franchisees across the globe has always been our mission, and our approach is about deliberate and sustainable growth, with a technology infrastructure that supports and enables all restaurants. Tony and Justin have a clear understanding of this, and they are the perfect leaders to help evolve our growth and technology platforms of the future."
'Restaurant Recovery' Docuseries
Todd Graves, founder and CEO of Raising Cane's, is combining his passions for entrepreneurship, the restaurant business and philanthropy as the host of a timely new docuseries titled "Restaurant Recovery." The series is created with producers Kapil Mahendra and Paul Beahan through their Calabasas Films & Media (CFM) banner, and will see Todd travel to cities across the country to help restaurants that have closed or are on the verge of closing due to the COVID-19 pandemic.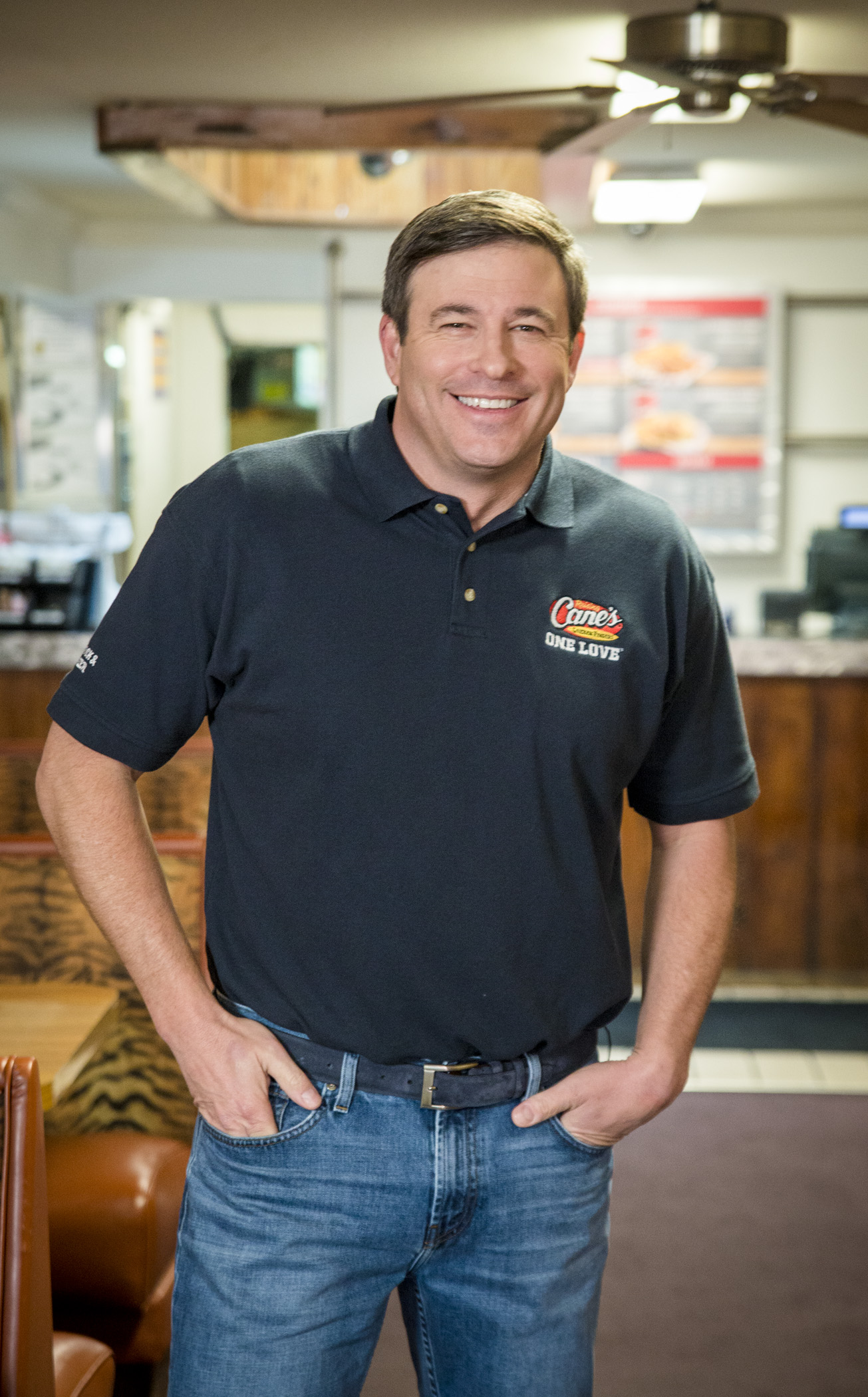 Working with restaurateurs in various communities over the course of the next few months, Todd, with his decades long experience building and growing Raising Cane's, will guide local restaurants to come back even stronger post enforced closures. Capturing the heart of each city, Todd and his team of business experts, financial advisors, marketing team, and strategic food enthusiasts will provide knowledge and resources to a range of diverse restaurants, eateries, distilleries/breweries, bakeries and more have been so important to their local communities.
For the initial 20 episode series run, Graves has committed to helping 20 different restaurants with a $2 million relief and recovery budget ($100k per restaurant).
Said Graves, "I don't just want to help these restauranteurs come back, I want them to come back stronger. So when the next pandemic, tornado, hurricane or any disaster strikes, they will be ready and equipped to weather the storm."
Shooting for "Restaurant Recovery" will begin in August and continue for the rest of the year as cities re-open and guidelines are instituted for safe filming and dining activities. The initial schedule includes potential filming in New Orleans, Las Vegas, Miami, Baton Rouge, New York, Boston, Los Angeles, Dallas, Houston, St Louis, Chicago, Philadelphia, San Francisco, Denver, Atlanta and more cities based on applications received.
Series executive producers are Doug Weitzbuch ('World of Dance") and Adam Saltzberg ("Extreme Makeover: Home Edition").
"I want to help people that knew how to be successful in their own business but now need help to overcome these extraordinary circumstances we're facing," added Graves. "I know the challenges of keeping a small business going and I want to help these great independent restaurants that have so much soul and really make a community special. These restauranteurs care about their employees and community, and that means a lot to me, and should mean a lot to all of us. In 'Restaurant Recovery,' you'll see an iconic family restaurant that has been around for decades in one episode, and on others it may be a local bakery that is a community's gathering spot, or a new restaurant that has been the owner's dream for decades who fell victim to horrible timing upon opening."
Producer Kapil Mahendra said, "We hope that these incredible actions from Todd will inspire a wave of generosity and support for the great number of restaurants struggling through these times. Working with Todd on this series, it feels like he's helping family members, and that's what will make the series such compelling television – the sincerity, spirit, and energy he brings."
Paul Beahan commented, "If this pandemic has taught us anything it's how precious and fragile the things that bring us happiness, and bring us together are, so we just think it's a great idea to do what we can to help the rebuilding effort. We are proud to work alongside Todd in this time of need for restaurants and feel these restaurant recovery missions will both entertain and inspire. Viewers will come away feeling optimistic."
'Restaurant People: Where We (To-) Go From Here' Podcast
Kitchen United debuted a new limited-series podcast called "Restaurant People: Where we (to-) go from here." As the restaurant industry continues to adapt to the impacts and demands of the pandemic, this podcast will serve as a platform to inform operators of best practices their peers are implementing to keep guests and employees safe, and provide perspective on what tomorrow looks like for the business of restaurants.
The podcast is hosted by industry expert Atul Sood, Chief Business Officer at Kitchen United and former director of global business development for McDonald's. The podcast has a premier lineup of speakers with more to be announced, including:
Carl Howard, CEO of Fazoli's
Zaid Ayoub, CEO of Sajj Mediterranean
Aaron Noveshen, CEO of Starbird Chicken & The Culinary Edge
Jeff Chang, Owner, Island Loco
Geoff Goodman, CEO of Fresh Brothers
Eric Greenwald, President of Grimaldi's Pizzeria
"We are fortunate to have a number of experienced industry professionals willing to share what has worked well for them, and where they think the industry is heading," said Sood. "Off-premise business was growing exponentially well before the pandemic, and then it became the single source of income for restaurants. Our aim is to use the resources we have to help operators not only weather this storm, but come out of it stronger than before."
The "Restaurant People: Where we (to-) go from here podcast" is now available on Apple Podcasts and Spotify, and is produced by Kitchen United and Level Ground.
Bento Door-to-Door​
BentoBox​ launched ​Bento Door-to-Door​, adelivery fulfillment solution for restaurants using ​Bento Ordering​.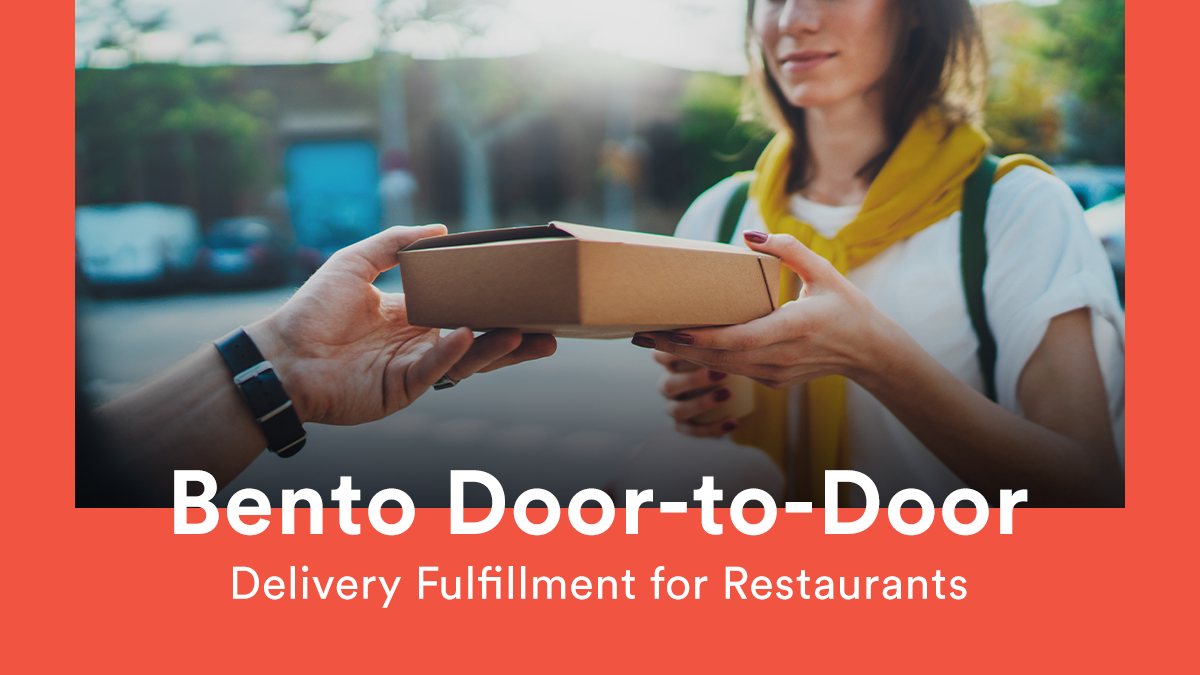 The turnkey delivery service enables restaurants to access an on-demand network of best-in-class couriers to deliver orders directly to diners in their area. By integrating delivery directly into their websites, restaurants benefit from simple, painless order management. Features include automatic driver assignment, visibility into order status, and control over settings like driver instructions and order minimums with the click of a button. By empowering restaurants to maintain ownership over customer relationships and data while outsourcing logistics, Bento Door-to-Door provides a compelling delivery option that helps restaurants to completely control delivery fees with a built-in, full or partial offset.
"As part of our mission to help restaurants drive revenue, build relationships, and take control during COVID-19 and beyond, we are excited to announce this next evolution to our online ordering solution," said Krystle Mobayeni, Co-Founder and CEO of BentoBox. "Restaurants have full ownership over branded ordering and customer information while also maintaining the convenience and simplicity of automatic couriers for incoming orders."
Bento Door-to-Door provides restaurants with access to an industry-leading delivery network, fast setup and service, and user-friendly integration. Orders are delivered for a flat per-order fee of $6.99, which is adjustable if a restaurant wants to absorb it in part or full to offer free delivery to diners. Bento Door-to-Door makes it incredibly easy for restaurants to add delivery fulfillment directly to their branded websites.
Paytronix Contactless Dining
Paytronix Systems, Inc., debuted Paytronix Contactless Dining, a mobile offering that enables restaurants to offer guests a true restaurant experience, from menu selection through ordering and payments, without requiring a physical interaction. Paytronix Contactless Dining claims to be the only solution on the market that enables guests to order multiple courses electronically, open tabs for drinks, and then finalize the experience with a single payment.
Contactless Dining is built on a mobile web platform and connects directly into the restaurants' POS system. Customers use their mobile device to view menus, order courses, and have food delivered directly to their table.
"In just a few months the restaurant industry has gone through remarkable change, and the challenges today are vastly different than they were just a few months ago," said Paytronix CEO Andrew Robbins. "Paytronix Contactless Dining offers table-service restaurants a dine-in solution that helps them offer a touchless guest-friendly restaurant experience. The payment experience is on the guest's terms when they are ready to leave, and we keep payment transaction costs low with a single transaction covering both the tab and the tip."
Contactless Dining also enables guests to open tabs, place orders in a similar flow to the pre-COVID dining experience; guests can order drinks, followed by apps, entrees, and then desserts, make special requests, and finalize the visit with a single payment. Other solutions require each order to close out with a payment, thereby cluttering the ordering process for guests and increasing transaction fees for restaurants.
"Paytronix focuses on creating great guest experiences," said Tim Ridgely, head of development for Contactless Dining. "When it comes to on-premises dining, guests want the freedom to peruse a menu, order what they want when they want it, open tabs, and ultimately, pay for that experience at the end."
Contactless Dining offers an intuitive interface that provides restaurants with multiple options for identifying table locations, including manual customer entry and scannable QR codes. It also integrates with Apple Pay so guests have complete control over their payment options.
With the guest's mobile device and Contactless Dining they can:
View Menus — Guests experience the latest menu options, mouth-watering images, accurate pricing, and availability of items, all in a mobile-optimized digital environment.
Place Orders — As guests progress through their dining experience, they can add items to their check at any time, just like flagging down a server to ask for another helping of fries. As items are selected they are transferred to the POS and then the KDS for order preparation.
Pay for Orders — Guests have a variety of payment options including Apple Pay, eliminating the need for physical credit card handling. Plus, the guest can leave as soon as they close their check without waiting for servers to complete the engagement.
Lunchbox Adds Kabakoff
Lunchbox appointed former Toast director, Sarah Kabakoff, as VP of Solutions. In her new role, Kabakoff will oversee Lunchbox's go-to-market strategy as the company aims to unburden restaurants from the financial strains of third-party platforms. With 24 years of experience in developing and executing tech-driven solutions for restaurants of all sizes, Kabakoff will be instrumental in driving widespread adoption of the Lunchbox platform following a period of accelerated growth since its recent $2 million seed funding round.
"Lunchbox's focus on personalized guest experience is bringing sales and data back where it belongs – in the hands of the restaurant, not third parties," says Kabakoff. "Lunchbox is poised to become the leader in digital ordering with their powerful enterprise-grade software and amazing customer experience, and I'm excited to join them as they continue to challenge the status quo in the restaurant industry."
As the former Director of Enterprise Solutions Engineering at Toast, Kabakoff's experience includes delivering enterprise-level solutions that allow brands like Jamba Juice, ThinkFoodGroup and B.Good to scale their businesses and simplify complex challenges. At Toast, she led the enterprise solutions team in driving initiatives for digital strategies, customer data analytics, restaurant operations, and point of sale. She was recently recognized for her work in Hospital Technology's Top Women in Restaurant Technology list. Kabakoff also brings representation for the LGBTQ+ community to Lunchbox's diverse team and has served as the Board Vice President of Heartland Trans Wellness group in Cincinnati, OH.
"Sarah brings a highly valuable skill-set that will be integral to the next phase of our growth," says Nabeel Alamgir, CEO and Co-Founder of Lunchbox. "We are excited to learn from her experience from Toast and NCR, two companies we respect and want to emulate. Adding her to the company is going to propel us to our next phase. I also hear she is amazing in Vegas, especially at the baccarat table, which means she will crush our industry trade shows."
Minfo Offers Contactless Solutions
Minfo, a developer of mobile solutions for adtech and touchless technology, has developed a universal app that allows restaurant patrons to greatly decrease the number of direct contact interactions they have with the wait staff, easing the hygiene anxiety and mental burden for customers and employees alike, worrying about COVID-19 while dining out.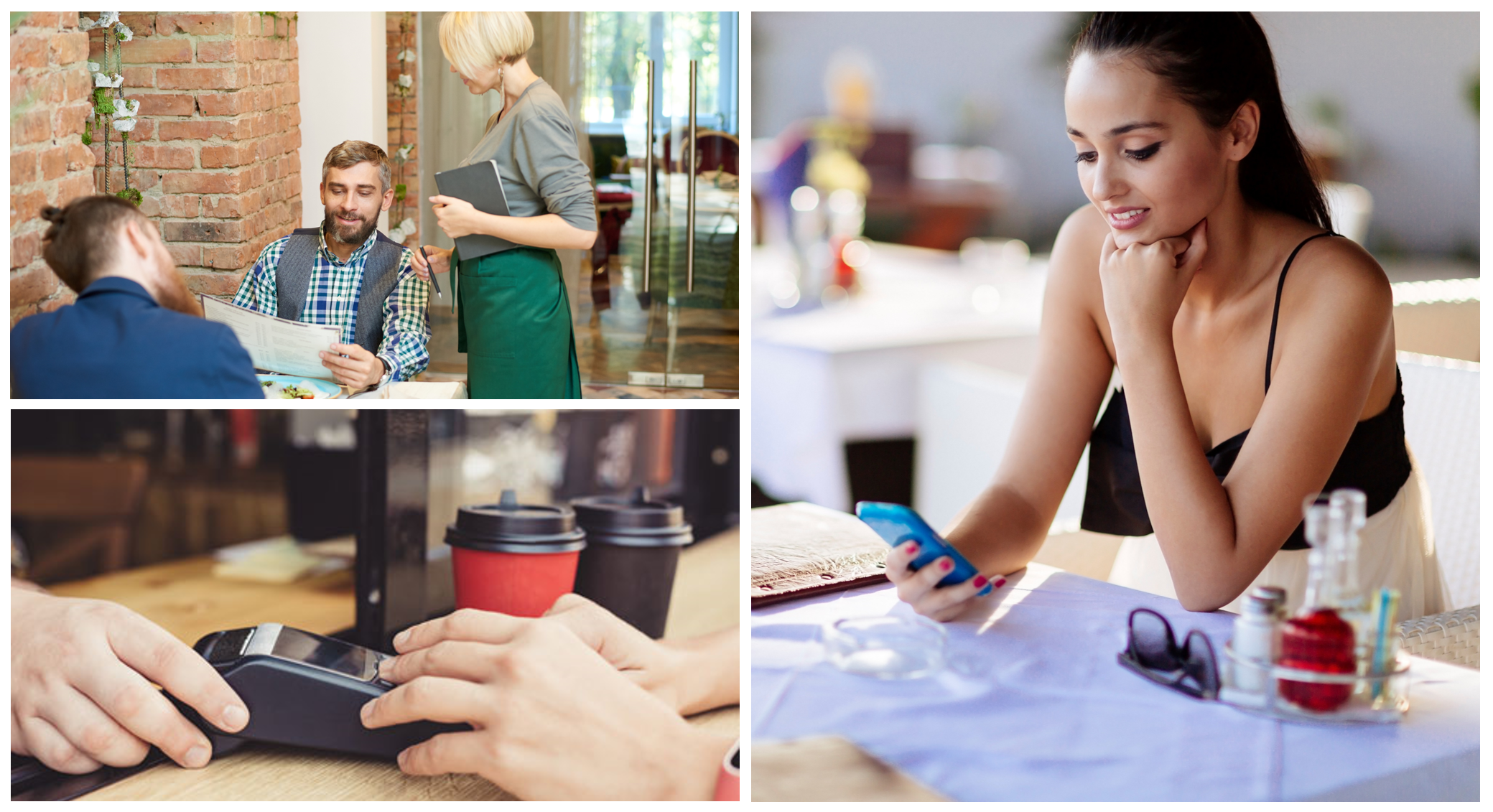 In restaurants, multiple parties handling menus, point of sale (POS) devices, and handing debit or credit cards to servers or employees are all sources of germ transmission for both customers and employees, as well as opportunities for fraud. Minfo's touchless solutions eliminates the need to browse the menu, order and for customers to give their cards to anyone; allowing customers to dine and then pay online or touch-free at a distance, all from one universal app.
Touchless menus and payment options are in-demand tools for consumers looking to have a good time dining out while reducing anxieties around hygiene and spreading germs.
The Minfo app uses patented audio technology to let users connect, interact and transact with nearby Minfo-enabled devices, such as the aforementioned menus and POS. Unlike the widely adopted near-field communication (NFC) payment technology commonly used by POS – which requires customers to be within an inch of a point of sale – Minfo's touchless solution allows customers to make payments from up to seven feet away from the POS, opening a host of social distancing possibilities. This approach also works in traditional counter ordering situation they no longer need to leave their family or friends to line up and have to remember everyone's orders. The restaurant can also reduce the need for buzzers that have been handled by others when Minfo will let customers know when to collect the order.
"We are so excited to roll out our touchless technology in restaurants across America. People are anxious about their health but want to get out and start enjoying their lives again and we understand that," said Roland Storti, founder of Minfo. "We hope we can be a key piece of the puzzle in easing the stress people feel about spreading germs, especially when it comes to eating out. If we can make restaurants and businesses more efficient in the process, even better."
Virtual Delivery Only Restaurant
Virturant, a virtual delivery-only restaurant company is aiming to create new revenue streams for eateries with extra capacity by making productive use of underused/unused kitchen staff and operational hours.
The startup helps restaurants increase revenue and profitability without a bigger footprint or reinventing their wheelhouse with a turnkey delivery-only system – using the restaurant's existing resources to deliver food to new customers discovering Virturant brands on delivery app platforms like UberEats, Grubhub, Postmates and DoorDash.
Licensed restaurants go from producing existing menus to also offering new items – based on ingredients they already stock. Virturant provides proven chef-created recipes, ingredient lists, packaging and suppliers, and handles marketing to drive sales.
Launched January 2020 and already partnering with two dozen restaurants, data shows an increase in restaurant fulfillment partner sales of between $1,000 to $6000 per week per brand. Across the brands, the average ticket restaurants are realizing is $32.
"Along with new customers, part of our success is that peak ordering demand for delivery is different from peak serving time," said Jon Register, CEO, Virturant. "A lunch/dinner restaurant typically peaks from 11am-1pm and 4pm-6pm, but its virtually-ordered deliveries ramp up from 1pm-3pm and 6pm-11pm – generating revenue longer."
Virturant leveraged data analytics in the creation of its eight concepts including Wing Society, Patty Melt Company, Wild Skillet, Uptown Burgers, The French Toastery, Grilled Cheesin, Uhmazing BLT's, and Sunrise Sandwich Co. with menus designed to offer the best-selling delivery items by region, market, and time of day. Restaurants can offer one brand or multiple and receive a dedicated territory determined by household demographics and third-party delivery apps.
Virturant is helping restaurants like Kup a Joe Café in Frankfort, IL add additional in-store revenue, which improves EBITDA. They offer six Virturant brands in their breakfast/lunch café. Because they've already paid for staff, equipment and restaurant space, these "virtual restaurants within their restaurant" boost earning potential beyond the current menu without cannibalization.
"Virturant increases my revenue with my same staff and kitchen," said Jim Garofalo Sr., owner, Kup a Joe Café. "It keeps us busy doing what we do best – making the food – while they market, manage delivery platforms and provide the technology to print orders directly into our kitchen."
Expanding nationally, Virturant currently serves Chicagoland, Las Vegas, and Milwaukee.
WorkJam ExpressPay
WorkJam released ExpressPay, the employee-centric solution for advance pay. As an employer-sponsored plan, employees are able to instantly access a portion of their earned income ahead of their established payday with no transaction charges.
Traditional payroll cycles require employees to wait up to two weeks to access their pay, putting acute financial pressure on frontline hourly workers. The stress impacts customer service and availability due to working multiple jobs and attrition. ExpressPay solves this by allowing employees to obtain a portion of earnings as early as the same day of work, fee-free, deposited directly into their bank account or onto a WorkJam debit card. Paired with WorkJam's openshift marketplace functionality, it positions employers who offer ExpressPay to their frontlines as the employer of choice—combining self service shift coverage and with same day access to earned income while driving customer coverage and experience at the same time.
"As businesses relentlessly fight for talent, employers are continuously looking for ways to retain employees and create dedication to the brand," said Steven Kramer, CEO and co-founder of WorkJam. "With ExpressPay, employers can now show value-recognition to their frontline workforce while empowering them to assume more financial control. Through traditional market offerings, an employee has to pay for early access to earnings with expensive, unsanctioned 3rd party solutions, but with WorkJam's ExpressPay, employees can access this employer-sponsored benefit fee-free, empowering them to gain more control of their financial well-being."
WorkJam's pre-pandemic research shows that even one missed shift can mean late payments on rent, utilities, and other basic necessities for nearly half of hourly employees. Having access to income already earned can break the cycle of financial hardship, taking control of their economic well-being. To employers offering ExpressPay, employees will return the favor with reduced attrition and no-calls as well as improved open shift coverage.
"The addition of ExpressPay into the WorkJam Digital Workplace continues our commitment of being the most complete frontline digital workplace on the market," said Vincent Drouin, VP Corporate Development of WorkJam. "WorkJam's unified solution improves the customer experience by improving the employee experience. By streamlining functionality like scheduling, communication, training, task management, and better access earned income into a unified application for employees across a wide range of industries, WorkJam enables companies with non-desk workers to achieve outsized operational improvements, foster collaboration, build their culture, and discover new ways of doing business."
Qwick's Business Recovery Rate
Qwick launches Business Recovery Rate — a reduction in fees by 50 percent for all shifts posted before June 30th, covering any dates through the end of 2020. The reduced rate applies for all shifts posted before Labor Day, September 7, and will cover any dates through the end of 2020.
CEO, Jamie Baxter believes the Business Recovery Rate is the first step in doing so. "Our business partners are struggling financially during this time and finding it difficult to find staff that is willing to work during this global pandemic. Our goal is to help businesses save money to pay their rent and other expenses while having the staff they need to run their businesses as things return to normal."
Quick-Ship Lighting
Luminiilaunched its new quick ship lighting portfolio and expedited fulfillment program to enable lighting design and architecture professionals with flexibility and nimbleness for projects with tight deadlines.
Named Express by Luminii, the program delivers a growing portfolio of LED strips, extrusions, power supplies, and accessories to support a broad spectrum of project types.

"On day one, Express meets the diverse and timely needs of our customers' most demanding application needs particularly in residential, office, hospitality, restaurant and healthcare settings," said Jason Mullen, President, Strategic Accounts at Luminii. "Having solutions that are carefully designed, readily available, and field-configurable means contractors have the ability to make modifications or adjustments on-site with confidence and without compromising the finished product."
The company developed Express by Luminii in a spirit of collaboration with its customers' needs. The portfolio adheres to Luminii's highest technical and performance standards and includes products from Luminii's most popular product lines. Express products are also 100-percent field-configurable, in addition to providing customers with the ability to confidently assemble products on-site with the company's flexible proprietary Express FLEX Connect™ System. Among the portfolio categories at launch are architectural-grade LED strips, extrusions, power supplies and supporting accessories with plans to expand the line as the program matures.
"Express by Luminii embodies the Start with Yes culture we continue to build with our growing customer roster," said Amy Bonder, Executive Vice President of Sales and Marketing at Luminii. "Our passion is to meet the needs of our customers and enable them to deliver creative and technical triumphs to their clients' spaces. Introducing the Express Quick Ship program proves our ability to rise to our customers' needs despite the various fulfillment challenges we're all experiencing in the industry."
"With the company's supply chain now even stronger than before COVID-19 operational challenges, Express by Luminii delivers an immediate return on our investment in the form of direct benefits to our valued customers," said Kieran Drain, COO of Luminii.
Beyond Technology
Health protection preparation is the new normal for businesses worldwide, and seeking to equip this safety-conscious workforce is smart-tech pathogen protection company BioPPE, which is rolling out a line of new products and solutions that fortify heightened hygiene protocols while also staying ahead of the technological curve.
BioPPE produces high-tech, health-forward solutions for the public and private sectors including hospitality, home services, and education, in addition to entertainment venues and anywhere that sees at least a moderate traffic of people on a semi-regular basis. Its featured offerings, such as Bluetooth-enabled, thermally cooled antimicrobial face masks; no-touch personal protective equipment dispensers with health data collection capabilities; UV-C disinfection containers; and more, are available for rapid distribution to all industries vulnerable to the spread of infection in a post-pandemic world.
"When the pandemic hit, the world 'knee jerked' in managing the initial impact of COVID-19," said BioPPE CEO Brock Flint. "Meanwhile at BioPPE, we focused on the phases beyond that, inventing products and solutions to not only help organizations prepare, operate effectively and sustain for the new normal, but to also be equipped for the possibility of future contagions."
Utilizing voice-enabled technology and Alexa integration, many of BioPPE's products are linked by the crowdsourced, global BioPPE Wellness Linked Network System (WLNS), which supports organizations in maintaining health standards with anonymous data collection capabilities for wellness check surveying and contact tracing.
Wellness check surveying generates real-time health alerts sent via text message or email to help identify hot spots or impending outbreaks, ultimately providing information that may assist an organization in flattening its own curve. BioPPE products with BioPPE WLNS integration include:
BioProtect Wellness Portal
The BioProtect Wellness Portal is a sleek, alluring PPE dispenser that also aids in organizational data collection and health information distribution. Integrating with the BioPPE WLNS, the Alexa-enabled, voice-powered standalone unit offers a wide range of bio-protection capabilities, from wellness check surveying and contact tracing to providing guests and employees with convenient access to disposable face masks and other BioPPE products through no-touch dispensing. The BioProtect Wellness Portal also displays health information and safety alerts on a 24" video display.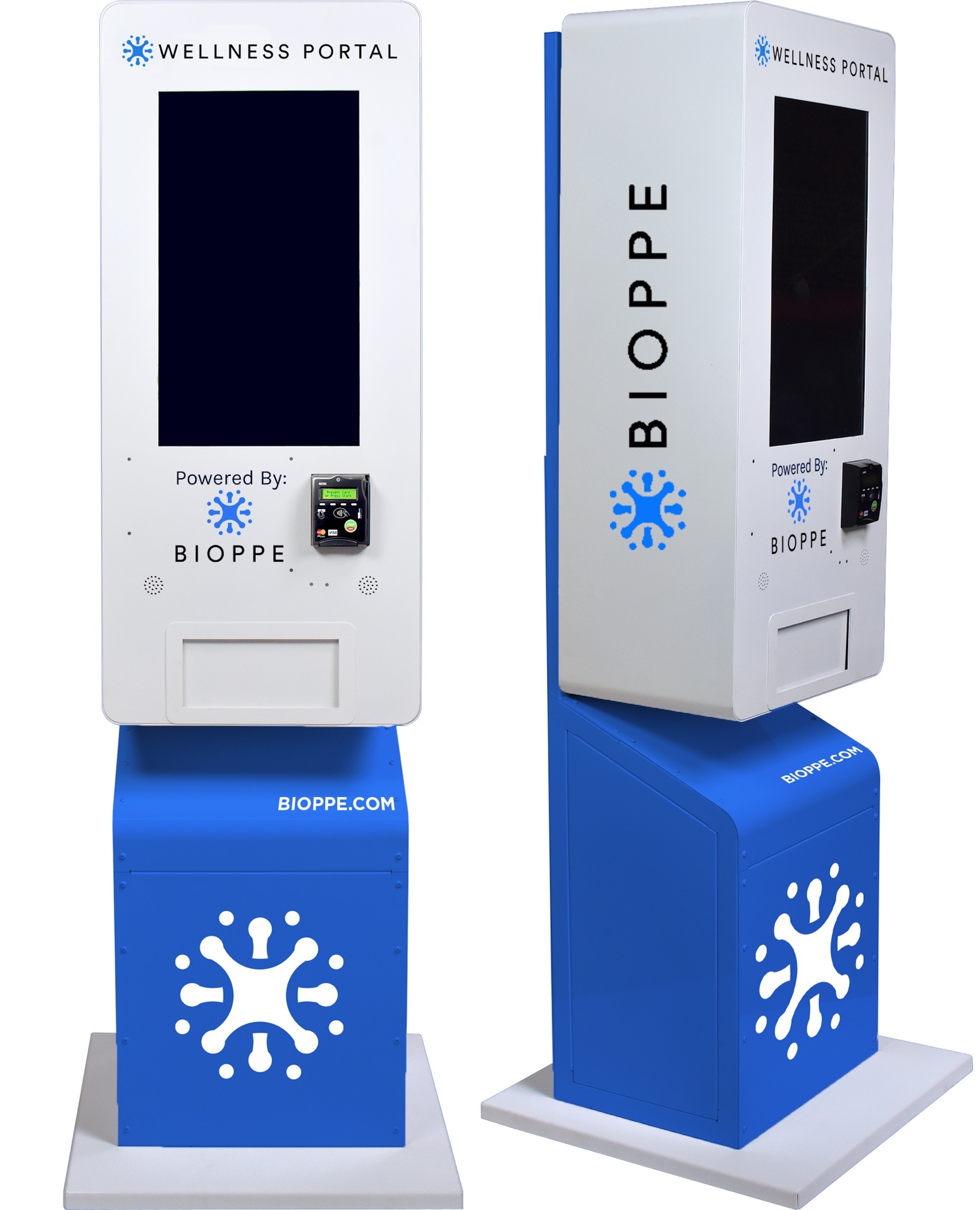 BioMask Bluetooth+
Daily mask use receives a technological revamp with the BioMask Bluetooth+ with Alexa. This stylish, comfortable antimicrobial face mask incorporates an innovative Bluetooth 5.0 module and localized speakerphone, enabling users to communicate clearly on mobile calls and in person. This Bluetooth module can also play music for the wearer for up to 8-10 hours of use. The proprietary cooling technology, antimicrobial microfiber material and adjustable Velcro strap make the BioMask Bluetooth+ lightweight and comfortable while protecting the user from harmful pathogens present in the outside world. Like the BioProtect Wellness Portal, the BioMask Bluetooth+ is compatible with the BioPPE WLNS, as is the BioShield UV-C Disinfection Box. The BioMask is also available without built-in speakerphone (BioMask Bluetooth) and/or Bluetooth (BioMask Cool).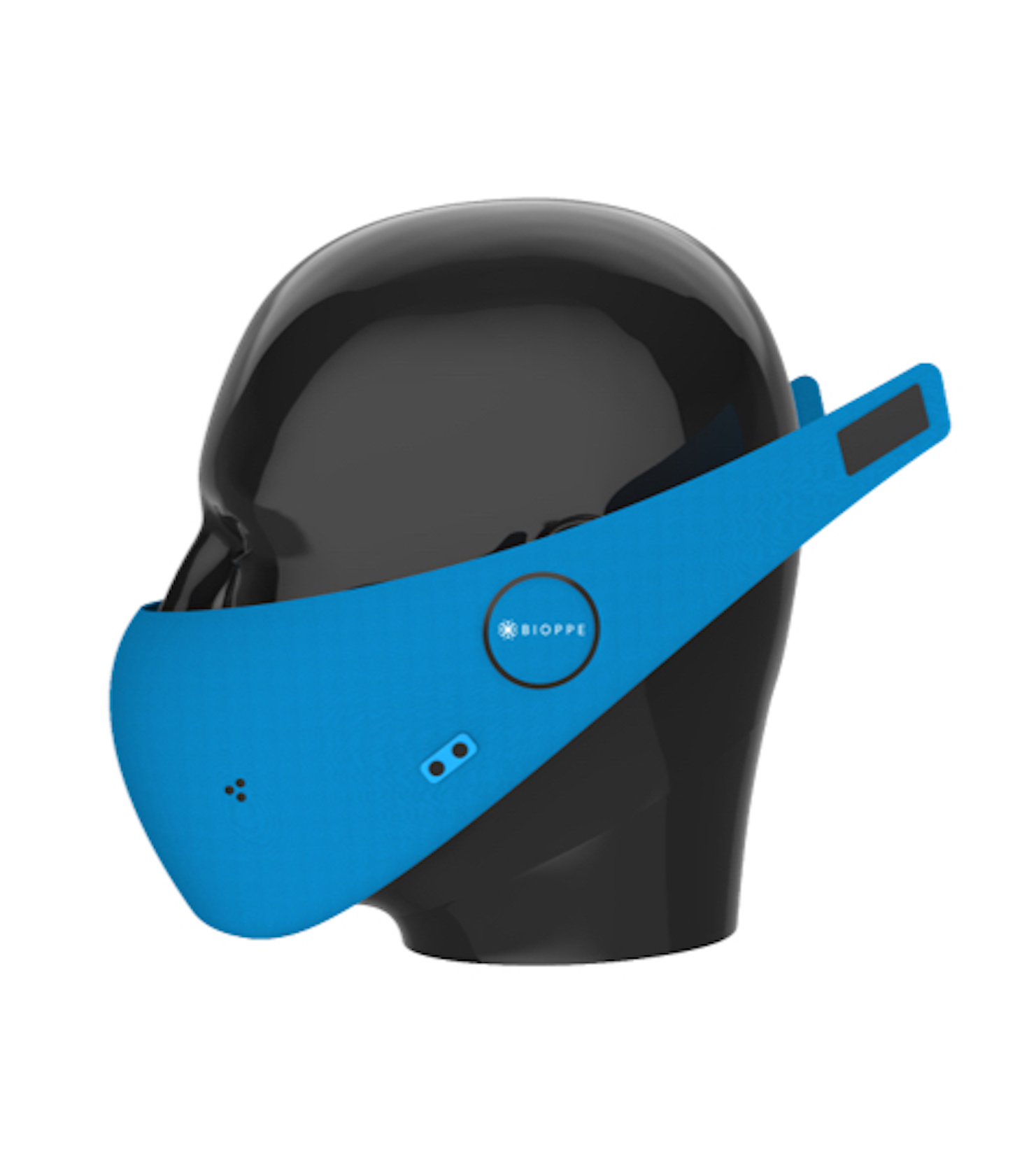 BioShield UV-C Disinfection Box
Sterilize phones, reusable masks, wallets, purses and other small items with the BioShield UV-C Disinfection Box, which uses cutting-edge UV-C technology to disinfect items in minutes. This anti-pathogen solution is outfitted with an internal USB charging port and is controlled via the built-in Alexa Voice Informative Wellness Portal. The BioShield UV-C Disinfection Box connects users with the BioPPE WLNS to collect real-time wellness data and statistics, and is available in a variety of sizes.
BioProtect Face Mask Dispenser
Providing safe and sanitary mask distribution to guests, employees and citizens in public spaces is made easy with the BioProtect Face Mask Dispenser, featuring a state-of-the-art no-touch, quick release design allowing for grab-and-go dispensing. The BioProtect Face Mask Dispenser is available as a wall mounted or free-standing installation and can be configured for free or revenue-generating distribution.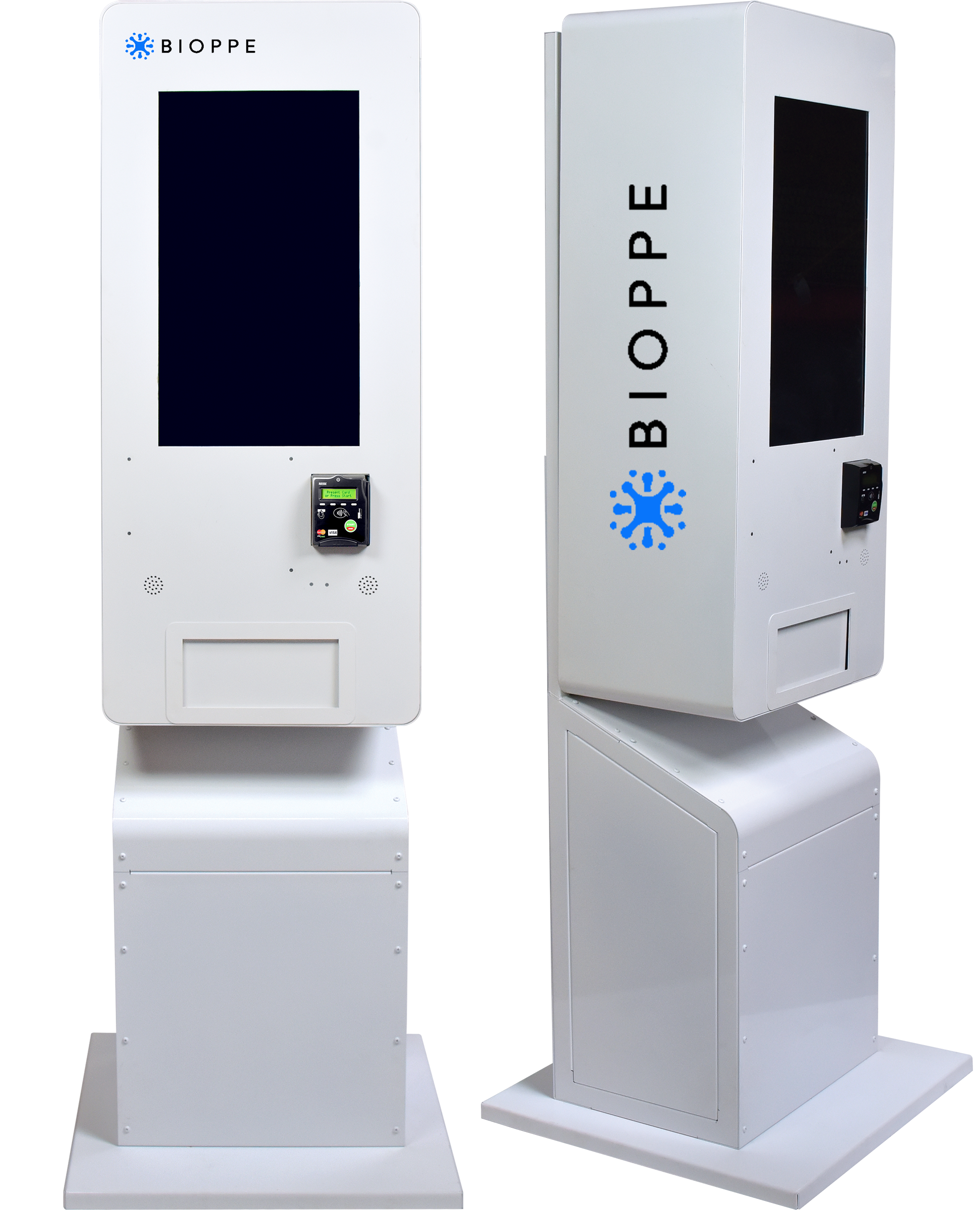 BioMask Antimicrobial Protective Face Mask
Breathable, washable, and built for maximum comfort and extended wear, the BioMask Antimicrobial Protective Face Mask is a general purpose consumer face mask that incorporates double-layer, antimicrobial composite technology protecting the user against airborne pathogens. The BioMask Antimicrobial Protective Face Mask can also be used as a mask shield for N95 and N99 masks.
All of BioPPE's products can be custom branded with logos and colors. BioPPE's product suite is available via direct B2B sales as well as distribution and wholesale partners.
To Better Eat with Your Eyes
A free app has hit the App Store giving diners a new way to find that perfect dish when they dine out.
"Most traditional restaurant menus don't have pictures, and people eat with their eyes," says Dave Compton, Co-founder at jeet.
"Ordering food off of a menu is one of the only purchases most consumers make 'sight unseen.' Jeet has millions of pictures of menu items for nearly every restaurant in the world. Now you can see what you are ordering." Additionally, the jeet experience on your phone is a more hygienic choice than a traditional printed menu that must be cleaned after every use.
Features and benefits of the jeet app include:
No searching, just open jeet inside any restaurant.
Visual images of menu items at your fingertips in seconds.
See what your friends have eaten at the restaurant you are in.
Works in nearly all restaurants worldwide.
Safer alternative to traditional printed menus.
Free for consumers and restaurants to use.
Jeet is available in the App Store for iPhone and an Android version is in the works.
Modern Hand Sanitizing Stands
Lorin Industries, Inc. released sleek and modern floor and counter stands for hand sanitizer dispensers made with the company's signature anodized aluminum. Available in multiple configurations, these dispenser stands can help facilities to reduce the spread of germs, keep the environment clean, and maintain employee and customer health and safety, all while incorporating stylish design elements.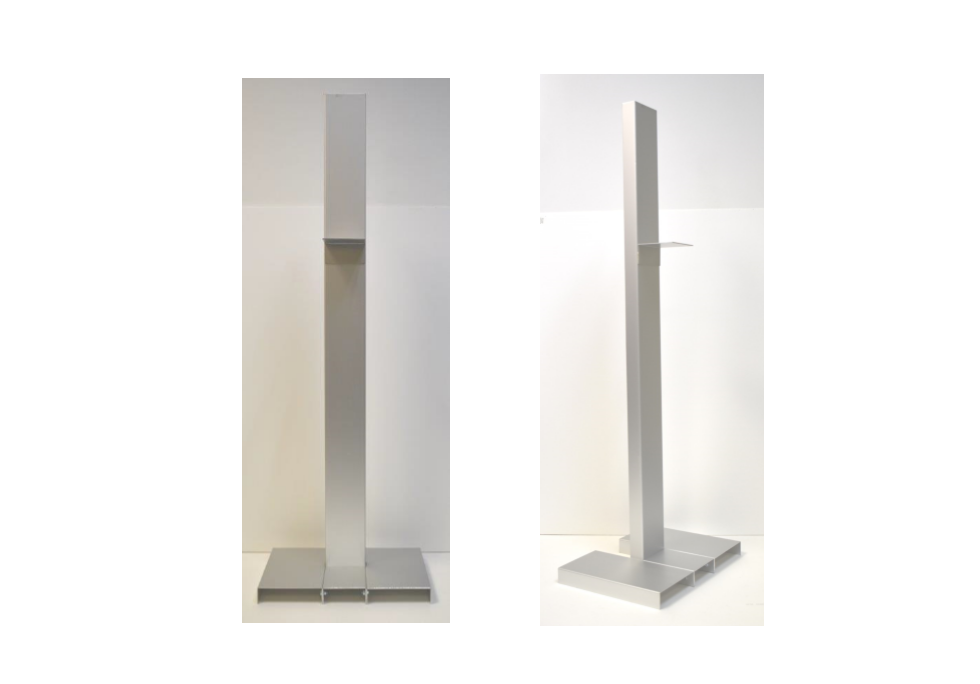 Three different configurations are available for lightweight, portable, and stable countertop hand sanitizer dispenser stands; the curvilinear, angular, and rectilinear designs all bring a modern, stylish touch to installing touchless hand sanitizer dispensers into facilities. Easier to install and maintain than wall-mounted options, the countertop stands are constructed from anodized aluminum, which can help to minimize surface pathogen collection.
Complementing the countertop designs, Lorin's hand sanitizer dispenser floor stand is ideal for high traffic areas like lobbies, schools, churches, gyms, offices, factories, malls, and more. The rectilinear floor stand design is also lightweight, portable, stable, and easy to clean. The stand is compatible with most available hand sanitizer dispensers, and is easy to assemble.
Eco-Products Vanguard Debuts
Eco-Products®' award-winning new line of molded fiber plates and containers – once in limited release – is now available to all customers nationwide.
The new line – called VanguardTM – is made from sugarcane and uses propriety compounds to achieve grease resistance without the use of conventional chemistry, known as PFAS.
"Vanguard demonstrates our deep commitment to providing new choices for those seeking grease-resistant packaging," said Sarah Martinez, Senior Marketing Director for Eco-Products. "Our goal is to stay at the cutting edge of innovation, and the Vanguard line keeps us right there. It's another outstanding option for our customers."
The Vanguard line meets the new requirements of the Biodegradable Products Institute (BPI) for compostability certification that went into effect this year, making it an industry first for this product category. That earned Vanguard the first-place award for Innovation in Manufacturing in the 10th bi-annual Foodservice Packaging Awards competition, sponsored by QSR magazine and the Foodservice Packaging Institute (FPI).
The entire Vanguard line is microwave-friendly, grease- and cut-resistant and effective in both hot and cold applications. The initial line includes a variety of plates, bowls and clamshells, with more products to be added soon.
Creating the Vanguard line required extensive testing and supply chain collaboration. Eco-Products has patents pending on the new formula, which uses FDA-approved, proprietary compounds to achieve grease resistance.
In addition to the Vanguard line, Eco-Products offers a wide range of plates, cups, utensils and containers made from renewable and post-consumer recycled resources.
ALTA Wireless Food Probe
Monnit Corporation's released an all-new ALTA® Wireless Food Probe enhances quality and safety by bringing the power of remote data collection to commercial kitchens, food production and restaurants. Replacing manual temperature checks, the Food Probe measures the internal temperature of cooked or refrigerated food from -50°C to 260°C (-58°F to 500°F). Temperature is displayed on an LCD; data can be automatically transmitted to iMonnit software for recipe creation and refinement, as well as food production or preparation.
"Monnit's internet of things wireless Food Probe was initially created for a fast-food chain seeking data to help modernize food preparation," says Brad Walters, CEO, Monnit. "Automated data collection in kitchens and restaurants tightens quality control, helping protect brands. Food safety and consistency are crucial in the new normal of curbside pickup and delivery — repeat business relies on precision."
The probe is housed in an ergonomic and water-resistant IP67 case. The food temperature sensor features an easy-to-read display and seamless push-buttons for ease of use and sanitation. A removable, curved needle-style probe, pop-out grip and wall mount are standard; a T-handle probe is an optional add-on.
Beyond data collection, the device also supports spot-checking and validating food production processes. The CFR21 part 11 compliant device also helps restaurants, catering firms, convenience stores and even food trucks maintain compliance with the FDA Food Modernization Act while fortifying internal HACCP programs. Automated data logging also provides a data trail as ingredients are processed, packaged, shipped and prepared.
The Food Probe leverages Monnit's ALTA wireless platform to provide temperature data with bank-grade security and an industry-leading data transmission range of 1,200+ feet through up to 12 walls. For firms seeking additional protection for intellectual property, this food sensor is compatible with Monnit SensorPrints™. The industry-exclusive SensorPrints platform authenticates data by "fingerprinting" IoT devices to provide data with a verifiable identity. In addition to bank-grade data security, Monnit's Food Probe provides an exceptional battery life (1+ year and two AAA batteries).