Designing Super Sustainable Restaurant Kitchens
4 Min Read By Ray Chung
As extreme weather and climate change continue to make headlines, restaurant owners are recognizing the impact their commercial kitchens have on the environment, with their enormous quantities of waste and carbon emissions. According to the United Nations, the food sector (from production to consumption, including processing, transport and packaging) accounts for 30 percent of the world's total energy consumption and around 22 percent of total greenhouse gas (GHG) emissions. The use of natural gas in residential and commercials kitchens alone is responsible for up to 13 percent of total US GHG emissions from buildings.
Restaurant owners can lessen the carbon footprint of their kitchens through practical cut-backs such as eliminating single-use plastics, repurposing ingredients to limit food waste and partnering with local sustainable food suppliers. Livestock agriculture represents 13-18 percent of global GHG emissions, and shifting menus away from animal proteins can make a substantial impact on carbon and greenhouse gas emissions. But even without changing the menu, there are several design considerations that can be applied to both new builds and renovations that help reduce waste and carbon emissions.
Choice of Materials
Using certified sustainable materials, water-saving fixtures, long-lasting furniture, LED lighting and natural light are easily affordable options that will reduce a kitchen's carbon footprint and impact on the environment. There are several tools out there that can help determine what makes a material sustainable. For example, MindClick.com rates the environmental health performance of manufacturers and their products, making it simple to choose the right materials that align with an owner's sustainability goals.
More expensive material alternatives such as gravity ventilators, heat-recapturing warewashers, and high-performance windows can cost more upfront but save money – and the environment – in the long run. New, ventless heat recovery technology in rack-conveyor warewashers can capture 100 percent of the operating exhaust heat and vapor and convert it into usable energy to heat wash and fresh rinse water. According to the manufacturer, this technology can reduce hot water expenses by up to $5,000 a year, while eliminating the need for a vent hood and saving over $7,500 on installation costs. Improvements in efficiency and heat recovery also contribute to employee comfort in the dish room. Newer models feature better insulated doors to minimize heat loss, reduce noise, and keep the equipment's exterior cool to the touch.
Electrification
Electric stovetops waste virtually no excess heat and produce none of the noxious gasses associated with burning natural gas, which is better for the environment and creates a more comfortable and healthier workplace for the kitchen crew. In a time where health and wellness are of utmost importance, a safe environment for employees is non-negotiable. All-electric kitchens also save on new construction costs, as they require no gas utility connections or plumbing systems, and they substantially reduce the carbon footprint of a restaurant, especially if powered by renewable sources like solar.
When combined with demand-control ventilation and heat capture systems, electric kitchens can also reduce energy bills, sometimes by half. No small part of this is the reduced need for air conditioning, as the ambient temperature of the kitchen naturally stays around 70°F. Induction stovetops cook faster and are easier to clean than the alternative gas option, making for a more efficient meal service and less time and money spent on cleaning. Money is saved on pots and pans as well, as induction cooking does not degrade or warp the structure of the cookware anywhere near as fast as an open flame.
Adaptive Reuse and Recycling
The greenest building is one that's already built. Instead of building from the ground up, new restaurant owners should consider restoring an existing building or restaurant, as it greatly reduces GHG emissions from an embodied carbon perspective. In some cases, adaptive reuse projects can reduce embodied carbon by 65 to 80% compared to an equivalent new building. The average lifespan of a restaurant is only eight-to-ten years, so instead of wasting materials in the turnover, owners should consider locally sourced, reclaimed materials, especially in the kitchen. Plus, turning a warehouse or a historic restaurant into something new adds intrigue and charm, peaking curiosity from future customers.
Site selection is also key to a new sustainable restaurant. Choosing a location with a high walkability score or proximity to mass transit, makes it easier for employees and customers to access thus lessening the amount of cars on the road.
In Atlanta, TWO Urban Licks, a warehouse-turned-restaurant designed by The Johnson Studio, is situated on the Eastside Trail of the Belt Line, a pedestrian loop built along a former railway corridor. Adaptive reuse has transformed this rail line as well as the industrial buildings along it into a thriving neighborhood of offices, retail and dining.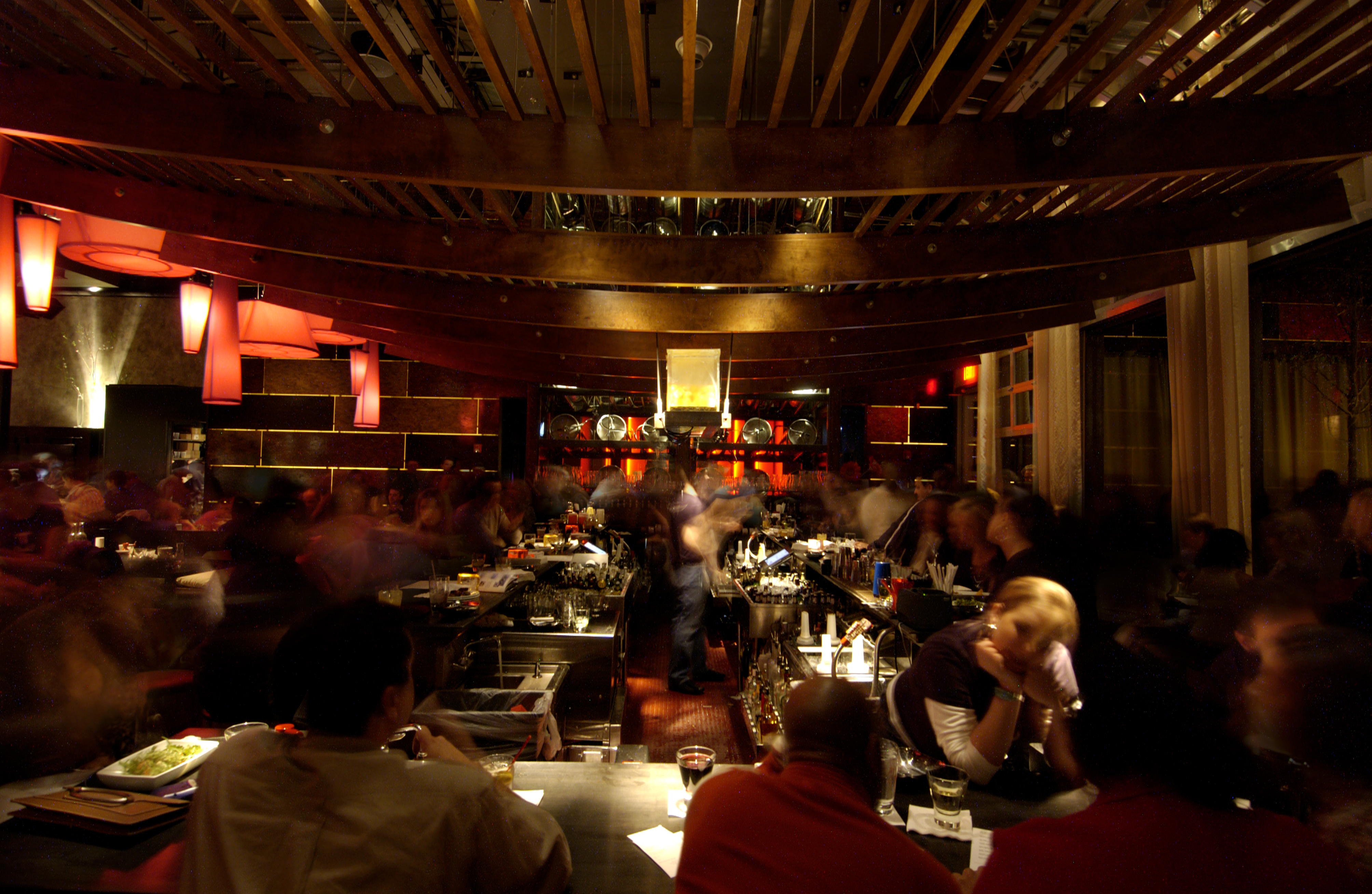 Designers and business owners are becoming increasingly aware of their ability to limit the effects of climate change, especially in the restaurant industry where energy use intensity and embodied carbon are known to be higher than average. What's more, tax incentives and prestigious awards like the Michelin Green Star further the desire to design sustainably. Whether it is a small change or a large investment, creating a super sustainable restaurant kitchen is the right thing to do for the business and the environment.