Delivery Dominance Starts with a Few Simple Questions
4 Min Read By Jared Castronova
As consumers expect more convenient ways to get their favorite meals – even more so than ever before amidst the pandemic – adding delivery has enabled restaurants to meet those demands and grow digital sales. In fact, delivery has become mission critical. According to William Blair, delivery is projected to have a 25 percent CAGR over four years, growing from about $25 billion in 2018 to $62 billion in 2022. This growth combined with a potential $250 billion in off-premise sales on the table and it's no surprise brands are looking to this channel to keep business moving and meet consumer needs. Even restaurants traditionally associated with their unique dine-in experiences, such as Benihana and Fogo de Chão, now have branded delivery programs.
As delivery becomes a larger part of the sales mix, brands should think about the factors that contribute to a successful delivery program. Launching and scaling delivery involves a lot of moving parts. Whether customers are ordering direct via your site or through a third-party marketplace, it's crucial to focus on building customer relationships when your employees aren't the ones handing orders to customers. Regardless of business model or digital goals, restaurant brands should know the answers to the following questions to assess their mastery of delivery.
How Are We Ranking in Search?
Take a few minutes to Google your brand name and see where you rank in the search results. Now Google your brand name + "delivery" and see if those results change. If you see an immediate drop in rankings you're not alone. According to our 2018 digital search survey of over 300 restaurant brands, the average Google page rank when searching for their brand name + "delivery" was five. As marketplaces and your competitors continue to invest in SEM and SEO you may be losing upwards of 60 percent of search traffic and paying commissions on a larger percentage of orders.
To further reinforce the importance of search, Google recently shared that one in two restaurant visits is digitally influenced during their presentation at MUFSO 2019. Avoid cases where you're competing for your own branded keywords by ensuring that your partners are contractually obligated to not outbid you for your keywords. This is common practice in eCommerce relationships in other industries and it's slowly catching on in the hospitality space.
Are We Engaging with Customers Often Enough?
According to a recent MGH survey, 45 percent of diners say they've tried a restaurant for the first time because of a social media post made by the brand, while 22 percent said a restaurant's post enticed them to return. In a way, brands need to think of themselves as media companies. Focus on continually producing on-brand, high-quality, social content that engages your audience and builds stronger personal connections with customers.
Beyond unique creative, social media advertising can help your brand engage with new audiences. Facebook's 1.62 billion daily active users who spend 58 minutes on the platform each day are a massive pool of potential customers. Leveraging geotargeting near your restaurants, customized CTAs, and targeting based on food preferences are a few of the ways to pinpoint users who are most likely to visit your site or place an order.
As digital becomes a larger percentage of your sales, using a combination of unique creative and targeted social campaigns can help differentiate your brand and drive digital growth.
Do We Own Our Customer Data?
Building a strong digital presence starts with the ability to know your customers and tailor offers for them. If you aren't able to analyze who is ordering, what they're ordering, or how frequently they order you will struggle to maintain customer relationships and increase repeat business. Having sales data from all your channels can help identify your direct vs. indirect sales split. Knowing what percent of your customers go directly to your site/app can help inform your retargeting efforts and loyalty rewards going forward. When working with Delivery Service Providers (DSPs) have an agreement in place to ensure they are sending your customer information back to your team.
Are We Working with Multiple Delivery Providers?
Leveraging a network of DSPs offers redundancy should one of your partners be unable to service your restaurants. As you scale your delivery program this is critical to ensuring consistent service for your customers. Through Olo's Dispatch service, 87 percent of all locations with delivery enabled are covered by at least two DSPs. This overlap in coverage helps prevent service outages where a primary DSP experiences a disruption and other DSPs can continue to fulfill incoming delivery orders.
Take the scenario below, where a brand experienced an outage with their primary delivery provider. If the brand had only worked with one DSP, this outage would have cost their restaurants tens of thousands of dollars in lost sales and many disappointed customers looking for delivery. While full DSP outages are uncommon, having a network of delivery providers gives brands the peace of mind knowing you're covered in any scenario.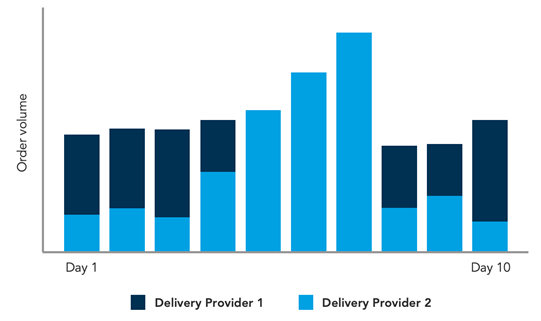 In addition to providing redundancy, working with multiple DSPs lets brands reach a wider range of consumers across the country. Most of the largest DSPs offer nationwide delivery but their market share may vary considerably by region. Data from Second Measure shows which DSPs are popular in major metropolitan areas. Customers in Houston may prefer DoorDash while customers in Los Angeles predominantly use Postmates. Brands working with multiple DSPs will be better positioned to meet customers where they order most. While exclusive DSP partnerships may offer some benefits, brands should take into account any added complexities and costs required to attract customers to a specific DSP.
Can our In-Store Operations be Improved?
According to Olo's end-user delivery order survey results, the two biggest customer complaints from delivery orders are that food was missing from their orders and that food arrived cold (45 percent and 38 percent respectively).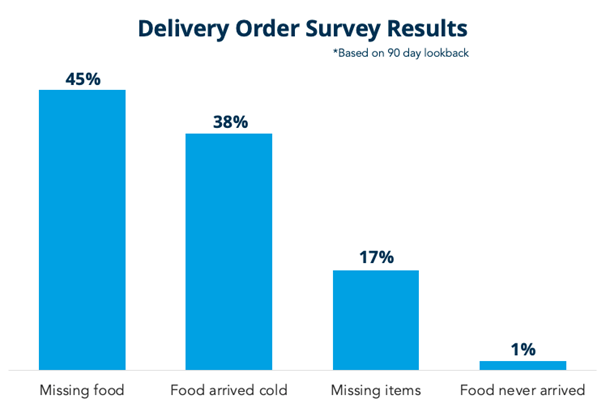 When discussing delivery quality it's important to make sure your in-store teams have processes in place to streamline the order handoff process and ensure the experience is easy to consistently replicate. Assigning dedicated employees to handle delivery orders along with having an order review process can help reduce common errors and increase the likelihood of repeat delivery business.

Putting it All Together
While brands still face delivery-related hurdles addressing these foundational questions will ensure your delivery program is setup for success. Despite the nuances of launching and scaling delivery be sure to focus on engaging potential customers, owning the data, building a reliable delivery network, and ultimately encouraging repeat business. Brands who invest in all these areas will be the biggest beneficiaries of this $200B digital shift.