December Sales: Will QSR Continue its Positive Trend?
2 Min Read By Jana Zschieschang
In December 2021, average check was up 22 percent compared to the same period in 2019 and sales were up eight percent, according to Revenue Management Solutions, which released sales, traffic and average check trends for QSR restaurants in December 2021. To best assess relative performance, it compared 2021 sales, traffic and average check trends to 2019.
According to RMS' observations, traffic trends in December remained well below 2019, at -11 percent.
When comparing month over month (December 2021 to November 2021):
Average check and sales saw a slight increase between November 2021 and December 2021.
Traffic, which had remained stable since September 2021, also increased from -13 percent in November to -11 percent during December.
While December's holiday season is typically a time to dine out, this year was once again affected by the pandemic. The rapid spread of the omicron variant throughout the US caused many to avoid full-service restaurants and resort back to dining at home, possibly increasing QSR traffic. This isn't the first time consumers resorted to off-premise channels. RMS observed the same behaviors during previous COVID-19 waves in January and August 2021.
Moreover, drive-thru has consistently remained customers' preferred off-premise option. In a November survey of more than 800 respondents, a whopping 76 percent reported visiting a drive-thru at least once per week. For comparison, 64 percent reported using takeout and 49 percent ordered delivery at least once per week. While take-out and drive-thru have remained consistent, delivery has slowly declined over the past year.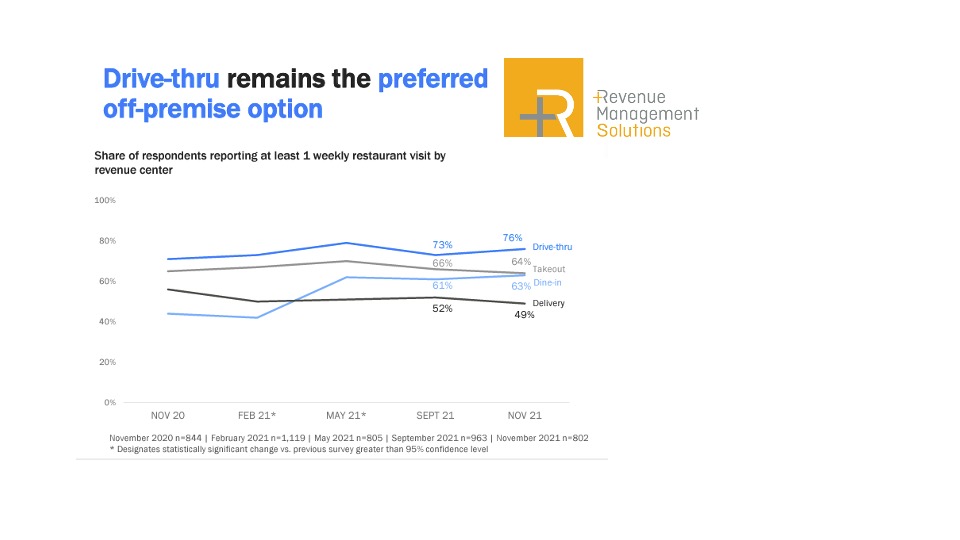 Another factor likely contributing to the continued average check growth: inflation. According to the U.S. Bureau of Labor Statistics, prices at limited-service restaurants increased by 7.10 percent, surpassing full-service increases of 5.9 percent. Both are the biggest increases ever recorded by BLS.
RMS Director of Consulting Services Matt Parker recently offered this advice on price sensitivity: "Restaurants across the board are increasing prices to manage the high costs of food and labor. But if you are going to command a higher price, you need to consider the value equation. That means getting the order right, delivering a high-quality product and providing a memorable guest experience."