Creating Vibrant Visual Palettes for Restaurants
5 Min Read
Multidisciplinary designer Marissa Zajack is deeply passionate about food and the art of dining.
"I seize every opportunity to intertwine my design expertise with the restaurant industry," she said. "My fascination lies in crafting exceptional experiences for diners, be it through captivating branding concepts or innovative interior design."
One recent effort is Funke, the newly opened Beverly Hills restaurant from Chef Evan Funke. Zajack brought the chef's creative vision to life through her branding and graphic design.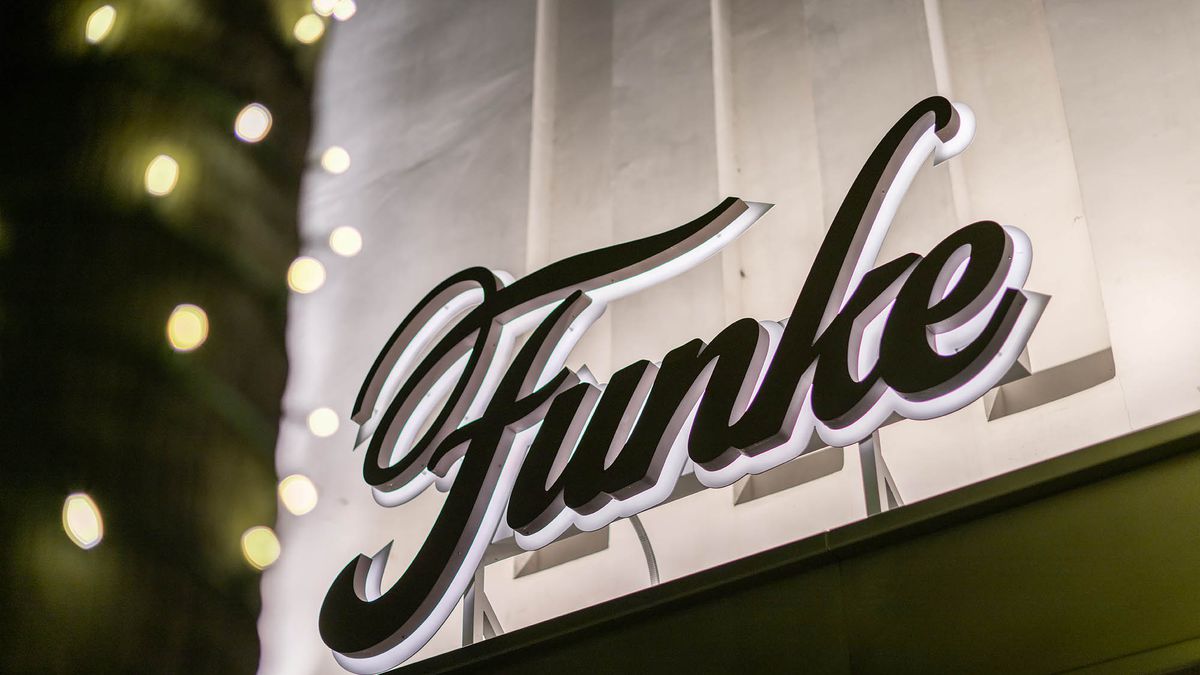 Her portfolio includes an eclectic mix of residential, restaurant, and bar design to branding for high profile artists, films, and television shows. She is known for infusing each project with her creative use of form, color, pattern, and texture, showcasing her experience across artistic media.
As principal designer for restaurant Red Herring, top photo, Zajack created an energetic and refined design, infusing a bold palette with elegant finishes and furnishings throughout the establishment, as well as the branding and graphic design.
Zajack recently spoke with Modern Restaurant Management (MRM) magazine about her projects, design vision and journey.
What is your process for approaching a restaurant project? How many elements do you get involved with to produce a holistic design?
First and foremost, it is essential for me to grasp the very essence of the chef's vision. Understanding the ethos behind their culinary philosophy allows us to create an immersive dining experience that truly transports the diner into the chef's world. My design is intended to harmoniously coexist with the chef's vision, seamlessly enhancing the overall dining experience.
Regardless of whether I am hired for branding or interior design, I firmly believe in being actively engaged with all elements of the project. By collaborating closely with other trades involved in the restaurant's development, we ensure that our collective visions align seamlessly. This comprehensive approach ensures that every aspect, from the ambiance to the branding, works in unison to create a captivating and authentic environment that envelops the diner in the unique world the chef has envisioned. Through my deep involvement in all stages of the process, I strive to bring the chef's culinary narrative to life and leave a lasting impression on every diner who steps into the establishment.
For a restaurant, how crucial is graphic design, particularly in setting the tone for a guest?
As a passionate designer, I understand the pivotal role that the restaurant's logo plays in making a powerful first impression on passersby and website visitors. It serves as the gateway, telling the story of the restaurant's essence at a single glance amidst the sea of visuals consumers encounter daily. My mission is to ensure that the logo captivates people's attention, leaving a lasting imprint in their minds, connecting them instantly with the restaurant's identity.
Beyond logo design and digital aspects, I am deeply involved in every facet of collateral design and printing. From carefully selecting the texture of the paper to artfully crafting embossing, hand-painted gold-guiding I curate a tactile experience that begins even before the first dish is served. I firmly believe that the menu serves as an exquisite invitation to an unforgettable culinary experience. When executed to perfection, it generates excitement and anticipation, setting the stage for a remarkable journey long before the food graces the table.
Moreover, I take immense pride in providing guests with tangible keepsakes that serve as cherished mementos of their dining experience. The elegance of matchbooks, in particular, becomes a beautiful way to evoke fond memories months later, rekindling the magic of a remarkable night out.
In all aspects of my work, I aim for a seamless fusion of aesthetics and experiences. By meticulously considering every detail, from logo to menu design and beyond, I create an enchanting symphony that resonates deeply with diners. My ultimate reward is the creation of an extraordinary ambiance that leaves a lasting impression on every guest, weaving beautiful memories they will cherish for a lifetime.
What graphic mistakes do you see restaurants make?
In my professional experience, I have observed that one of the most significant graphic design oversights restaurants tend to make is neglecting to provide guests with memorable keepsakes to take home with them.
When diners have a remarkable culinary experience at a restaurant, they often wish to hold onto the cherished memories associated with it. Offering well-designed mementos provides a unique opportunity for the restaurant to leave a lasting impression on its patrons. Whether it's a beautifully crafted postcard, an elegant matchbook, or a thoughtfully designed menu, these tangible tokens become cherished souvenirs that evoke fond memories long after the dining experience has ended.
Offering well-designed mementos provides a unique opportunity for the restaurant to leave a lasting impression on its patrons.
By overlooking this aspect of graphic design, restaurants miss a valuable chance to strengthen their brand identity and create a stronger emotional connection with their customers. Thoughtfully designed mementos act as subtle but powerful marketing tools, as guests are likely to share and show them to friends and family, generating organic word-of-mouth promotion.
In the case of Funke, what were the challenges of the project?
The Funke restaurant project was an absolute dream come true. Collaborating with Evan Funke, whose entire ethos revolves around the art of handcrafting and paying homage to the rich history of Italian cuisine, was truly inspiring. The added pressure of working on his eponymously named restaurant made it all the more significant for me to encapsulate his essence.
My vision for the branding was to craft a style that combined the warmth of hand-drawn illustrations with a timeless and luxurious feel. Drawing inspiration from vintage Italian postage stamps, I hit upon the idea of incorporating Evan's profile into the design. While capturing someone's essence in an illustration can be challenging, I am proud to say that we achieved just that. The final result beautifully reflects Evan's spirit and passion.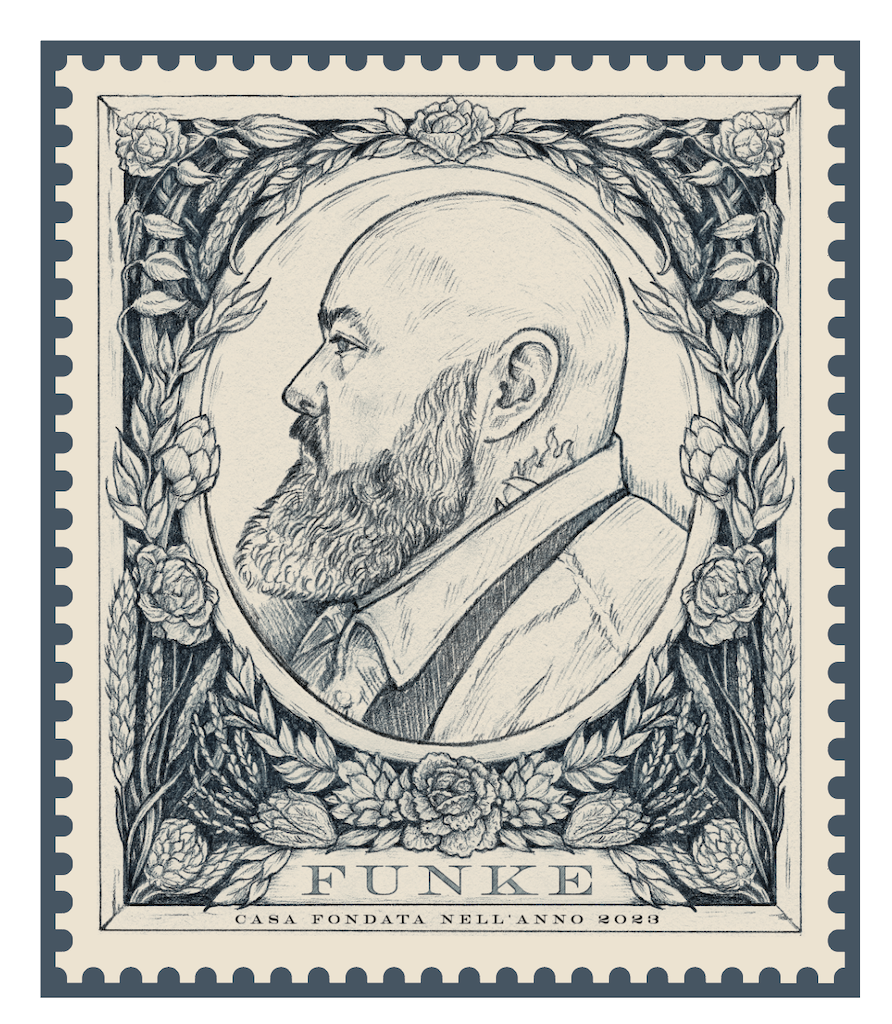 Overall, the experience of working on the Funke restaurant project was incredibly rewarding, and the outcome surpassed all expectations. It's an honor to have been a part of bringing Evan's culinary vision to life in such a distinctive and memorable way.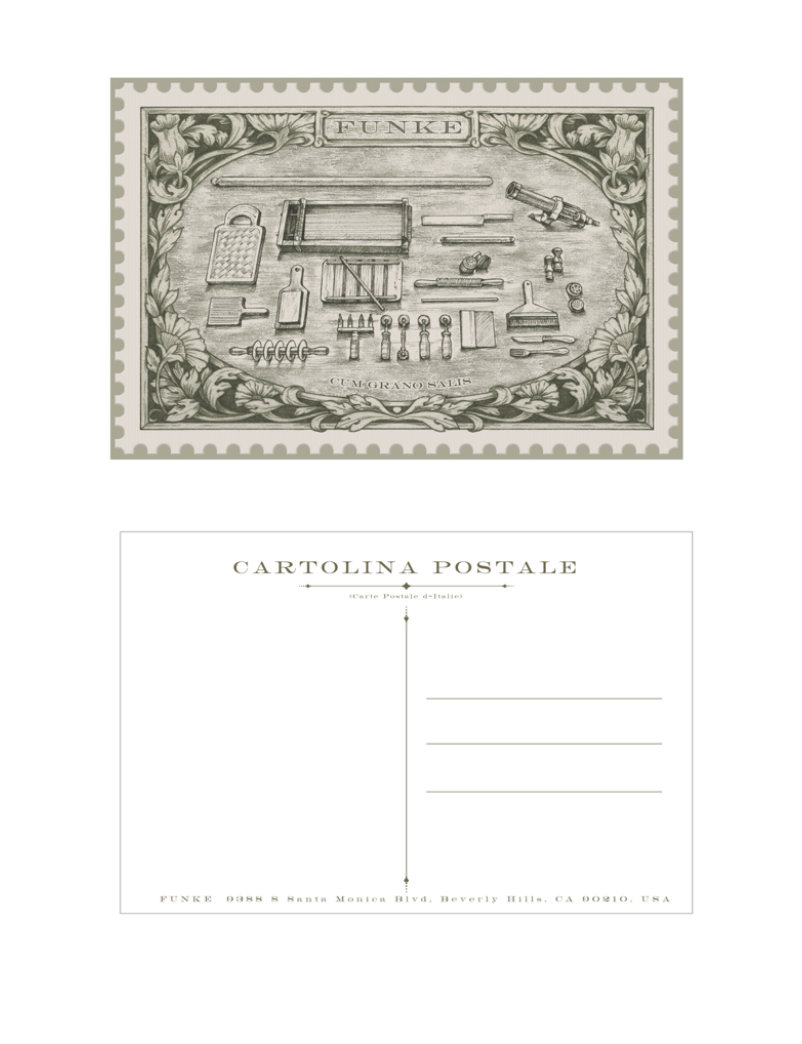 In what ways does your diverse skill set bring more to the table?
My versatile skill set proves invaluable in every situation, allowing me to seamlessly connect various aspects of design into a cohesive and compelling idea. Drawing from my experience in film, I've honed the ability to adapt quickly and think on my feet, finding solutions even in the most challenging scenarios. If there's ever a knowledge gap, I don't shy away from seeking answers and asking the right questions until I uncover the solution.
Having the opportunity to work on multiple facets of a project is a true blessing, as it aligns perfectly with my passion for crafting seamless and harmonious design experiences. The ability to bring together different elements, whether it's branding, interior design, or collateral, enables me to create holistic and memorable experiences for clients and customers alike.
I am grateful for the journey that has led me here, as my background in film and my continuous quest for knowledge have shaped me into a resourceful and creative designer. Every new challenge excites me, as it allows me to showcase my diverse skill set and passion for creating unforgettable and cohesive design experiences that leave a lasting impact on those who encounter them.