Creating Opportunities for Ukrainian Refugees
3 Min Read
The team at Manifesto Market wanted to do something to support Ukrainian refugees by providing job opportunities. They began an initiative to support the opening of a restaurant by a Ukrainian chef or entrepreneur and offered space in Manifesto Anděl for the first Ukrainian restaurant, which opened in three months time. Manifesto's investment is estimated at $40,000, including a six-month free lease and initial fit-out.
Among 12 applications was first-time restaurateur Anna Temnenko with her concept called Barva–that stands for Color in Ukrainian. Blue and yellow dominate the décor and the menu features traditional Ukrainian fare including borscht, Varenyky and Syrnyky. Temnenko works alongside her family members as well as refugees found on Telegram and Facebook refugee groups.
Temnenko graduated from the University of Economics in Prague with a degree in Business and Management. After her studies, she worked in an agency that dealt with employment of foreigners. She tried working in HR and marketing and ran an e-shop in Ukraine. She discusses how she came to operating a restaurant and what she is learning along the way.
How did you learn about the opportunity at Manifesto Market?
Anna: I saw an Instagram post shared by a friend of mine and hesitated for a long time whether or not to write. In the end, I figured out that I would give anything for the trial, and I went for it! I'm so glad it worked out for me, because I can create several job opportunities that way. Since the beginning of the war, I was always trying to help the Ukrainian people in some way, but I didn't have the opportunity to start any lasting and long-term help. If I open a restaurant, I can employ at least a few of them. With this I would like to say that there is still a possibility and a chance for others, especially refugee women, to stay in the Czech Republic. They are not lost, their lives are not over, and even though it is a really hard time right now, with many refugees living in daily fear, I think that opening the Barva restaurant will mean hope and help for loads of them.
How did you come up with the name Barva?
Originally we chose Ukrainian names, but then we thought we would rather go for a more universal name and that's why the name Barva was created… This word is the same for both Czechs and Ukrainians and for foreigners it will also be acceptable due to its simplicity.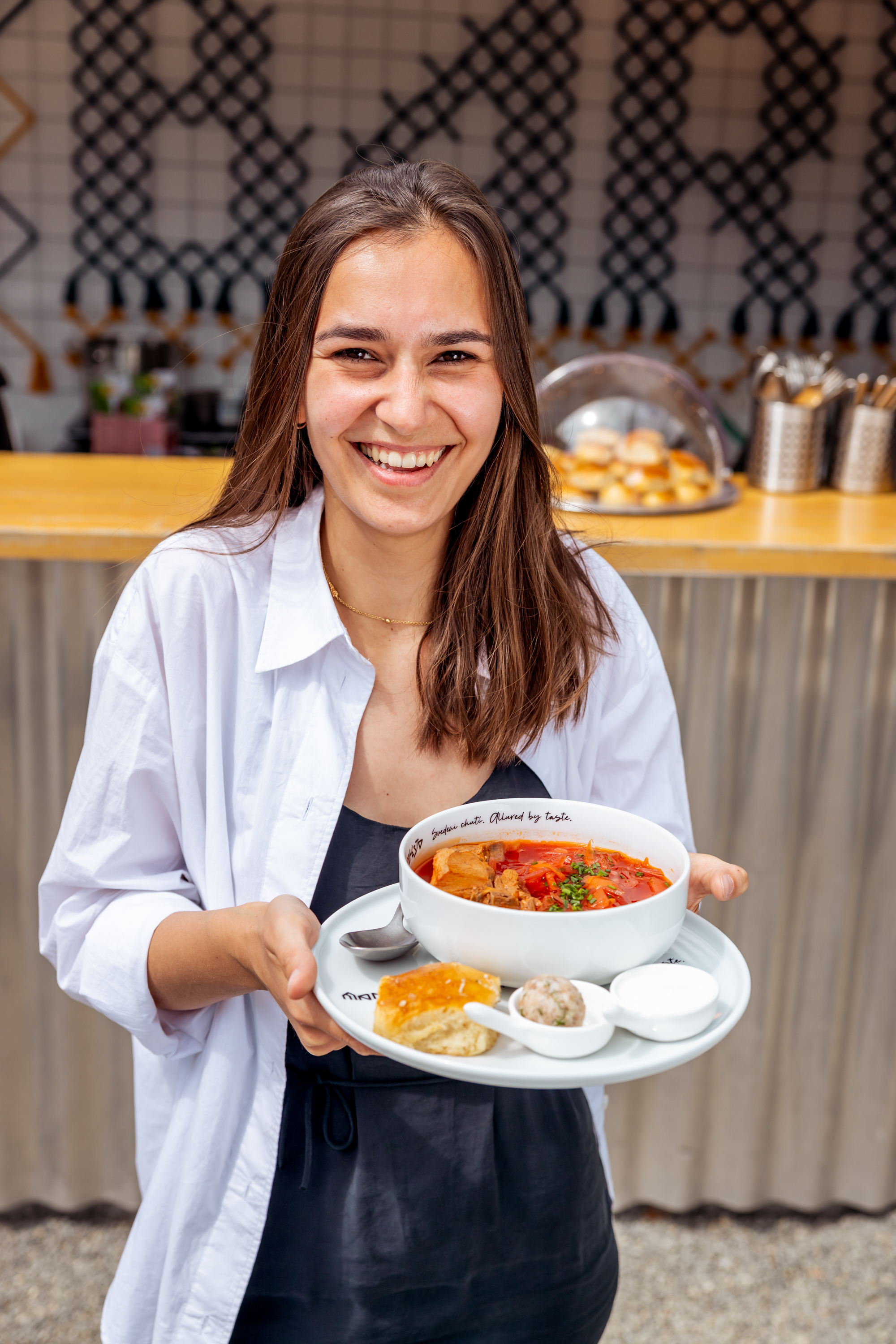 Can you tell us about the decoration concept of your restaurant?
We tried to make it as authentic as possible, so in the interior you will see the classic "vyshyvanka" in traditional colors, black, white, blue and yellow. We adapted the dishes to this as well. I had help with the interior not only from friends, but also from a family with whom I made the large embroideries.
How did you create the menu?
The Ukrainian menu of Barva restaurant will reflect homemade recipes from different regions of Ukraine, but also the fact that my boyfriend is vegan. Because of him, for example, I learned to cook two versions of the typical Ukrainian soup borscht and both will be on the menu. Another typical dish will be my favorite varenyky – stuffed pasta bags. Every 14 days we will have one new dish as a special offer.
And when you say varenyky, what comes to your mind?
I think of home. And also old Ukrainian movies, in which you can clearly see Ukrainian culture, where women are in the kitchen, cooking a lot and just maybe making my favorite varenyky. Varenyky is also part of every Christmas menu, which consists of 12 dishes, so I definitely recommend you try my favorite, sweet with cherries, in addition to the savory version, which we tuned to absolute perfection.