COVID-19 Is the Opportunity Plant-Based Alternatives Have Waited For
8 Min Read By Hannah Blau
Covid19 has wreaked havoc with certain sectors of America's food chain — most recently and notoriously, the meat industry. The nonprofit Food & Environment Reporting Network estimates that U.S. meat industry, comprised of meatpackers, processors and farmworkers, suffered more than 17,000 infections and 66 deaths by the end of May, 2020.
Also, significant: supplies of meat at the retail level are dwindling. A May, 2020 report from CoBank, a national cooperative bank serving key food industries across rural America, projects that meat supplies in grocery stores could shrink as much as 35 percent, meat prices could spike 20 percent, and the impact could become even "more acute later this year" as the pandemic's continuing effects on the U.S. agriculture supply chain are felt.
What COVID-19 has made clear is that America's consumers are paying attention to the growing plant-based protein sector of the food industry in ways not previously seen.
And yet, plant-based products commonly referred to as "meat alternatives" have soared in popularity – and profitability – during the coronavirus pandemic. Typically made of legumes, vegetable and assorted grains, these "meat substitutes" are now popular in grocery stores, as well as fast-food restaurants and even fine dining establishments. In January of 2020, Impossible Foods, a leader in plant-based meat alternatives, primarily focused sales on the restaurant trade, selling to less than 200 supermarkets; by May of 2020, the company was selling its line of plant-based products in more than 3,000 retail markets and grocery stores.
Likewise, Beyond Meat, another plant-based market leader, has seen its net revenue from sales increase by 141 percent to more than $97 million over the previous year – a development that the company attributes to COVID19 and its impact on consumers' willingness to expand beyond meat. As Alexia Howard, a senior analyst at the investment research group AllianceBernstein recently told The New York Times: "We were saying [in mid-2019] that by 2030, Beyond Meat could have $1billion in sales; now we're saying by the end of 2020, which is only 18 months later."
What COVID-19 has made clear is that America's consumers are paying attention to the growing plant-based protein sector of the food industry in ways not previously seen. That market is no longer the exclusive domain of vegans and vegetarians, or responsible persons concerned about global warming. The new wave of interest is based in consumers who are ready to add plant-based proteins to their diets because they are safe, sustainable and accessible.
Ultimately, as these consumer purchasing trends continue, more and more Americans will buy plant-based proteins not as meat substitutes, but as a matter of choice — because that is what they want to eat.
All of which begs the question: Are plant-based proteins ready to shed their "meat substitute" persona and fly on their own merits?
"Meat" – What's in a Name?
William Shakespeare is undeniably one of the world's most well-known and highly regarded playwrights. Also renowned for his insights into human nature, one of Shakespeare's most famous characters, Juliet Capulet, once asked:
"What's in a name? That which we call a rose / by any other name would smell as sweet."
As the plant-based protein sector continues to expand exponentially during the COVID-19 pandemic, it's a fair question to ask when considering the historic warfare between America's newly-emerging plant-based food enterprises and the nation's long-established meat industry. Alternative protein companies cite the expanding number of food scientists and health advocates who argue that plant-based diets are better for the individual body, and more sustainable for the community at large. In contrast, members of the meat industry, mostly ranchers and processors, are working assiduously to attack plant-based products that use words like "meat" or "meaty" to title or describe their alternative proteins, claiming that such practices undermine their livelihoods by misleading consumers. This Hatfield vs. McCoy feud has intensified to the point where legislation is being sought, and passed, turning the arguments of one side or the other into laws.
Given Americans' increasing appetites for both meat and plant-based proteins, peaceful coexistence should not be out of the question. It is incontestable that more Americans are looking to integrate plant-based proteins into their diets. However, production and consumption data tracked by the federal government also show that, even into the COVID-19 pandemic, Americans' consumption of beef and other red meats, as well as chicken, continues to increase year over year.
All of which begs two questions:
If meat production and sales continue to rise even as the market for alternative proteins grows, why is the meat industry so determined to legislate the use of the term "meat?"
As emerging science and expanding health consciousness drive the American public's increasing awareness and demand for plant-based-alternative products, why should the companies providing these products even see a need for labeling or describing them in association with "meat?"
Shots Fired: The Real Marketing Edible Artificials Truthfully (MEAT) Act of 2019
In 2016, the American meat industry began an organized effort to lobby Congress and state legislatures for passage of laws prohibiting manufacturers of plant-based proteins from using the term "meat" to market their products. In 2018, Missouri became the first state to enact a "real meat" law, mandating that only animal products could be called "meat." Products made from soy or other plant-based materials would have to be described as "protein textured," not labeled as "meat" or "meaty." By the end of 2018, American cattle ranchers, beef producers and farming industry groups had persuaded legislators in more than a dozen states to introduce laws that would make it illegal to use the word "meat" to describe burgers, sausages and other traditionally meat-comprised products that are created from plant-based ingredients.
In October of 2019, U.S. House of Representatives members Roger Marshall (R-Kan.) and Anthony Brindisi (D-NY)introduced the Real Marketing Edible Artificials Truthfully (MEAT) Act of 2019 to combat what the beef industry sees as the rise of misleading labels on alternative protein products. According to its Congressional sponsors, the Real MEAT Act will codify the definition of beef for labeling purposes, and reinforce existing misbranding provisions to eliminate consumer confusion.
The proposed legislation includes the following raison d'être:
The lack of any Federal definition of "beef'' or "beef products'' for the purposes of meat food product labeling has led some to begin marketing imitation products as meat or beef, creating the opportunity for marketplace confusion and consumer fraud that Congress originally charged the various Federal food regulatory agencies with the duty to prevent.
Meat industry advocates argue that plant-based alternatives are unfairly trading on the images and marketing of meat made from animals, and that such marketing practices confuse consumers. Promoters of vegetarian and plant-based products counter that farmers and ranchers are concerned with trying to protect their brands and sales, not clearing up any consumer confusion. "No one's confused when they buy veggie sausage," says Amanda Howell, a staff attorney for the Animal Legal Defense Fund. "Forcing them to call it a 'veggie tube' is more confusing."
My question: Why is this argument still going on in 2020?
Why Try and Call It Meat?
Beyond Meat and Impossible Foods launched their non-meat enterprises out of Silicon Valley in 2009 and 2011 respectively. It is not surprising that when the plant-based alternative movement first began to emerge commercially, the manufacturers sought to link their products to existing notions of meat. Ten years ago, few consumers had much understanding of what a plant-based alternative protein was, or why it might be worth consuming.
Fast forward a decade, and the circumstances have changed dramatically. A 2018 study into the diet choices of 2,000 Americans found 38 percent of those polled acknowledged a willingness to try plant-based dieting. A so-called "flexitarian" i.e., someone who does not adhere to one specific eating style and may combine plant-based and meat-based diets, comprised 31 percent of those studied. The study, conducted by OnePoll, in conjunction with So Delicious Dairy Free, examined the eating habits of 2,000 Americans and found that nearly three in five (59 percent) eat plant-based meals at least once a day.
This should not surprise anyone. According to recent research by market intelligence agency Mintel, there are multiple factors driving the growth of plant-based eating. These include concern for the environment, health and wellness, ethics, and diversity in protein sourcing. Due to the impact of animal agriculture on climate change, animal welfare, and heath consumers have started to make more diversified food choices. According to a report by information analysts GlobalData, there's been a 600 percent increase in the number of Vegans in the U.S. in the last three years alone.
According to The New York Times, "[t]he push for state labeling laws is a reflection of how quickly start-ups like Beyond Meat and Impossible Foods, which produce burgers from plant-based ingredients, have grown to challenge the traditional meat industry." Citing the market research firm Euromonitor International, the Times reported on February 9, 2019, that sales of plant-based proteins increased by $330 million to $1.5 billion in 2018.
But is one industry really challenging the other? Here's an equally-important statistic: meat sales increased as well that same year, and by more than a billion dollars! In 2018, the combined market for retail sales of red meat and poultry exceeded $92.1 billion. Although full figures are not yet available for this past year, partial 2019 sales data and USDA projections issued on January 16, 2020, suggest that full year 2019 might show an additional 2.3 percent increase in retail sales for red meat and poultry over 2018.
Indeed, even in meat-loving countries like Japan, where animal protein is revered, that nation's two largest meat processors announced that they were going to expand into plant-based protein products, even as they continued to serve the nation's increasing demands for real meat. In a January 27, 2020 research note, the USDA's Foreign Agricultural Service (FAS) observed:
The alternative meat market gained greater attention in 2019 when Japan's two largest meat processing companies announced plans to develop their own lineups of alternative meat products for sale beginning in the spring of 2020. Planned items include plant-based hams, sausages, and gyoza (fried dumplings). As a result, industry sources report that sales of alternative meat products in Japan could double to reach $312 million annually by 2023.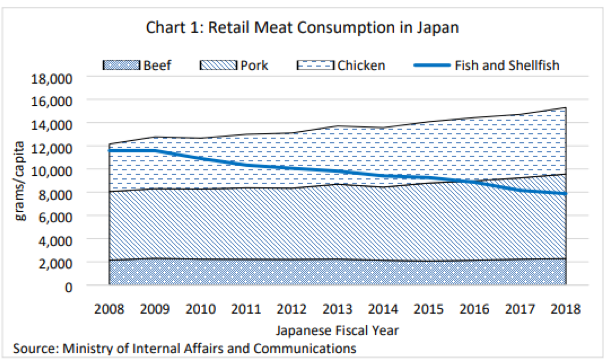 Ranchers and real meat processors need not worry — the value of the Japan's meat market (domestic production and imports) is approximately $28.4 billion. In 2018, Japan ranked as the number one overseas market for U.S. beef and U.S. pork valued at a combined $3.7 billion. In fact, Japanese consumption of land-based animal protein (excluding seafood) continues to trend upward, even as the market for plant-based alternative proteins doubled. According to the recent FAS report, "[p]er capita consumption of chicken and pork has risen year over year as consumption of traditional protein sources like fish and shellfish falls due to lower supplies and high prices."
The point is that the markets for meat and plant-based proteins are each growing, simultaneously, without any indication that one side is cannibalizing the other. Even in a meat-loving nation like Japan, consumers are aware of plant-based alternatives and those who want them are finding producers willing to supply their demand.
Why Continue with Industry-Harming Legislation?
In May of 2019, financial analysts at banking conglomerate Barclays projected that the market for plant-based alternative protein products would reach $140 billion over the next decade. Even so, that represents less than ten percent of the current global meat market – a market that also continues to grow.
And yet, the Real MEAT Act is looking to impose punitive measures that will unnecessarily hurt the plant-based protein companies who produce products that more and more consumers are demanding. Most controversially, the text of the Real MEAT Act legislation states that "any imitation meat food product, beef, or beef product shall be deemed to be misbranded unless its label bears…the word 'imitation' immediately before or after the name of the food and a statement that clearly indicates the product is not derived from or does not contain meat."
Food marketers will confirm without dispute that words such as "imitation" have huge negative connotations. In the context of plant-based alternatives, they are likely to produce more, not less consumer confusion.
Do we really want to curb the plant-based protein market, when its growth has not stopped the meat industry from growing as well? Global food company Nestlé reported that 87 percent of Americans are now including plant-based protein in their diets. Figures like these suggest the plant-based protein market is no longer niche; consumers remain hungry for meat and dairy, but also crave plant-based proteins as well.
The plant-based alternative industry has matured to the point where it does not need to identify with meat to attract customers. Consumer confusion is no longer an issue, but the Real MEAT Act suggests that protectionist, anti-competitive legislation might be.
Consumers are looking for both traditional meat as well as sustainable plant-based proteins. COVID-19 has made the consumer demand for alternative proteins even more pressing, demonstrating that the marketplace is big enough to accommodate both meat and plant-based options. With these market dynamics, there is no justification for misusing the law to advantage one industry over another, to the detriment of consumers.