Consumer Dining Survey: Sales Inching Up; Basket Size Trending Down
2 Min Read By Jana Zschieschang
QSR net sales for the quarter are up 1.4 percent compared to Q2 2021, according to the Revenue Management Solutions (RMS) Q2 Industry Trends Report. Average check was up 7.2 percent for the same period, while Q2 traffic was down 5.4 percent YOY.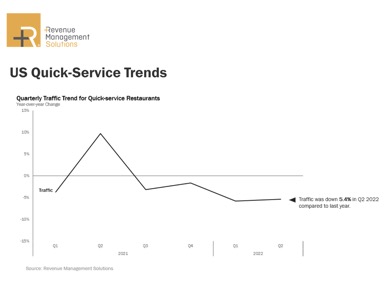 Inflation is still climbing, but it's not all bad news for operators​​
In recent news that probably surprised no one, the Fed announced that the US inflation rate had accelerated, exceeding even already-gloomy expectations. In May 2022, the annual rate was 8.6 percent. Come June, the Labor Department's Consumer Price Index saw that annual rate climb even further to 9.1 percent, the highest it's been since November 1981, not to mention the sharpest monthly increase the country has seen since 2005.
While inflation is most definitely impacting guests, RMS' Q2 2022 Industry Trends Report shows it's not all bad news for operators. QSR net sales are up 1.4 percent YOY after experiencing a decline in overall performance in Q1 2022 due to the spread of the omicron variant.
In addition, RMS asked 750 diners across all generations throughout the US about their current and future dining behavior. In the 2022 Q2 Trends Report, nearly one in three consumers reported ordering "more or much more" from their favorite QSRs (up from 21 percent in Q1). Almost one in five respondents stated ordering more or much more from fast casual and full-service restaurants, an increase of four percent from Q1.
Drive-thru still on top for QSRs
What has taken a hit this quarter is the reigning champion of channels — the drive-thru. The channel is down by 10.3 percent for the quarter, the poorest performer among tracked revenue channels. Since drive-thru traffic represents approximately 75 percent of total QSR sales (down from more than 90 percent at the height of the pandemic), operators are carefully observing its performance.
The good news? Consumers see a drop in gas prices, bringing them back to drive-thrus. When asked about upcoming plans for eating out, 21 percent of respondents said they intended to visit the drive-thru more or much more in the future — a 5 percent increase from Q1. Frequency across all revenue channels has also stabilized after a rough first quarter.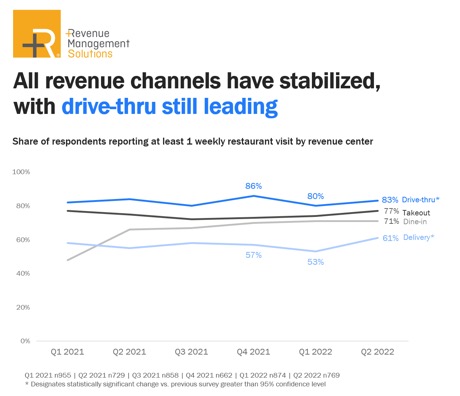 And there are still more bright spots for operators
Special occasion dining is on the rise. As families look to enjoy the "novelty" of going out, twp in five consumers said they planned on celebrating a special occasion at a restaurant this summer.
In Q2 2022, average check increased 7.2 percent compared to Q2 2021, with average net price up 10.8 percent. However, 34 percent of respondents are starting to manage costs by spending less of their disposable income on restaurants. Of those, 45 percent manage costs by ordering less from restaurants and 40 percent choose less expensive items. Moreover, about 20 percent are skipping dessert, appetizers or beverages, a trend reflected in the significant decrease in basket size — down 3.2 percent YOY. RMS also found that the percentage of consumers choosing less expensive restaurants is rising.
It's interesting to note that perception remains a reality among diners. While consumer perception of restaurant inflation has finally stabilized, guests believe groceries are becoming less expensive. In truth, food at home (grocery) prices and food away from home (restaurant) prices remain at an all-time high.
As restaurants proceed with caution in the current inflationary environment, we anticipate operators will be carefully watching all channels and behaviors, as will RMS.