Coca-Cola Research Reveals What Guests Want Post-COVID
5 Min Read
Six major themes are expected to drive restaurant operator profitability and beverage attachment post-COVID, according to the Coca-Cola 2021 Fountain Foodservice Beverage Strategy Survey. The themes include:
pent-up demand
off-premise growth
expectation for ease and convenience
need for reassurance
trust in fountain beverages
assortment optimization
"After more than a year battling the coronavirus pandemic, consumers have begun thinking ahead toward what life will look like post-COVID," said Diana Retter, Director, Commercial & Portfolio Insights, North America Operating Unit, The Coca-Cola Company. "While most consumers do not expect the pandemic to end in 2021, they are already considering their future lifestyles, including dining behavior."
Post-COVID Behavior Themes
1. Prepare for dine-in resurgence: consumers miss dine-in experiences, leading to pent-up demand and expected increases in visit frequency.
2. Plan for off-premise growth: new behaviors will stick, with higher anticipation of incremental off-premise consumption like pickup and curbside delivery.
3. Emphasize ease and convenience: restaurants made dining as seamless as possible during COVID, and consumers don't want to lose that.
4. Maintain visible hygiene cues: vaccinated consumers are among the most cautious and will continue to crave health and safety reassurance before returning to pre-COVID life.
5. Be confident in fountains: consumers trust fountain – the pandemic reinforced this.
6. Optimize assortment: foodservice operators can expand reach by optimizing beverage assortment to fit consumer preferences across dining modes.
Not everyone agrees on the indicator that will signal the end of the pandemic, but most agree it isn't over until the numbers say so, Retter pointed out. The most popular survey response (55 percent) was when "no or insignificant number of new cases are reported." Only 42 percent of respondents expect COVID to end in 2021.
(1) Prepare for Dine-in Resurgence and (2) Plan for Off-Premise Growth
Making up for lost time
When COVID ends, consumers expect their visit frequency to quick-service and full-service restaurants to increase to levels beyond that of pre-COVID life. On average, they expect their quick-service visits to increase by 1.7 visits per month and full service by 3.4 visits per month. Plus, consumers expect to continue utilizing incremental off-premise consumption like takeout, delivery and curbside pick-up post-COVID.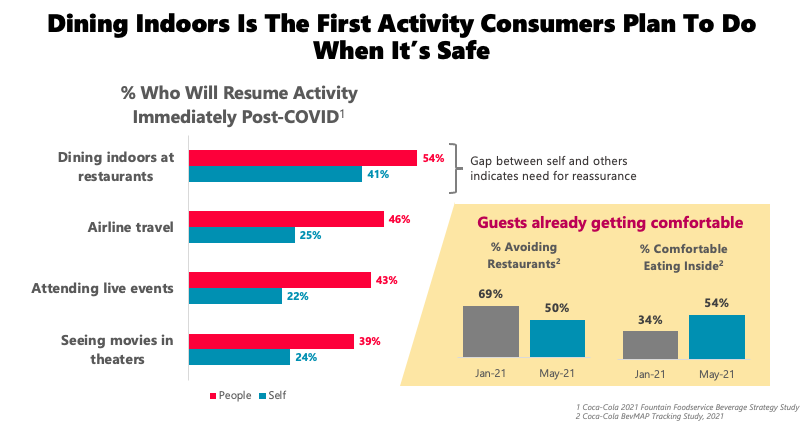 Dining indoors is the first activity consumers plan to do when it's safe
When asked which activities they would resume immediately post-COVID, 54 percent of consumers indicated that dining indoors at restaurants would top the list. That was followed by airline travel (46 percent), attending live events (43 percent) and seeing movies in theaters (39 percent).
Dine-in demand will surge, and off-premise modes are here to stay
Full-Service Restaurants
Pent-up demand could lead to a significant increase in visits each month. In fact, post-COVID, consumers expect to increase total visits by more than 3 visits each month overall between dine-in, delivery, takeout and pickup/curbside. Off-premise dining will remain popular, nearly doubling that of pre-COVID rates.
Pre-COVID: 5.9 visits per month
2.9 dine-in visits
1.2 delivery
1 takeout
0.8 pickup/curbside
Mid-COVID: 4.3 visits per month
1.4 dine-in visits
1.1 delivery
0.9 takeout
0.9 pickup/curbside
Post-COVID: 9.3 visits per month
3.6 dine-in visits
2.2 delivery
1.8 takeout
1.7 pickup/curbside
Quick-Service Restaurants
On the quick-service restaurant front, total visits each month could increase by nearly two visits each month on average. Pick-up and curbside delivery will gain stronger relevance post-COVID, and dine-in recovery will be stronger than pre-COVID levels
Pre-COVID: 10.3 visits per month
2.2 dine-in visits
1.6 delivery
1.8 takeout
0.9 pickup/curbside
3.8 drive thru
Mid-COVID: 8.7 visits per month
1.1 dine-in visits
1.6 delivery
1.3 takeout
1.2 pickup/curbside
3.5 drive thru
Post-COVID: 12 visits per month
2.7 dine-in visits
1.9 delivery
2 takeout
1.5 pickup/curbside
·3.9 drive thru
(3) Emphasize Ease and Convenience
How consumers will choose which restaurants to visit
As was true pre-COVID, the first question consumers will ask themselves when deciding what restaurant to visit is how much they want to spend. As the first fact in determining which restaurant to visit, price narrows the consideration set to the type of establishment in general, whether full-service or quick-service.
After price, the top five determining factors in post-COVID restaurant choice are the same for both FSR and QSR: craveability/quality, safety, ease/convenience, service and food/beverage variety. Another top determining factor for FSR (tied with ease/convenience) is experience. While conscious of safety, consumers are not over-emphasizing safety as a differentiator in what outlet they choose.
How COVID has changed diners' expectationsi
Now, consumers expect to be able to pre-order and find new menu items online before entering the restaurant – and this desire will live on in a post-COVID world.
In a study of consumer outlet motivations, the factors that showed the largest percent change in motivation from Q2 2020 to Q1 2021 in QSR were:
Convenient way to pre-order – +12.9 percent
Always something new on the menu – +8.6 percent
Healthy options for kids – +7.1 percent
Kid-friendly – +6.7 percent
Even within FSR, consumers will increasingly expect restaurants to offer fast, easy and convenient solutions:
Convenient way to pre-order – +23.3 percent
Always something new on the menu – +5.3 percent
Get something quick – +10.8 percent
Specific food item I like – +5.3 percent
In addition, the pandemic has caused consumers to re-evaluate other dining-related opinions and behaviors. Since Q1 of 2020, 10.9 percent more consumers are comfortable with mobile pay, 5.6 percent more agree that they like fast food, 4.9 percent more say they plan well in advance, and 4.4 percent more search specifically for kid-friendly restaurants. Price has become less of a differentiator, as consumers that agree they base restaurant choice on coupons and price decreased by 2.2 percent and 3.3 percent respectively.
iSource: Coca-Cola DINE360 Tracker Study, 2020-2021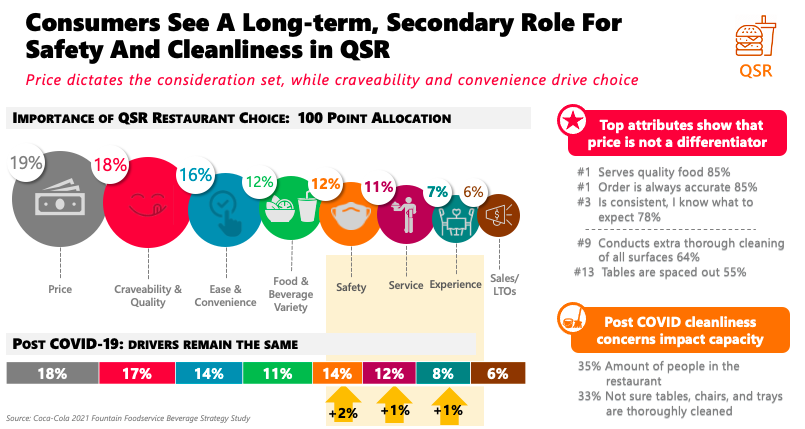 (4) Maintain Visible Hygiene Cues
Not only do consumers say safety will be among the top five determining factors of restaurant choice post-COVID – they want to be able to see cleanliness in action. In FSR and QSR respectively, 65 percent and 64 percent of consumers say it's important that the restaurant conduct extra-thorough cleaning of all surfaces, and 60 percent and 55 percent respectively say they want to see tables spaced out. Post-COVID cleanliness concerns and expectations also could impact capacity, with 35-38 percent taking note of the number of people in the restaurant and 33 percent factoring in whether a restaurant has good air ventilation.
(5) Be Confident in Fountains (Consumers Are)
Post-COVID, guests will still be more likely to order fountain beverages than bottled beverages. Nearly the same percentage of people who said they typically ordered fountain beverages pre-COVID will do so again post-COVID. And comfort with fountain is true across diners of all demographics. Of those surveyed, 70 percent or more reported feeling comfortable ordering fountain today.
Self-serve is still preferred in quick-service restaurants, while full-service restaurant preferences are shaped by service expectations
According to survey data, self-serve will continue to be strongly preferred in quick-service post-COVID, among those who consumed fountain pre-COVID. In full-service, there is a slight preference for crew-serve beverages, likely due to higher service expectations in the channel. The nearly equal preference for self-serve in full-service restaurants is largely driven by desire for customization and accuracy, not hygiene concerns. Only 16 percent of consumers are concerned about having an employee pour their drinks. Plus, consumers are more likely to say they can customize fountain flavors when self-serving, and they place continued importance on order accuracy.
(6) Optimize Assortment
Multi-serve packaging is uniquely positioned to capture family meals
One in 12 diners is ordering bottle/can more often. These consumers are more likely to be millennial (59 percent), working remotely (52 percent) and have children (48 percent). In a study of consumer off-premise beverage preferences, nearly 1 in 4 say they prefer a multi-serve package when ordering for takeout.ii
iiSource: Coca-Cola DINE360 Tracker Study, 2020-2021
Opportunities to capitalize on bottle/can lie with third-party delivery
Delivery is the strongest fit for bottle/can both pre- and post-COVID, with opportunities for premiumization. 97 percent of consumers are open to ordering bottles from third-party delivery, and, among heavy users of FSR delivery, 33 percent are even willing to pay a premium for bottle/can. In QSR, that percentage is 30 percent.
Both fountain and bottle/can are important for future growth
The strength of fountain beverages lies in comfortability, great taste and variety, with more than 70 percent of consumers agreeing that they are comfortable ordering fountain, that fountain tastes great and has a wide variety. For bottle/can beverages, more than 69 percent of consumers agree that bottle/cans are recyclable, they are comfortable ordering them, and they taste great. To meet the needs of all potential guests, it is important that operators consider both formats.