Cleanliness in the Restaurant: Reality and Perception
5 Min Read By Steve Starr
Just because dine-in business is on hold doesn't mean your restaurant's future has to be. Now is the time to get ahead and make sure you are equipped to adequately address what customers will likely be worried about most: restaurant cleanliness and sanitation.
Although celebrity figures like "Bar Rescue" host Jon Taffer recently told "Fox & Friends" viewers that his biggest worry for restaurants is "the premise of spacing continuing into the retail environment," there's going to be more that operators will need to evaluate.
We agree that "people aren't going to want to sit shoulder to shoulder" at first, and that "they are still going to be cautious and want some spacing." However, we expect the initial reduction in seating capacity to be closer to 25-30 percent, not 50 percent. This period will likely last four-to-six weeks, and we expect the seating reduction to create table spacing of approximately 9'-0" on center (from the typical 6'-0" on center).
As restaurants adjust back to a new normal, we expect operators to incrementally add tables and seats back to their longtime standard. We believe this because we know that people are social beings and require social interaction to stay healthy.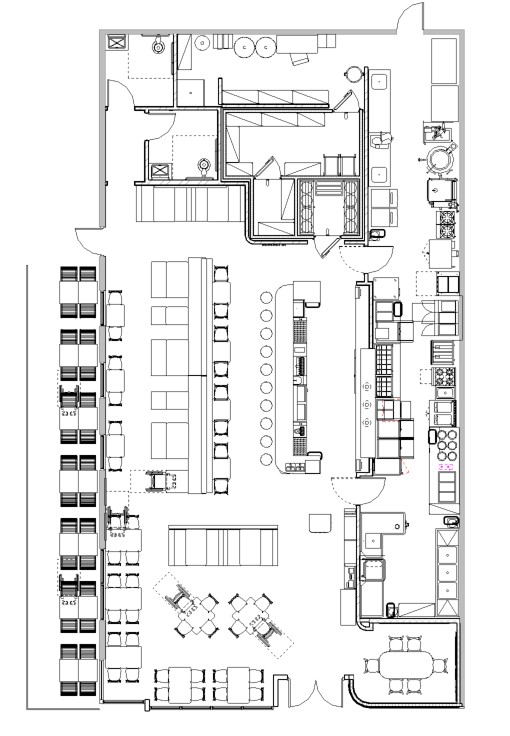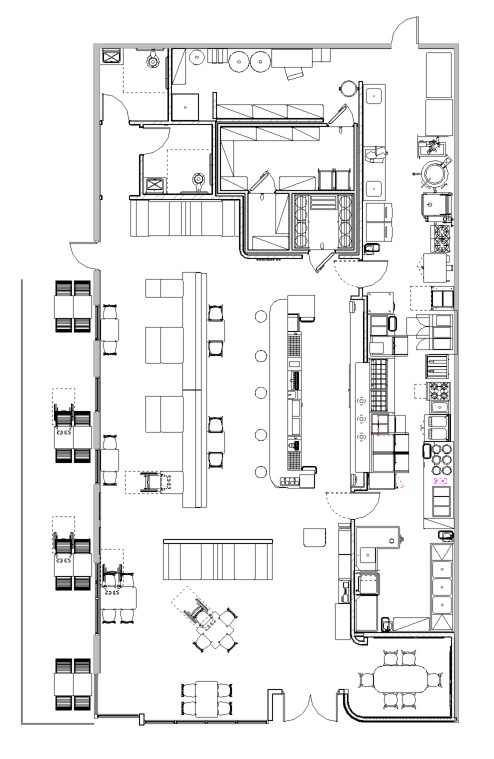 The key here will be providing guests with an environment characterized by both the reality and the perception of cleanliness and healthfulness, even if the restaurant concept is all about indulgence. There is and will continue to be a heightened awareness around how clean surfaces are and a wariness around things people are touching. But what does "clean" really mean?
The Reality of Cleanliness
We know that some viruses, including the novel coronavirus, can live for days on certain surfaces. This makes how, how often, and what surfaces you clean extremely important. Here are the three main levels of cleaning you should be concerned with:
Cleaning – removing physical dirt, debris, soils etc. from the surface. Though it doesn't kill germs, it is often seen as the most important part of a hygiene process because it impairs environments once conducive to them.
Sanitizing – reducing, not killing, the occurrences and growth of bacteria, viruses and fungi on a surface.
Disinfecting – killing or completely destroying microscopic organisms and pathogens on surfaces. While it does not clean dirt or germs off of the surface, it helps to prevent infection or disease transmission by killing germs.
Sanitary Surfaces
It's also important to consider surface material. A recent New England Journal of Medicine study shows that the virus that causes COVID-19 can live anywhere from four hours on copper to two to three days on stainless steel and polypropylene plastic (often used to store food). However, antimicrobial technology might be the ticket to reducing the chance of those germs lasting there in the first place.
Antimicrobials can be integrated into products like fabric and plastic, acting as a form of built-in protection. They can also be applied as a coating on metal surfaces like stainless steel. These compounds contain active ingredients, such as silver, that work to suppress and prevent pathogen growth upon contact. Providers like AgION and Microban offer a wide variety of antimicrobial products for equipment used at large in the restaurant industry, such as ovens and HVAC systems.
HACCP-Compliant Processes
The ability for germs to live on surfaces for multiple days also emphasizes the need for restaurants to implement processes and procedures based on Hazard Analysis and Critical Control Points, or the HAACP system. HACCP is a methodology that restaurants use to monitor food safety practices by setting processes, responsibilities and record-keeping systems.
One former Darden back-of-house trainer describes it as a "checks and balances system," allowing businesses to track where health related problems could have stemmed from. HACCP methodology establishes specific expectations for what needs to be cleaned, how it's to be cleaned, how often it's to be cleaned, who is responsible when, and more. While it's customary to have a team of individuals who are responsible for monitoring HACCP compliance and everyone's health as a whole, it's important for every employee to be trained on, concerned with and committed to everything on the checklists.
The Perception of Cleanliness — Visual and Psychological Cues
So, you know how to truly clean, you've found antimicrobial products that will do some of the work for you, you've established methods to keep the environment safe and you've trained your staff on complying with them. Then, a customer walks in the door:
Door handle. Chairback. Tabletop. Menu. That's four touchpoints in the first seven minutes upon entering your restaurant. And questions linger:
"How clean is this restaurant?"
"Am I safe eating here?"
Using visual and psychological cues to affirm to guests that you have gone above and beyond in promoting restaurant cleanliness is going to be key to eliminating these thoughts. This kind of design doesn't have to be monumental or cost an arm and a leg, either.
One example would be to put hand sanitizer or wipe dispensers in accessible areas. This not only gives the guest control over their environment (which people naturally like), but also sends the message that cleanliness and sanitation are important to your restaurant. Similarly, you can install foot handles in places like the bathroom door, so guests don't have to use their clean hands to open it. Again, you are providing the guest with more control over their environment and communicating an effort to reduce the spread of germs.
Additionally, we expect aesthetic trends to scream cleanliness—a cleanliness with warmth rather than sterility. For instance, something more sustainable but reminiscent of the white, butcher paper on wood tables that was popular in the late 1990's and early 2000's. From a table covering that is replaced between parties to light-colored quartz bar tops, plan to see the sharp, fresh, white trend reemerge. Though it seemed as though this trend had passed its peak on the trend curve, it will rise again due to how effectively it communicates cleanliness. Dirt or soil is easier to see on a white surface, so if you have a clean, light surface, you've already won half the battle.
The next half of the battle is communicating sanitation, or that your space is "germ-free." This can easily be portrayed by hanging up charts that list your HACCP processes and task frequencies. Include boxes for employees to sign off what time they complete specific tasks. By showing guests exactly when an employee cleaned the sink they just used and how often someone cleaned it that day, you are highlighting and celebrating the fact that it is, in fact, clean.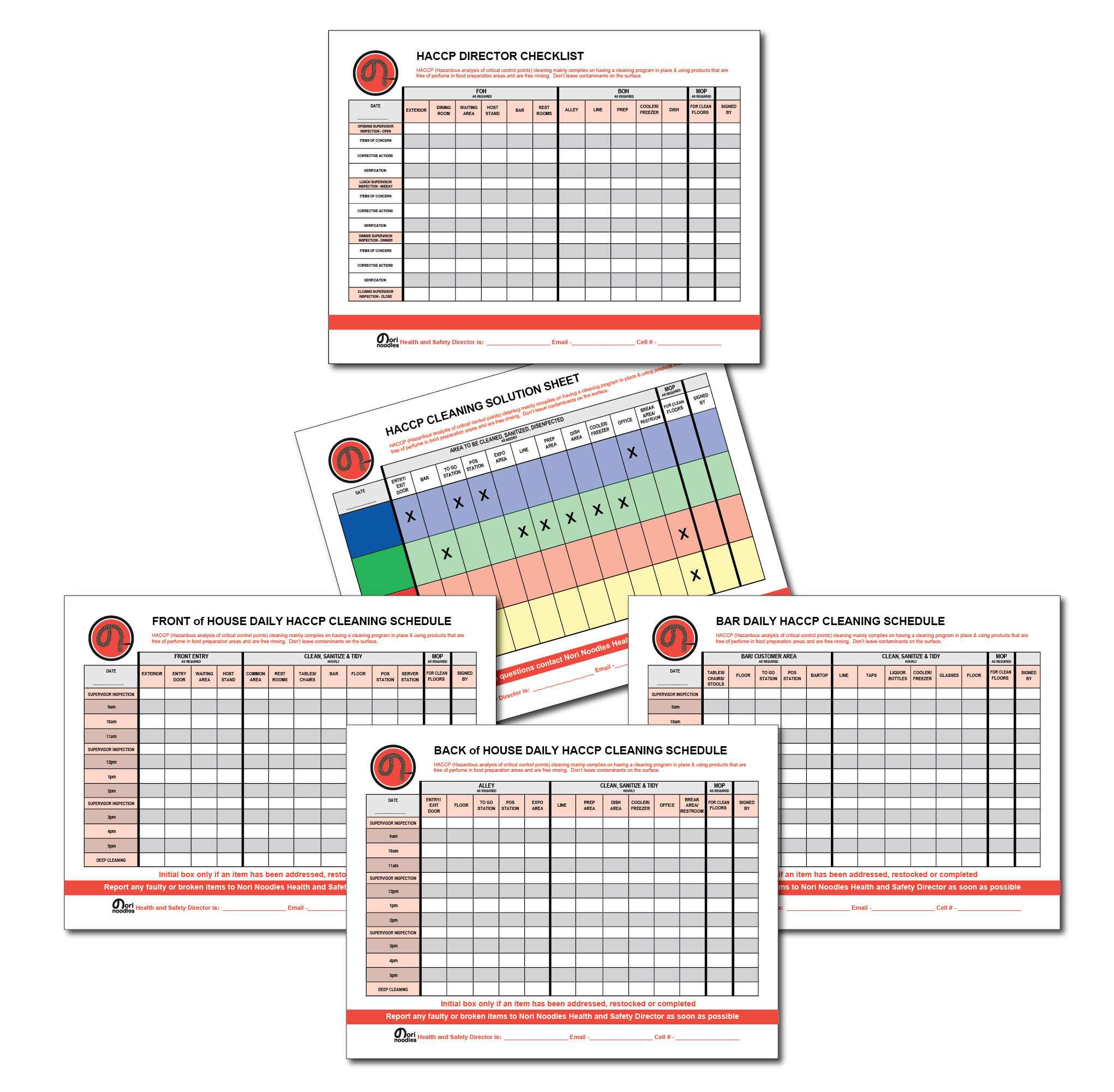 Dining room doors will eventually open to the public again. Now is the time to invest some thought into how you communicate your cleaning habits and how others can and will perceive them. At the end of the day, you want to reassure your guest with messaging that says, "cleanliness and healthfulness is important to us."