Cities Implementing Vaccine Mandates for Indoor Dining Are Seeing Stable Restaurant Visitation
4 Min Read By Andrew W. Custage
Since the late summer of 2021, many major U.S. cities have implemented requirements for patrons to show proof of COVID-19 vaccination in order to dine indoors at restaurants. At a time when over one-third of U.S adults remained unvaccinated, the launch of this unprecedented policy was met with concern by many in the restaurant industry. If visitation from these unvaccinated consumers were to be lost entirely, or even fully shifted to less profitable channels like delivery, many restaurant owners rightfully feared that their businesses may fail entirely.
However, new data from Sense360 by Medallia recently revealed that cities implementing vaccine mandates saw little change in the performance of their respective restaurant markets, compared to trends they were experiencing before the policies took effect. This paints an interesting picture around the current and potential future state of the country's restaurant industry.
A Closer Look at the Findings
From the onset of these new policies, starting with New York and San Francisco in August 2021, Sense360 by Medallia has been able to utilize its unique combination of smartphone foot traffic, credit/debit spend and attitudinal survey panels to understand the impact on the restaurant industry.
To understand if these policies drove reduced restaurant traffic, compared to what could have been expected had they never been implemented, Sense360 by Medallia examined select cities' bar and restaurant foot traffic trends compared to a pre-pandemic baseline (February 2020). Subsequently, city trends were normalized against trends for the country as a whole in each time period, to better control for non-city-specific effects like seasonal/holiday change, gradual vaccine adoption, emergence of the Delta and Omicron variants and changing political/media focus. Cities considered included New York, San Francisco, Los Angeles, Chicago, Philadelphia and Washington DC.
In addition, similar calculations were done to understand the more nuanced impacts to the restaurant market, including specific trends within sit-down-focused restaurant chains and also trends in spending on delivery platforms.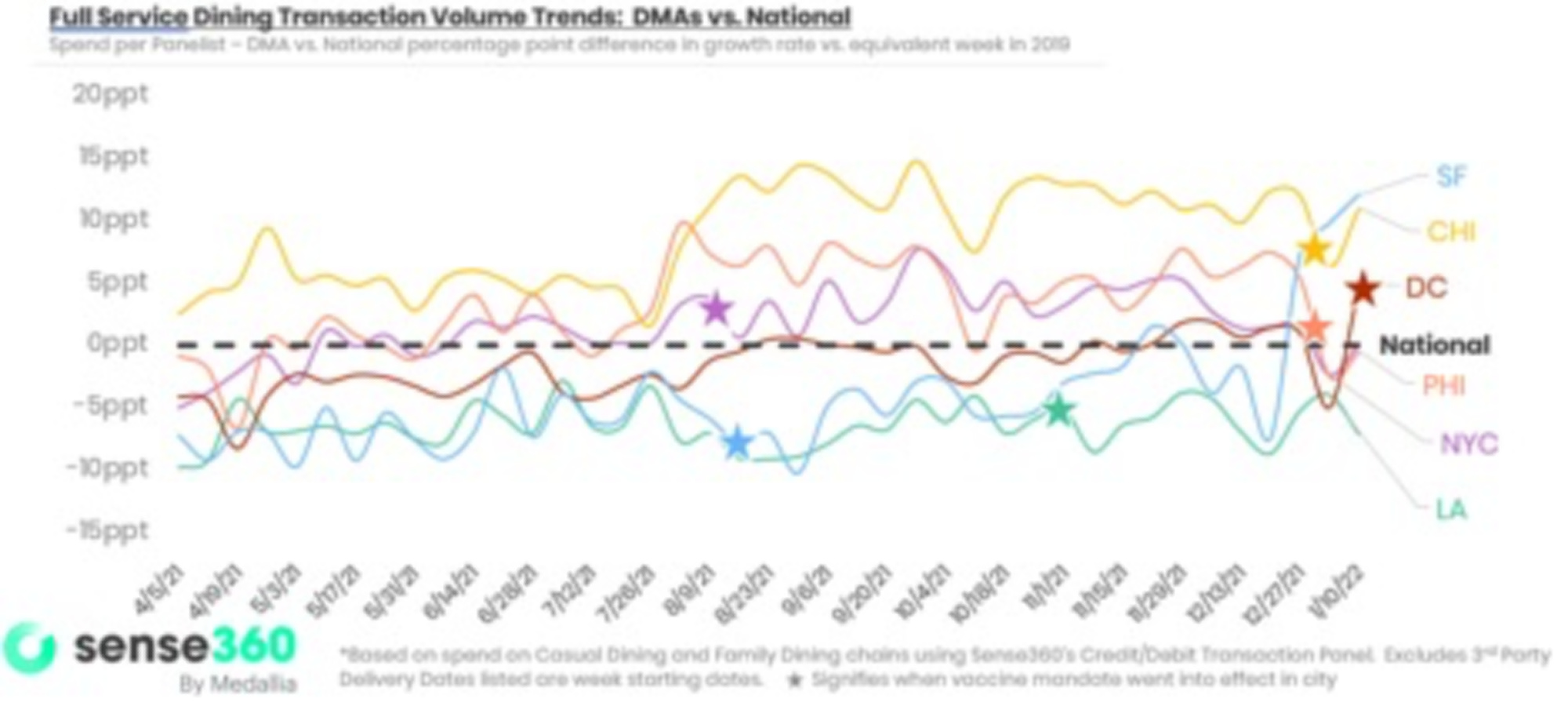 In each of the metrics analyzed, similar findings revealed that these cities did not experience worsened trends after implementing vaccine mandates, compared to trends they were already experiencing prior to implementation. In some cases, dips in restaurant foot traffic (or specifically sit-down-restaurant traffic) may have been felt briefly, but trends reverted back to pre-mandate levels within a couple of weeks.
How could vaccine mandates have such little effect on the health of the restaurant markets for the cities that implemented them?
While prohibiting a sizable portion of the population from dining indoors may seem likely to suppress industry-wide traffic, a combination of many factors are probably contributing to the generally stable health of the market.
One factor may be that cautious vaccinated individuals now feel comfortable to dine regularly at restaurants because of the mandates. Any loss in visitation from unvaccinated diners may, at this point, be partially or fully substituted by the return to dining among those who are vaccinated that were previously unwilling due to exposure concerns. Because the specific cities implementing these policies also have higher-than-average vaccination rates, the percentage of people prevented from indoor dining due to being unvaccinated is also relatively low.
Another factor may be the sustained shift among the unvaccinated to utilize options other than indoor dining, such as outdoor seating, drive-thrus, to-go pickup and delivery orders. Many restaurants transformed operations to focus on these service channels at the beginning of the pandemic, and it is likely that unvaccinated patrons are still left with many restaurant visit choices beyond indoor dining.
It would also be naive not to consider the possibility that a significant proportion of restaurants and customers are not following policies as directed. Whether staff are not asking for proof of vaccination as a customer arrives, or customers are being dishonest about their status, both could be helping traffic for some restaurants in sustaining pre-policy levels.
Other possibilities also include wide stability of traffic within metro areas, even if individual county or city limits are seeing more volatility. For example, the mandate in Los Angeles, California only applies to Los Angeles city limits, leaving many unvaccinated customers with options to venture into nearby areas outside city limits for indoor dining occasions. And while the restaurant industry as a whole remains stable following these policies, individual restaurants solely focused on indoor dining may still be feeling policy-driven losses, as traffic shifts to competitors that are better-suited to serve customers in the ways mentioned above.
What can restaurants gain by more effectively tracking the frequently-changing COVID policies and their resulting impacts on consumer behavior?
While vaccine mandates don't appear to have catastrophic impacts to the restaurant industry (so far) as some feared, many other economic and societal events have the potential to shake up the industry through 2022 and beyond. Whether it be the ongoing effects of inflation and labor shortages, changing local policies on mask mandates, the unknown future of COVID case rates, or concerns about government legislation – those with an educated perspective can anticipate changes in restaurant demand and have the foresight to capitalize on potential opportunities.
Maintaining a pulse on the overall restaurant market can provide benchmarks that justify pivoting strategy versus staying the course. Visibility into how consumers feel about restaurant experiences post-visit, along with broader industry perceptions, will allow restaurants to adequately prioritize areas of improvement or get an accurate read on how comfortable consumers are with getting back to a "new normal." Whether restaurants are considering reopening dining rooms, modifying delivery platform partnerships, ending employee mask requirements, or adjusting brand positioning, having a real-time pulse on how customers and employees will react is key.