#CheersUp, PARk it and the Shape of Pasta
2 Min Watch By MRM Staff
This edition of MRM News Bites features OpenTable, QSR Automations, Restaurant Workers' Community Foundation, PAR Technology, Tropical Smoothie Café, Bindi, The Shape of Pasta, Crook & Marker, Performance Food Group and Aptar Food + Beverage.
Social Distance Shopping
OpenTable is launching a new technology solution, free of charge, to help businesses better control crowding in their stores while helping shoppers avoid long wait times. OpenTable will expand its reservation technology to allow grocery stores, permitted major retailers, restaurants, pop-up shops and to go concepts to display available shopping times that customers can book in advance or join a waitlist at the door. Not only does this help control crowds in a simple and contactless way, it also provides a safer option for shoppers, especially those at high risk, to get their groceries without waiting in a crowded line.
Restaurants with pop-up markets, including Belcampo in both Oakland and Santa Monica, Gwen Butcher Shop & Restaurant in Los Angeles, PRAIRIE in San Francisco, Tartine Manufactory in San Francisco and Tesse Restaurant in Los Angeles, as well as local grocery story The Epicurean Trader in San Francisco have all signed on as the first launch partners. Just as people can make a restaurant reservation or join a waitlist, they will now be able to reserve shopping times or join a virtual line in the OpenTable app. To help managers limit the number of people in their store at one time, party sizes and shopping windows will vary depending on the business. To keep the flow of people moving as efficiently as possible, shoppers can also opt in to receive an alert via text or notification when it's their turn to shop.
"As the COVID-19 pandemic continues, our new software enables our restaurant partners to pivot to takeout, delivery and storefront business models" said Joseph Essas, Chief Technology Officer, OpenTable. "Consumer habits are shifting with over 400% increase in usage of our delivery and take-out feature on our platform in the last week. We hope this new solution provides similar support for retailers and grocers to help them safely manage the influx of shoppers."
OpenTable's cloud-based restaurant reservation software product helps nearly 60,000 restaurants worldwide. Restaurateurs can quickly implement this new feature to convert their physical space into a retail location, allowing them to sell goods, groceries or pre-made meals to their patrons.
"Restaurants have had to get creative and shift business models quickly during this challenging time. We have evolved some of our restaurants into pop-up corner stores to better serve our guests and our communities while supporting our team members," said Bill Chait, Director, Tartine Partners.
"It's great to see how quickly the OpenTable team has adapted with the restaurant industry to meet our needs and provide us with a platform to continue reaching our diners," added Jordan Ogron, Managing Partner of Tesse Restaurant. Since the COVID-19 pandemic started to impact restaurant operations, OpenTable has engaged in numerous efforts to help restaurants globally navigate through this challenging time, including the launch of a Data Center on the State of Restaurant Industry and a Restaurant Resource Center. For grocers, restaurants or businesses interested in learning more, click here.
ConnectSmart Go Debuts
In response to the demand that the global pandemic COVID-19 has created for restaurants in supplying and delivering off-premise orders, QSR Automations, the leading provider of kitchen automation and guest management solutions announced the launch of ConnectSmart Go, its new off-premise order management platform. To further help its restaurant customers, QSR will be providing ConnectSmart Go free during the pandemic crisis.

QSR Automations' ConnectSmart Kitchen (CSK) customers can now utilize ConnectSmart Go to effortlessly manage and streamline off-premise orders and:
Easily view all off-premise orders at-a-glance
Provide SMS capabilities that allow for contactless pickup and delivery
Receive order status updates and alerts when orders are packed and ready
Quickly send updates to the kitchen in real-time
Mark guests and delivery drivers as "arrived" and automatically notify BOH staff via CSK screens
Release, fast track, and cancel orders from the ConnectSmart Go app without stepping foot into the kitchen
Track and report on every data point
QSR Automations CEO Lee Leet said, "The restaurant industry has encountered unprecedented times and we all need to come together to help one another. ConnectSmart Go is QSR's way of helping operators in their time of need. With takeout and delivery options as the most viable way to sustain right now, this technology can help operators with the surge in off-premise orders and ease the transitional burden."
To learn more about ConnectSmart Go and schedule a demo, click here.
RWCF Raises More than $2M
Restaurant Workers' Community Foundation, an advocacy and action nonprofit founded in 2018 by and for restaurant workers, set up its Restaurant Workers COVID19 Crisis Relief Fund on Sunday, March 15. To date. RWCF has raised more than $2,250,000 in firm commitments from corporations and foundations and individual donations through its website (this figure does not include additional hundreds of thousands of dollars of corporate and major donor commitments currently being arranged).
As of March 30 at 10:00 a.m. EST, there were over 3,275 donations through the site, which ranged from $1 to $10,000 (about 60 percent were $50 or less), totaling over $450,000. RWCF has received funds and official commitments from corporations and foundations over $1,819,000. RWCF is providing frequent updates on donations and distribution figures on its Crisis Relief Fund FAQ.
Based on funds received in RWCF's bank account to date, the organization has as already transferred $700,000 to its direct financial assistance partner, Southern Smoke Foundation, which has been rapidly staffing up with former restaurant workers, reviewing thousands of applications for help and distributing $25,000-$30,000 in grants each day to individuals, usually between $500-$1,000. RWCF will make additional grants to SSF as funds become available.
"We are incredibly grateful and somewhat stunned by the generosity of giving to the restaurant worker relief fund," said John deBary, president of RWCF. "And we are not going to let up in our efforts because we know the amount we've raised pales in comparison to the vast need of this huge and hurting workforce, which is agonizing over the pace of government help and worried for undocumented restaurant workers who won't be eligible for government assistance."
PARk it Converter
PAR Technology introduced PARk it™, an online-ordering platform utilizing QR codes and Brink POS® software to convert a restaurant into a self-order kiosk/drive-in without any additional hardware.
PARk it™, powered by Ready Software USA Inc. (Ready) allows restaurant operators to create QR codes that connect customers to the restaurant's online menu using their phone. Customers can order menu items, pay with their existing payment methods such as Apple Pay, Google Pay or Credit Cards without signing up, or downloading an app. It's a flexible solution for restaurants and a frictionless experience for customers. Their order can either be taken to their vehicle or prepared for in-store pickup in a way that adheres to current social distancing mandates and is safe for staff and customers.
QR codes created using PARk it™ can be applied to specific parking spots at a location and can be easily affixed to signs, pedestals or windows. This gives operators the flexibility to offer safe, contactless, and on-premise ordering options that turn a guest's smartphone into a virtual kiosk, drive-thru or drive-in.
Ryan Volberg, Senior Vice President and General Manager, Brink Software commented, "As an open, cloud-based platform, Brink POS enables innovation to happen at the edges of the restaurant technology ecosystem, either by our restaurant customers or by third parties. We have been incredibly impressed with how Ready used the Brink API to transform every consumer's mobile phone into their own personal kiosk or drive-through. Making this capability available to our customers has been a top priority given the urgent need restaurants have to serve their customers in new ways."
The PARk it™ ordering platform is available to all Brink POS customers and can be launched within 24-48 hours.
'InItTogether'
In the wake of COVID-19, the restaurant industry has come together to support healthcare workers and first responders who are going above and beyond as they work tirelessly to care for those who have been impacted by the virus. Tropical Smoothie Cafe has joined the effort with its "InItTogether" campaign where the company is aiming to give away 100,000 smoothies to hospital workers/first responders across the country and has challenged each of its locations to donate 100+ smoothies to hospitals in their community.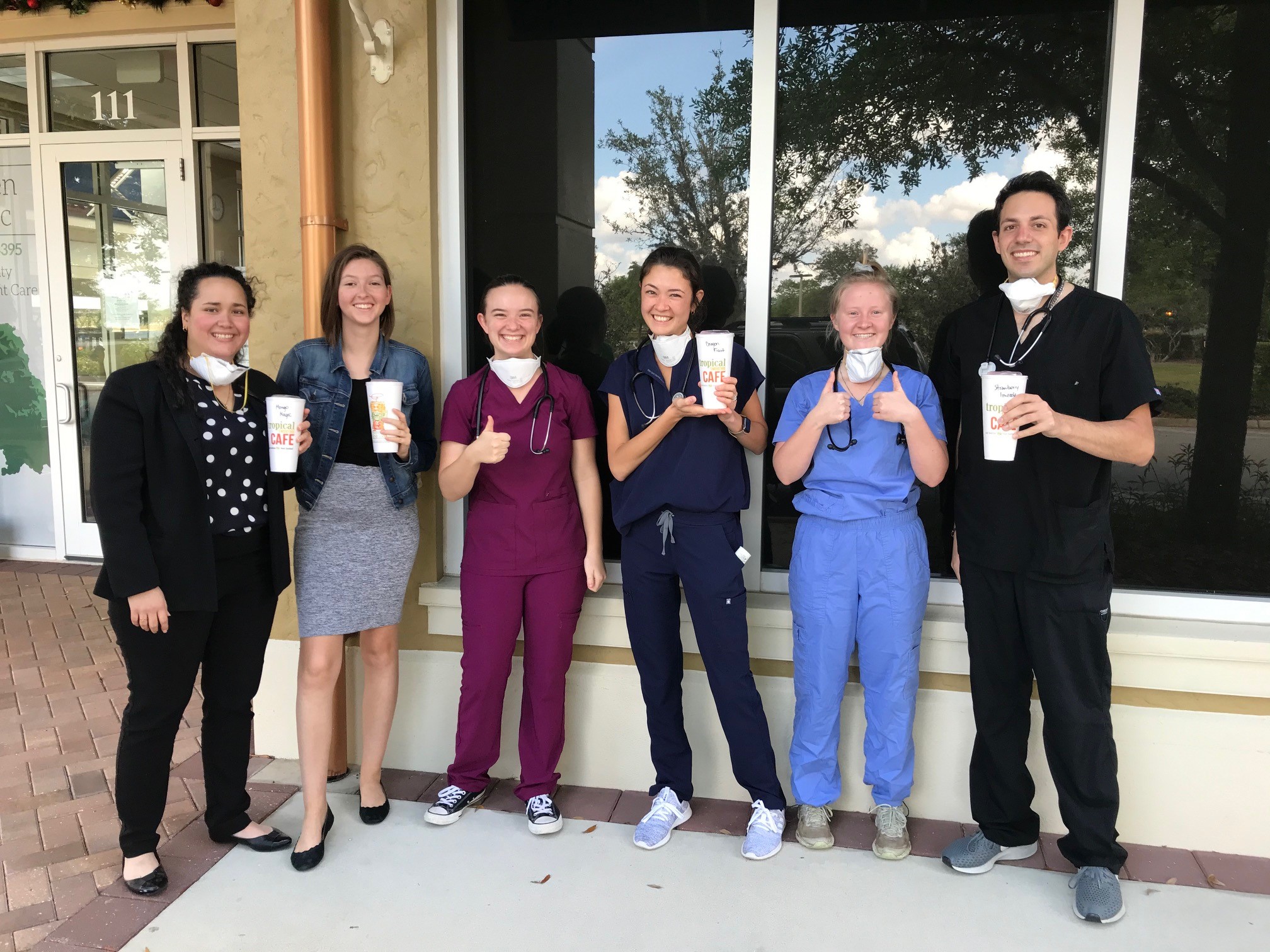 Within just one day, local franchise owners already jumped on board, with some committing to donate at least 600.
Bindi Offering At-Home Delivery
In response to the Covid-19 outbreak, Bindi will begin offering at-home delivery directly to consumers in New York City, Northern/Central New Jersey and the greater Los Angeles and Orange county area. Aimed to utilize Bindi's capacity and workforce and to create an additional channel for grocery delivery as key local and national grocery delivery services are overwhelmed, consumers will now temporarily have the opportunity to enjoy their favorite Bindi products at home. The items available for at-home delivery are not only limited to Bindi's signature items like the Mixed Berry Cake, Tiramisu and gelato; but also include their vast breakfast line, pizzas, and pastas.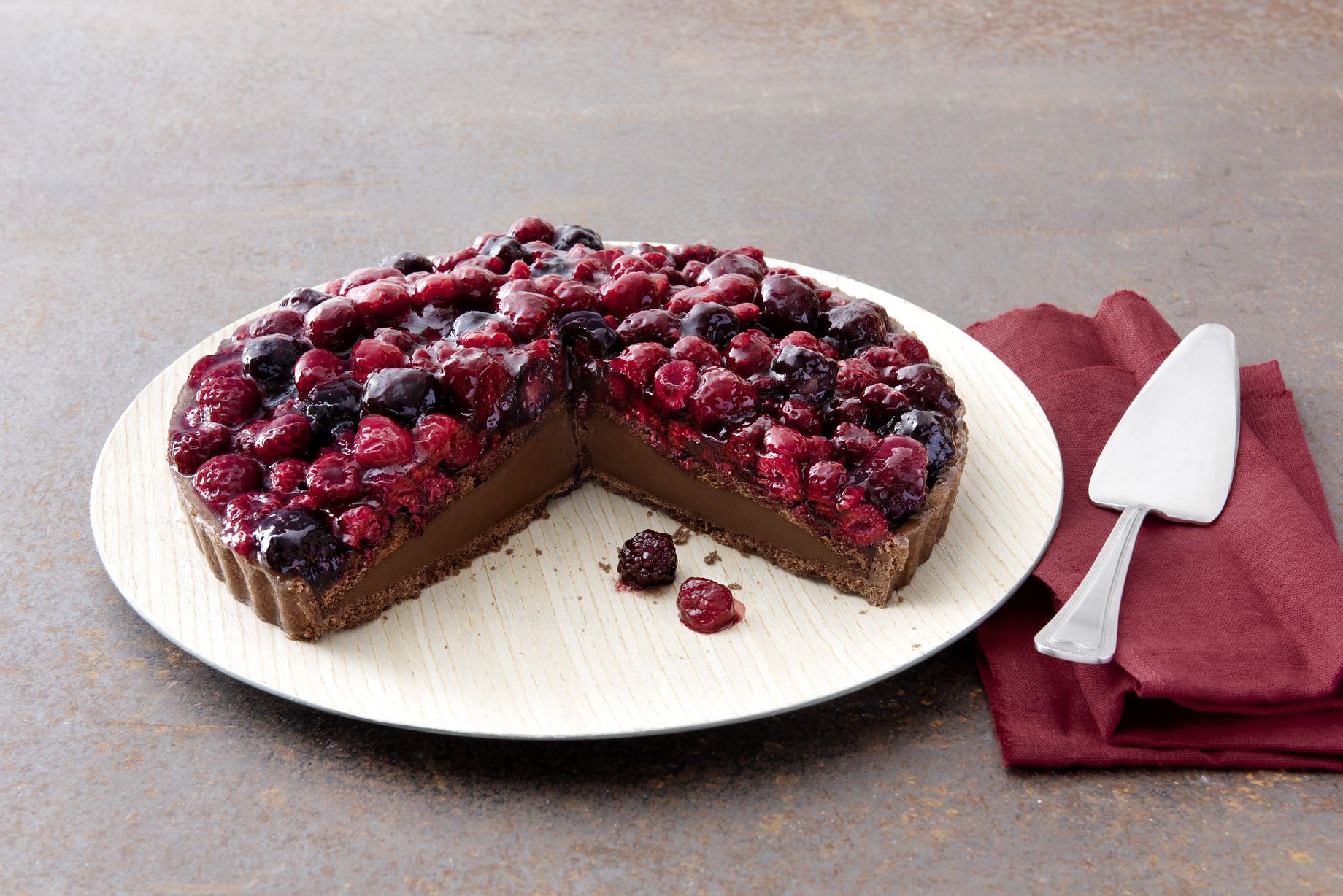 In order to help restaurateurs affected by the strict measures taken during this Covid-19 outbreak, the company will donate 10 percent of its at-home delivery revenues to the James Beard Foundation Food and Beverage Relief Fund.
Consumers that reside within a 30-mile radius from the company's facilities in Kearny, NJ and Paramount, CA can place their orders by directly calling the company's main number. In most cases, if the order is placed before 5 p.m., deliveries will be made to their doorstep the following day.
'Shape of Pasta' Debuts
'Shape of Pasta' starring Chef Evan Funke will debut on Quibi on April 6. Watch the trailer above.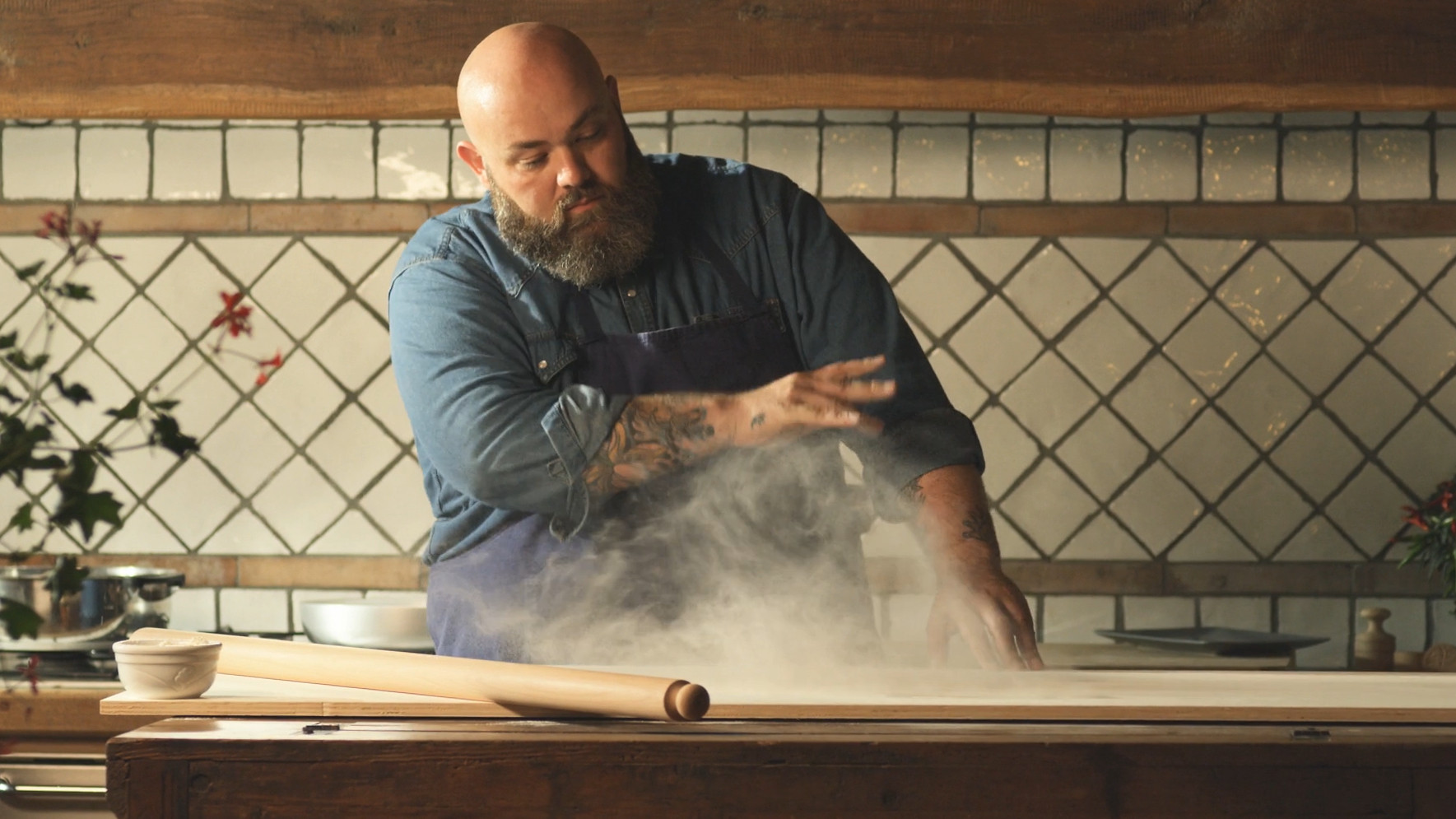 Follow Chef Evan Funke's passion-filled quest to find the last remaining masters of the world's most beloved food… pasta and the pursuit of pasta perfection. He's uncovering the craft and culture behind some rare and forgotten pasta shapes.
#CheersUp
Crook & Marker, the first fully USDA Organic alcohol beverage portfolio from the founder of Bai Brands, is introducing #CheersUp, a new social media campaign aimed at uniting people in positivity for a great cause through the world's largest digital cheers. On Thursday, April 2, at 6 p.m. EDT, consumers of legal drinking age nationwide are invited to raise their glasses for the virtual toast and are encouraged to donate to the USBG Bartender Emergency Assistance Fund to support vital members of the beverage and service industries.
"During this unprecedented time when we're almost forced to be apart, we wanted to do something that could help bring people together around small moments of positivity. With #CheersUp, we're hoping to unite people and brands across the country to raise a glass, but more importantly, to assist local bartenders, beverage industry and hospitality professionals affected by the coronavirus pandemic," said Daniel Goodfellow, chief marketing officer for Crook & Marker. "Whether you're 'Cracking a Crook,' or pouring a drink of your choice, imagine thousands of people across the country connecting at the same time to make one massive toast to togetherness. And if everyone can mark the occasion with a small donation, together we can make a big difference."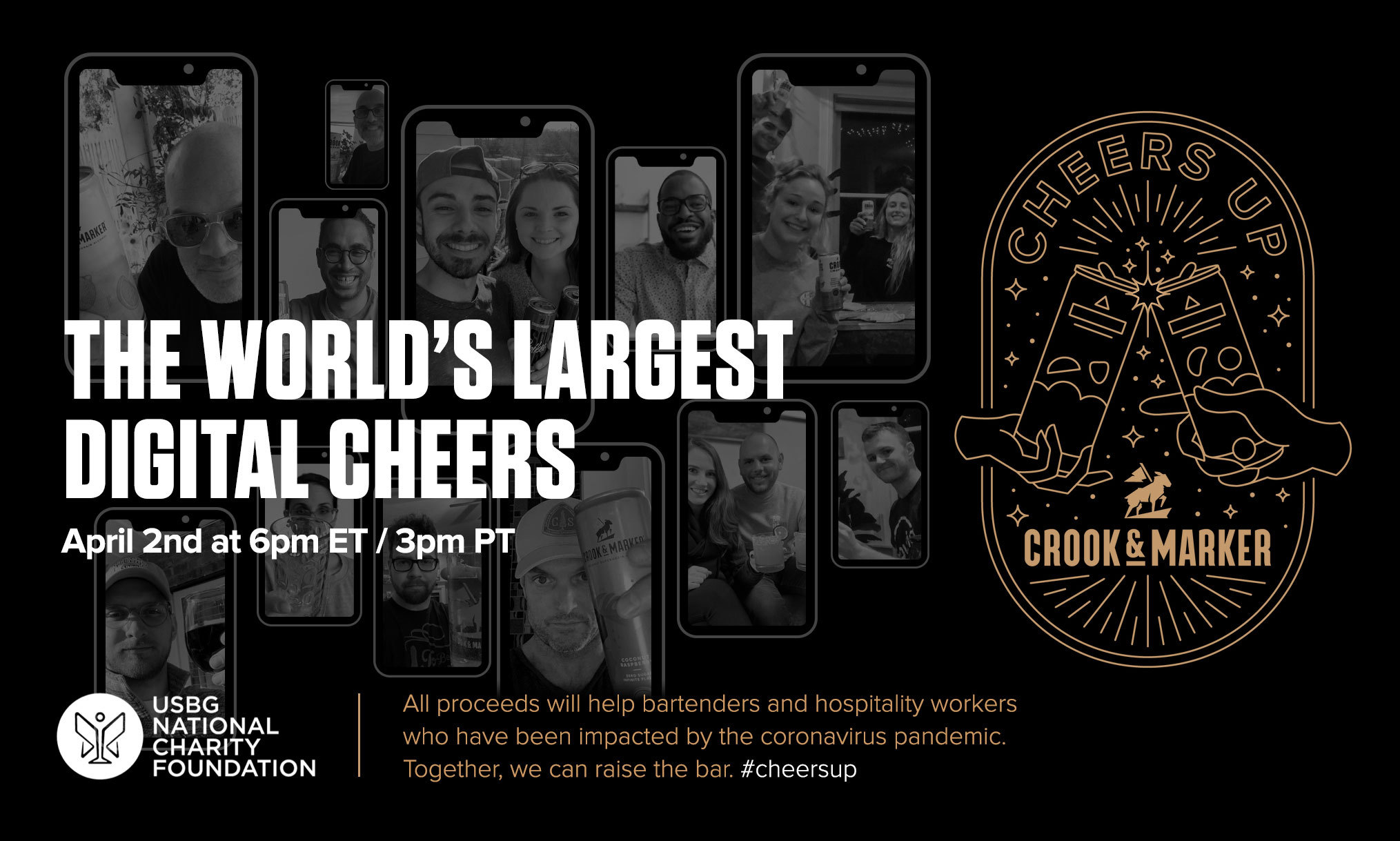 Crook & Marker is also encouraging all brands, particularly within the alcohol industry, to rally together to help those who serve us all. The company announced that Roc Nation is the first brand to join the cause and will be engaging with its emerging artist platform, Equity Distribution, to help raise awareness of the campaign and take part in the virtual cheers.
There are several ways for organizations and consumers to join the cause, including hosting virtual happy hours with friends and family on video conferencing services, taking a selfie and uploading to social media, posting an Instagram story, or going live on Facebook or Instagram using the hashtag #CheersUp. For more information on how to participate in #CheersUp, click here.
As part of the world's largest digital cheers, Crook & Marker is committing $10,000 to the USBG Bartender Emergency Assistance Fund to assist bartenders, barbacks and bar servers who are in need of financial assistance.
In addition to the digital cheers event on April 2, Crook & Marker will launch a series of initiatives as part of the #CheersUp campaign, including streaming up-and-coming musicians into living rooms, creating a content hub with helpful ideas and suggestions for people staying indoors, and delivering small "Random Acts" of kindness to people who need it most.
PFG Partners Up
Performance Food Group Company (PFG) announced several new partnerships and corporate actions to strengthen its business during the novel coronavirus pandemic (COVID-19).
"As we all adapt to the COVID-19 pandemic, our company is in a crucial position to keep our country's food supply chain strong," said George Holm, PFG Chairman, President & CEO. "We are proud of the tremendous effort and dedication shown by our talented associates who are working tirelessly to keep people fed during this time. In addition to working with our existing customers, we have formed several new partnerships, brought in new business and shared many of our associates with organizations that are experiencing labor shortages. PFG is also diligently assessing and managing how we spend our capital so that we are in the best financial position possible. With our new partnerships and the innovation shown by our organization, we believe we can come out of this period as a stronger company."
Over the past few weeks, PFG has taken several actions to support the customers and communities it serves, to engage its workforce in new ways and to manage its cost base. Examples of these activities include:
Signed agreements with 10 new grocery retail partners to-date and sharing over 1,000 associates to help keep shelves stocked with food
Distributing groceries to approximately 480 new grocery locations as PFG builds out its distribution capabilities to this channel
Entering into new partnerships to support on-line ordering for its customers through OpenMenu, Swipeby and several other third-party delivery operators
Supporting its restaurant customer base by launching tools to assist the independent channel, advertise which restaurants are open, and help with a transition to higher volume in take-out and delivery.
The company has taken the following measures to protect its long-term financial position:
Drawing $400 million from its $3.0 billion credit facility which was put to cash on the company's balance sheet
Halting all non-essential capital expenditure activities
Suspending its share repurchase program; during the fiscal third quarter and through March 23, the company repurchased 315,100 shares for approximately $5 million or a weighted average of $15.80 per share.
Holm continued, "The current COVID-19 situation has created a challenging operating environment for our industry and the customers and communities we serve. PFG's decentralized operating model allows quick decisions at the local level, which will continue to serve us well. We will remain nimble to protect our current business and continue to look for new opportunities to grow."
InvisiShield Launches
Aptar Food + Beverage, part of AptarGroup, Inc., launched InvisiShield™ platform technology — a first of its kind anti-pathogenic packaging solution seamlessly integrated into sealed packages to protect fresh cut produce from harmful pathogens like bacteria, fungi and viruses. Easy to incorporate into existing or new produce packaging lines, the technology was designed to mitigate pathogen growth without negatively impacting the product.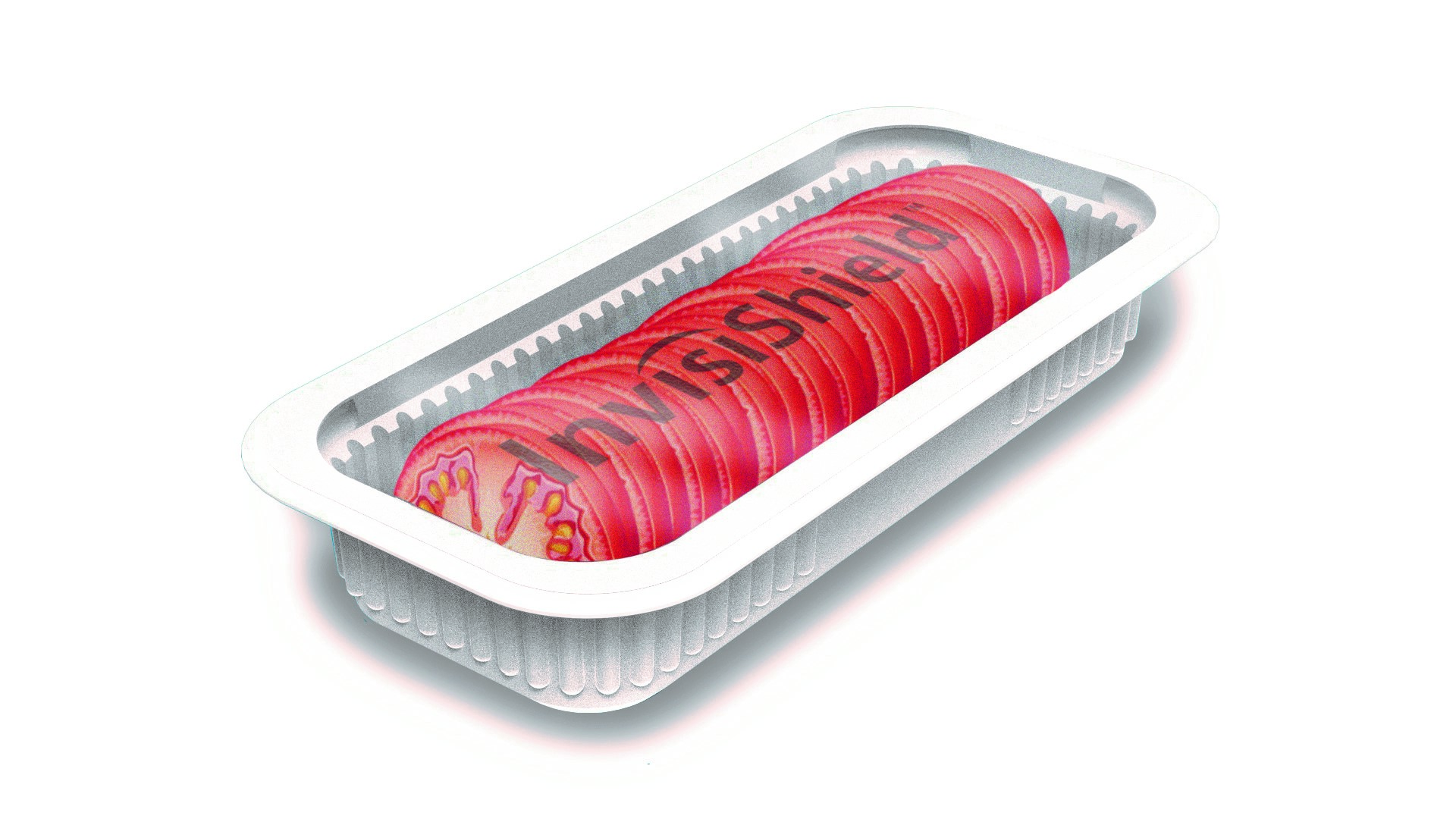 "We are extremely proud of our technology and the tremendous amount of work that has led to this launch. We have material science expertise that we are applying to food safety solutions at a critical time when consumers are demanding better and healthier food packaging outcomes," stated John Belfance, President, Aptar CSP Technologies.
InvisiShield™ leverages 3-Phase Activ-Polymer™ technology, patented by Aptar CSP Technologies, a division of AptarGroup with more than 20 years of expertise in material science. The 3-Phase Activ-Polymer™ technology is currently used by global brands with a wide range of products to extend shelf life, maintain freshness, and improve efficacy in industries such as pharmaceuticals, medical devices, and food safety.
The InvisiShield™ solution is activated within sealed packages to safely and effectively release a specially formulated amount of an anti-pathogenic agent into the fresh cut produce's packaging environment that is undetectable to the consumer and dissipates from the package within 24-48 hours of activation. This mechanism significantly reduces pathogens that may have been introduced during the supply chain without coming into contact with the product itself. The result is a final intervention step that also reduces cross-contamination within the sealed package.
A pilot program is currently underway with Royal Fresh Cuts, which plans to launch its first commercial use of the technology in the second quarter of 2020.
"We are excited to partner with Aptar as the first to implement InvisiShield™ technology, which promises to provide increased food safety to our fresh cut produce offerings," said Kevin Whitehurst, owner of Royal Fresh Cuts. Aptar's Food Protection division is also working closely with Lipman Family Farms and McEntire Produce, two leading food processors, to bring this technology to the wider food service community.
The company is currently focused on launching InvisiShield™ technology for use on tomatoes, onions, peppers, pico de gallo and sliced apples. In addition to these widely consumed fresh cut items, the company is further developing the technology to release different anti-pathogenic agents to improve the safety of leafy greens and berries.