Ceilings Can Define Style
5 Min Read By Steven H. Miller
When designer Monica Jeffers saw the aging, dated restaurant she was going to remodel, she thought, "A T-bar grid ceiling! How the heck am I going to deliver this beautiful, elegant restaurant with a T-bar ceiling?" Ironically, this thought sets her apart. All too often, designers pay little if any attention to the ceiling.
Jeffers understood the design value of the expansive surface overhead. Driven by necessity, she searched beyond the usual mineral fiber acoustic panels and discovered a little-known world of ceiling options that can fit a standard 2'X2' or 2'x4' grid, and add architectural style, dimensionality, texture, color, and even light. Using thermoformed acoustic ceiling panels, divided into sections by beams, Jeffers created a coffered look that raised the apparent ceiling height and provided precisely the background of Old-World charm she was seeking for the elegant Italian Kitchen in Vancouver, B.C. And since the panels are non-water absorbent and fully washable, she was able to use them throughout the restaurant – even over food preparation areas like the antipasto bar – to unify the space.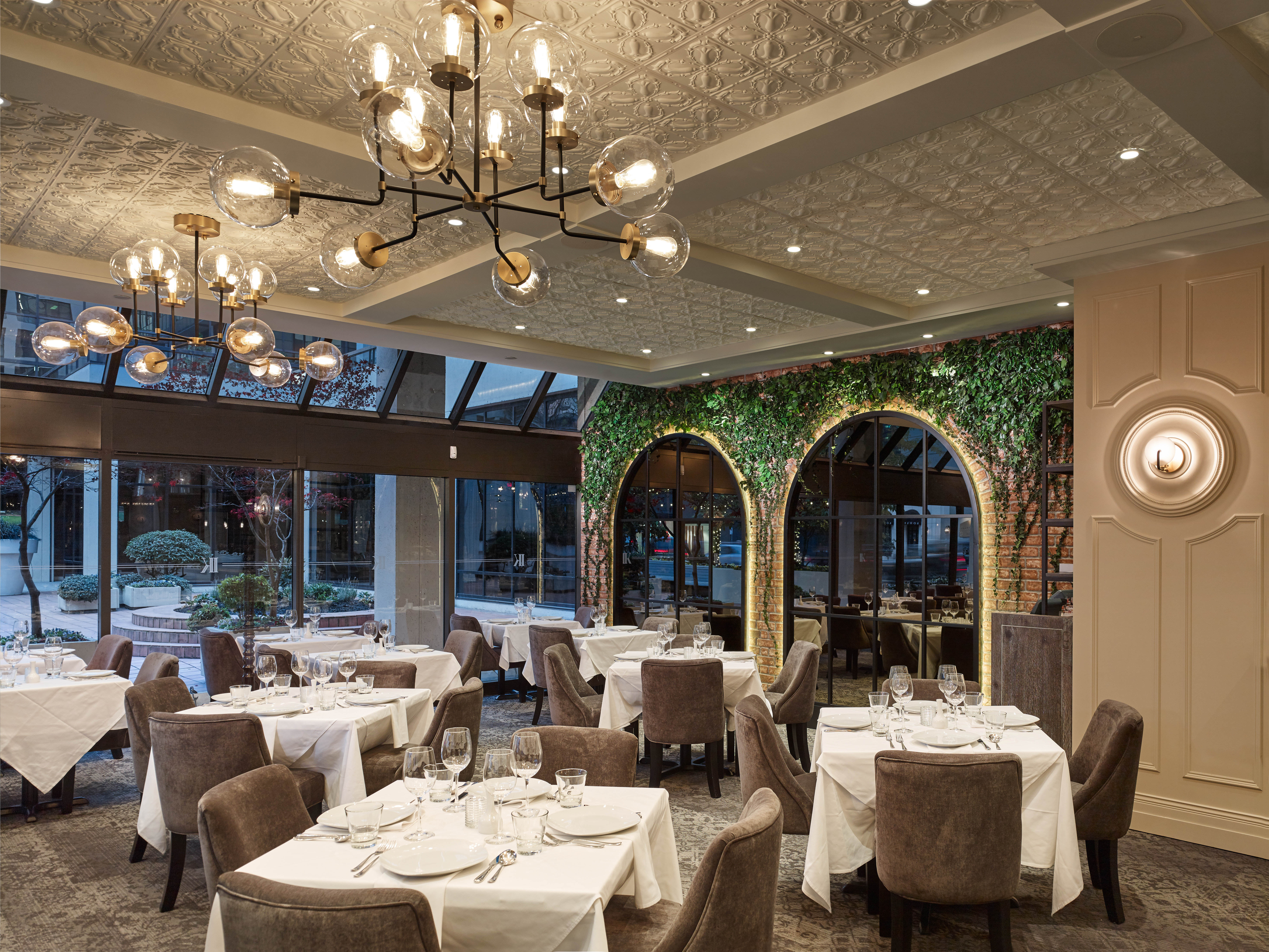 A recent study of contemporary retail environments found that the ceiling has, on average, more than five times as much visual presence as the floor. In that respect, restaurant design is similar: an open room where furniture obscures much of the view of the floor, while large expanses of ceiling are visible from most of the active areas of the business. While much attention is paid to selecting the floor covering, the ceiling is too often "underlooked."
Sometimes called "the fifth wall," ceilings are a designable surface that can be put to work in restaurants, bars, cafeterias, banquet halls, commissaries, and other food-service venues. Increasingly, restaurants are installing ceilings that help address key design and operational challenges. They are discovering that a suspended grid ceiling does not have to be an obstacle to design, it can be an opportunity.
Leveraging the Grid
The suspended grid ceiling has great practical value in commercial design. It provides a way to conceal necessary services like plumbing and HVAC, and it can help with acoustic control. It's become a staple of offices, schools, retail, and institutional facilities. However, the mineral fiber panels installed in many ceiling grids are usually not selected for their architectural contribution, but rather in spite of it. Many designers simply accept them as unavoidable compromise of aesthetics in favor of acoustics.
Recently, however, a variety of restaurants and hospitality venues have been using thermoformed acoustic panels instead to populate the grid. The lightweight, three-dimensional vinyl panels are made in a broad range of styles, from traditional patterns that emulate the look of ornate plaster or stamped metal, to timeless coffers and contemporary geometrics. They are also available in several colors and well as faux wood and metallic finishes. The range of options allows the ceiling to participate in almost any design concept, the crowning touch that completes the restaurant's ambience. That interior image is a significant aspect of a restaurant's brand.
In the Italian Kitchen, a thermoformed ceiling helped fulfil the restaurant's brand strategy, "Old World Charm, New World Vibe." With a graceful floral pattern from the Ceilume collection, Orleans, the seemingly 20th century grid is transformed into 19th century European elegance, and helps unify a rather rambling dining space.
International giant Taco Bell, in a move towards upscaling their dining rooms with architectural appeal, recently rolled out four new design concepts, top and below, that feature larger interiors and very distinctive styles. One style is inspired by Spanish Mission architectural motifs, another by the farm-to-table movement, but all four are all joined to the brand by the coffered ceilings. They use black, white, and latte thermoformed panels to complement the different designs. In the top design, black and Latte colored ceiling panels from Ceilume are used in the Urban Edge design which Taco Bell says "is reflective of international high street style and is inspired by timeless design married with cutting edge urban sensibility."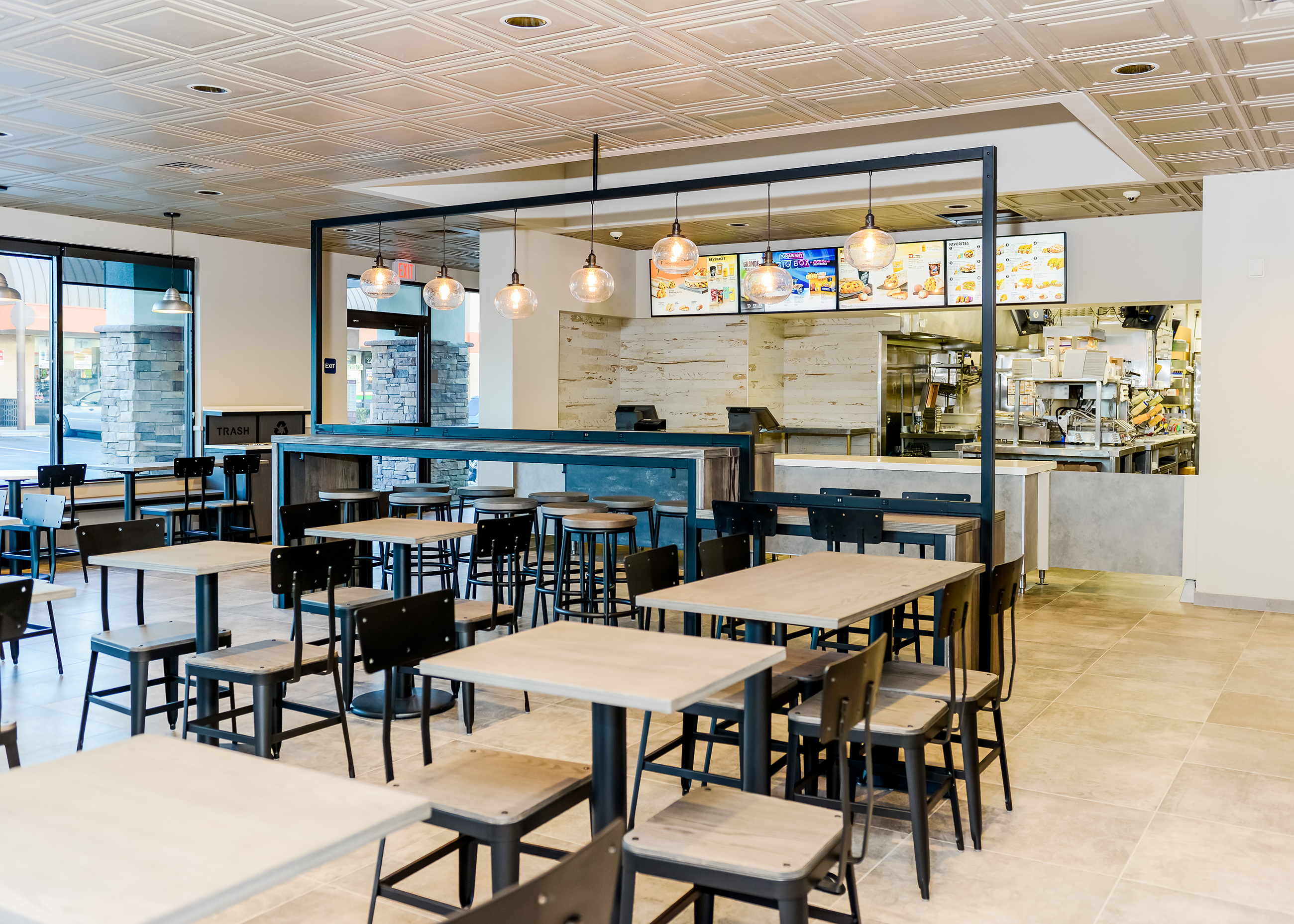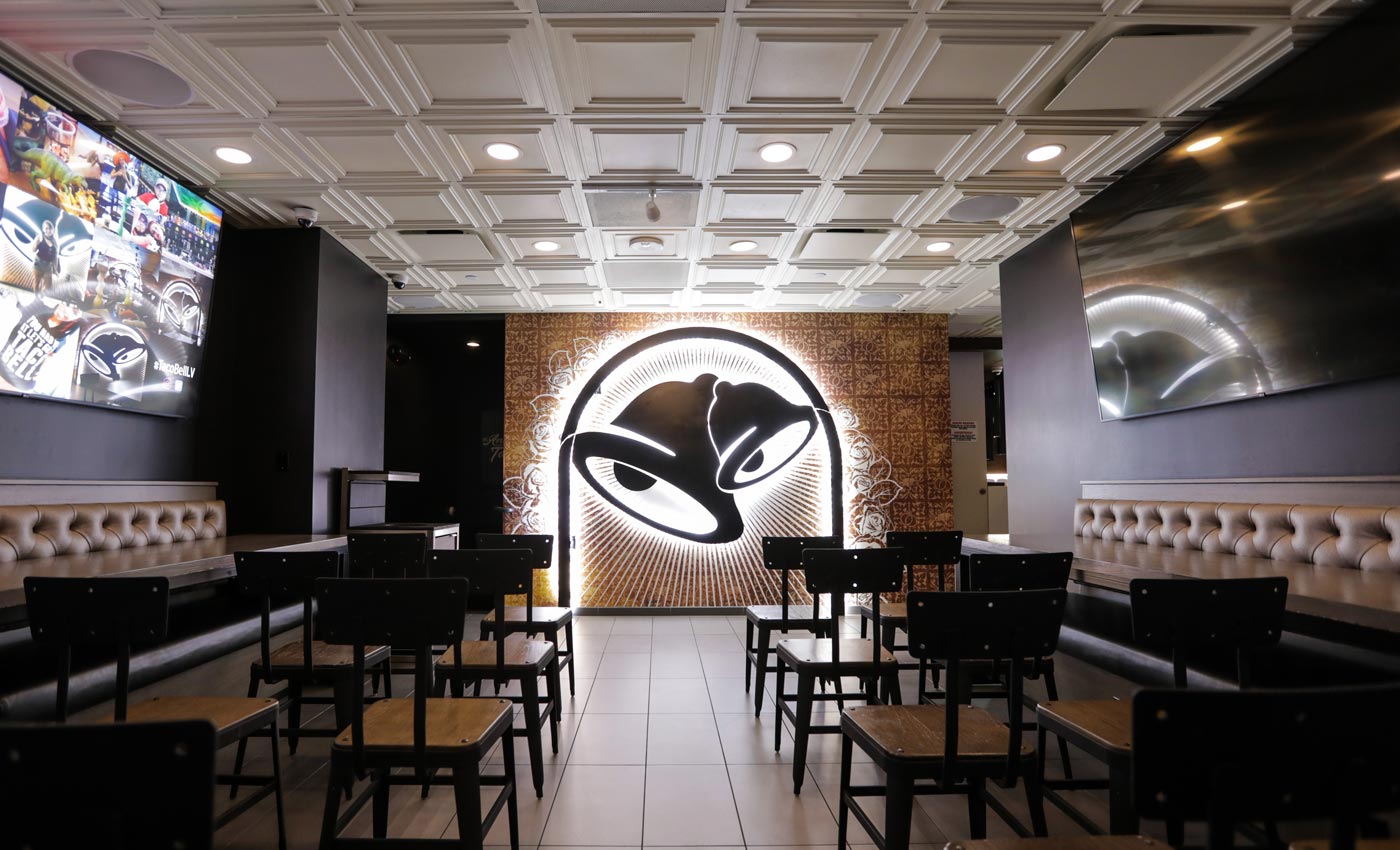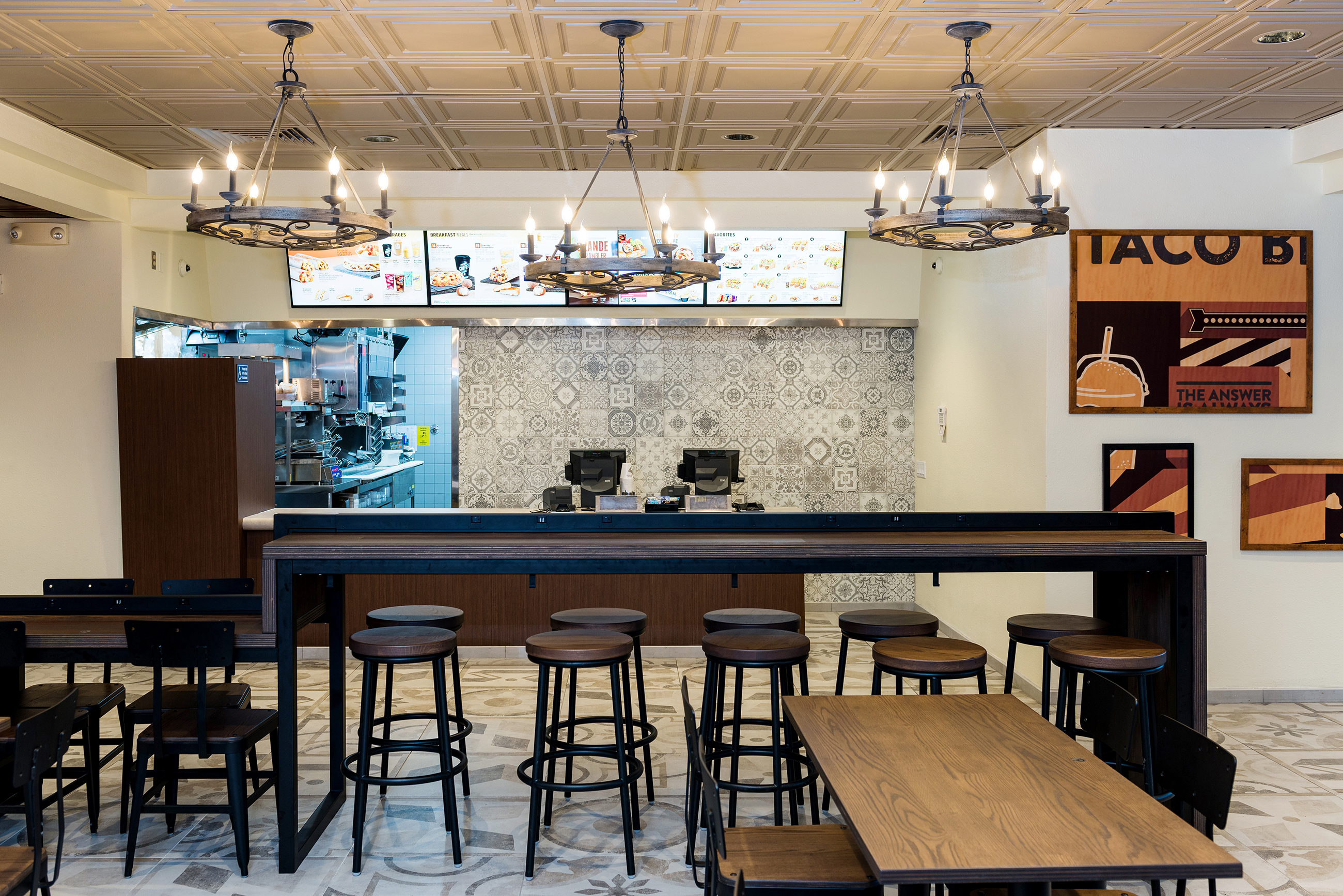 Taco Bell took advantage of the hygienic aspect of thermoformed panels in the Modern Explorer concept, extending the ceiling design over the open kitchen. Ceilings in food preparation areas must be non-absorbent and cleanable to comply with sanitary regulations, and mineral fiber panels usually do not meet those requirements, which has limited their use in kitchens, bars and other restaurant areas. Thermoformed panels are washable and easy to clean, making them great for kitchen ceilings, particularly exposed-to-view kitchens that want to maintain the restaurant's style across customer-visible space.
Sight and Sound
Different restaurants have different acoustical needs, and the ceiling plays an important role in controlling noise levels and sound travel. Restaurants can be very noisy, with utensils hitting plates, clinking glasses, and most significantly, the sound of customers talking. Conversation from other tables competes with speakers close at hand, diminishing speech intelligibility. In restaurants, it is often compounded by the Lombard effect, where background speech-noise forces people to speak more loudly, thereby raising the overall noise level even further.
On the other hand, background noise helps protect speech privacy. It masks adjacent sound, preventing speech from being distinguishable at a certain distance. In an open room, speech privacy requires background noise. Each restaurant must strike a noise balance between speech intelligibility and privacy. Thermoformed ceilings have adjustable levels of acoustical performance and can be tuned to provide the degree of noise reduction suited to the environment, from the quiet of fine dining to the ruckus of fast food.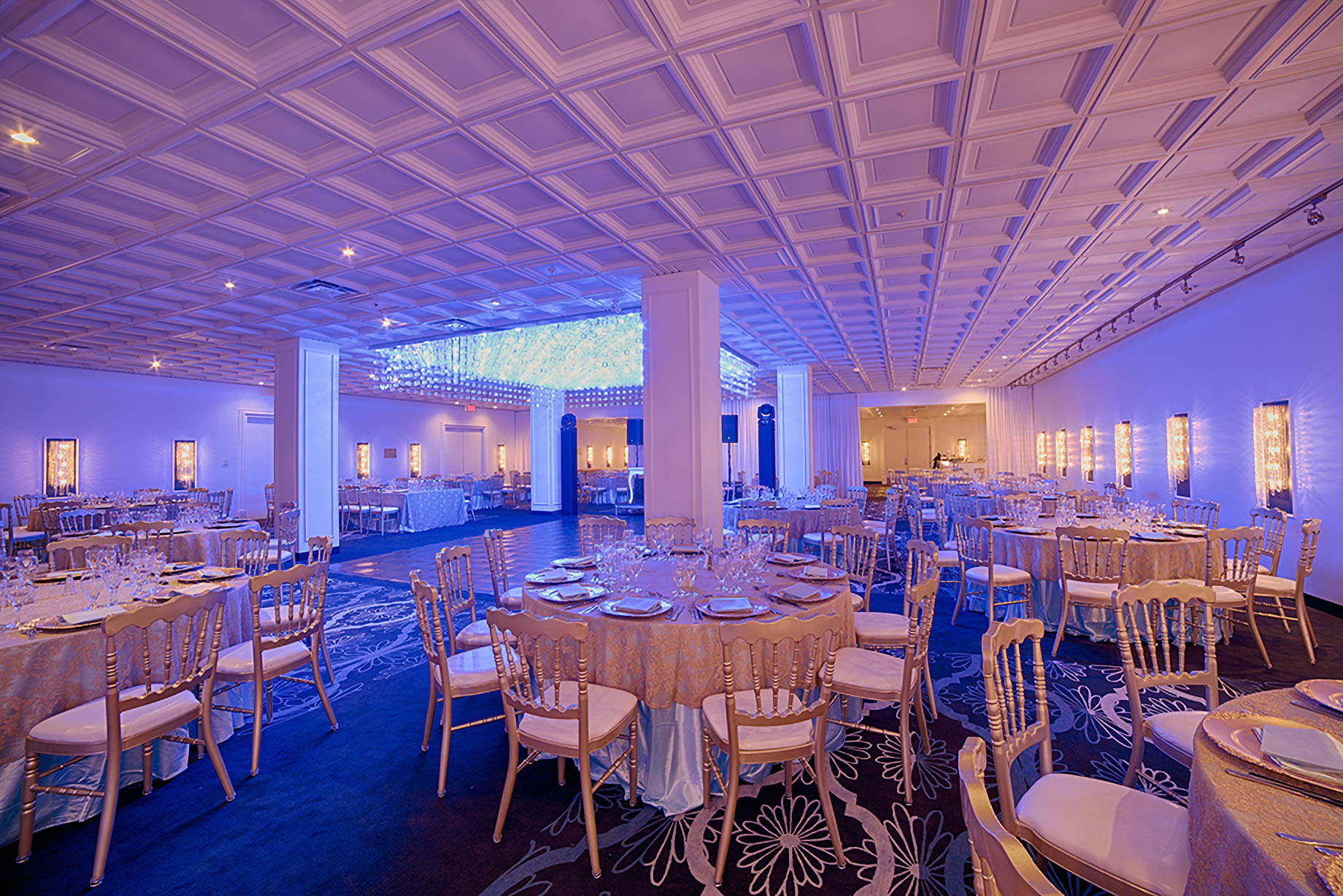 A three-dimensional ceiling interacts with light in ways that a flat ceiling does not. The molded panels have depth that can enliven a ceiling with highlights and shadows. The grid lines, instead of being interruptions in a flat surface, become one of the levels of the dimensional pattern.
With light-transmitting versions available, thermoformed panels are part of the current renaissance of luminous ceilings. They are made in several levels of clarity (transparent, frosted, and translucent), and can be placed below light fixtures, providing general room illumination or background accent lighting. They pair well with energy-efficient LED lights, and produce good, even light diffusion at very shallow distance from the source.
The versatility of LED lighting can turn the ceiling into a conversation piece. In the Bavaria Downs wedding venue in Chaska, MN, the variable-color LED luminous ceiling features translucent panels in a geometric design that has numerous light-catching facets. The ceiling can change color and intensity to emulate a large skylight, or match the colors of the bridesmaids' gowns, or be synced to the sound system and become a disco ceiling light show. According to Bavaria Downs' Director of Venue Operations, Georgia Meyer, the ceiling is a significant selling-point of the venue. "Clients look at it as a decor they don't have to invest in. It brings a value plus."