Building the Value Equation as We Approach the Price Ceiling 
3 Min Read By Jana Zschieschang
Striking a balance between value and price. Is it possible?
As inflation continues to pummel businesses and consumers, QSRs are searching for ways to make their menus work harder. At the same time, consumers are looking for ways to stretch their dollars. Is it possible to strike a balance between value and price to satisfy both parties?
To answer that question, Revenue Management Solutions (RMS) examined two factors: the impact of price increases on QSR sales performance and consumers' perception of value.
Have We Hit a Price Ceiling?
To determine the impact of price increases on sales performance, RMS analyzed in-store price increases by percentages year over year (Q2 2022 vs. Q2 2021) for 25,000 QSR locations in the US across numerous brands. Our findings confirmed that customers would "trade out" due to steep price increases, as noted below.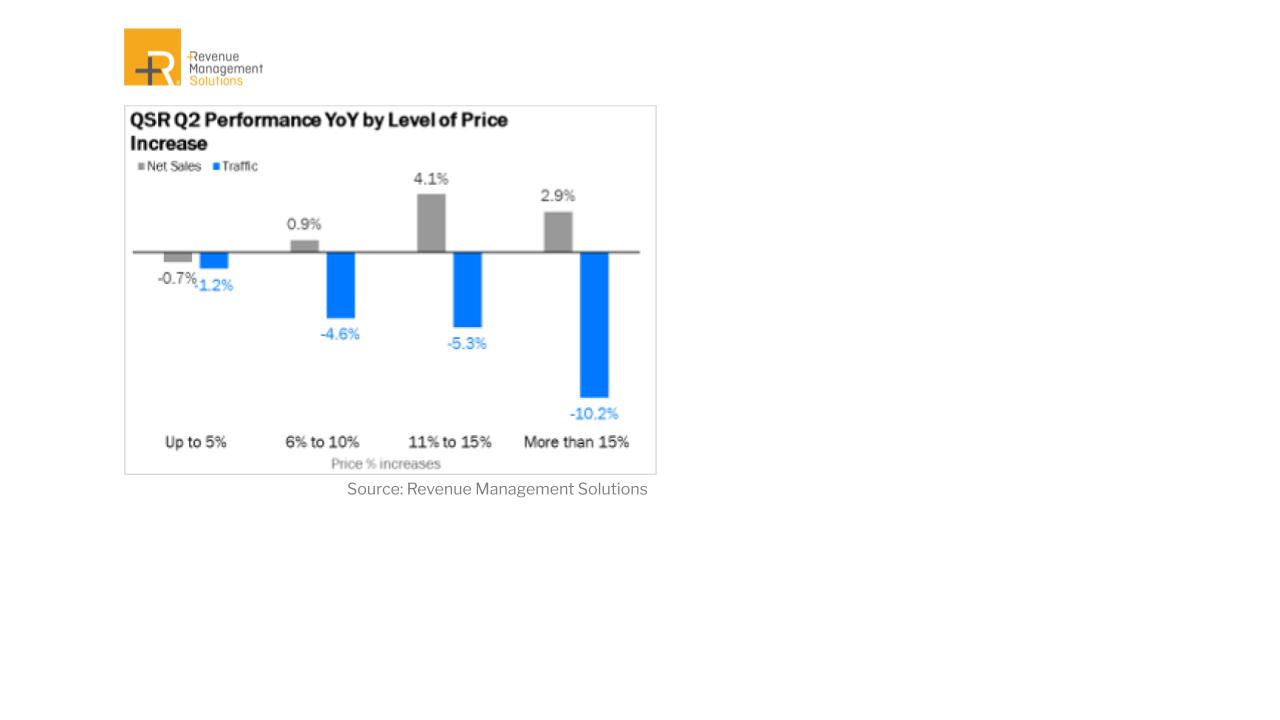 The "magic" number that sends guests running? As indicated in the above chart, when price increases surpassed 10-13 percent, traffic started to decline severely, negating some or all of the net sales benefits.
Putting Value Back on the Menu
While it is reassuring to understand consumers' potential breaking point, the formula for price increases is nuanced. Some QSR brands will be able to increase margins with additional price increases, while others may have already hit the breaking point – even at a lower percentage increase.
Consumer perception is the differentiating factor in all pricing decisions. Since April 2020, we have tracked changes in consumer behavior and sentiment in our quarterly surveys to understand better what customers want and need. Based on our Q3 survey of over 750 US consumers, 40 percent of guests believe restaurants aren't a good value, and of the 51 percent saying they're spending more at restaurants, more than two in three say it's because of higher prices. This negative perception has also led to heightened scrutiny. Of those surveyed, 68 percent compare prices before making a menu choice, and 67 percent know the price of the menu item they're ordering.
How does this inform an operator? Guests are now paying attention to prices because they're making thoughtful choices about how to spend their discretionary dollars.
Building the Value Equation
We know cost pressures are intense. For brands to win, they will need to examine both the bottom line and the value equation. We recommend incorporating the following strategies in your 2023 planning:
Schedule regular value messaging into your 2023 marketing calendar. Coupon use is up among all generations, with younger generations actively looking for a deal, in contrast to older generations, who are more passive seekers.
Build "abundant value" meals. In our Q2 survey, more than 50 percent of three-or-more-person households reported ordering family meals at least once every two weeks. When asked why, 67 percent mentioned getting better value, pricing and deals.
Incorporate menu innovation into your value meal. Brands are moving away from very low price point deals ($1 menus, for example). Think of opportunities to deliver offers at higher price points to preserve margin.
Take advantage of loyalty programs. One in four consumers (based on RMS surveys) joined at least one restaurant loyalty program during the pandemic. In addition to price concerns, traffic is likely to continue being a challenge in 2023. Use technology to entice customers with relevant, personalized promotions.
The path forward is blurred with uncertainty, but striking a balance is possible with a data-driven and customer-centric plan.