Breakfast Up, Confidence Down, Vaccine Mandates Acceptable
4 Min Read By Jana Zschieschang
While sales continue to climb for restaurants in nearly every category, the upward trend is hard-fought. Dining rooms are open, but staff isn't available. Commodities are in demand, but supply is short. Customers are coming but in new and disparate channels. Workers are back in their offices, sort of.
So how do operators plan for 2022?
To help guide its clients, who range from emerging full-service to large QSRs, Revenue Management Solutions took the temperature of more than 900 diners across the U.S. Its Q3 Quarterly Survey asked questions about vaccination mandates, changing work habits, current restaurant usage and future dining intentions.
The key takeaways:
Limited-service chains should keep their eye on drive-thru.
Dine-out will continue to drive full-service traffic.
Breakfast/lunch concepts can be optimistic.
Vaccine mandates may or may not be a good idea, depending on where restaurants are located.
Every segment should tighten its belt as consumers plan to dine out less in the future.
Why Drive-Thru Still Matters
The habits formed during the early days of the pandemic remain in place, and drive-thru is the clear winner. Nearly three-fourths of respondents reported using the channel at least 1x weekly, a slight decline from May 2021. Takeout and delivery also have remained constant since May 2021 — 66 percent used takeout at least one time weekly, and 52 percent used delivery. Frequent dine-in visits steadily increased to 61 percent, from a low of 42 percent in February 2021.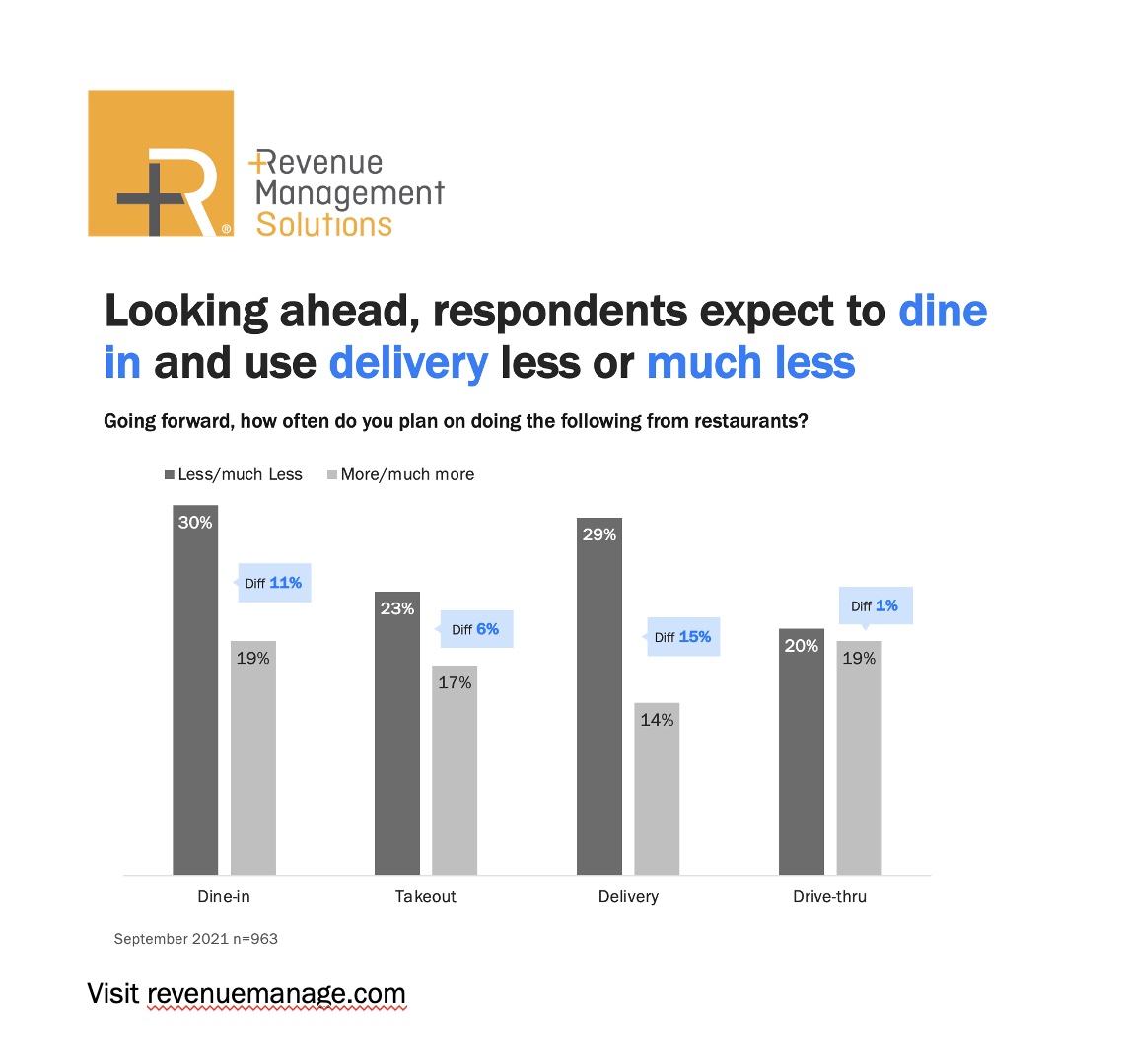 Going forward, drive-thru services will see the least overall change. When respondents were asked how often they plan on using the different channels in the future, 19 percent said they would use drive-thru "more or much more" in the future compared to 20 percent who expected to use the channel "less or much less." Delivery saw the biggest difference between current and future use: 29 percent said they planned on ordering delivery "less or much less" in the future, compared to just 14 percent responding "more or much more."
Dine-in may also see emptier dining rooms but packed parking lots — 30 percent of respondents plan on dining in less or much less, but the younger generations still intend to use takeout.
Why Takeout Still Reigns (And How Operators Should Price)
Speaking of takeout, RMS Director of Analytical Services Francois Acerra is advising his full-service clients to treat the takeout business differently than dine-in. "Eighteen months ago, creating a robust to-go program was a survival tactic," said Acerra. "But now it's a normal course of business and should have its own strategy that drives everything from menu to staffing to pricing."
If separate planning for take-out and dine-in feels like time wasted, consider that when survey respondents were asked when they thought the dine-in segment would recover, just 46 percent said within six months, a steep decline from 71 percent in May 2021.
Why Breakfast Is Back
Breakfast and casual eateries/coffee shops can be optimistic. The segments saw strong growth over the summer: 15 percent of respondents reported ordering from a breakfast spot "more or much more" compared to eight percent in May 2021. Nearly one in five frequented a casual restaurant/coffee shop more in September compared to 13 percent in May. (see below)
As you would imagine, respondents who order more from breakfast and casual eateries are back at the office. It's unclear if this trend will continue to rise, as 44 percent of respondents still predominantly work from home or have a hybrid workplace. Just 10 percent of respondents reported they had returned (or were headed to) the office in the last three months.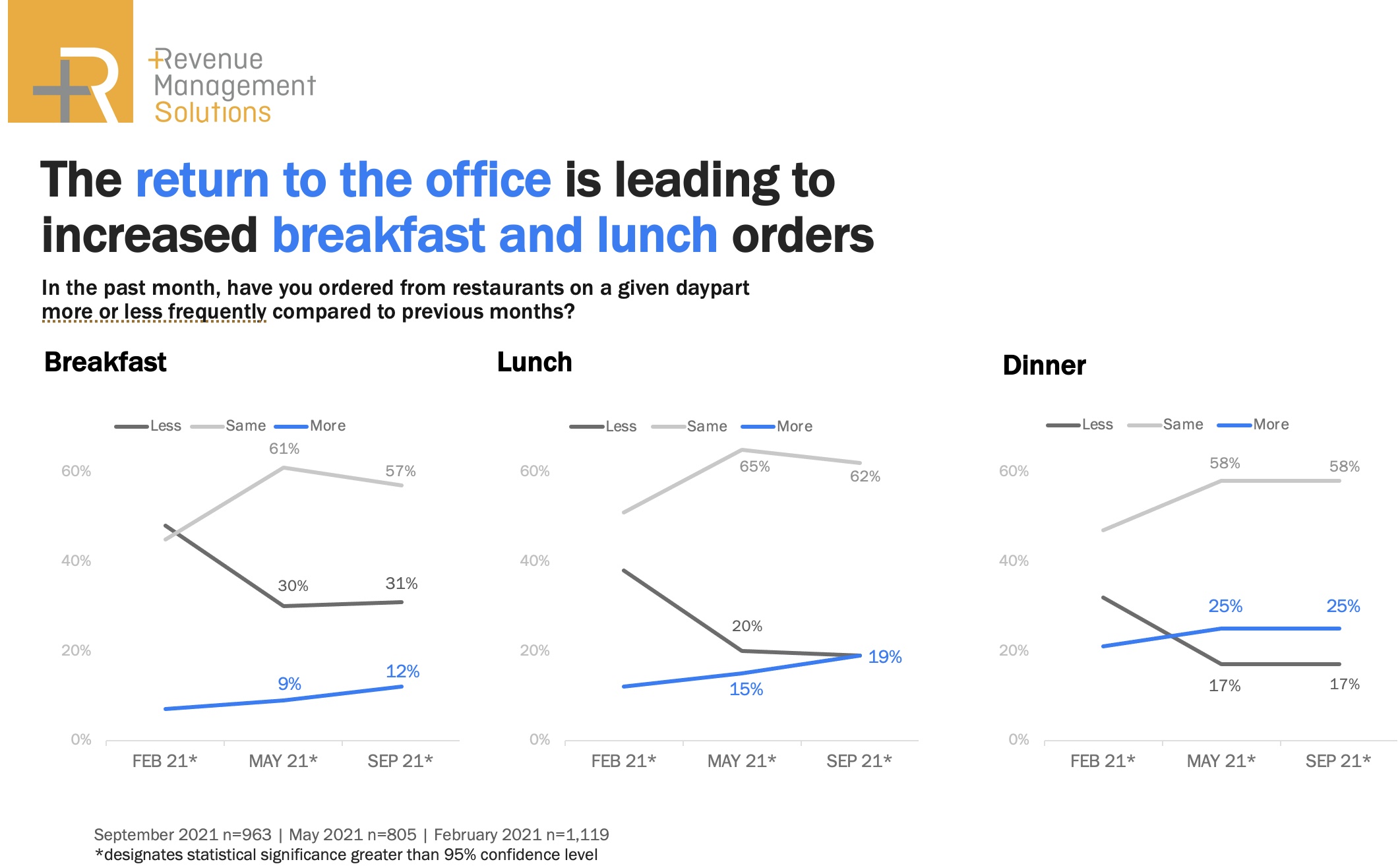 To Mandate or Not to Mandate
Are ordinances requiring proof of vaccination or negative COVID tests a way to revive dine-in? Again, there's good news and bad. Nearly one in two respondents support vaccine/negative COVID test requirements by restaurants. Yet slightly more than 30 percent would stop going to restaurants if vaccines or test results are required.
In the Northeast and West, respondents are more accepting of mandates, potentially because the safety measures are more common. In both regions, 75 percent of vaccinated respondents would support showing proof of vaccination to dine in, and 61 percent support requiring proof of a negative COVID test. The numbers are drastically less positive among the unvaccinated, though the West and Northeast remain the most accepting of mandates. Midwesterners were the least accepting of these dining restrictions — nine out of ten unvaccinated respondents do not support vaccination requirements.
What the Future Holds
Overall, optimism is waning. Across all dining channels (delivery, takeout, drive-thru and dine-in), the intention to dine "less or much less" outweighed "more or much more."
Still, intention doesn't always align with behavior. Overall, the majority of respondents used some restaurant channel at least once weekly in September. Though the environment is in flux, one fact has remained constant throughout the last 18 months: People want to eat out, and they also want to eat restaurant-prepared food at home.
A key to managing through these ever-changing times? A data-driven approach. Whether it's analyzing the competition or your transactions, knowing what your customers want and how much they'll pay for it allows you to adapt, change and succeed.