Be Nimble, Be Quick: What Consumers Want in 2021
3 Min Read By Jana Zschieschang
The old nursery rhyme, "Jack be nimble, Jack be quick" could sum up the actions of successful restaurant operators in 2020. And, based on our recent survey of 830 US consumers, it's likely a good mantra for 2021.
Our team at Revenue Management Solutions has been carefully tracking consumer attitudes and behavior shifts since the start of the pandemic (April 2020) with qualitative and quantitative surveys across the US and from our international offices.
A snapshot of the most recent survey results follows, with insights to guide 2021 planning. The throughline of our recommendations? "Nimble" and "quick."
Insight #1: 30 percent of respondents reported using drive-thru and takeout more or much more than pre-pandemic, and 25 percent increased their use of delivery.
Respondents reported forming new habits as a result of the pandemic, primarily turning to contactless, delivery, and takeout options in the wake of stay-at-home orders. Much has already been written about these changes, but our analysts suggest that the stickiness of these behaviors is a good indicator that a different kind of customer will arise out of the post-pandemic ashes.
"As dine-in returns, we believe that it won't replace delivery/pickup," said our Chief Strategy Officer Joel Davis during a recent Revenue Stream webinar. "A new audience arose during COVID, who recognize the value of delivery/takeaway from their local restaurant or favorite chain. They are likely to continue this behavior after dine-in returns to pre-pandemic levels."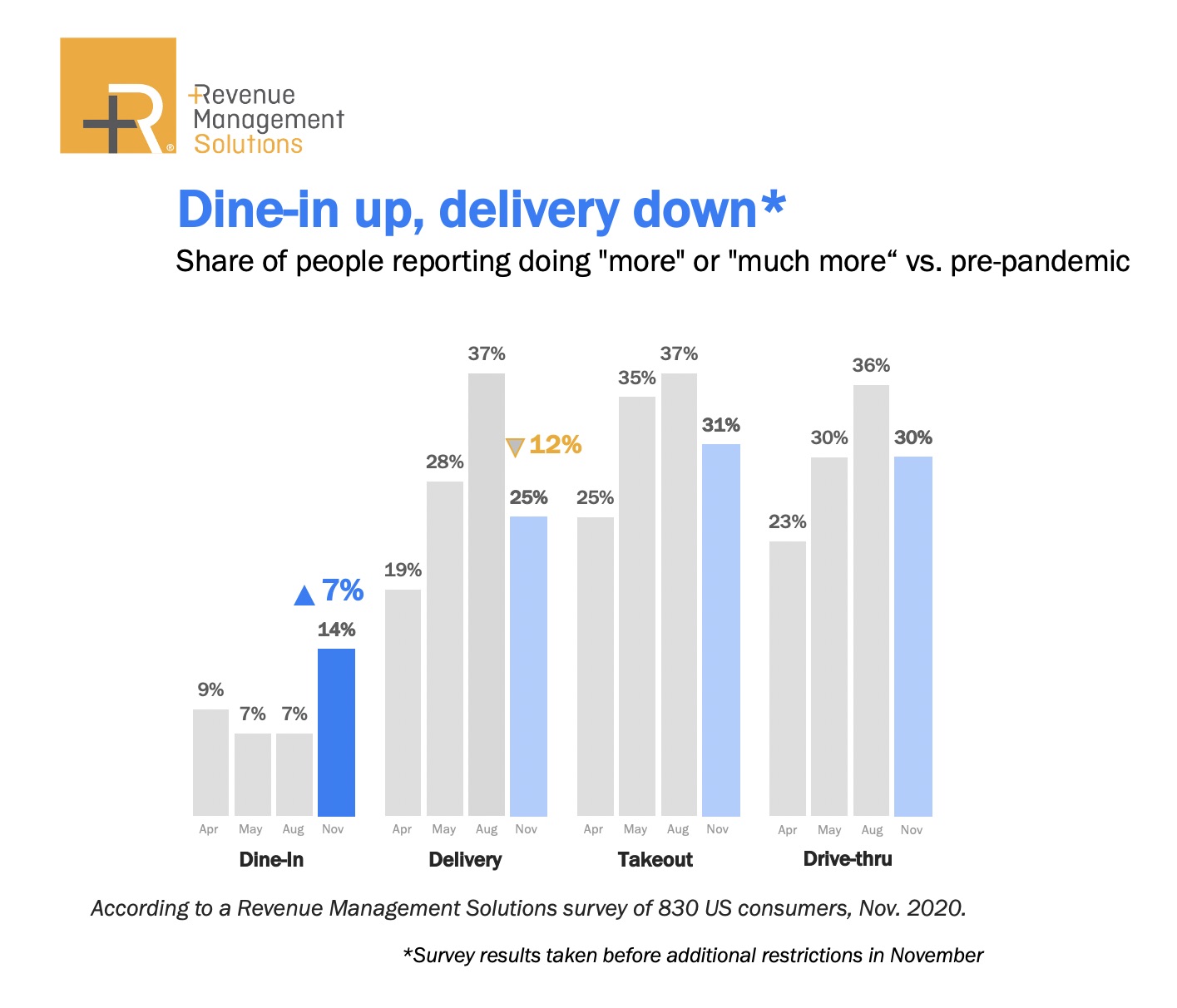 Insight #2: Three out of four respondents now report spending less overall on restaurants compared to pre-pandemic.
To stay within budget restraints, 43 percent of respondents order less often from restaurants, 22 percent choose less expensive restaurants, and 21 percent select less expensive items and more value-oriented options. Some experts point to pent-up demand to drive restaurant traffic, but the fact remains that income has been severely affected for many. Staying nimble will allow operators to respond with value-oriented menus to meet their customers where they are.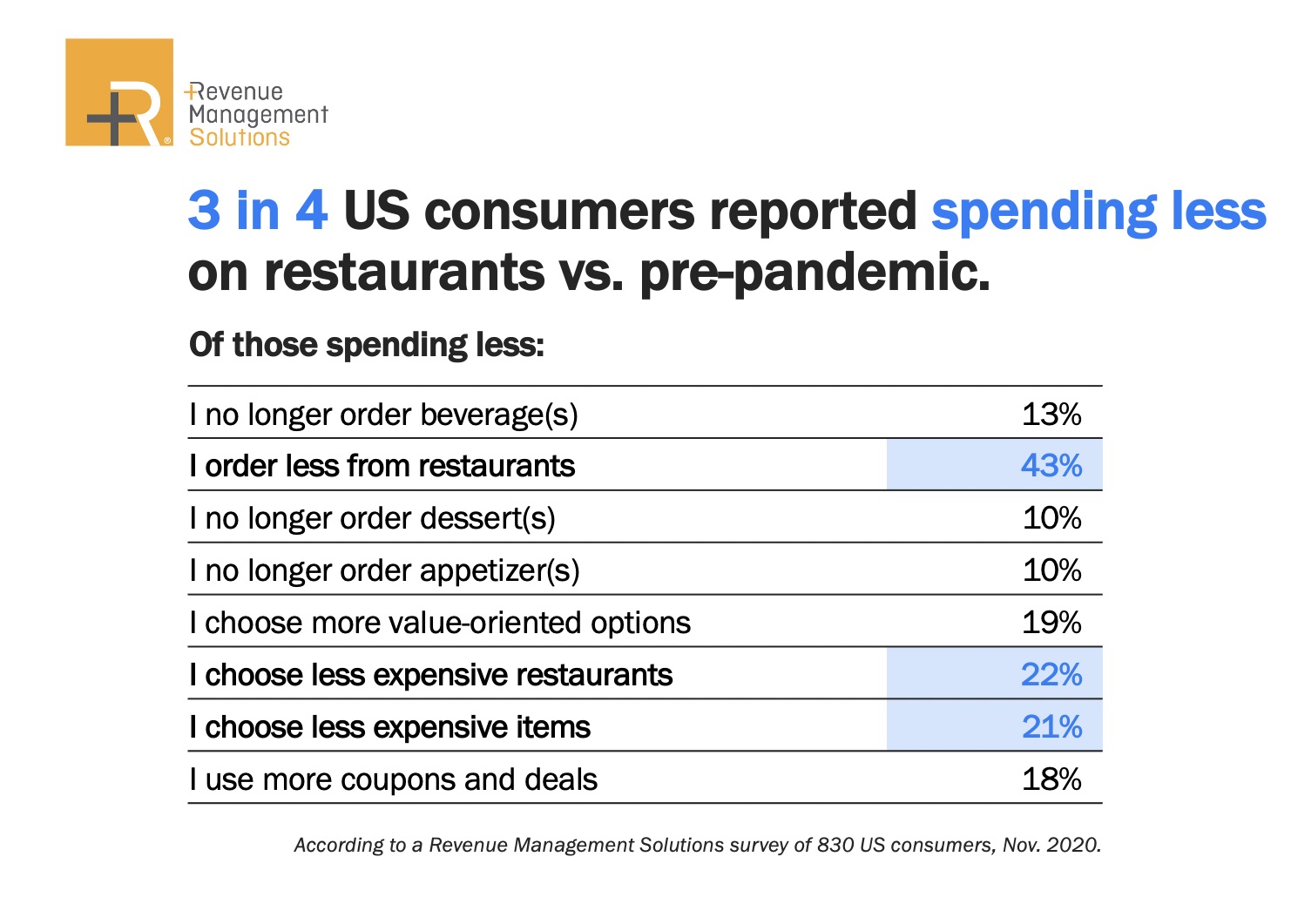 Insight #3: 72 percent reported no real changes in their dietary habits, but 28 percent did.
While still in the minority, consumers are eating healthier (21 percent), eating less (four percent) or on a diet (six percent). Nimble operators can adjust menus accordingly by adding, tweaking or earmarking existing items that fit this trend. Conversely, when it comes to food and human nature, consumers find comfort in a familiar dish. Don't overcorrect — do keep a focus on top-performing items, including the decadent ones.
Insight #4: 75 percent of all respondents had visited the drive-thru in the past two months, but if you're not quick, three out of five will go to your competitor.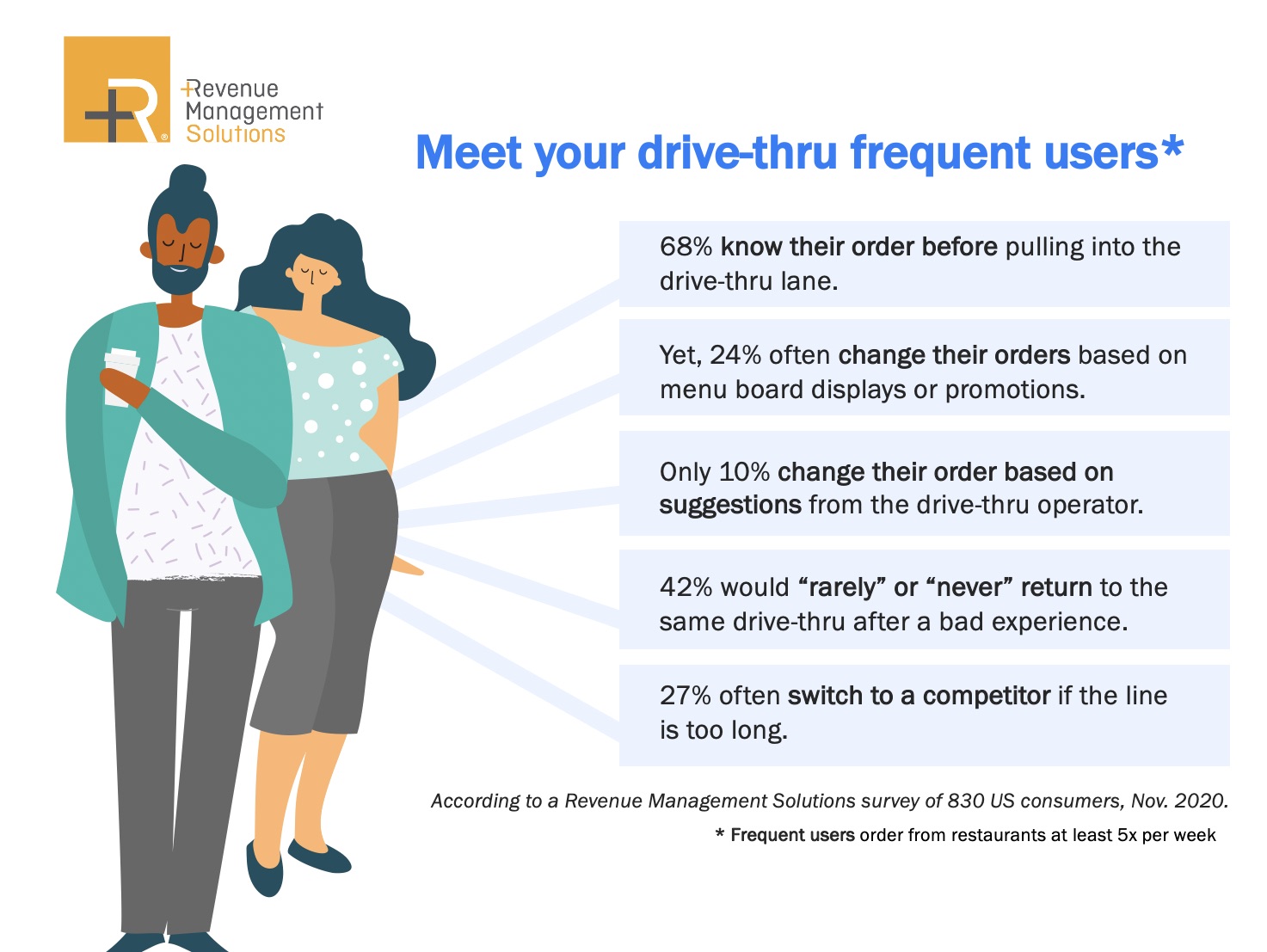 We all know drive-thru was a big winner this year. It's likely to remain at the top, based on the overwhelming majority of consumers that now use the channel. Consider these additional stats:
88 percent of families report visiting the drive-thru in the past two months.
85 percent of millennials and Gen Zers have, too.
Even the majority of baby boomers (66 percent) have visited a drive-thru lately.
QSRs and fast casuals are right to innovate and add to the drive-thru lane, but the investment is only as good as the execution, according to consumers. In other words, you have to be quick. According to our survey:
Three in five respondents will switch to a competitor if lines are too long, although this number is smaller (27 percent) among frequent users.
One in two respondents won't return to a location if they have a bad experience.
68 percent already know their order before they pull into the drive-thru lane.
78 percent never or rarely change their order based on the suggestions made by the drive-thru operator, yet 61 percent are influenced by menu boards.
Convenience is the main reason for choosing a location/brand.
Food actually ranks fourth among the most important things about the actual drive-thru experience. Outranking the main ingredients are accuracy, speed and service.
In short, restaurants should keep lines short and moving fast, offer curbside for busy periods, have their teams focus on creating a seamless and positive drive-thru experience, and find ways such as loyalty programs and geofencing to deliver check-increasing suggestions before customers reach the mic.