AI Food Intelligence and Now Serving Democracy
23 Min Read By MRM Staff
In this edition of MRM News Bites, we feature real-time data on consumer behavior and the move to #cutoutcutlery.
SpotOn Secures $60M Funding
SpotOn Transact, Inc. secured $60 million in Series C funding. The round is led by DST Global with participation from existing investors including Dragoneer Investment Group and Franklin Templeton. The new funding comes on the heels of SpotOn's Series B funding announcement in March.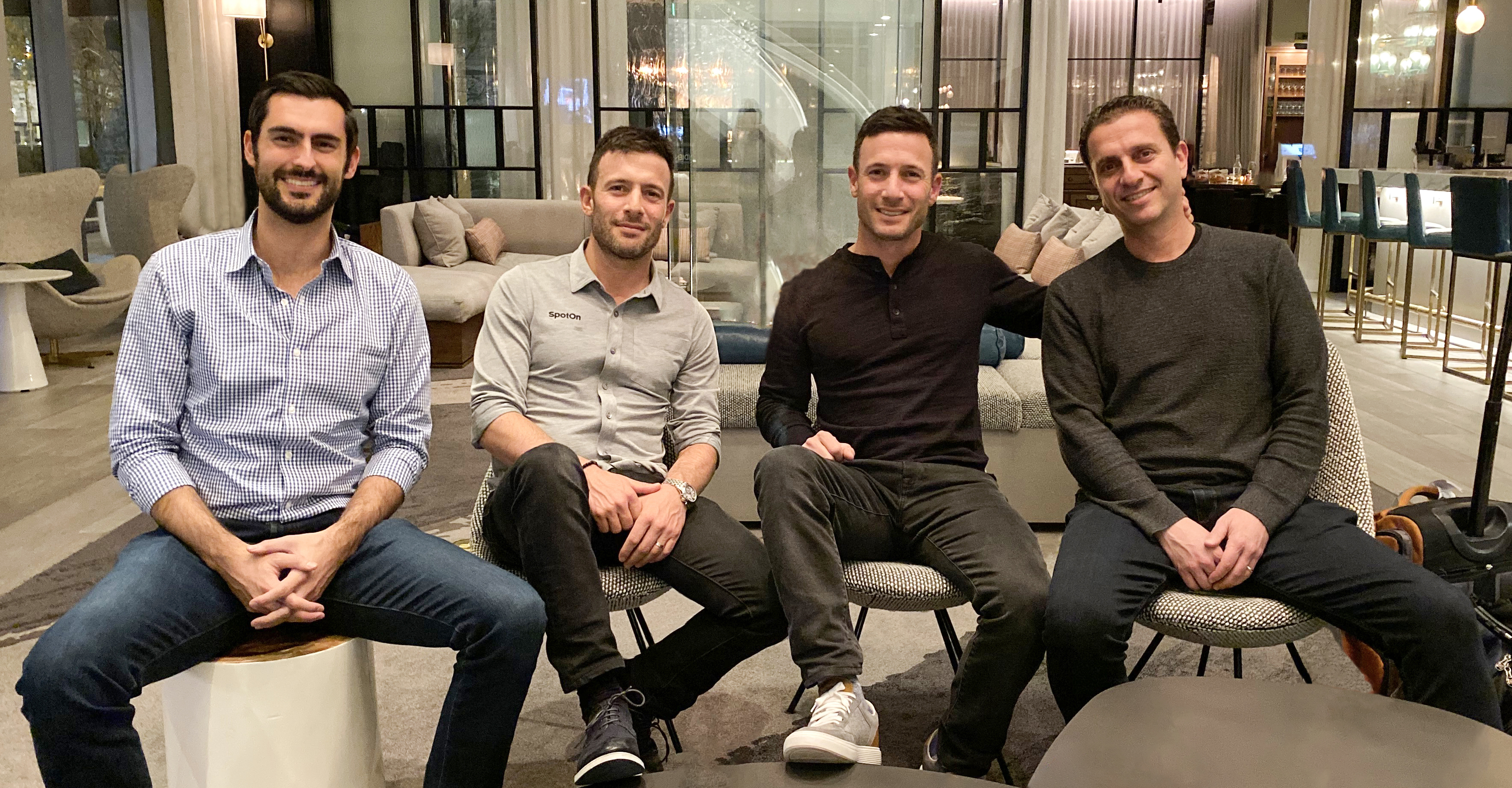 Focused on the retail, services and restaurant industries, the SpotOn ecosystem offers powerful technology to small- and medium-sized businesses (SMBs) at a price they can afford. While the company has products specifically designed for each vertical, such as appointments, eCommerce, online ordering and reservation management, its uniqueness lies in offering high-powered capabilities that every business needs. These include marketing, website development, omnichannel payments and point-of-sale (POS) solutions.
"We're excited to partner with the SpotOn founders and management team in their vision of empowering small businesses by offering a suite of integrated payments and software products at low transparent prices," said Rahul Mehta, managing partner at DST Global. "We're very impressed with their quality of execution, product cadence and customer centric approach in these unprecedented times."
While the shift to leveraging technology has been a long time coming for SMBs, the COVID-19 pandemic has accelerated business owners' need to adopt digital solutions. Restaurants have been pivoting to reach and serve customers in new ways, and retailers have been seeing the lines blur between brick and mortar and e-commerce. Business owners have had to adjust quickly under these new circumstances, and SpotOn's solutions are filling that need.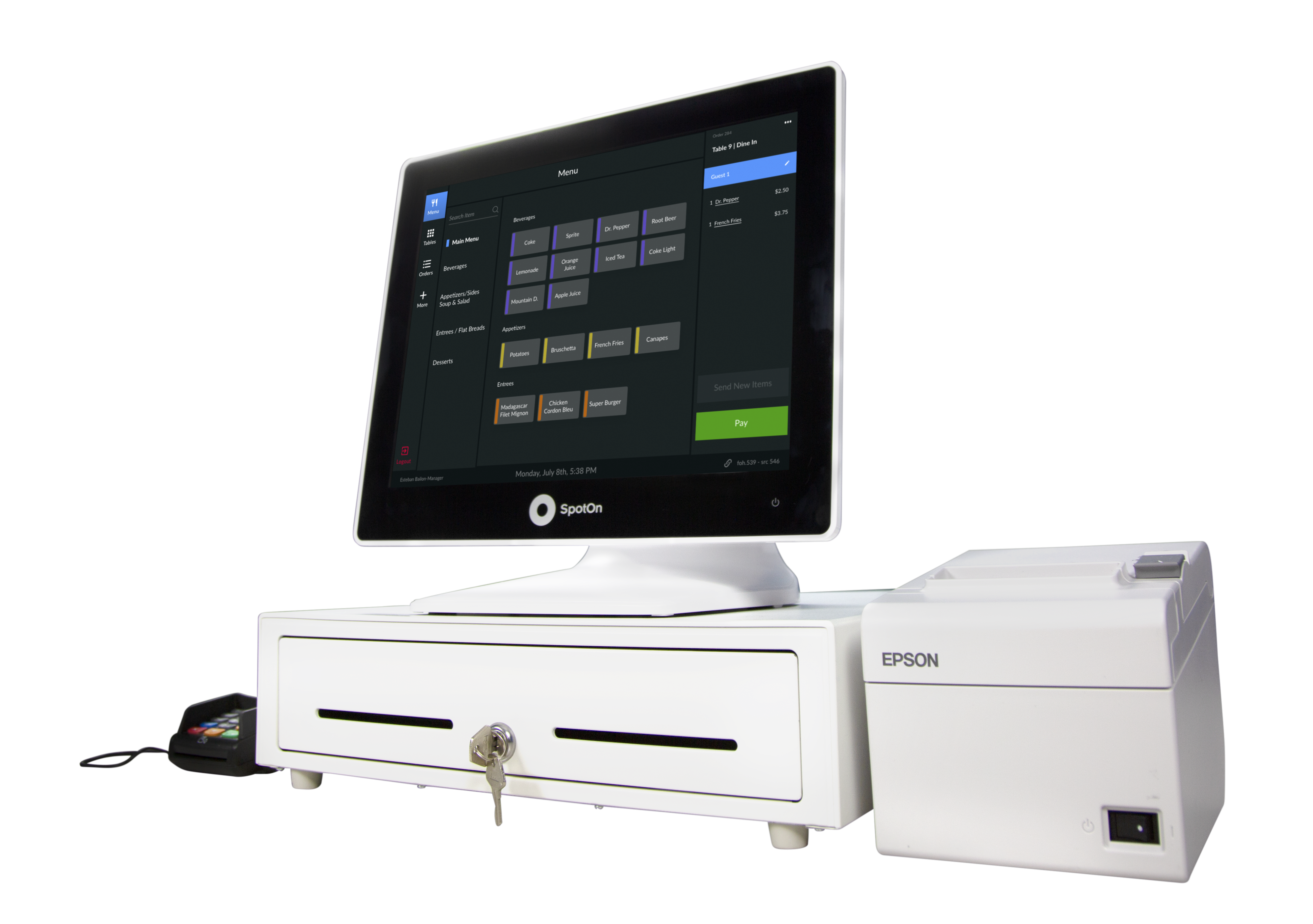 "SpotOn is committed to SMBs by providing them with the tools they need to thrive in any climate," said Matt Hyman, co-founder of SpotOn. "We will continue to create innovative products and further our go-to-market approach to ensure merchants nationwide have access to the tools they need to run their businesses. This fundraise, and partnering with a firm like DST Global, allows us to accelerate our pursuit of that goal."
"We were on a path to integrate more technology into our operations before COVID-19 and found ourselves fast-tracking during the pandemic so that we could get back to business as fast as possible, serve our customers and keep our people employed," said Kevin Youkilis, owner of Loma Brewing Company. "In less than a week we were able to get SpotOn Restaurant and Online Ordering in place, a seamless integration that improved our efficiency, expanded our business and helped increase sales from early COVID shutdown levels."
Tastewise Data
Tastewise, an AI-powered food intelligence solution, launched in the UK. With real-time data into consumer behavior data, the solution offers immediate, location-specific food and beverage insights into an industry that is changing faster than ever before. TastewiseAI analyses and predicts changing consumer needs, providing critical clarity to market opportunities.
To support and empower food brands, manufacturers, restaurants, and other industry stakeholders in the UK, Tastewise has accelerated growth, adding localized data of 183K restaurants and delivery menus, over 2.8B social interactions, and 1.2M online recipes.
Founded by former Google executive, Alon Chen, and former tech leader at SimilarWeb, Eyal Gaon, Tastewise's platform provides industry stakeholders with real-time insights to understand emerging trends, identify target segments and competitors, and determine the products that should be developed next.
"The pandemic has made it clear that it's imperative to have your finger on today's pulse each time a decision is made," said Alon Chen, Co-Founder and CEO of Tastewise. "While it may not be surprising that health is top of mind right now in the UK, we're able to see that this change in consumer mentality has far-reaching effects; for example, it has even reimagined the classic English breakfast – interest in nutrition-packed green beans is up 112 percent in the morning. Our data-driven innovation gives brands an inside look into the latest consumer trends, allowing them to access the equivalent of thousands of virtual focus groups at the click of a button."
"Tastewise has been incredibly valuable in helping us to uncover white spaces in the food and beverage industry. The Tastewise solution lets us assess innovation-growth opportunities in a much more efficient way, saving us both time and money," said Ilanit Kabessa, Head of Ventures at Dole. "We use Tastewise's real-time insights platform to explore consumer segments, prioritize product formats, and decide on flavour combinations — all while staying closely in tune with our consumers."
"Eating and drinking is more digitized than ever before," said Eyal Gaon, Tastewise Co-Founder and CTO. "Our technology connects the dots between billions of food data points across restaurant menus, online recipes and social media. Our proprietary AI provides unprecedented, laser-focused views into consumer behavior."
New Curbside Solution
Citrus launched acurbside pickup solution that enables store owners to provide their customers with a completely automated and contact free curbside pickup experience. By incorporating geo-location capabilities, retail merchants and restaurants can now eliminate customer waiting times by bringing orders directly to their vehicle as they arrive.
This system uses geo-location services along with vehicle information customers provide at sign-up. Customers press an "On My Way" button when they are ready to pick up their order, which alerts the retailer to their ETA, along with their vehicle description. The merchant knows exactly when customers will arrive so there's no need to text, call, or set a pickup time; the package can be delivered as they pull up. Also, in today's Covid challenged environment, Citrus safeguards both employees and customers by completely eliminating contact, enabling businesses to thrive, providing a safe pickup experience for all.
Menish Gupta, Citrus CEO, commented: "Today's curbside pick-up logistics are inefficient and disorganized. Customers are often left waiting in long lines or sitting in their cars wondering if anyone knows they are there. What's worse, is many small retailers are already at a greater disadvantage due to COVID-19 and can't offer streamlined curbside pickup because it's too difficult or costly to build. I believe our solution will be extremely valuable for these merchants." Citrus is available as a monthly subscription for retailers based on number of locations and transactions. Customers can use Citrus for free by downloading the Citrus app and use it for curbside pickup at any participating retailer.
"Curbside pickup has emerged as a vital category during the Covid pandemic," noted Rick Arturo, Chief Revenue Officer for Citrus. "But the experience is inconsistent and often chaotic. Given the convenience and safety that it can offer, done properly, curbside pickup is only going to expand and is here to stay. Our mission is to make it streamlined and affordable for all."
NCR Teams with Microsoft
NCR Corporation is collaborating with Microsoft to power NCR Digital Connected Services (DCS).
NCR's Digital Connected Services Internet of Things (IoT) management software will run on top of Azure IoT AI technology. That means data can be turned into insights faster, and incidents that could potentially impact availability can be identified sooner, increasing uptime. Through this unique combination, NCR's retail, restaurant, and banking customers will gain a wall-to-wall IoT monitoring and managed services solution that proactively keeps connected devices running with greater uptime, enhancing their customers' experiences.
"With Digital Connected Services, our customers gain peace of mind that their mission-critical technologies are always ready and available," said Dan Campbell, EVP, Global Sales, NCR Corporation. "NCR can help global retailers, restaurants and financial institutions protect availability of edge devices and quickly turn massive amounts of data into meaningful insights."
"By leveraging Microsoft Azure and its AI and IoT capabilities, NCR is helping retailers, restaurants and financial institutions simplify and keep commerce running with Microsoft's trusted, secure and scalable platform," said Sam George, CVP, Azure IoT at Microsoft Corp.
Lagniappe Krewe Emergency Relief Fund
Erich and Jennifer Weishaupt, founders of the Ruby Slipper Café and Ruby Sunshine restaurants, established the Lagniappe Krewe Emergency Relief Fund in response to the COVID-19 crisis, top photo. Lagniappe Krewe Fund grants are available to hospitality employees and their families who have experienced emergencies beyond their control resulting in financial hardship. Workers affected by recently named storms—Laura and Sally—are also encouraged to apply for assistance. Applications are open for the one-time, $500 grants and are being accepted now through an online application process.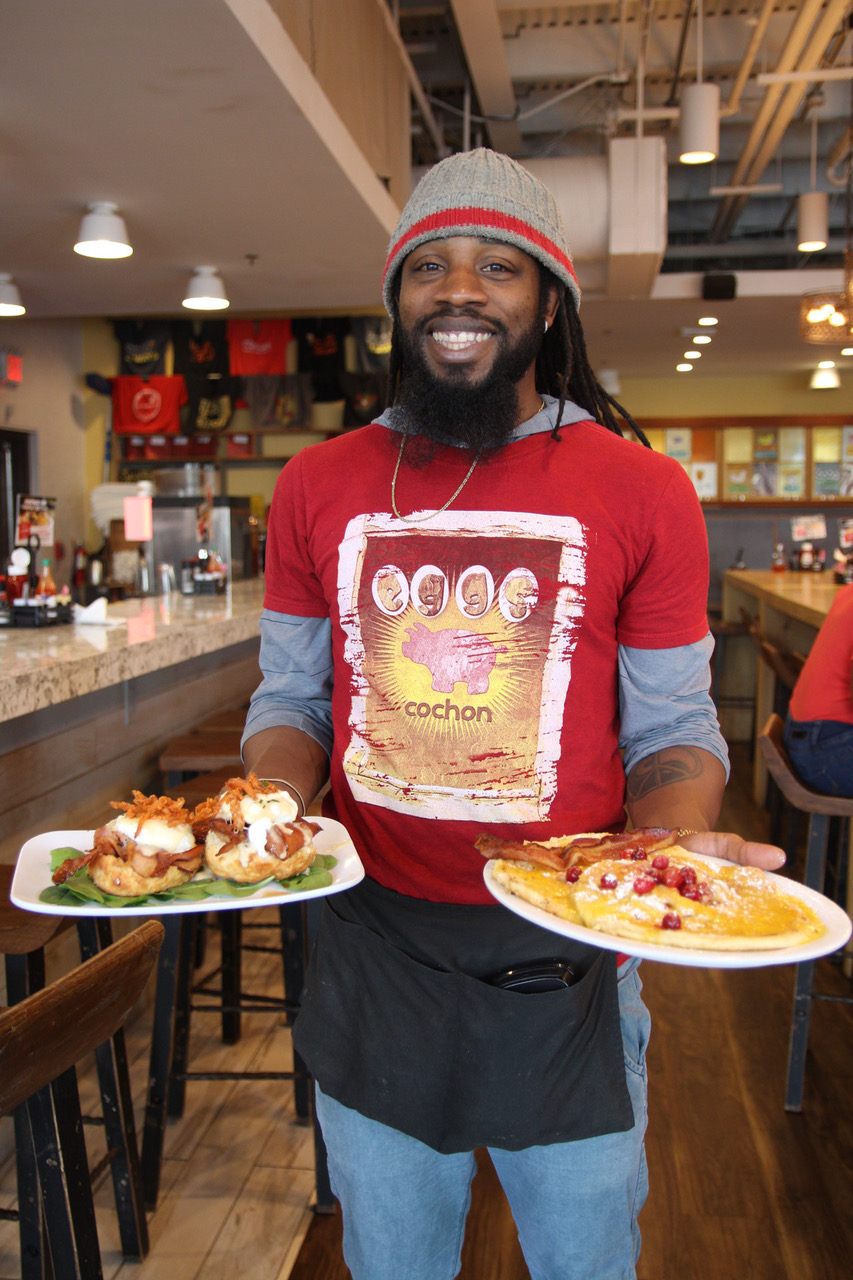 "When COVID disrupted our business operations, we were unable to continue paying our employees—that was the most difficult decision for us," said Jennifer Weishaupt. "We employ hundreds of good, hard-working people who rely on their paycheck. These grants are offered in response to the emergency needs of individuals within our restaurant families."

The Weishaupt's founded the Weishaupt Family Foundation in 2019 to give back to the community-at-large and distributed $50K in grants to nonprofit organizations in the New Orleans area. When COVID-19 forced the hospitality industry to shut down, the Weishaupt Family Foundation sought ways to broaden the reach to individuals within the Ruby Slipper markets across five states and personally seeded the Lagniappe Fund with $100K. The initial round of grants was distributed in early August. Bregal Helps Initiative pledged to match the $100K donation, allowing for this second round of grants to reach even further.

"During the period I was laid off due to COVID-19, there were several problems out of my control with my unemployment status leaving me in a difficult financial situation," said Jessica Schiefele, long time Ruby Slipper bartender. "The $500 grant from the Lagniappe Krewe Fund helped me cover my critical expenses during that time."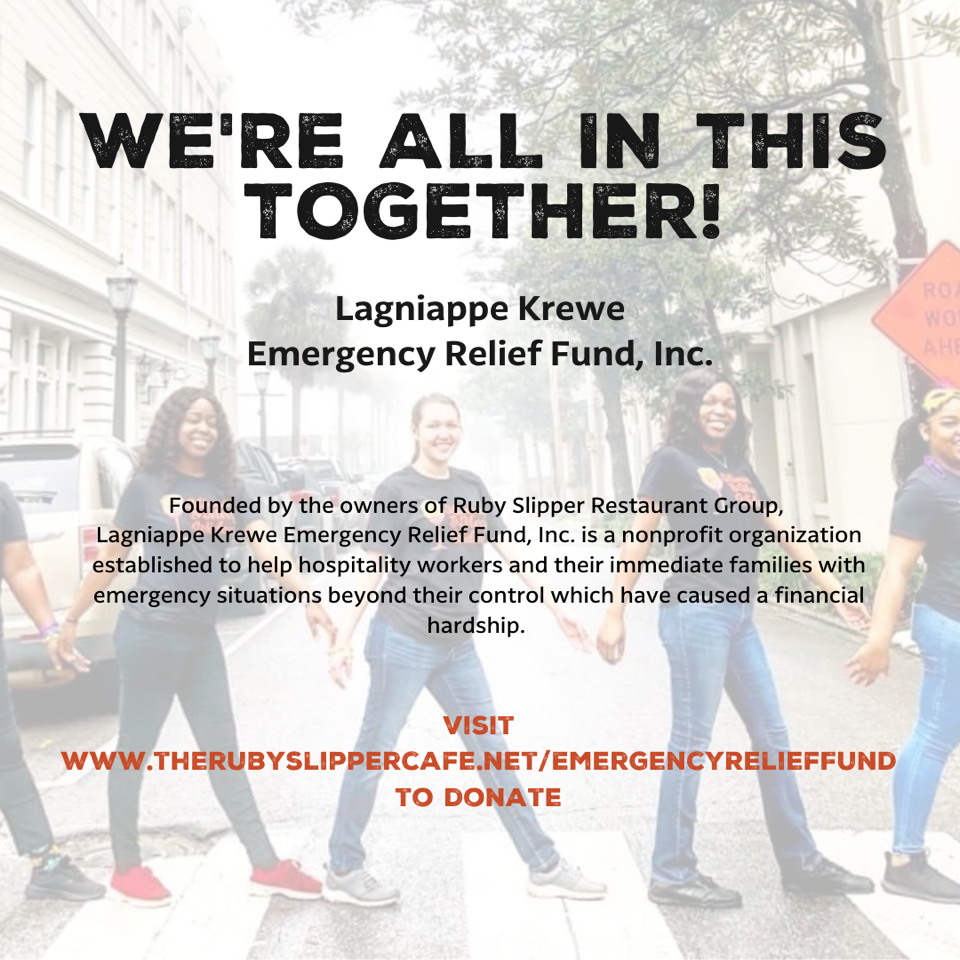 The Lagniappe Krewe Emergency Relief Fund grant application period is now open for the second round of funding. Applications are available online at www.lagniappekrewefund.com through Friday, Oct. 23.

Tax-deductible donations to the fund may be made online, with 100% of the donations being distributed directly to the impacted krewe.
BIBO Beverage Debuts
Beverage industry experts Terri White and Mark Lester joined forces in creating BIBO Beverage Group, LLC, an agency specializing in helping boutique and family-owned wine, beer and spirits producers find strategic success in key markets.
BIBO Beverage Group, LLC, will focus on creating a collective of domestic and internationally-based strategically placed brands, giving these small- to mid-sized producers the muscle of a more extensive operation. The company helps each brand navigate the sometimes-complicated industry, and provides effective programming and efficient, affordable marketing initiatives that can match budgetary needs. BIBO will work on general sales, marketing and communication, brand development, and new product launches. BIBO is a full- service importer/exporter, national sales, and brand management agency.
"We believe there's strength in numbers," White said. "Smaller family brands have a hard time competing with larger companies with the budget to invest in extensive sales and marketing programs. Our model is simple – with our collective, we can open up new doors of distribution to everyone with our tight-knit group of brands."
"Now more than ever, the power of the portfolio is critical to any brand success. In a time when brands are looking to reduce their expenses, BIBO has a roadmap to reduce costs and increase coverage. Said Mark Lester.
This consolidated group of sales and marketing pros have diverse and extensive experience in wine, beer, and spirits – from brand development and consulting to new product launches and distribution of on- and off-premise sales. Collectively, the team has worked on every side of the industry as marketing directors, buyers, négociants, supplier, sales, distribution, brand creators, and agents.
White has more than 30 years of demonstrated success in promotional marketing, distributor management, and sales of luxury wines, craft spirits, and beer from around the world. She founded Virtus Wines International in 2008, dba Wheelhouse Libations, and The SIP Agency. At BIBO, she will focus on supplier-client relations, National Account development, and continue to develop BIBO's Fine Wine division.
Lester comes to BIBO Beverage Group, LLC, with over 20 years of experience in the industry, in multiple channels. He created from concept to shelf the multiple award-winning brand, Soul Premium Cachaca. Building distribution network not only domestically but internationally. Lester will concentrate on the spirits divisions, international distribution, brand programming, COGS, and brand strategy.
BIBO Beverage Group, LLC, will also have a dedicated national sales team, with boots on the ground in key markets.
"We're looking forward to continuing to build a luxurious portfolio of esteemed producers that are super strong, but need the extra push that we can bring with our combined experience," said Lester and White.
BIBO Beverage Group currently works with Paso Robles' Bianchi Winery & Tasting Room, Crop Organic Vodkas, Farmer's Botanical Gin, Louisville's Michter's American Whiskeys, pureCru Wines, Napa Valley, Soul Premium Cachaca, JACK Wines, as well as Trujillo Wines and Two Old Dogs Winery out of Napa Valley
Ready. Set. Good2Go!
Smithfield Culinary, the foodservice organization under Smithfield Foods, opened entries for its Ready. Set. Good2Go! sweepstakes that gives restaurant operators the chance to win a state-of-the-art mobile ordering system.
COVID-19 has impacted all industries, but the foodservice industry may be one of the hardest hit. As a result, restaurant operators have been forced to shift their business models to accommodate customer demand for contactless online ordering and delivery.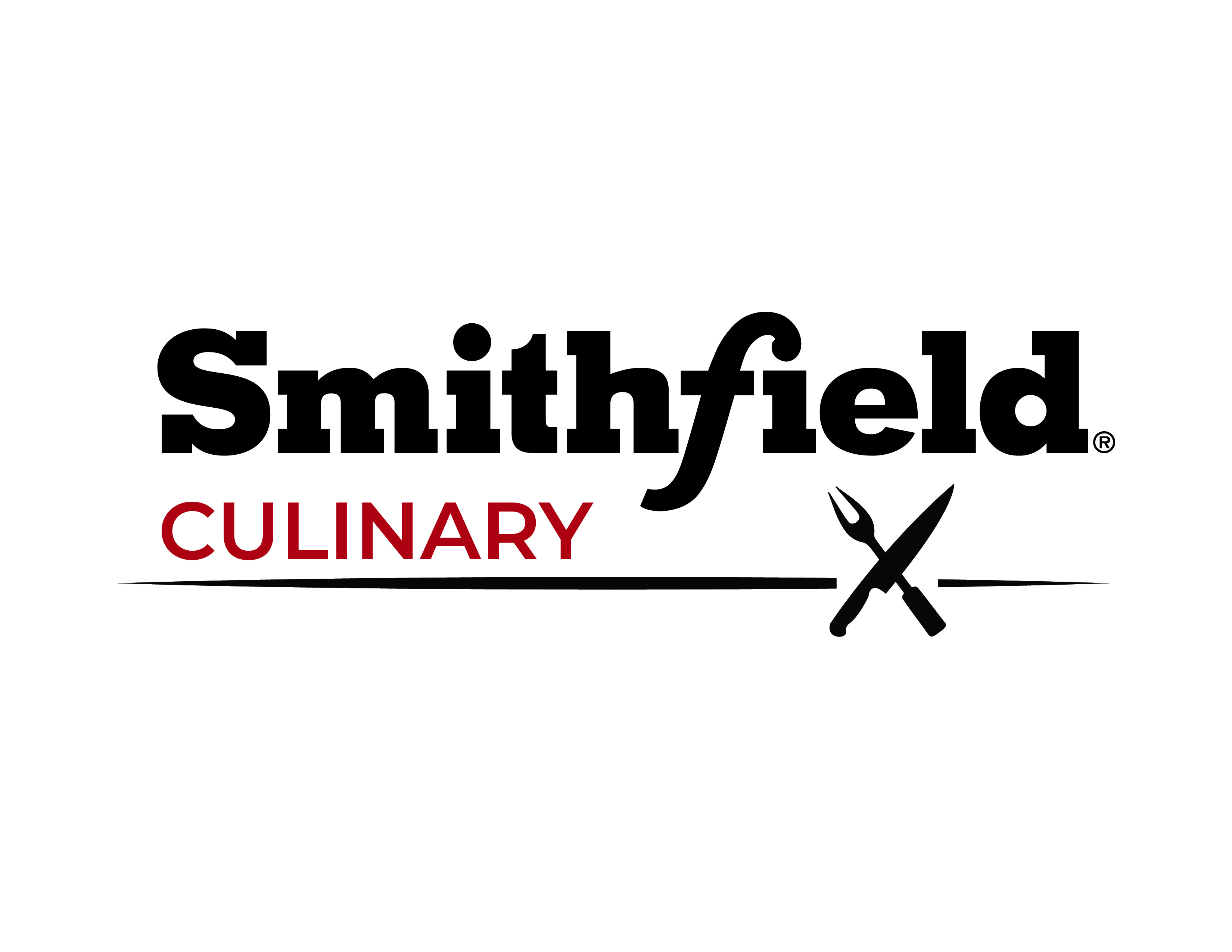 Smithfield Culinary is helping restaurant operators succeed by offering the chance to win carryout essentials needed to boost business and keep customers coming back. The sweepstakes, featuring a grand prize of $10,000 worth of state-of-the-art tech equipment for an ordering and payment system, and $1,500 worth of carryout packaging, can be found at www.smithfieldgood2go.com.
"Our customers have been through a lot in 2020, and we want to be sure that they are able to successfully reach their patrons and embrace this new way of dining," says Ed Wayda, senior brand manager for Smithfield Culinary. "We hope the sweepstakes motivates restaurant operators to evaluate their current operation and how it can be improved with technology made specifically for streamlining their new takeout processes."
The sweepstakes is open to part-or-full-time chefs, operators and decision makers in all 50 states who are 18 years of age or older (19 in AL & NE). The contest ends on December 31, 2020.
To learn more about Smithfield Culinary go to www.smithfieldculinary.com.
New Features from OpenTable
Recognizing the struggle for the restaurant industry is far from over, OpenTable​ is rolling out a suite of features and extended price cuts through March 2021 to support restaurants during the COVID-19 pandemic. They are also extending its Open Door pricing which waives subscription and cover fees in the US, Canada and other select markets through March 2021.
"We are now six months into a global pandemic and the restaurant industry continues to be in crisis," said Debby Soo, CEO of OpenTable. "We are committed to doing our part to ease the burden, so we're offering our restaurant technology for free through March 2021 and will continue to focus on building products that our partners need right now."
Is a slow Tuesday night typical in the neighborhood or unique to that restaurant? Is a $60 cover above or below average compared to nearby restaurants? Using anonymized and aggregated data from thousands of OpenTable restaurants, restaurateurs now can benchmark performance metrics like diner activity, spend and reviews against other OpenTable restaurants in their area. OpenTable will recommend which actions restaurants can take like running a marketing campaign or managing guest reviews to help them grow their business.
Today, when diners choose a restaurant they also may want to know what safety measures they can expect. OpenTable's new 'Safety Precautions' tool allows restaurants to update their profile with a complete list of the health & safety protocols they have in place. These may include additional cleaning measures like sanitizing between seatings, contactless payment, social distancing via spacing tables, and employees wearing masks.
Restaurants are pivoting their business model for a post COVID-19 world, expanding beyond the traditional dine-in service to offer more unique experiences. Think set menus for a special night out, wine tasting flights with a group of friends or an outdoor movie night for the whole family – all offered by the restaurant and paid for through the OpenTable app. By encouraging diners to book and pay in advance, restaurants can better manage food waste, curb no shows and drive much needed revenue. Now, restaurateurs can easily manage and promote these experiences via OpenTable.
Serving Up a Side of Democracy
Customers will be able to order voter-registration forms directly from the menu at every Nando's PERi-PERi in the United States. (For free, of course.) It's all part of a mad dash to increase participation in democracy in the upcoming election.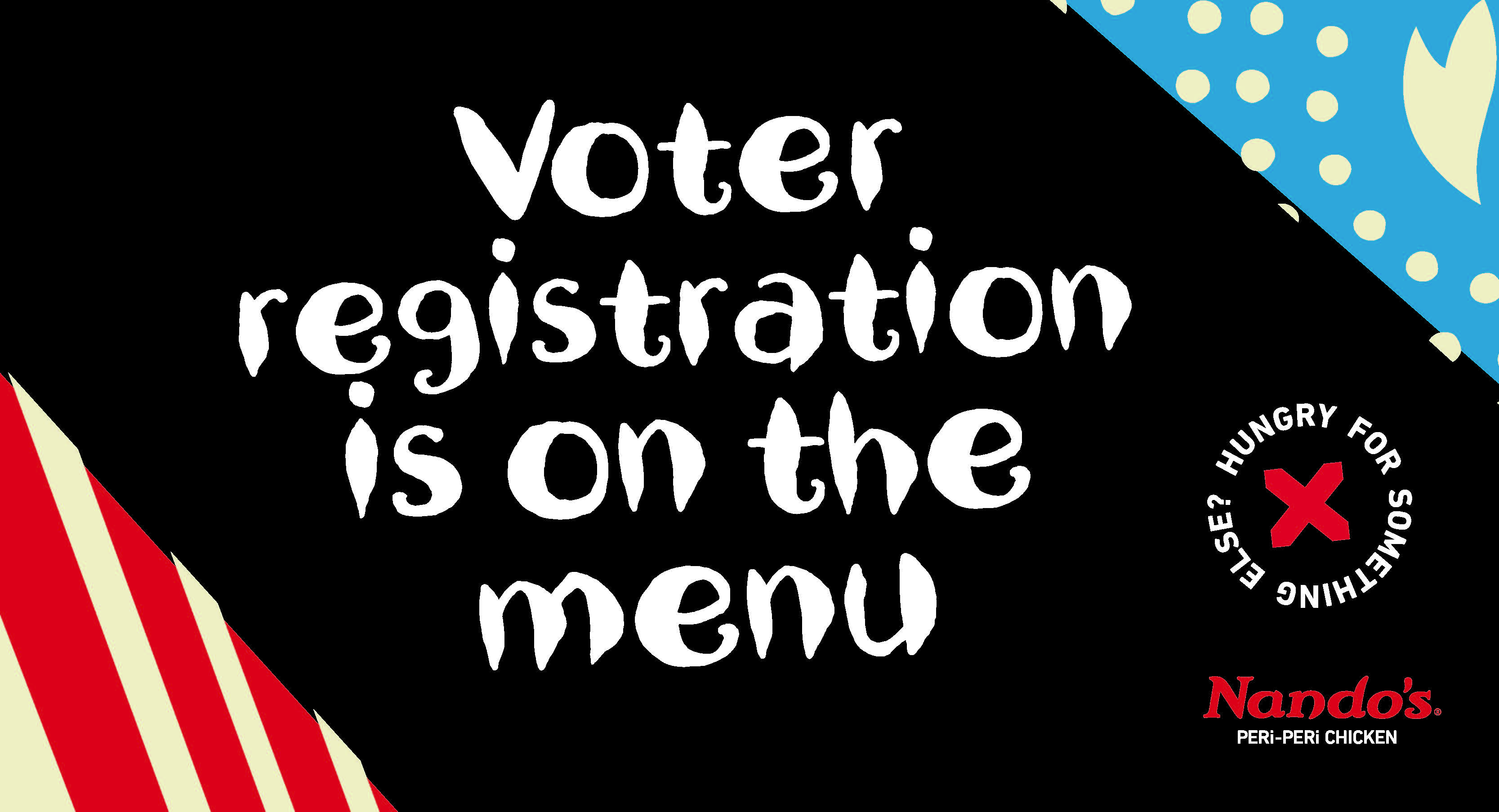 Every Nando's restaurant in Washington, DC, Maryland, Virginia and Chicago also will set aside designated voter-registration stations from Tuesday Sept. 22 to Friday Sept. 25. Nando's will provide customers with localized voter registration forms and all the information they need to quickly and accurately get off the sidelines and register to vote.
"At Nando's we believe people should have their say. Whether it's lemon and herb, medium or hot PERi-PERi sauce—or choosing who will steer this country into the future—voting truly counts," said John Fisher, CEO of Nando's PERi-PERi USA. "We've spread this message internally and are making it easy for every employee to do their part come November 3rd."
With 42 locations in the US, Nando's will serve as a COVID-safe voter-registration resource hub in every community it serves. When customers order spicy flame-grilled chicken from the Nando's app, from a food-delivery service, or in-person at a restaurant, the menu will read: "Voter Registration Form: Free." Any customer who clicks on the menu item will be presented with a voter-registration application, along with their tasty meals.
In addition, Nando's will hand out voter-resource flyers, in stores and in takeout bags, showing prospective voters how to quickly update their voter-registration status online. And, on Election Day, Nando's will provide free catered meals to poll workers in Nando's USA communities, as a thank-you to our dedicated poll-working volunteers.
For staff, Nando's also will:
Provide thousands of Nando's employees, or Nandocas, with paid time off to vote
Dedicate time and resources to educate Nandocas how to register, vote early, and safely vote at home or in-person
Provide free transportation to the polls on Election Day, for all Nandocas who need it
"At Nando's, we've put voting on the menu because we originated in South Africa. We were there in 1994 when millions of South Africans had their voices heard for the first time. Voting is a right and should never be taken for granted," said Sepanta Bagherpour, Nando's Chief Brand Officer. "This is not the election to sit one out."
Meallogix Closes Fund
Meallogix® closed an oversubscribed $1.25 million seed round co-led by strategic investors. Meallogix will use the funds to continue to build out the Meallogix platform, scale operations, grow its global team, and expand partnerships.
"To raise seven figures during a seed round, have it be over-subscribed, and achieve that during a global pandemic is a testament to the exceptional product we offer and the team behind it," said Meallogix Founder and CEO, Ted Stearns.
Before the coronavirus affected the way U.S. consumers dine and shop for food, there were 50 million people participating in meal kit and meal prep subscriptions, Nielsen reported. According to Statista, the meal prep market was valued at $1.6 billion dollars in 2016 and experienced a staggering 300 percent surge to a $4.65 billion valuation in 2017. By 2022, it's expected to more than double to $11.6 billion.
Meallogix digitizes every step of the supply chain, from order intake to ingredient conversion, nutrition label creation, shopping list creation, recipe costing, delivery options, and more. Its dashboard allows meal prep owners to gain insight into critical financials, showing them which menu items drive profits and which do not.
Brooks Added to Advisory Board
Novalent Biotech, Inc appointed Dr. Scott Brooks, Head of Food Safety at Tyson Foods, to Novalent's Scientific Advisory Board.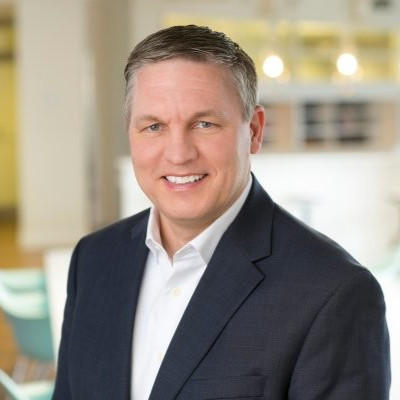 Novalent developed a patented technology which provides a safe and protective antimicrobial layer on surfaces that continuously inhibits the growth of bacteria for up to 90 days.
Novalent's Technology has an extensive set of 'industry first' EPA registrations for long-term antimicrobial protection provided on food contact surfaces and is used by leading firms including PepsiCo and Pilgrims.
Dr. Brooks is the SVP and Head of Food Safety at Tyson Foods, the world's second-largest processor of chicken, beef, and pork, with revenues in excess of $40 billion. Previously Dr. Books was the SVP and Head of Food Safety at Kraft Heinz, the third-largest food and beverage company in the United States with $25 billion in revenue. Prior to Kraft Heinz, Dr. Brooks was the SVP and Head of Food Safety at PepsiCo, the largest food and beverage company in the United States with revenues of $45 billion.
"After an extensive one-year global search, we are proud to have an executive of Scott's caliber join our Scientific Advisory team," said Kevin Parrish, CEO of Novalent. "Scott has been the most senior executive responsible for food safety at three of America's largest food companies and in our view is one of the most sought-after thought leaders in food safety globally."
"I have been impressed with Novalent's groundbreaking technology, research and engineering capabilities since our first discussions in 2017 and I and look forward to advising the team to help Novalent bring critical life-saving protection to their food producing clients in the U.S. and across the world," said Dr Brooks.
GoTab Secures Funding
GoTab, Inc. secured a $6 million investment to enhance its innovative technology and further bridge the gap between contactless dining and full-service hospitality.
This recent funding round was made possible by existing investors: Anthony Bruce, former president, Applied Analytics at Mastercard & CEO at APT; Greg Cohen, former president of iPayment and Paya; Jody McLean, CEO of Edens; Will Graylin, CEO of OV Loop and former global co-GM of Samsung Pay; Jim Hirshorn, Partner at Ares Management Corporation and President of Potbelly Sandwich Works; George Krautzel, managing partner for MissionOG; Andrew Newcomb, managing partner at MissionOG; and Jonathan Zabusky, founder and managing partner of Bounce Ventures LLC, former president of Grubhub/CEO of Seamless
Offering contactless ordering and payment since 2016, GoTab is helping hospitality operators rethink their service model, especially as they adapt to rapidly evolving regulations and consumer expectations. Early adopters such as Stone Brewing, Barcelona Wine Bar and Ballast Point Brewing Company have been able to leverage GoTab to optimize their servers' time, work and interactions with customers to ensure a better guest experience. GoTab creates an efficient and hospitable environment for guests while freeing up front-of-house staff from low-impact tasks and allowing them to allocate more time to maintain proper safety guidelines which benefits both the operators and the guests.
"We are excited for the possibilities that this new round of investment brings," commented GoTab CEO Tim McLaughlin. "GoTab has helped countless operators adapt their hospitality model and turn a corner despite the current challenges they are facing. We are confident that further integrations and partnerships with best-of-breed technology will bring even more innovation and success to our operators."
With this new round of funding, GoTab is developing partnerships and facilitating integrations with other innovative best-of-breed hospitality tech platforms, all designed to ensure operators can optimize their business model and adapt swiftly to operational changes. Currently underway is the rollout of GoTab's Mobile POS; i.e., contactless ordering and payment features for servers, making every guest transaction effortless, convenient and contact-free.
Self-Fill Bottle Program
Tractor Beverage Company is helping out its current and future "pouring partners" during the ongoing COVID-19 pandemic. By serving Tractor's Certified Organic, Non-GMO and All-Natural beverages, restaurants can not only offer consumers a better-for-you alternative to traditional sodas, or a delicious flavored option to water, but they can also take advantage of Tractor's new self-fill bottle program.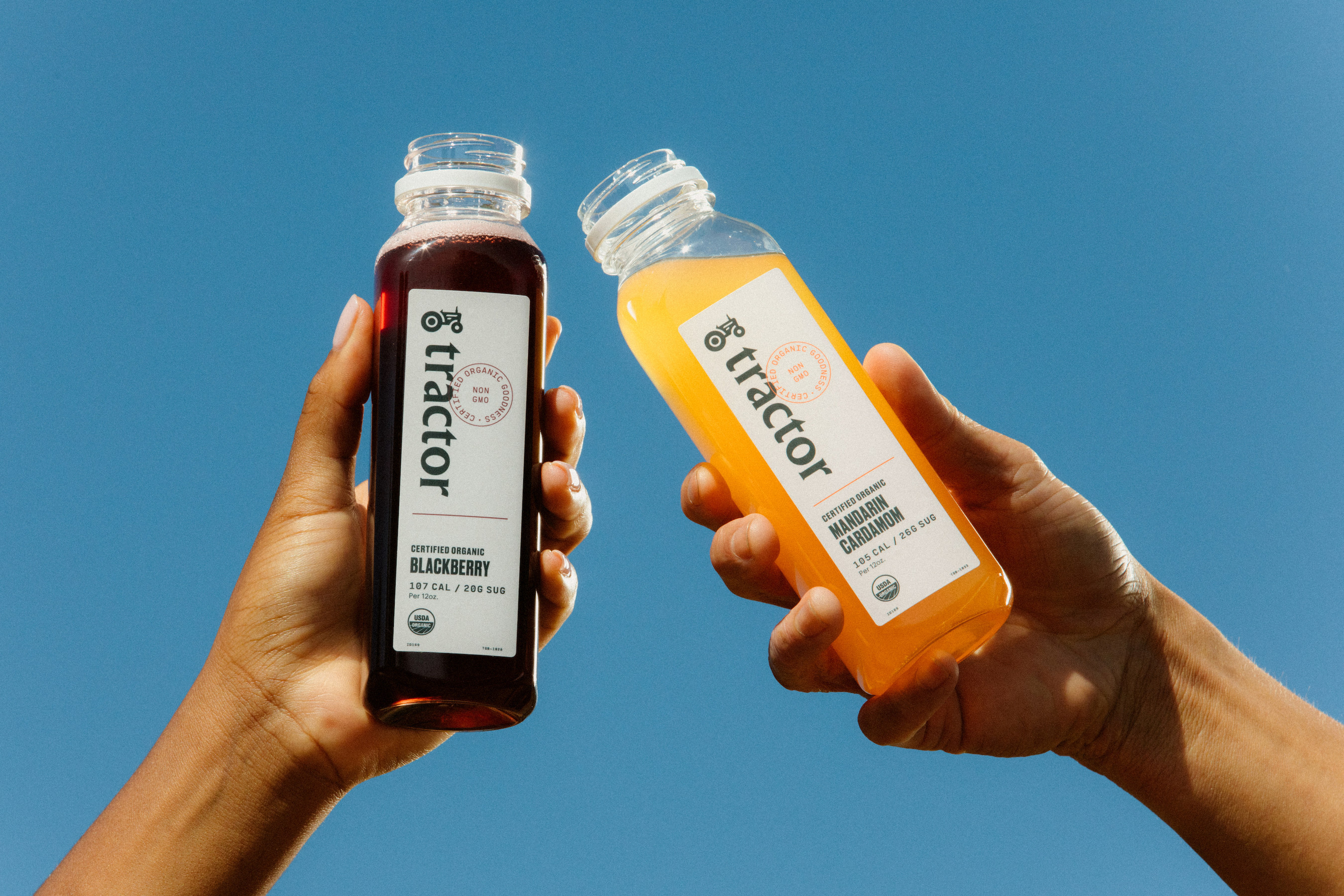 In response to the global pandemic, Tractor established the self-fill bottle program in order to enable foodservice operators to drive highly profitable beverage sales while taking out 50 percent of the cost for carry-out beverages. As a result, Tractor has minimized total expenses for the industry while increasing beverage revenue and margin, in some cases over 100 percent for carry-out, delivery, and digital orders.
"Our main goal as a brand exclusive to the restaurant industry is to support this industry in its time of need," said Tractor founder Travis Potter. "By focusing on how a beverage program can help individual restaurants' revenue growth, so they can reinvest back in their business and their people. We are going to see long-term success in the industry, even during COVID-19."
Tractor Beverage Co. is the first and only non-GMO and Certified Organic full-line beverage solution available for foodservice. Top flavors include mandarin cardamom, lemonade with turmeric, stone fruit tea, and strawberry rhubarb, in addition to many carbonated varieties.
Tractor beverages are available exclusively at premier restaurants and other selective foodservice establishments, rather than grocery or convenience stores, offering these eateries a simple and streamlined way to drive critical beverage sales for retailers. Additionally, distributing in concentrate form to "pouring partners" produces a more sustainable and cost-effective business model for operators. It also keeps Tractor's drinks exclusively connected to the dining experience.
"This opportunity to help the food industry rebound caters to our brand ethos – we focus on doing things the right way, not necessarily the quickest way," says Tractor CEO Luke Emery. "The self-fill bottle program fits perfectly with our core mission of bringing better quality drinks (by way of better-quality food restaurants) to people around the country."
Showcasing Black Restaurant Week
Foodies can raise their forks to events showcasing African-American, African and Caribbean cuisine as Black Restaurant Week embarks on a local market tour this fall with Pepsi as its first-ever national title sponsor since its founding in 2016. Through diverse menu selections and virtual events, Black Restaurant Week spotlights restaurateurs, bakers, chefs, caterers, food trucks and more to celebrate inspired flavors and generate social and economic support for the Black culinary community.
Black Restaurant Week's impact on the Black culinary community in 2019 included a 25-40% increase in revenue for participating restaurants during each local celebration.
Black Restaurant Week champions culinary tastemakers across the nation through a combination of enticing consumer offerings – including local events, prix fixe menus highlighting unique cultural fare and pop-up dinners – along with industry engagement designed to boost business owners, like interactive learning opportunities and resource sharing. As the first national title sponsor, Pepsi kicked off its collaboration with Black Restaurant Week in Greater Washington D.C. where the campaign is underway through Sept. 27, setting the table for upcoming Black Restaurant Week celebrations:
New Orleans, LA: Oct. 2-11, 2020
Philadelphia, PA: Oct. 16-25, 2020
New York, NY: Nov. 13-22, 2020
Florida: Nov. 27-Dec. 6, 2020*
Alabama: Dec. 11-20, 2020*
*Taking place in all major cities of the state.
"We're energized by the appetite we've seen for supporting Black-owned restaurants and celebrating the talented Black culinary professionals shaping the food and beverage scene," said Warren Luckett, founder of Black Restaurant Week. "Pepsi shares our goal of increasing equality in the industry and this partnership allows us to have an even bigger impact by expanding Black Restaurant Week to reach more businesses, communities and diverse food lovers."
The systemic barriers faced by Black-owned restaurants, such as disproportionate access to business loans, demonstrates the importance of Black Restaurant Week's collaboration with Pepsi. These disparities have only grown with the COVID-19 pandemic; 41 percent of Black-owned businesses have shuttered since February compared to 17% of white-owned businesses.*
In 2019, Black Restaurant Week collaborated with nearly 250 Black-owned restaurants and culinary businesses in cities across the U.S., generating $1.5 million in economic impact. Participating restaurants reported a 25-40% increase in revenue during each local celebration. Since kicking off its 2020 campaign in July, Black Restaurant Week has highlighted more than 340 Black-owned culinary businesses in Houston, Los Angeles, Oakland, St. Louis, Kansas City, Chicago and Atlanta. With the exception of prix fixe menu ordering at participating restaurants, all event programming for the 2020 campaign will take place virtually to ensure a safe experience.
"We're committed to increasing access, accelerating growth and expanding awareness for Black-owned restaurants," said Scott Finlow, Chief Marketing Officer, PepsiCo Global Foodservice. "The work Black Restaurant Week is already doing fits perfectly with our mission. We want our collaboration and the power of the Pepsi brand to help take the organization's fantastic efforts to the next level to engage more consumers and boost Black foodservice businesses."
Visit blackrestaurantweeks.com to view the complete tour schedule and learn more about upcoming events and resources. Stay connected with @BlackRestaurantWeek and @Pepsi on social networks.
LTI Expands Line
LTI, Inc., expanded its line of compact, mobile serving counters with the new Dual-Temp HOT/COLD ExpressLine Compact.
The Dual-Temp HOT/COLD ExpressLine serves as two units in one, offering two bays for hot foods and two bays for cold foods. This offering makes it possible for schools, offices or other busy operations to serve hot foods from one side of the unit and cold foods or drinks from the other side, providing total meal flexibility in one convenient unit.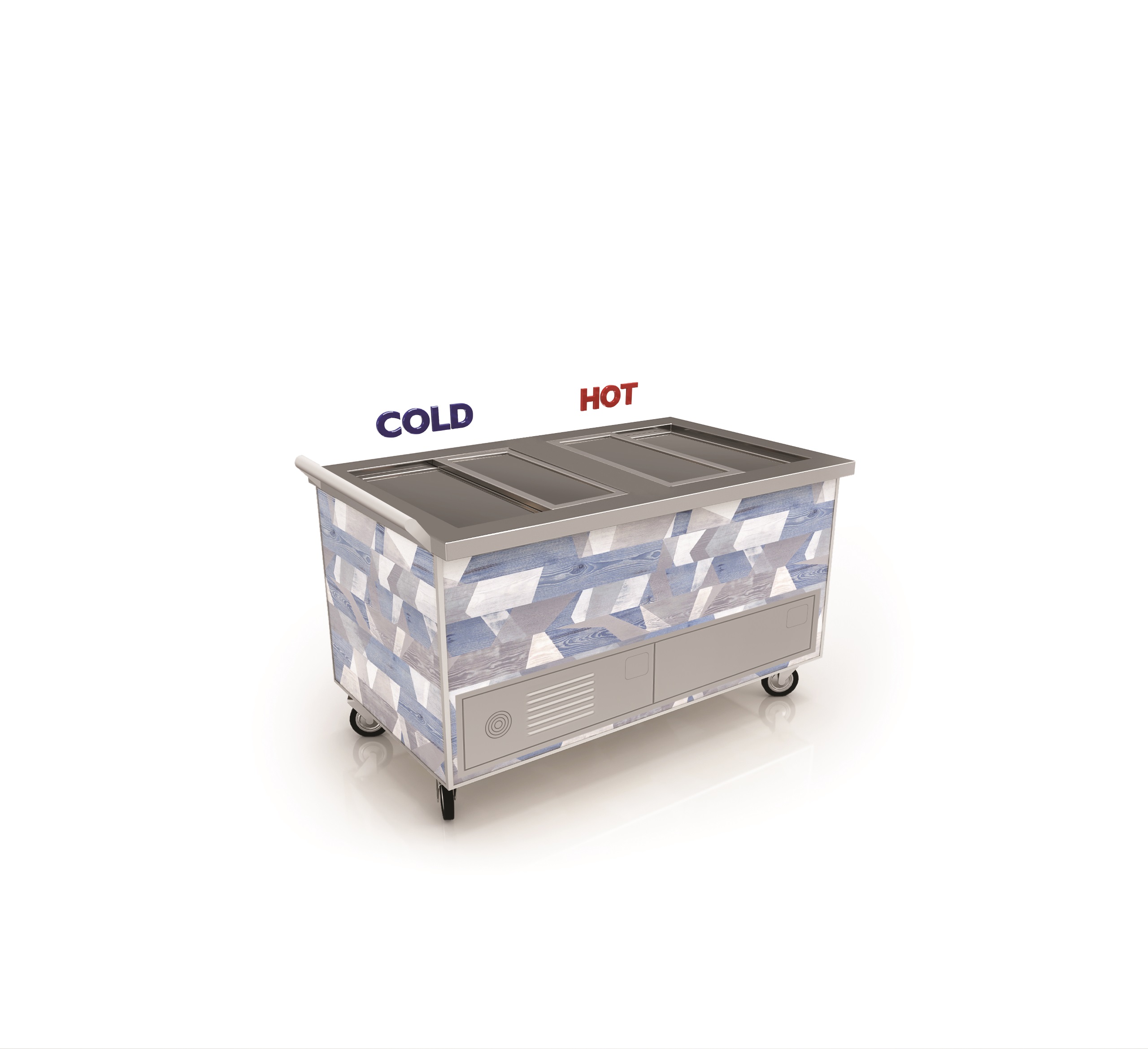 Ideal for serving individually wrapped or prepackaged meals and sides, the Dual-Temp HOT/COLD ExpressLine is mounted on heavy-duty casters and can be easily transported to wherever customers are and plugged into the nearest standard outlet.
The heated and refrigerated bays are designed to hold industry-standard baskets and can maintain safe holding temperature for up to two hours without needing power.
"This equipment really helps operators of all kinds diversify their feeding programs beyond the four walls of the traditional cafeteria," said Mike Purcell, LTI VP of sales and marketing. "Whether in an office building, hospital or school, ExpressLine can multiply dining options in a safety-conscious, COVID-responsible way."
These 72-inch ExpressLine counters can function as stand-alone meal stations or can be coupled with another unit to create a larger, full-service line up.
Dual-Temp HOT/COLD ExpressLine counters come standard with stainless steel sliding lids, but see-through acrylic versions are also available.
Other options include a vertical acrylic barrier for separation between server and diner, drop-down end shelves, a push handle for ease of mobility, an over-structure with shelves for additional holding space and more. Unit bodies can be customized with laminate and stainless steel body, fiberglass panels or vinyl graphics over stainless steel. Other options in the ExpressLine line include compact and standard-size units that are exclusively hot or cold for more specialized needs
#CutOutCutlery
In 2019, Los Angeles-based non-profit Habits of Waste (HoW) created a solution to the plastic cutlery crisis in our country. The company's campaign #CutOutCutlery was successful in securing a default setting on both Uber Eats and Postmates apps that required customers to request cutlery as opposed to automatically receiving it. One year later, food delivery giants GrubHub and DoorDash still have not made the simple change to their default settings that would save millions of plastics from entering the environment every month.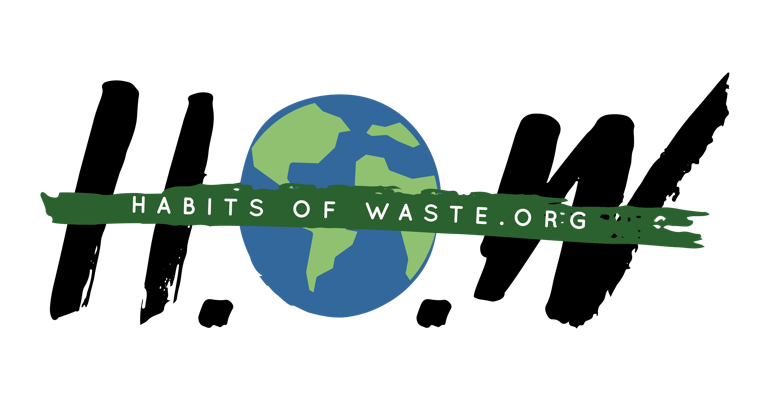 Every year, over 40 billion pieces of single-use plastic cutlery are produced and discarded as waste. Not only is single-use plastic cutlery not recyclable, it's ending up in our oceans and killing sea life. Further, it's harming the environment by disrupting the productivity of natural systems and as these plastics break down throughout the years into micro plastics, they end up in our food and drinking water. And If these current trends of plastic waste continue, one study estimates that by 2050 the plastic waste in the ocean will outweigh the fish.
"GrubHub and DoorDash must #CutOutCutlery and help save millions of pieces of waste from entering our already taxed environment," says Habits of Waste Founder Sheila Morovati. "With Uber Eats recently completing its billionth delivery, there's no denying the impact this campaign can have. And the time to address plastic cutlery is now – just like we did with plastic straws which the entire world responded to creating a massive ripple effect. Creating a non-negotiable plea with legislation is the goal."
Customers can help convince Grubhub and DoorDash to join the crusade by emailing them here and requesting they install an option for plastic cutlery feature on their apps to eliminate unnecessary waste. Currently, these apps automatically provide plastic cutlery for customers ordering food delivery despite user's unsuccessful attempts to opt-out.
Through the campaign and Morovati's continued efforts, The University of Southern California school system eliminated all single-use plastic items in dining halls, including cutlery, plastic bags and bottles. Habits of Waste plans to extend the sustainability crusade by bringing #CutOutCutlery to universities nationwide. Additionally, Morovati is taking the campaign to the California legislature requiring all restaurants to provide single-use cutlery only by request.
Combatting Paper Cup Waste
Georgia-Pacific is now accepting mixed paper bales that contain single-use polyethylene (PE)-coated paper cups at its recycled paper mills in Green Bay, Wisconsin, and Muskogee, Oklahoma. The development follows two years of partnership with the Foodservice Packaging Institute (FPI) and collaboration with the NextGen Consortium, a global initiative led by Closed Loop Partners with founding partners Starbucks and McDonald's, to help open opportunities for paper cup recycling.
PE coatings, along with any remaining liquid and food left behind from use, have historically left single-use paper cups out of the recovery and recycling process. Georgia-Pacific, though, has proven through its extensive re-pulping trials that the Green Bay and Muskogee mills can effectively recapture valuable cup fiber from paper cups while screening out PE-coatings and reuse the fiber to make toilet tissue, napkins and paper towels.
"As single-use paper cups have grown in popularity in recent years so, too, has paper cup waste. As a leading manufacturer of paper foodservice products, we continually look for ways to consume fewer resources as part of our longer-term strategy to identify solutions that benefit society. Accepting mixed paper bales containing PE-coated cups at our Green Bay and Muskogee mills is a significant step in this direction," said John Mulcahy, vice president of sustainability for Georgia-Pacific, which manufactures the Dixie® brand of paper cups.
Kate Daly, managing director of the Center for the Circular Economy at Closed Loop Partners, believes Georgia-Pacific's new repulping capability will greatly benefit the foodservice industry and further advance the industry's environmental stewardship. "We are heartened to see Georgia-Pacific accelerate paper cup recycling through its acceptance of cups in mixed paper bales. This acceptance will also benefit new non-polyethylene next generation cups, marking an important step forward for the industry as a whole, and we hope even more mills will follow this lead. Georgia-Pacific's actions reinforce the value of the materials in paper cups and build critical markets for recycled materials. As the managing partner of the NextGen Consortium, we continue to work with leaders like Georgia-Pacific to engage, educate, and collaborate with stakeholders across the cup value chain in order to keep valuable materials in play," she said.
Beyond its current repulping efforts, Georgia-Pacific is also collaborating with the NextGen Consortium to trial at its mills next generation paper cups that have replaced the PE-coating with materials that can be recycled and/or composted. As founding partners of the NextGen Consortium and strong advocates of reducing single-use paper cup waste, McDonald's and Starbucks are supportive of ongoing collaboration with Georgia-Pacific and encouraged by the company's current re-repulping efforts.
"Increasing and improving the recyclability of cups is a vital part of our work within the NextGen Consortium. We are taking a meaningful step forward with Georgia-Pacific toward our goal of reducing paper cup waste. We're excited by this progress and look forward to our continued partnership with organizations that support our vision of a resource-positive future," said Michael Kobori, chief sustainability officer at Starbucks.
Marion Gross, chief supply chain officer, North America with McDonald's added, "Recovering,recycling, and reusing the valuable materials in our cups is an important part of our sustainability ambition and our work with the NextGen Consortium. By accepting and reprocessing single-use cups, Georgia-Pacific is not only enhancing recycling pathways but also generating a supply pipeline of recycled content critical to positively impacting the environment and achieving our goals."
With its Green Bay and Muskogee mills now engaged, Georgia-Pacific is working with FPI to expand and accelerate single-use PE-coated paper cup acceptance in curbside recycling programs in an effort to increase the number of households that can recycle the paper cups.