A Day in the Life of a Delivery Driver
3 Min Read
At the moment, delivery and takeout are the lifeblood of the restaurant industry. Chinese restaurants were one of the hardest-hit categories in the early phase of Covid-19 and then slowly returned. The team at Chowbus connected Modern Restaurnt Management (MRM) magazine with Mr. Pan, a 36-year-old living delivery driver in Chicago, to learn more about what his daily life is like now during this pandemic.
What is a typical shift like now and then?
Before Covid-19, I used to do 30 orders per day on average and socialize a lot. Now I do 35-40 orders per day. Because of the contactless delivery, I don't need to knock on every door but instead put the order in the lobby. It saves me a lot of time, so now I can deliver more orders a day. There are also fewer cars on the streets, which means faster commute.
When I finish my shift, I would go straight back home and relax. I live with my parents, but I have moved to the basement for their safety.
I love my job: I work with Chowbus. They give me masks and gloves, so I feel safe delivering food. They also provide hand sanitizers to all the restaurant partners. They even re-divided the space for restaurants to function more like logistics for speedy and secure takeouts. Also, because the situation has changed so much, customers have more questions now. Chowbus' customer service agents answer the questions. In contrast, other apps only have AI customer service, so customers' complaints don't usually get solved on the spot.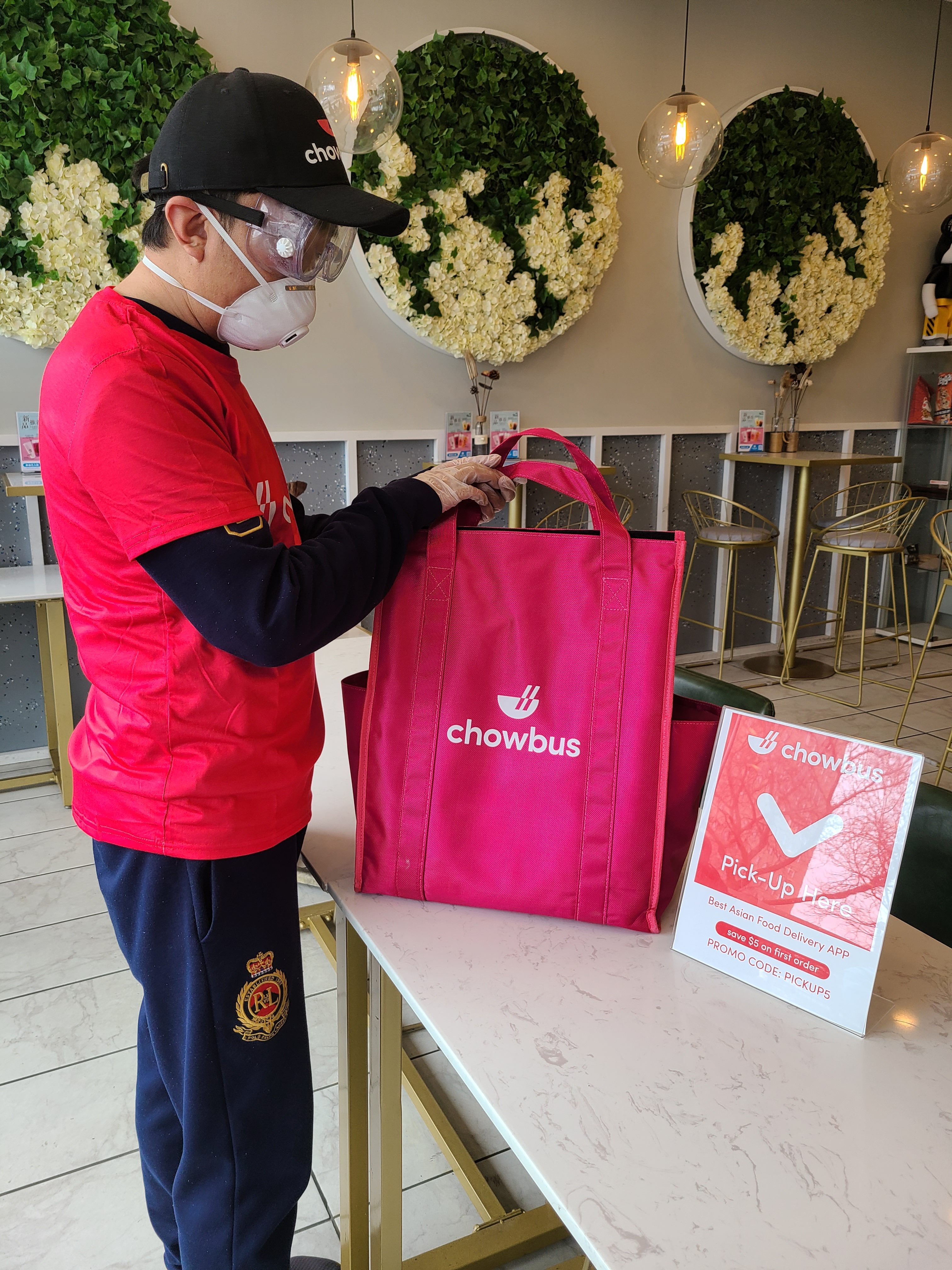 Have there been negative things or hard times that happened around you as a Chinese delivery worker, and how did you go through it?
No. People are friendly toward us. They are even nicer than before because they know our job is hard. I haven't encountered any unfair treatment because I'm a Chinese delivery worker. I have lovely customers: People give more tips than before — they used to tip $5-$10, but now because people buy large quantities and some of them live far away, they tip generously, like $20 or more.
Sometimes they text me to leave the food at the doorstep and don't need to knock — this saves me a lot of time, so I really appreciate it.
I have a few experiences where customers left a bag of masks on the outside doorknob for me with notes that say, "please stay healthy. Here are a couple of masks for you." I was touched.
What do you want to say to people or anyone who might not know your day-to-day work very well?
For people who might not know our day-to-day work very well, I would say that it's tough to describe since one has to really do this job to understand the logistics. Food delivery is also very different than car service — you have to be extra careful with the food to make sure it doesn't leak or get contaminated from departure to arrival. But luckily our customers have been very understanding. They tip well and say kind things to me.
Have you facilitated food delivery to hospitals? If so, could you describe your experience?
Yes. I have participated in two of the contactless food deliveries that Chowbus organized with US-China Restaurant Alliance — to Mercy Hospital & Medical Center on April 14 and John H. Stroger, Jr. Hospital of Cook County on May 15. Both hospitals are in Chicago. I was glad to help the healthcare workers in my own way.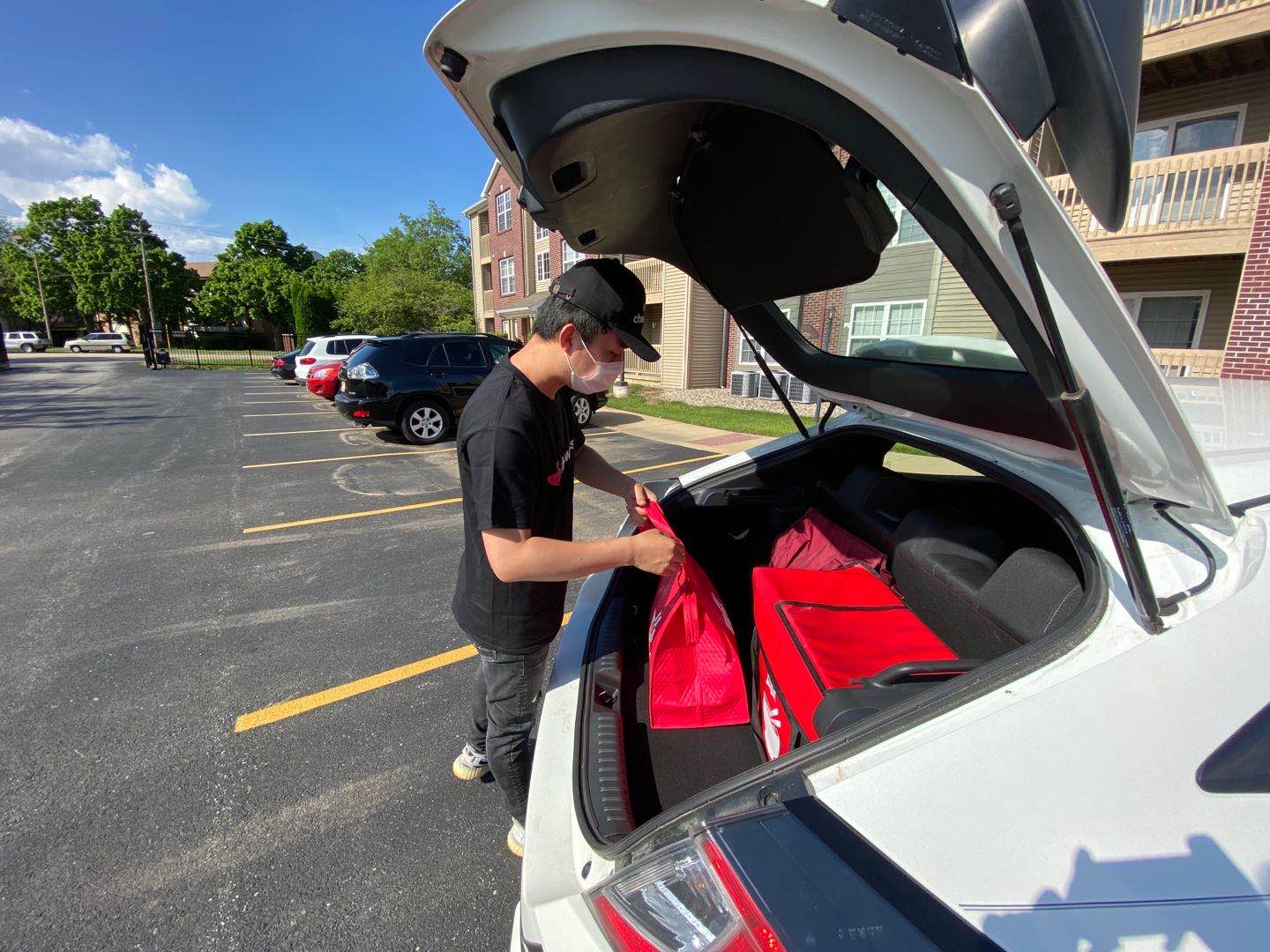 How has people's behavior changed throughout the pandemic?
Because we also handle grocery deliveries for people, I saw that people were stock-piling in the beginning. Now there's almost no panic-buying. There were also a lot of people who didn't wear masks going out. Now almost everyone on the street wears one.
What are some changes you expect to see?
This pandemic made some people who had never ordered delivery begin to use this service, and some of them will continue to use it because it's so convenient. Food and grocery delivery will be a new norm.