2022 Restaurant Design Trends
3 Min Read By Dala Al-Fuwaires
The new year is about to begin, and many restaurant owners will be thinking about a redesign for their restaurants. Dozens of new restaurants are opening worldwide every day, so it is important that your establishment attracts customer's attention. In the race to become one of the more popular restaurants in your area it takes more than serving good food and pouring outstanding cocktails. It takes a memorable aesthetic that will pull customers in and keep them returning.
Having been in the hospitality design industry for over a decade I have seen many popular interior design trends come and go. As we enter the new year here are a few design trends I believe more restaurants will utilize in the future.
Eliminate Distractions
Restaurant owners want their patrons to enjoy the food, cocktails, and service the space provides. As people begin heading back out, they want to be able to interact with each other and not be distracted by unnecessary entertainment gimmicks. One of the biggest distractions in restaurants are televisions. Often restaurants will have multiple televisions playing whatever sporting event is on that night and customers tend to focus on them instead of the people they are at the restaurant with.
Eliminate televisions from the walls so your guests can have a better experience with their friends and family. The decision to eliminate televisions depends on the style of restaurant. Obviously if the restaurant is sports or entertainment themed then televisions are necessary. Higher end establishments need to consider eliminating this distraction so customers can focus on the highlights of the restaurant such as the food, drinks, and ambience.
Use Design to Excite the Senses
Experiential design is the use of art, texture, audio, video, and aroma to create a unique space. An experientially designed restaurant will engage a guests' senses to create a unique experience they will not soon forget.
Biophilic design is a relatively new design technique that is an aspect of experiential design. Biophilic design involves using techniques that bring the outdoors inside the establishment. Implementing vegetation and florals in a restaurant design will make the guests feel like they are in a garden and not cooped up indoors. When using biophilic design it is important to use natural tones for tables, bar fronts and seating to replicate tones found in nature. Also consider using terrazzo, a composite material used in wall and floor treatments to tie in elements like stone and wood.
Work with the interior designer when creating your menu. Tie in the aesthetic of the restaurant with the food and drinks you are serving. If your restaurant has a garden theme, consider creating aroma infused drinks that have a heavy floral influence. For darker toned restaurants, like steakhouses that have robust and darker themes, consider creating special drinks with smoke and maple influences. Tying in the menu with the overall design will create an immersive experience that guests will remember.
Design Development from COVID
As bars began opening after COVID initially subsided many design techniques were put in place to keep people safe and socially distanced. Restaurant owners can still use these safety techniques to create a unique space. However, many of the COVID designs are now out of date as people receive the vaccine. The main design resulting from COVID is the self-isolated dome dining areas.
Instead of using the plastic domes many restaurants implemented, consider using higher back seats that make the guest feel as if they are being hugged and in a space of their own. Use architectural pieces that allow for transparency but also offer a form of separation. Instead of building solid barriers, consider different materials to create see-through walls. Using these materials allow for separation from other groups but also allows everyone to feel a part of the overall experience of the restaurant.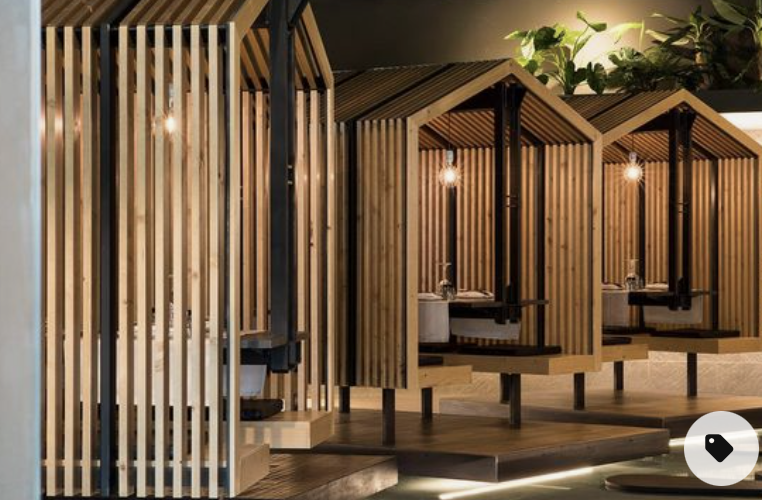 Installing dining pods is another possibility. Dining pods, pictured above, make a table at a restaurant feel like its own intimate space. The customer can enjoy being in a public space while feeling safe and protected. Dining pods can be found in spaces where people want a private experience such as a date night but want to be able to feel the ambience of the restaurant.
These are a few of the design trends for restaurants that I see coming up in 2022. The key to a good restaurant experience is to craft a unique aesthetic. Create a space that draws people in, keeps them there, brings them back and makes the customer tell their friends about their experience. When designing a restaurant space always aim to be unique in the design.