Sponsored Post: DoorDash Reintroduces its Merchant Suite to Help Restaurants Unlock New Potentials for Growth 
2 Min Read
In the face of a tough economy, supply chain interruptions, and industry-wide obstacles, small and mid-sized restaurant owners are finding it more difficult to grow their businesses. These restaurants moved with agility during the pandemic, optimizing operating models to better support their communities and their bottom line, but many are still struggling to recover as the pandemic endures and we brace for the looming recession.
Through collaboration with third-party partners like DoorDash, thousands of restaurants discovered a consumer appetite for on-demand delivery that drove new revenue. This shift not only helped keep smaller operators afloat, but it introduced them to new customers at a time where consumer engagement is crucial and demand for delivery continues to grow.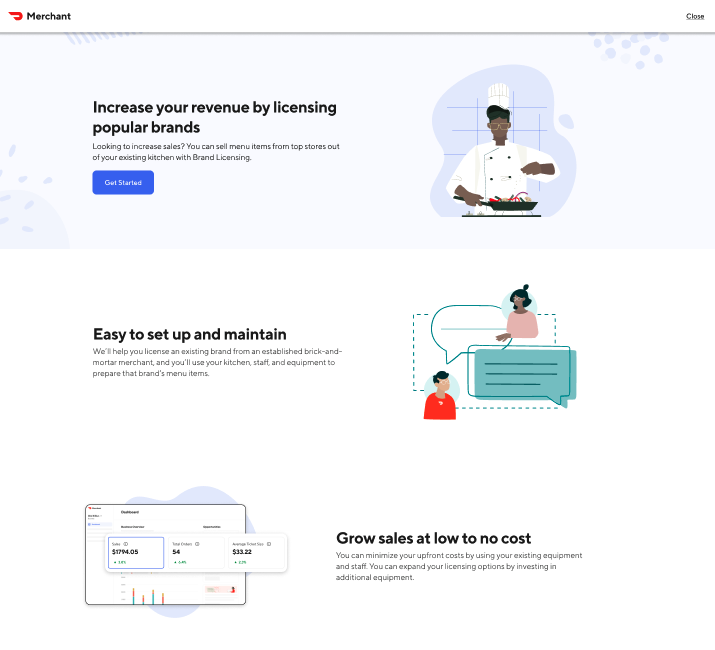 Restaurateurs have seen firsthand how much opportunity exists for their businesses and food delivery apps when they work together and know that the future of the industry is highly collaborative. Partners like DoorDash can serve as an integral part by giving restaurants new and revamped innovations to increase their business and compete in this fast changing economy.
Doubling down on its commitment to delivering more than delivery, DoorDash is reintroducing the DoorDash Merchant Suite to continue helping restaurant partners succeed and unlock even more growth. The refreshed suite was directly actioned from restaurant and merchant partners' feedback and offers small and medium-sized restaurant partners a user-friendly, self-serve platform showcasing tailored solutions based on their self-identified business needs and goals.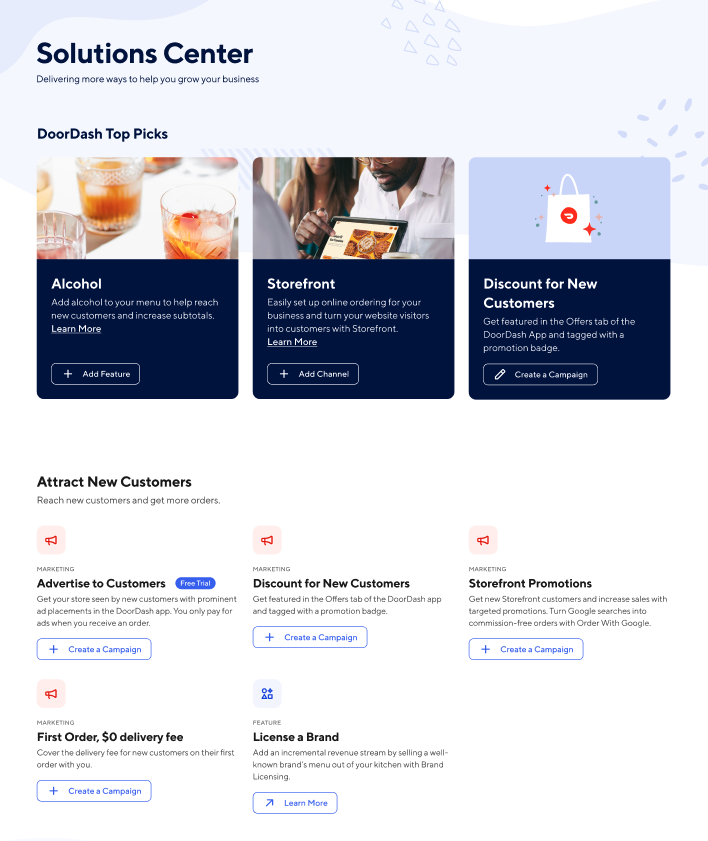 Here are all the ways that restaurants can benefit from DoorDash's reimagined Merchant Suite by:
Grow Online: DoorDash reaches 94% of the US population and restaurants can tap into this customer base through options like Marketplace, Pickup and DashPass on the app. Restaurants can even receive commission-free orders directly on their own website via Storefront.

Attract New Customers & Increase Order Volume: Restaurants can gain the attention of a hungry, new customer base through enticing promotions like 20% off your first order & free delivery to encourage discovery, place orders and increase their order size. On average, businesses that used the Promotion capability on DoorDash saw up to 20% increase in sales.**

Optimize Current Business: Over the course of a restaurant's lifespan, many owners will require some kind of capital investment, whether to cover unexpected expenses, to open a new storefront, or just to help meet normal operating costs. For some, obtaining a bank loan is not an option. For restaurants looking for a seamless and straightforward solution, DoorDash Capital offers easy access to capital without the long application process and hidden charges.
Having access to unique solutions that are seamless to implement will be crucial to the continued success of small and medium sized restaurants. By utilizing DoorDash's evolved Merchant Suite, restaurants can receive tailored and easy solutions that not only address their business needs but also foster day-to-day and long-term growth.
**Average according to a DoorDash case study of 17.6K campaigns run by restaurant partners from January – March 2020.